Netflix updated for Windows Phone, likely address recent playback issues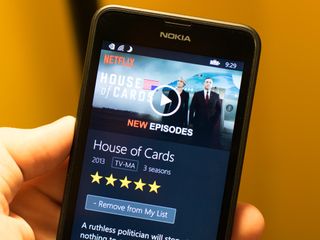 Netflix has updated its Windows Phone app today, but the new version, unfortunately, doesn't come with a change log (the one listed is actually an older one). This would suggest this download is a minor patch for bug fixes only.
The new version number for the Netflix app is 4.1.0.16 and it's an 8MB download.
A number of Windows Phone users have been reporting that the app has had some video playback issues lately, so perhaps this update is going to fix those problems. Let us know if you see any improvements in the app after you download and install the update in the comments.
Thanks to Sami for the tip!
Download Netflix from the Windows Phone Store
Windows Central Newsletter
Get the best of Windows Central in your inbox, every day!
Just went to the store to update, and a change log is there. Swipe over to details

Yeah, that's a way old changelog.

Ah. A few of them did seem odd (like application tile). That explains why. Thanks!

I could be wrong since I don't watch much Netflix on my phone. But I believe pinning content to the start screen and Cortana integration are both very new. Also the whole layout seems totally different than the last time I used it. I really can't recall a Netflix update in the last year, perhaps one snuck by me? Anyway, to me it looks like a completely new app.

Would love for WP to support 1080p, far as I know, only 720p....

You don't know far enough. My Lumia 930 is 1080

So you can playback 1080p Netflix?!

If your phone supports it, yes! My HTC One M8 certainly can! :D

No. Our phones, your HTC, and my 1520 have the resolution of 1080p, but the app does not support 1080p, only 720p. Android, the galaxy s5 anyway, supports 1080p.

I think he mistyped. He would like the WP version of the Netflix app to support 1080p, as it for the moment only supports 720p. WP it self supports 1080p.

No, the app, as in the Netflix app, can only do 720p for WP, my 1520 also does 1080p, but, its not an android, so no 1080p for us, for now....10-4?

Your English is like your user name, fractured, so its no wonder the was confusion.

I'm still confused. I have never seen where Netflix only did 720p for Windows phone. I thought the app worked like I does on everything else. Based on your account setting.in connection with the resolution of the device your watching on, and finally your bandwidth.

Ben, the app, for Windows phone is only capable of rendering at best 720p. Although our display may be able to do 1080p, it cannot render that high.
..
Also, say you have a 4k resolution phone on Android, just work with me, Netflix renders at 1080p on Android as of Android 4.3. No up scaling occurs like a blu ray player does for DVD.
..
All of this is available on wiki.

any info on Instagram update? (yes, I am joking)

it got updated recently ir looks beautiful and that's called 6 tag

Also it has notifications once every 30 minutes.

Wow. An update that "fast" after the last one.. Impressed..

Maybe its an update so it works on 830 with denim? My Netflix hasn't worked since I bought the device in December.

Nope, still doesn't work.

Nope just downloaded on my 830. No joy:(

Start a new backup. Its been covered.

Yeah right.. Netflix is retarded here. I update to windows 10 it works. Now I went back to 8.1 cuz instability and no luck for 830..

Try removing the app and deleting your app backups. Then install. With a little, it'll start working :)

How do you delete your 'app backups'?

Settings>backup>apps+settings>manage backups
Then delete the system and app settings.
Obviously remember to run a full backup once Netflix is reinstalled :)

Yeah, this didn't work for me.

Reinstalling the program didn't work.

I have an 830 with win10 and Netflix does in fact work, now.

Nope, didn't fix the playback issue on my 830 either. But I do believe that the issue will be resolved with a full Denim update.

Yep, the full Denim update fixt the playback problem for me.

It's a shame that Denim is still not available in most of North America for the 830. It's so stupid it hurts.

Still doesn't work on my Lumia 830.

Seems that doesn't work for everyone. Posted via the Windows Central App for Android

I tried to direct him, oh well...

Great. Now fix XboxOne's app

The Netflix app is terrible. You must not have used the 1st version. That app allowed you to snap and it worked with Smart glass. They took away features and made it like everyone else's

This fixed my issues of Netflix not loading on my att Lumia 830.

How?? 830 here still doesn't work :/

It seems like older Lumia phones like the 1320 which I own doesn't have an issue with the updated Netflix app. My friend has a L630 which after the update no longer wants to even download.

No, I had trouble at first on my 1520, but it resolved itself.
...
Actually, seems all Lumias' are old now....at least in the flagship sense...

STILL does not work on my 830.... I wonder if I can get an app into the app store which has 0% functionality.

Works on mine, now. 830 w10.

Would be nice if it had a casting option like their Android app does. Even if Chromecast doesn't support WP Roku does and I would love tone able to cast to my Roku stick

Could use Project My Screen?

It doesn't work with videos I believe.

Lumia play to would be nice... But only works for downloaded movies provided your tv cooperates...Mirracast is hit or miss with my LG tv

Obviously, it's possible to support a Chromecast dongle in WP because the Tubecast app does it. I agree, Netflix really needs to add this functionality.

Only thing they probably changed is the speed you are pointed to their own produced videos. Which I have to say isn't half bad. I went through the entire Bocsh series in a couple days. Good cop flick.

To be honest, their in house productions are the best on Netflix.
House of Cards, Better Call Saul & Lillehammer...worth the rental price alone :)

Actually seems to have broken playback in my 1520.3.

Still not loading on 830, I believe that wont be fixed until we get n OS update from MS.... =(

Will they provide this application in India??

Can't say its this update, but I can't stream higher than 240p on my 1520 (verified, not a guess) with 20Mbps LTE. I could get 1080p @ 5300kbps on my Lumia 2520 and Nexus 7, this morning, over Wifi.

Miracast has worked front he start on my 1520 to my tv even streaming netflix

please tell me how you got this to work. I have tried to project something on tv since the update. NOTHING! Got a LG Gpad last month, first time tried to project something works like a charm..smh

Unfortunately most of my devices support DNLA and not Miracast.

Does not work on Lumia 830..tried a complete uninstall, rebooted phone, downloaded new from store.....same error...oddly enough it worked when I was running the windows 10 preview...now, since I am back on 8.1 developer preview..doesnt work...

It's a OS issue, Netflix already told us about it.

Us? Posted via the Windows Phone Central App for Android

It would be nice if they gave us access to our que from their app. Their mobile sight is horrible

No go on this L830. Error code: Q8156-887A0004.

Okay I had Netflix problems and fixed em! 1) uninstall Netflix
2) settings > app+backups > manage backups > applications > delete
3) reinstall Netflix
Boom!

Kingkea!!! You da man. That fixed it for me. Thanks muchos!

Alternatively: 1) sign out Netflix
2) uninstall
3) reinstall Your mileage may vary.

Fixed my playback issues on Lumia 930 :)

When will I be able to stream to my Chromecast? Is that possibly an upcoming update?

Sigh... Still getting Error code: Q8156-887A0004 - System Configuration Error. That is after wash-rinse-repeats.

Still driver errors. This is ridiculous how long this is taking.

Finally, I've been using Netflix on my Lumia 900 (wp7.8)

No luck on my Lumia 735 :(

It's always worked on my phone +One M8

Grr... No change in my 830. Tried signing out, uninstalling and reinstalling and nothing. =/

The update added supports for multiple user profiles.

For some strange reason vlc and now Netflix update is pending. Any ideas why and how to fix this problem?

Cancel install and then redo it.

Could be to prepare for the Aus/NZ launch of Netflix on March 24.
https://twitter.com/NetflixANZ/status/572479055460626433

I've seen the media reports where android and ios smartphone support is mentioned for netflix but didn't appear to mention windows phone support. I would've thought that it would simply be a case of making the windows phone netflix app available in the australian region. I guess we'll have to see what happens.

Nope. Still the bug where it will randomly not load, and you have to reopen a movie. Just watched Kill Bill: Vol.1, and even with the small bug, I can confirm that Tarantino is a genius (the anime sequence is gorgeous, don't you find?)

Remember when this app was available for WP but not Android? Funny to think about now.

Still doesn't work on my 830....

I cancelled my Netflix subscription after they nerfed their previously awesome Xbox One app last September.

I hear you man! I haven't watched a movie since on my XB1. I rather watch it on my phone or computer

I switched over all my video streaming to Xbox Video, Amazon Instant Video, and Hulu+ instead, all of which better support Xbox One's unique features instead of the travesty that has become the Netflix app on Xbox One. Such a dumb move by Netflix that I cannot support such a company any more.

Chromecast support waiting....

Well shit, not working now on my Lumia Icon, getting Q8156-8000FFFF, error message, was OK on previous version....life in the big city!

Sorry for completely off topic question.. Is there anyway to install xbmc/ kodi on windows phone ?

It still doesn't work on my HTC one m8. System configuration error: Q8156-8004B897

Getting strange occasional flashes on my SP3

Not available in AUSTRALIA

Finally working on my 535 ... Posted via the Windows Central App for Android

Works fine on my 1020. In fact, I've never had a Netflix app that didn't work properly.
It seems that apps perform more reliably on the older hardware...

Fixed my 1520s app. Now I can watch again

Loaded it. Won't play now. Not cool. I get a 8156-8000FFFF error on my Lumia 1520 Cyan.
Anyone have ideas on how to fix?

Why don't you report about Deezer updates? It's one of the most updated apps in the windowsphone store.

Still freezes and crashes on my 925, but I'm able to get through shows with a few restarts.

Netflix (and just to be clear HULU too) is still very broken opn Lumia 830 (/15, and any other Windows Phonne with the Denim update) even after the most recent update on 3/1. I have it from pretty good sources at Microsoft that MICROSOFT screwed up the last build and accindentaly used unsigned drivers for their Qualcomm chipset. Because the drivers are unsigned, any app that tries to use rights protected video that needs to be decoded, will fail (i.e. Netflix and Hulu). That is why you get Error Q8156-887A0004 at 99% video load that says: "There is a problem with system configuration playing PROTECTED VIDEO". 1520's were also having some errors with last version of the app, but a soft reset would fix it, at least for a while and then you do it again etc. It is just so sad and pathetic that Microsoft's newest phone and OS update (820 and Denim) hace this problem with one of the most popular and common apps in the marketplace. It is bad enough that you can't get any real apps for Windows phone like you can with Apple and Android (sure go ahead and tell me there are plenty of apps, then show me Starbucks, Boeing credit Union, Sonos controller ((not Phonos and other the other fake apps that people try to make as a stop gap). So here we have Netflix, an offical app that has worked flawlessly until this last update. Everyone is screaming at Netflix to fix it and it is really Microsoft WIndows Phone team who need to come up with the repair. And yet not only are they completly silent on this, but no hope for a fix after more than 75 days with the OS presenting this error. My company even opened a premier support ticket on this issue with MS, and they said.. our bad.. should be fixed soon. And no ETA, and no fix. This is beyond pathetic. If it was Apple or Android, do you think they could leave their most current phone and popular app broken for 75 days? This should be the front page news that Microsoft can't even get their act together to fix a simple bug, and yet they are asking us to trust them with Windows 10 and their new universal applicaton platform. Maybe they are pouring all efforts into Windows 10, and dont have time to fix us diehard fans who are part of the 5% that are stupid enough to even buy their phones, and after chasing the most current model, have a phone that is crippled, but this should be a warning to evewryone... RUN AWAY FROM WINDOWS PHONE AS FAST AS YOU CAN. They have 5% of market share, and the apps suck, and their support sucks. Take your phones back to your carrier right now and beg or demand that they let you swap to something that is supported and stable. And just try searching for information on this problem. You can't find it. You try to search Windows Phone and you get a thousand worthless articles on Windows, or Windows and Netflix or a bunch or people talking about nothing. No official MS response, no help, no support. Well, maybe this can rant can become the official response for those looking for the root cause and hoping for a fix. Root cause: Micrsoft! Fix: Trade in your phone for something else ASAP!

Found this post vis Google search on the NetFlix help website: https://help.netflix.com/en/node/23729 At the bottom of the page there is a "Want to contact us? Call us" link which when clicked, provided 1-800-587-7706. I called and reported the problem. We should all call them to report, so they will escalate and increase priority. BTW: On my Windows 8.1 and 10 (build 10512), the Netflix app version is 4.2.0.20. Netflix Error Q8156-887A0004 If you experience the error code Q8156-887A0004 while watching on your Windows phone, it typically points to some information on the device that may be corrupted. Follow the troubleshooting steps below to resolve the issue. Reset your phone Hold down the Power and Volume Down buttons on the phone. Once the phone is off, turn it back on. Try Netflix again. If Netflix still does not work, please note that Microsoft will soon be sending out an update that should resolve this error.

Bom dia. QUANDO E Que vai Ser Resolvido ESSE Problema de Nao Conseguir Assistir Um Filme Pela Netflix no Windows Phone 8.1? ISSO vai ocasionar Processos em massa. ESTA demorando Muito ESSA Solução E O código de Defesa do Consumidor Preve penalidade nessa Falta de cumprimento de Serviço. Espero Uma resposta urgente. Obrigado!

This site is for morons. It says nothing, addresses nothing, and only states the obvious.

I have an 830 with denim and I'm still having this issue