Never-before-seen HoloLens headset makes appearance in NASA video
By Zac Bowden last updated
NASA appears to have hands on an unreleased HoloLens headset... but what could it be?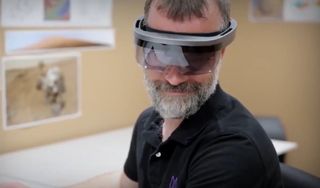 A recent video from NASA has given us a look at a HoloLens headset with a design that hasn't been seen before, which has raised suspicions as to whether or not this is our first look at the next HoloLens. Featuring a somewhat slimmer design, this new HoloLens headset looks similar to the original HoloLens, but with a less bulky front.
We know that Microsoft has been hard at work on its next HoloLens headset, which is rumored to debut sometime in 2019. Windows Central understands that this device will be ARM powered, with improved battery life. Hopefully, this device will also feature an improved field-of-view, something the original HoloLens was criticized for.
It's entirely possible that this HoloLens headset is an older HoloLens 1 prototype built before a final decision was made on its design, as the headset is featured alongside familiar HoloLens 1 headsets. It could also be an accidental, or deliberate, tease of what's to come. Who knows.
What do you think? Is this the next HoloLens? Or an older internal prototype that was never intended for release? Let us know in the comments!
Thanks for the tip, Jason Jaegers!
Zac Bowden is a Senior Editor at Windows Central. Bringing you exclusive coverage into the world of Windows 10 on PCs, tablets, phones, and more. Also an avid collector of rare Microsoft prototype devices! Keep in touch on Twitter: @zacbowden.
I'm pretty sure this screen shot was from the original announcement. I remember seeing that exact shot when they were running the sizzle reel. Talking about being able to go to Mars. EDIT: I stand corrected. I went back through the 2015 launch videos and it looks like almost the exact same shot, but it is a different person. So, exciting!

Considering that yesterday and today is Magic Leap's first developers and creators conference in LA - this "could be a well timed leak" to counter the Magic Leap hype machine. Magic Leap yesterday announced a "direct ship" anywhere in the US", 0% financing, almost a dozen apps and featured a senior executive from AT&T drooling over the potential adoption and pairing with their 5G rollout and a TV Now app with like 6 "simultaneous" virtual TV screens. Microsoft better start leaking more about HoloLens vNext or get sideswiped by Magic Leap hype. Based on all of the rumors and leaks so far, the next HoloLens "should" easily be better than Magic Leap ML1!!!

It looks too clean to be a prototype to me. Although with 3D printing and the Surface lab it could be. With the glass change that could be a product of function to improve the viewing spectrum. I do not think it looks a cool as the HoloLens 1 glass, could be the change is needed to support increased functionality.

This is from 2015, look harder OP

Yup. It says right in the Tweet it's a prototype HoloLens V1. "V1" could theoretically mean a lot of things, but generally it means "Version 1." Just saying. [FD: I am a Microsoft Employee. Comments are mine and mine alone and do not represent official statements from Microsoft Corp.]
Windows Central Newsletter
Get the best of Windows Central in in your inbox, every day!
Thank you for signing up to Windows Central. You will receive a verification email shortly.
There was a problem. Please refresh the page and try again.