New Battlefield game confirmed for release in 2018 [updated]
EA has now confirmed it is working on a new Battlefield game to debut in 2018.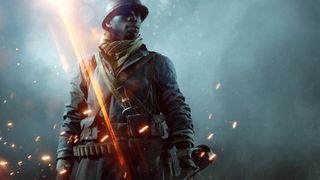 Following up on 2016's Battlefield 1, EA now says it is working on the next entry in the franchise for a 2018 release. As reported by Battlefield Bulletin, EA CEO Andrew Wilson confirmed the news in the company's first quarter fiscal year 2018 earnings call.
The latest entry in the series, Battlefield 1, launched last year as brutal venture into the carnage of World War I. The game was generally well received and has gained quite a bit of new content since release.
The theme and setting of 2018's Battlefield are still a mystery, and it'll likely remain that way for some time. Battlefield 1 still has a few expansions left, and EA likely won't want to take the spotlight off of it so soon.
Update 2/1/18: In a recent earnings call, EA confirmed that a new Battlefield game would launch in October 2018.
See Battlefield 1 at the Microsoft Store (opens in new tab)
Dan Thorp-Lancaster is the former Editor-in-Chief of Windows Central. He began working with Windows Central, Android Central, and iMore as a news writer in 2014 and is obsessed with tech of all sorts. You can follow Dan on Twitter @DthorpL and Instagram @heyitsdtl.
Please I hope its modern times like BF3 & 4. The best in franchise games. Hope its gonna be Battlefield 5, modern armies like Russia, US.

Personally hoping we're gonna be seeing Bad Company 3 sometime soon - that offshoot of the franchise has been dead for a while now, so it'd be interesting to see if they can revive that somewhat less-realistic aspect of the Battlefield franchise going forward

Not fan of bf company...prefer more realistic staff. For more action staff u always can play cod

I wouldn't mind a post apocalypse battlefield, fighting over what's left. Might be interesting. No zombies.

way too soon. WW2 would be great. Alternative time line would be cool. Cold war tech. 60s or 70s.

I have always wanted them to update the old Battlefield 1942 Add-on Pack, "Battlefield 1946" to a modern Frostbite engine, add in some more content and release it as a full game.
WW2 with new tanks, jets, primitive guided missiles, and infantry weapons would be AWESOME. If not that, update the classic Battlefield 2042 to the new Frostbite engine and add in all the modern multi-player functions along with "space-station assault" mode and space combat.
I'd buy that in a minute.

Oh no... Not again... I would also assume its not DICE working on it. Hardline was a poor excuse for a Battlefield game.

I think it still had one of the best single player experiences though. Even if the story was a bit crap

Yeah, that would kick ass.

They pump these games and expansions out so fast it breaks up the community and many maps go unplayed. I had BF3 and BF4 with all DLC, have never played a full server of a few of the maps. I'll pass on whatever's next just like I did Battlefield 1, it isn't worth the money.

I think they're great games, just dissapointed how little time I got to play some of the DLC because there weren't enough people playing them.

Needs better and longer single-player

How about a battlefield 2143 that be awesome. I loved battlefield 2142 its a shame there haven't been another series of it.

I would love them to go back to civil war or even revolutionary war (well since it's us centric anyway). Even a Roman war would be good for me. flame grenades, ballista, crossbow would make decent game play.

But extremely limiting. Battlefield one felt so empty with weapons, versus battlefield four for instance

Yawn. COD and Battlefield are just rehashing the same game. 1940s. Then modern. Then 1940s. Yawn yawn yawn.

FPS genre in general has become stale, military shooters are mostly the same thing. I miss the old Socom games, put some actual team play back into it.

I don't mind the genre. Metro, Halo, Doom, Wolfenstein, Prey, Bioshock all feel vastly different from each other. My issue is with rehashing the same War scenarios over and over and over again. If its nit Afghan style modern combat, its WW combat. That's all every single Battlefield and COD are. Except when COD tried to copy Titanfall.

Can you do better Mr. yawn? I bet most would yawn at your ideas.

Multiple games based on the same war scenerios aren't ideas. They are constant remakes of the same eras.

The only war era I can remember they haven't used, is the Korean war. But i doubt that would be it. Falklands conflict?
Windows Central Newsletter
Thank you for signing up to Windows Central. You will receive a verification email shortly.
There was a problem. Please refresh the page and try again.