New Continuum for Windows 10 Mobile video shows how a smartphone can be used like a PC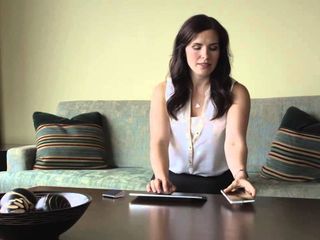 One of the biggest features of Windows 10 Mobile is Continuum, which allows smartphones that support it to be used as a Windows 10 PC. Microsoft has released a new video that shows how Continuum is supposed to work.
The brief video shows how a Windows 10 Mobile phone, connected to an optional Display Dock, will allow users to connect a keyboard and mouse to the phone, along with a big screen monitor. That will enable users to work on the smartphone as if it was a Windows 10 PC, while also still using all of its phone features.
The video also shows how Windows 10 Mobile can connect wirelessly to a big screen TV, via the Microsoft Wireless Display Adapter, without the need for a Display Dock.
Source: Microsoft
Great features, just not sure i will have the need for them.

At home, I'm not so sure, but at work ... pretty sure I'm gonna use that a lot.

I wonder if a USB web cam can plug into the doc and use Skype4Biz app to do video calls. That would make this useful to some of my client's

You can use the front cam from phone....

I sadly do nothing at both home and work.

Are you Wally from Dilbert?! lol =p

Never heard of this Wally guy, but i am sure he runs circles around me.

Agreed - my work has a straight-forward hot desking system where you drop in with your laptop (at any of our sites) and dock with an HDMI cable and mouse/keyboard. So with this we could basically do away with the laptops and save a mountain in hardware rental costs. Millions of dollars, easily. Of course, Continuum is basically Windows RT so there would be an app gap. Could go the Terminal Server route and use Remote Desktop to get a full desktop experience :)

maybe your company can develop the apps/programs you need.

Opposite here. Will use it at home a lot since I don't have a desktop.

Exactly. The idea sounds good but the actual usage is going to be miniscule.

I'm deff gonna use it at home. It will pretty much replace my need for a laptop because all I use is office products, edge and a few other pc stuff that I can actually do at home. I hope I'll be able to connect it to my tv and a wirless keyboard and mouse. Will work awesome.

If my employer support remote desktop on windows phone, this could we useful.

"build it and they'll come"
Some of us probably don't see a use for this yet. But, chances are later we'll be using it often. Like back-up cameras in cars today.

Productive LIKE A BOSS :)

Well there is my problem then, i don't produce.

Then you should have disregarded the comment and moved ahead, it was essenitially for people who produce or want to produce :)

Nah, i am still going to regard the comment.

With all regards, I niether regard your regard nor regard the initial regard. To add to the comment though, non-"productive" things can still be had with Continuum as I have countless times where I want to quickly show something on my phone like a video or a game I was playing. And even though the connect works with my Samsung TV, I am sure its a way better experience to just use Continuum.

You now produced 2 comments!

You are correct....If only i had a way to display them on my tv to prove it to my wife.

Fortunately, you are irrelevant. LOL

Well, as long as you can reproduce, all is not lost.

Then he will be stuck with a bunch of little ones that don't produce.

But will the little ones reproduce when they grow up?

Productive LIKE A BOSS​? That assumes the boss is doing something more than playing Candy Crush :)

which they can still do...lol =p

OK but don't send candy crush requests to any one Posted via the Windows Central App for Android

It more and more obvious from recent coldness.. Windows phone is not even close to important for microsoft.. Let alone priority.. I wish to buy a phone in range of one plus two or moto x play.. Price wise.. Do I have any option but to buy an android phone?? Coz either I have a very cheap entry level phone or I have a full blown expensive phone.. Which frankly.. Isn't worth the investment..

You could try to manufacture your own device and then ask them for the ability to load the OS onto said device... =[

I'm sure you could find an unlocked 830 on eBay for cheap.

Sorry but I dont wish to buy an year old phone.. Where are the 850 or 750? C'mon windows phone is not that attractive.. Its mail client was good but we have same app in droid..

You know you can... you know... buy an Android Priv screen goes up

Its not I can buy.. Its about how me or any average customer who likes windows.. I have xbone and 3 laptops.. But is being forced to move to android..

You're not being forced. You make the decision. Just because they don't have a phone priced that you want doesn't mean they don't have a phone. You either get a 950XL, 950, or wait for the 550, but if you leave it's on your own free will and not MS Priv screen goes up

Right now you dont have a great option for a midrange device brand new. You do have plenty of great used options. The 1520 is on ebay refurbished in the $250 range unlocked. I bought one and I love it. The next thing will be to wait a year and get these phones. I think Microsoft is solving the midrange the Apple way. If you want midrange, buy last years model. That doesn't help you right now ofcourse, but personally I am banking on getting one of these for a reasonable price in a year. But that assumes you can wait a year which depending on your current phone might be too long.

You can buy the Lumia 930 brand new at a very good price and the specs go beyond mid-range. The price probably the same as a mid-range so I would regard the 930 as a bargain and its new! Just an idea :)

There is the problem right there - the app is in Android.

You can say it seems that if I end moving to android I wont be missing anything.. Maybe I will turn it into android pro by putting ms apps.. But I really like windows ui and all.. Android is cluttered ui.. I dont Mind the missing apps as long as it games.. Have console for that.. And I dont use snapchat.. None of my frnds do either..but I cant buy a phone with competitive hardware in my range..

Other OEMs are making middle of the road phones that can do this

I will wait till Christmas.. Mi 5 is slated to launch then.. If we have a Lumia 750 or 850 by then..awesome and nothing could be more better... Else.. Android pro...

Ah yes, the midrange segment lacks new phones. But for the time being you can use ur old one or get a 830/735 for cheap price now. Fortunately ms is going to release some midranger next year soon.

I buy phone once every two years.. I have a 720 right now.. And a 532 I won at some tech event.. 532 has windows 10.. But there is nothing very compelling about it.. That can lure someone from android to come to windows 10.. Its like Ubuntu 15 is released.. No windows user noticed.. Replace windows mobile 10 and android respectively to my last two statements

But i find wm10 very much compelling on my old 520!

I meant in comparison to someone from android background.. Though settings being sync and the way windows handles backup is very good.. Still.. No phone to buy..

In what world is backup "very good"? The things that DON'T get backed up are shocking.

Like your entire "ahem" videos?

My brother had a nexus 5.. It broke after one year.. Motherboard burned away.. God knows how a simple usage can do that.. But anyways he changed to a mew phone.. And it took him days to set up.. I fired up this 532 I won.. Logged in.. One hour later it was clone of my 720!

LOL at Android Pro - that's funny.

Just wait 6 months, the 950 will be free on ATT by then

Get a 640 then or 640 XL. Released within the last 6 months to a year max.

Then why bother with the back and forth? People here can give all their reasons for using the device/platform, but if you don't see value there isn't much people can say that could change that. Just jump ship if it doesn't meet your needs. It really is that simple. People need to decide. Windows Phone will be a continual work-in-progress. The fixer upper. If that isn't your cup of tea, it ok, but move on already. Hehe, it's not that big of a deal. In spite of all of the platforms "short comings" they are evidently not so insurmountable or inconviencing that people here have stopped using the platform. Well, that applies to me. Maybe I will switch. If I do, I'll still keep abreast of the MS ecosystem. But I won't post passive comments like "oh, I wish it was worth it to come back" or even less passive "convince me to come back." No one ultimately cares but you. Just decide and move on.

Well you say you don't want to buy a year old phone... My icon still keeps up with new Samsung's and iPhones... No reason to not buy an older phone. I'll be getting the 950XL and I know it'll be better than and iPhone or android out there for years to come.

I know Lumia old phones are still competitive.. But still I wish to play with mew hardware and new features.. A breath of new..

Even the 920 stands small against the latest and greatest...especially in the camera arena. That said, I'm expecting the 950 to be a leader in hardware specs for the next 2 years. Unless the processor start doing supernatural things, we have reached a pinacle in technology. Continuum is the next frontier and the 950 has it already. At the earliest the competitors will join in next fall, but more like the fall of 2017.

I agree with you. It's just, the 950 is so expensive. I never buy flagships, I always like to aim more for the mid-range. My old HTC 8X is pretty much dead now, though, so I'll have to buy something soon.

Whoa. I didn't know continuum can work wirelessly too. That's phenomenal! MS great work.

Yep. When they showed that to me in the store I immediately bought the wireless display. Unfortunately I got tired of waiting as my high anticipation started today decrease. Priv screen goes up

.....and what goes up must come down :)

Well, technically you can still use the adapter, it's just the way that it works currently isn't as fluid...basically a phone screen in the middle of the display, or full screen if you have it rotated horizontally depending on the resolution lol ;p

What? This isn't Chrome cast and that's not how Continuum works. Edit nevermind I misread your post. I do use it for my Surface 3. I love using it as an extended screen for using my Mom's I verse on TV. Priv screen goes up

You should get a tattoo saying "priv screen goes up" Then after you'd realise the error of your ways and appear on Tattoo Fixers tv show, where you get a cover up picture of the Windows Logo with "Be Productive Like a Boss" written underneath.

So the question is: What is needed to use Continuum? If it's not the USB Type-C, why other phones can't do it?

They don't have the awesomeness that is win10 =)

A chipset that can do dual screen. If you don't have a higher end chip then you can display your phones screen on another device via Miracast. With wm10's scaling feature it can be close to what you have seen.

technically all the premium android phones from 2014 and 2015 have hardware that would support Continuum and such but Android OS doesn't take advantage of it unlike W10M

Any idea if Continuum would work using a Roku as the interface on the TV?

It should, technically.... Though I have noticed that using the built in in my Samsung is horrible compared to my MS adapter. (really, really bad compared to)

I keep asking on forum message boards why people won't accept that you can use continuum without a dock.

Get a stick full windows 10 pc much better and cheaper.. In case you already have any windows phone .. And don't worry you won't miss much as all the new tech inside are useless when the platform lacks the apps ... Which is still the case until now

This is the thing.. Its is an eye wash to say continumm is for developing nations.. We have Intel stick for that.. And it can even run full win32 apps.. And costs less than the display dock..

well microsft still hasn't release the bridges for that and all bridges go well expect the android one :3


Forget the android and iOS one.. When will win32 and asp bridges be ready.. Hopefully till next build?? Announce something which will take year to be implemented.. Who does that?

"all bridges go well" And you base that affirmation on what? Hope? Because I haven't seen iOS developers excited at all about Islandhood (actually, I've read iOS developers saying that they actually dropped it because there was simply a lot missing). Astoria is probably dead. And Centenial...I don't think will be much of a success either. Why would win32 developers waste time converting their programs to apps when their programms are running FINE on Windows 10? Furthermore, considering that Windows 7 still holds more than half the Windows PC scene, and Windows 7 doesn't support "apps", why waste money on something that only people on Windows 10 could use and even those will likely not use because no one really cares about the Windows Store on a Windows 10 PC?

I think once the app is ported to uwp.. It wil be universal.. So win32 apps may even run on phone and PC and xbox and holo.... Its a maybe though

It depends whether that ump app van be used on what devices. Like the functions used on a photoshop on a laptop wouldn't be the same on phone though a uwp app. On hololens u could do use photoshop in a different way. So how would one use the universal app when functions and features might differ from devices to devices. Microsoft should make it more clear what a developer can do creating universal apps.

Developers can. Of you can build a uwp app based on one platform (PC) it uses the same Core that all Windows 10 devices have. For abilities like the back button on the phone and the non existing hardware back button on a PC the deva just code a little to make it work but all within the uwp environment. So Microsoft has made thing pretty clear, build once play everywhere without constrains. There is no "microsoft need to tell developers" we already know... Feature sets based on the devices it clear as hell that my PC can not press any Xbox controller buttons but there is an equivalent for everything. Code once execute everywhere- uwp.

Actually if the win32 bridge works, wm10 will be the best mobile os ever. Just imagine, running all the win32 apps on your phone!!

Actually you can kind of do that NOW with RemoteApp but you need to have Azure or something...about a week or two ago I was running the x86 version of office on my phone, pretty neat. lol =p

Even using RDP over Contiuum to connect to my other PCs and servers would be hella cool on my phone.

Indeed! However, native w32 support with a Intel chipset would conveniently replace more than 90% of the computers/devices out there.

You already know how slow it goes then so it's the long game...we may not see the moves now but who's to say what will happen in 5 years? Probably a lot of apocalypse if we're lucky... lol =p

Lacks apps for you. I'll use mostly Office and the browser and photo/video editing with this. You are going to order a Lyft or SnapChat with Continuum? Not likely. Posted from this here device.

Get the stick pc, hackintosh it and duct tape it to your iphone. Boom, continuum iphone. Just don't forget to handoff when disconnecting.

I just wished the 950XL had the Intel chip so it could be a true PC using continuum. I feel the 950 will be great but have the same demise as RT if MS switches the next phones to Intel. Continuum is awesome with the wireless display in how it can switch your phone to a mouse and keyboard. Priv screen goes up

If Microsoft Become Serious on Developing Both OS & Hardware then they'll become the Future of Smartphone World with Great New Features..
At least they can become a strong competitor for ios & android World..
I know it's a Big Dream ..
But...

I think Continuum as a wireless productivity feature will have a much higher draw than the display dock. But I can't wait to see how Microsoft extends Continuum features going forward. One picture at a time -- LG V10

I agree. The dock is awesome but the wireless display is what grabbed my attention the most. Priv screen goes up

Stop with the nonesense....

Interesting that the screen goes up at the end of the comment. So you do find that the physical keyboard is nothing but nostalgic sentiment that adds a few mm's to your phone? 640XL's cool, fast and accurate keyboard.. disappears.

I see you haven't done your research on the keyboard. It's understandable. Ignorance is bliss. Priv screen goes up

Yeah I find it hard to see where it fits with a dock. I mean unless the dock became a standard thing you found in hotels and everywhere you'd have to have one set up where you intend to work or carry the dock with you. Then why wouldn't you just take your laptop with you and and plug it into hdmi? Not saying it doesn't fit I just cant get my head around where. Wirelessly however, great, if you could plug a mouse into your phone (because you do find them everywhere) then you're sorted without having to cary anything with you or rely on the dock being available.

But that's the great thing about the wireless display is your phone is the mouse and keyboard. You don't even need the hardware. Priv screen goes up

Cool . Love to see MSFT back in producing magics

The question is, "Will we see these ads on TV"? Probably not.

That's what needs to happen and cell providers biz reps need to demo to businesses. Oh wait that would only be ATT.

I have to say I am impressed by it. Was going to leave WP for and iPhone, but this keeps me interested in WP. Having used conttinuum, I think it is a fantastic device. Even more impresed if it works as good with the wirelesss display

Maybe I am missing something! But my partners 3 year old SG4 can connect wirelessy to our tv Posted via the Windows Central App for Android

Read up on Continuum more.

Not just something. You are missing a lot!

So, what do we learn from this video: 1 - Instead of carrying a Surface or a laptop, why not carry: your phone, a bunch of cables, the Continuum dock, a keyboard (why didn't they use the foldable keyboard?) and a mouse? It's SO much more practical... 2 - At home, you can have a big screen, a keyboard and a mouse...but why adding a proper PC to it when you can use a vastly inferior device such as your phone? Seriously, Continuum is cool and I can see it being useful in enterprise environments. But the common user will have zero use for it specially since the apps are still missing from WP and that won't be changing anytime soon. So basically WP becomes just a PC stick. Except the PC sticks with Windows 10 you have around are probably better than a phone for the same purpose.

You need to try it!! The device can be a touch mouse if you want, and that leaves you with just a keyboard (have you seen the MS fold up keyboard!!) and device, which powers from the phone charger and charges the phone in use. Yes, I agree the apps are needed but you have to go "field of dreams" here "if you build it, they will come!!!" If window 10 pulls the developer then the phone wins. If someone see this in action they will be thinking twice about their next phone. This is not airplay or wireless display. Its far better than that, Example when you use it you can present on PowerPoint on the big screen while reading your notes and making on screen annotations from the phone.

It needs to be available to try, right now, it's a questionable thing. Is it like a full PC (full browser, full apps)or just mobile apps blown up to a large screen ? These things will make A BIG difference, no full apps, it would be a novilty, nothing more... If you CANT use a full version(not a stripped down mobile version) of Execl or Word, your better off with a tablet or laptop....

I believe its full apps. One of the insider previews enabled full Edge, Outlook on my 1520, then the next update disabled it.

What is an "full browser"? If we define full as the definition for for win32 apps then not but Microsoft Edge is a Full Browser powered on your phone and uses the same code on your PC. And what features are lacking on the mobile version of Microsoft Office?! Have you tried to use them?! Compare maybe the feature parity? What is the difference between Word Mobile and Word for Desktop?! For my usage there is no difference and for many users also. Just tell me some features Word (full as you say) can do and Word Mobile cant.these apps that can be built on uwp are so powerful and its really a shame that users think that uwp apps are just stripped down versions of win32 programs. Really a shame.

Full browsers have extensions, most crucially, adblock. Mobile Office doesn't have macros. Mobile OneNote didn't have drawing tools on 8.1 (not sure about Windows10), and last I checked, mobile Excel was missing autofill and a number of formulas, rendering it completely useless. Of all the missing features, autofill annoys me the most, especially because the iPhone version of Excel has it.

if people can live with a chromebook, they can live with this. From here on, features are only going to grow.

It's about ergonomics and a big screen, without needing to sit at a desktop computer. Wires suck, but streaming and using a decent wireless keyboard and mouse are nice.

This is why I said continuum won't be as effective until there's an Intel phone to truly utilize it and why I see the 950XL going the way of RT. And I love the 950XL. I keep trying to convince myself why I need to return the Priv and get it. But the more pros and cons I do the more I know waiting will be a better choice for me personally. I will say on the go the wireless display is the way to go. Priv screen goes up

One Surface phone is rumor says that it will run on a Snapdragon 820 chip. Y'all ready for that? I know I'm fine with that. If MS is going to attract people to make Universal Windows Apps or port win32 programs to UWA, they gotta make sexy and powerful hardware people want to buy. You wont attract developers to make apps by making a phone that can run the old programs anyway.

I will use this with my TV in the living room. The "apps" that I'll mist use are Office and the browser. I wouldnt snapchat via Continuum. I will edit photos and send them to Facebook, Twitter, Fhotoroom and Instagram. I would travel with this setup and leave my laptop at home. It is a lot less cumbersome to carry a small dock than a laptop. So the lessons learned by me are different than what you learned. Our experiences are not universal. Posted from this here device.

There's no use arguing with DJ, he finds faults with everything.

Everything Microsoft Posted from this here device.

And you hate seeing people point them out because it breaks your fantasy world. Sorry. Welcome to reality. Posted via the Windows Central App for Android

they're kinda right you know. As well crafted and argued as your statements are, we all know where they are going. I'm fairly new here but your comments do get pretty old and tired. Not saying that you're wrong, rather, I'm just saying that its "predictable".

Nah, I hate seeing people who only find fault and seek to be exclusively negative.

I could see Miracast + Continuum being handy for some things (mostly media).

Actually, with wireless Continuum, like through the wireless display adapter, it would be a keyboard and mouse, which is much easier/smaller than packing a laptop and charger.

what if Nokia is ressurected?

Fed up from those who comes in every WIndows 10M / WP articles just bashing or troll anything WP, no matter if the news were about new features, apps, games, device, etc and then promoting or recommending to go Android or IOS. Heck why are they still here? Yes I know it's your right to complain, criticize or giving feedback but coming hear troll WP and saying going Android or IOS!

The family that pays together, for three white 950XLs, stays together. Is anyone taking money yet?

Since continuum can do Miracast, I wonder if they will reconsider adding support for Snapdragon 800 devices too? One can hope...

I doubt it. Otherwise why would you buy the new phones? ;) Posted via the Windows Central App for Android

I guess this will come to Android and iOS, just like everything else, Microsoft sells out... sigh.... It says, Continuum for phones, SAYS NOTHING ABOUT Windows Mobile, or Windows Phone in the ad, never mind the phone shown, It would be a nice video to promote Windows 10 phone/mobile but, of course not

Hmmm...good point Posted from this here device.

I can't see how this can come to iOS or Android? It's not an app, it's a big part of the W10 Mobile OS - it's the hidden structure behind the scaled-down phone UI. I'm no tech expert, but it's near enough impossible just to port over like Outlook or OneNote. And, as has been said many times many ways, Microsoft offer apps on other platforms because it makes people more dependant on their services and getting people to use Windows 10. They can't do that by solely going after the 3% WP marketshare, they have to aim it at everyone so that everyone can be 'exposed' to the services that link back to Microsoft's flagship OS. Is it just me that doesn't get all the doom and gloom around Windows on this site? It's a sodding OS, not a way of life...

They need to have Universal apps to do that. Otherwise, its just miracast.

And how hard would it be for Microsoft to put a "big screen (Continuum)" button in the iOS and android versions of their apps? Watch for it. They'll continue cutting off their own legs.

they'd need at least "root/admin/jailbreak" access to the device at least and OS kernel modifications at most, thats how hard. If we'll see continuum on iOS or android, is because Alphabet and Apple made it so.

You do know that Continuum relies on Windows 10?! And that it can not be executed on an Android device which has discrepancy between their own OS versions (chrome os, Android 5.0, 6.0, 4.2?) Windows 10 is one single core that can have Continuum and Universal app without that core they cannot have Universal apps and no Continuum. It can be just a silly app screen projection ala 2010. screen mirroring.

What a boring video. Let the big guy from the MS Devices event do those.

Now Microsoft needs to put this on TV to garner more interest. Apple would advertise the crap out of this if they had a similar offering. Continuum has the potential to be that defining feature that gets more people on other platforms interested in WP/W10M. Many of them will probably already have a W10 PC, so it's not like it will be unfamiliar territory. I think this is where MS needs to take a risk and really try to push this to the masses.

I'm sorry but it's too late for the mindless masses, they've made their bed...imagine trying to get a precision instrument into the hands of zombies. It doesn't work, we are the few who survive and suffer this life among the dead.

I agree with you. Imagine the backlash on Windows 10 mobilee when the "masses" start returning their lumias because theres no snapchat.

I agree with you. Imagine the backlash on Windows 10 mobile when the "masses" start returning their lumias because theres no snapchat.

So, everything the woman was using in this video (except the foldable keyboard for the one used in the video) is available for 30% off and all for $159 US: http://www.microsoftstore.com/store/msusa/en_US/pdp/productID.329211600

so the stick lets you send texts and calls while you're doing that right? =[

Sure, just put that stick in your pocket and sell your phone

I could see myself using this if I owned a TV...but I don't. I have an old all-in-one that I use to watch movies. And if I wanted to be productive on that, I'd just use the computer itself. Can't see myself using it at work either. I teach in classrooms all across campus, but I just log in and pull down any presentations, powerpoints, etc. from one drive. But OF COURSE i'm going to show this thing off to folks who do have a TV. :D

I'm excited how people will use Continuum! It'll be used in ways we never thought! I'm sure some annoying things will also be done! But looking forward to it!

Why was the mom waving at her daughter on the TV? She must have hit her head on the flight home or something...

The OS Windows for phone is really awesome

Does the Wireless Continiuum means that old phone like L930 will also be able to use this feature?

And it goes wireless now..awesome

Like people have monitors lying around and have a 950 easily available. No one has those things. Even though Continuum is great it will not catch on. Posted via the Windows Central App for Android

I'm no 'Boss', but isn't someone that has to carry a keyboard and mouse to be able to use their phone as a pc (continuum) just going to have and use a laptop/tablet instead? And if you have a monitor in your home you have a pc to go with it???

Exactly. Posted via the Windows Central App for Android

I disagree. It is not so different from how my company uses Surface tablets. At my office locations and at home I have at least one additional monitor, regular keyboard, LAN connector and track ball mouse, all of which are driven by the tablet. These are inexpensive bits of hardware that stay put and can be used by others. When on the go I use thē Surface as a tablet, as I am now, or with the clip on keyboard. We even keep portable monitors for augmenting screen real estate while traveling, which are cheap, rugged and light. While at present I can't see a phone taking over the role of the tablet, years ago it would have been inconceivable for a tablet to take over for my work station, which is now the case. We no longer have any dektops or traditional laptops in active use. My Mac Book Pro wandered off to its resting place like an ancient lumbering Brontosaurus, and I do not miss hauling the thing around one bit. It will be interesting to see where this goes. If Intel stick can do it we my not be far off the next step. If a razor thin portable screen/keyboard, sort of a brainless surface with a battey could be made as a $250 accessory to this I would certainly consider it. Continuum Book anyone?

Everything was ok, until she picked up the phone, keyboard and mouse and put them in her large bag.... So sad that thats how microsoft wants us to use this.

Please allow us to use apps in Windows, just just maximised.

This looks cool but in reality it'll probably work like shit when paired wirelessly. This will be interesting when we get an Intel phone and have it be a full blown PC

Wireless continuum.. Awesome

The woman in the video is mighty Hot....

Well this video answered one of the questions that was in the last episode of #AskDanWindows. It showed the phone connected to the monitor, keyboard and mouse wirelessly, all at the same time. I can see people using this in place of their laptops. Hopefully, Microsoft will make a video with that.

Very cool... but I'm not sure that I'll be alive when (coming soon?) all this features works like de demos... :|

I don't get why people are so excited about this when everyone hated Windows RT.

I don't get this "feature" at all. I see no reason for it to exist or to ever be used. Connecting my phone to a computer, so I can use my phone as a computer seems redundant. If I need a keyboard and moniter, wouldn't that be the same amount of gear to carry as a laptop or even a Surface tablet? And if I'm carrying all that around, wouldn't a laptop or quality Surface tablet work better then a phone? Maybe I'm just not seeing the possibilities.
Windows Central Newsletter
Get the best of Windows Central in in your inbox, every day!
Thank you for signing up to Windows Central. You will receive a verification email shortly.
There was a problem. Please refresh the page and try again.