The new Microsoft Wireless Display Adapter shows off Windows screens on big TVs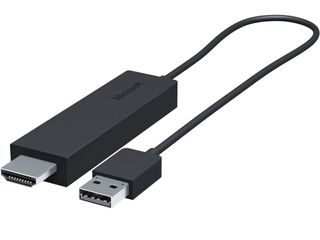 After months of leaks, Microsoft has finally and officially announced its plans to release its own Wireless Display Adapter, designed to project the screen of any Miracast-enabled device, including some of its Windows Phone 8.1 smartphones or its Surface tablets, onto a big screen television or monitor.
Microsoft states:
Microsoft used a Dell Venue 8 tablet and a Lumia 1520 smartphone to show off the new Wireless Display Adapter but the company says it will also work with Android devices as well.
The Microsoft Store website in the US and Canada is taking pre-orders for the Wireless Display Adapter (opens in new tab), which is priced at $59.99. It will be due out sometime in October.
Recently, Microsoft announced the Nokia HD-10, also a wireless Miracast devices with NFC for tap-to-pair. It is not clear what the message here is from Microsoft, as clearly the products overlap in terms of function, with the HD-10 being more social and consumer friendly. In terms of pricing, the HD-10 does have a $20 premium for that NFC support and different design.
Source: Microsoft
Windows Central Newsletter
Get the best of Windows Central in in your inbox, every day!
beautifully made but overpriced compared to other miracast receivers on the market. hopefully they offer better quality?

I'm just worried other receivers won't work at all with windows 8. MSFT has a terrible track record of supporting open standards with DLNA being a disaster. So I ordered this hoping it will just work...then again I was hoping display port 1.2 would "just work" on surface only to find that my expectations were once again too much for team redmond to match...

huh? DLNA streaming from WP8.1 and Win8.1 and Win7SP1 to a Samsung smart TV works fine for me. what happened with DP? I bought a DP-HDMI cable that's shipping. is it going to work?

I have one from Cable Matters and it works just fine. Does your DLNA work flawlessly? Mine doesn't but it could also be my crappy AT&T Internet and router that gives me slew of other issues. Sometimes it just disconnects and I have to reconnect it, and depending on the site, the video and audio will become unsynced and just a hassle.

I don't know what neonspark is talking about. I've had DP working great on surface pro 1, 2 and 3.

If the cable doesn't work after plugging in the DP-HDMI cable, you might have the DP plug inserted "upside down." I know, sounds crazy, but that's how the Gigaware Mini DisplayPort to DisplayPort/HDMI/DVI adapater worked on my Surface Pro.

"MSFT has a terrible track record of supporting open standards" That's just not true.

Terrible open standards support compared to what? Apple's proprietary everything? Google's Chromecast that only works with their own browser? DLNA support is hit or miss with any device because DLNA is a convoluted and overly complicated standard to begin with. It's really a crappy technology by current standards and it's a miracle that it works at all. Your display port 1.2 issue (he has a MST hub for multiple external monitors) may have nothing to do with the SP3 and everything to do with the hub. DP1.2 is very new and I have never seen a working DP MST hub in real world use.

Hopefully it'll get cheaper on amazon/eBay. Like if you by an HDMI chord from the Microsoft Store its $35 and then the same one is $15 online.

My Netgear receiver cost more.

Supports android devices why? xD

Because Miracast is a standard and isn't some proprietary horse shit like Chromecast or AirPlay.

MSFT the open company...lol how things change. They should really market this fact: apple, google evil platform lock-in guys. MSFT: open standards data liberation bla bla. It would at least give MSFT some badly needed karma points.

Yes, well MS was built on that philosophy back in the day. DOS, Windows were just a playground a developer could do almost anything with. The Steve took charge and tried to make Microsoft be more like Apple. Yes, even with a 97% to 3% market advantage using the old ways, Steve still thought Apple did things better. Nice to see Satya getting back to their roots. Cloud is a service as Satya knows, so I like his new direction. Focus on Mobility, not the device.

Bill Gates was in charge when Microsoft tried to make the browsers proprietary and forking java and there were other examples of this. When you are on top, locking people in is in your best interest since will will help you stay on top. When you are at the bottom, you want everything open so that people can use your products. When Google was at the bottom, they needed Microsoft to open windows up so that their browser would work. This was also the case with android. THey stayed open to get developer support. Now that they are on top, they are slowing trying to close things up.

You are re-writing history. During Steve Ballmer's time... The Office file format was made an open standard by MS. IE went from very proprietary IE6 to IE9, 10, and 11 which are very standards compliant. Windows is just as open for third party development as it has always been. .NET was created and open sourced. MS services were made available cross platform (much more than most competitors). How exactly did Steve make things "more like Apple?"

Thank you for that, are you that same guy on the verge post on Google+ ?

It has always been a cross-platform standard. you don't wanna be like airplay. it's better than it support multiple devices from different companies because most people have family members with android.s

Coz Microsoft isn't mean. They earn more than google on android devices and this is how business is done.

Or Mircast is a universal standard and this question is about as smart asking why micro SD cards work on Android

Would love to buy one but won't spend more than $30 on something like it.

Why? Because the chromecast is $30? They chromecast is fairly limited and it locks you into android. Miracast devices cost more than $30.

Chromecast also works with iphones, although not to the same extent as android phones. I use a Chromecast dongle to stream content from youtube, vevo and bbc iplayer fom my iphone and ipad to the TV. Google do not support windows phones because they do not rely on windows phones as much as iphones to push their adverts. I think you can mirror chrome browser on a pc to Chromecast too. Posted via the Windows Phone Central App for Android

Depends on what you intend to do with it. Cheap Miracast dongles have mileage that varies quite a bit. I bought TronSmart dongle for 29.99 and it worked. But try playing anything latency dependant like audio or video and it's a mess. Pretty unusable. I bought Netgear dongle and it's been a solid performer. No major hiccups and that was $69 CAD. Microsoft charging $59 for a well made accessory is pretty solid.

+925 I experienced the same thing. Netgear Push2TV rocks. And I expect the HD-10 is the same+NFC.

+630 Posted via the Windows Phone Central App for Android

And if your TV doesn't have USB you can't use it. Good thinking there, geniuses.

USB power adapters are very cheap and most people often have extras on hand.

My four year old 50" flatscreen has USB and hdmi ports :P

My 7 year old TV has one too. Don't know* if it was ever a standard, cause both mine's have 'em.

I saw that! Now I would have to look and see if my tv has a USB on the back. Would this work differently from other miracast receivers?

No. All Miracast dongles require external power. You could just use a USB/AC adapter, like your smartphone, and plug it into the wall instead. Most dongles just have a straight AC cord, meaning there is no option for USB and keeping all the wiress clutter free.

Cool thanks. I was wondering what the purpose of the USB plug was for.

A bunch of new TVs have had built in USB ports for years.

In my opinion USB is used to power the device. You might as well use a USB/power plug

If the USB is near the HDMI port and going unused, then it makes for less cord clutter.

Or if you happen to have any other unused USB port near that general area... like an unusued USB port on a gaming console...

While most tvs actually has USB connecting it to a 1amp charger would be equal to plugging it into your TV.

If it just needs a charger via USB cable, I can do that. I'm pretty sure my TV is old enough it doesn't have built in USB.

A lot of older LCD tv have a USB service port that was for pragramming and not for media. This shoud power the device if available too. I used to do this years ago for other devices since the port was free... These was no smart tvs or expensive... just plane starter LCD flat screen store brand... LOL, Just look and see... It may have a cover over it and not be labeled.

it's just for power but yes, personally I would have preferred an AC adapter being bundled in than this.

Its typical even their backup batteries don't come with one so its not surprising nokia would do this to cut costs

My 6 year old Panasonic plasma has USB. Time to move forward...not backwards.

Not quite sure what you're trying to say...

My Sony Bravia circa 2006 has USB port on it......not sure what your getting at - if you have a TV that is anywhere within the realm of 5-10 years old, it has a USB port on it, and this includes most if not all Plasma/LCD tv's.

The USB is just for power, meaning that as long as your home has electricity, you can use it.
Genius.

Why not just plug it into a USB wall charger or and USB port on the back of you cable box or Xbox or ps4 or satellite receiver anything with a USB port its only used for power should work fine

If you have a cable, satellite or FIOS box, use the USB on there as an alternative. (just read this down the posts)

Will it work with the 1020?

No because it doesn't meet the processor requirements

snapdragon 400 also supports miracast.

So 1320 won't be enough ?

Yes. It works with my 630. Posted via the Windows Phone Central App for Android

Will it support Windows 7 as well? Or is windows 8 required?
Would give it a try in our conference room

If your win7 machine has Miracast hardware...yes

It is a Sony VAIO with Intel widi, that should be compatible. Maybe we finally can get rid of the disgusting 10m HDMI cable :)

yes..then it should work... WiDi = Miracast

No, WiDi != Miracast. Some recievers support both, but they are two different standards. WiDi is an Intel standard that works with some devices that have all Intel hardware. Miracast is an open standard that any hardware manufacturer can support.

If you have a computer with a intel centrino n wifi adapter & maybe @ least a sandybridge cpu/motherboard it should work if you install the widi app

Miracast support is built in to Windows 8.1. It is not supported natively by previous Windows versions.

Will it be available worldwide?

off course. microsoft is a global company and always brings all its services and products world wide, no exception. I'm not sure why you'd ask :) /s

I am agree that Microsoft is global company, but why I ask, ask because their product is possible to buy initially in certain country or you need to wait couple month or at least one year that their products be globally available, just example Surface, XBOX...

It will certainly work world wide in the US...

Probably only where they carry supported nokia handsets

Anything at Microsoft is 60$

If Microsoft charges 60$ for a useful-multiplatform adapter: complain.
If Apple/Samsung charges you 60$ for a case or something else: not complain.

But Chromecast from Google is 35$

And ALSO you're locked to 'droid. With this one you're not.

Well, it depends of your use. I don't have a "miracast supported" PC nor Windows Phone (Lumia 920). But with Chromecast I can use it with my PC by Chrome, and it works well ! I like it very much ! And also I have an old Android tablet which works very fine with it. But ok, I agree that this dongle is less limited because it can mirror everything, but it needs to have supported devices. I think for most of people uses, Chromecast works very well : play movies on TV, netflix and youtube, music, mirror chrome tabs and so. For a more professional use, maybe this Microsoft Miracast dongle is more powerful.

Professional and 'non-professional:. It has more value in many ways.
You comment is based in a subjective not objective optic. But its ok.

Miracast works better. Better video and less latency and just as simple as project to your TV. Compared to miracast chromecast is complicated.

Eh... no. There's a huge difference between what Google has done w/ Chromecast and this device. But everyone's need are different. Chromecast just happens to fit your needs and that's great. But ysaying 'Who needs this when you have Chromecast?' is like saying 'Who needs a Home Theater PC when you can buy a $69 Roku?'. They are WORLDS apart and its got nothing to do w/ proffessions.

And is limited to Chome Browser and supported apps only. This works for anything that can do Miracast, and shows exactly what your screen shows. You can play ANY game or run ANY app from ANY device, on your TV, as long as you have Miracast on that device. That's why it's worth more.

Miracast is too laggy for most games. Chromecast also supports screen mirroring for some android phones but is only out as a beta at the moment. Posted via the Windows Phone Central App for Android

Buying a chromecast was on of the worst money I wasted on a tech product. When you use it to mirror the screen it's laggy as hell. Heck, even the miracast support in my new cheap tv is much faster.

Apple charged me $50 for a HDMI adapter...

At what point does the start screen and the items start looks blurry? Once you project your phone on 46" TV? 55"?

Shouldn't matter but will depend on how good your tv is at scaling if it needs to scale. My tv is 1080P, so is my 1520. Things look identical, maybe even sharper since i am further away from the tv screen.

You are projecting the resolution of your device (up to 1080P) to the TV. As long as your device is 720P to 1080P it will look perfectly normal on a 1080P TV screen.

Yup here come the "it's overpriced!" comments. Most Miracast adapters on the market are $50+, so this isn't unreasonable (but of course it would be nice if it was cheaper).

Thats true. At least I think mobile nations still carry allshare cast hub?(great to pickup during one of their many sales)

Yeah i wanna know dis it work with 1020?

Unfortunately it won't. At least not Miracast (so practically "beaming" your phone screen directly to the TV), since only the newer phones support it. DLNA would work though, meaning you can send music, photos or videos to the tv via the PlayTo App

Nope, the POS Play To doesn't work anymore either. Did work with 8.0 and Xbox 360 (Lumia 1020), but now it dies after about 10 pics. Video and music doesn't work at all. And yes, the router is MORE than fast enough.

The problem is yours, i don't have it. So should i say it works perfectly? No, i should say that with my phone, tv and routers it works

Then you are lucky. Worked perfectly BEFORE the update to 8.1

it will also work with Android devices as well

off course it will, it is not like it is made by google where they desperately try to lock you in. MSFT should create a chromecast like dongle but this time open to any smart phone instead of the nonsense lock-in games google plays

Cool, now I need a phone or tablet that supports miracast too... :P this technology is cool but I don't know why it was made so not every device can use it, something like dlna for example that almost any device can send or receive. but anyway, maybe things like this and new devices supporting it, will make it like a common thing to see in devices like bluetooth, and wifi etc etc.

Technically any sandybridge laptop(with centrino n wifi) can do this all you have to do is just install the app from intels(their call it widi) site

Correct. It's about processor, wifi card, display card....i have p2tv that works fine with dell venue 8 pro but no luck with surface pro

Surface Pro (1st Gen) will work with P2TV 3000. You need to install the latest firmware for both the SP and the P2TV. I have used that combination quite a bit and it works great.

WiDi is not the same as Miracast. WiDi hardware support does not gaurantee Miracast support.

Miracast is based on Wifi-Direct which is a fairly recently added subset of the Wifi standard. Therefore, it will be very common in nearly all devices going forward. DLNA is an archaic, overly complicated, and convoluted collection of unrelated technologies from the past. It has been plauged with compatibility issues since it's inception. It had a good run and it still has purpose for older devices, but it offers absolutely no advantages over Miracast. Over the next handful of years it will be considered an obsolete technology. I think MS is looking to the future and trying to avoid problematic legacy technology with this product.

Better solution than the HD10

It's a shame they didn't try to brand this as a Chromecast killer. Not that I think it would have been a successful competitor. It's almost double the price.

Chromecast isn't cheaper. You're paying with your privacy

Double the price, tens times as useful, and not proprietary.

Does this works with the Lumia 1520, right ?

Would have been a pretty terrible presentation involving a Lumia 1520 if it didn't. "So here's a great example of our device not working with a product we now own, any questions?"

I'm an Arab that just came from the English test,and I smell something wrong here!
Does replaces the s in works,and can't be used with "right?"
Sorry I had to do it...

Your sniffer is working correctly. You would ask, "Does this work with the Lumia 1520?" Or, you could ask, "This works with the Lumia 1520, right?"

Not if you don't have Cyan :/

Does my PC need a dongle for this, or is it enough when it is connected to the wifi netwerk?
Also, how is the quality for watching HD movies? How many frames per second does it show? And at what quality does it transfer sound?

Depends on what pc you have

Most (if not all) Windows 8.1 computers support Miracast. If you run an older OS, you will need hardware support lilke Intel's WiDi.

Surface pro, no Miracast support.

So as long as it has windows 8.1 and it is on the same WiFi it will work?
Any clue about the quality questions?

Surface Pro first gen does support Miracast with the latest firmware. I use it quite often.

Miracast doesn't connect via a router or network. The transmitting device connects directly to the receiving device via Wifi-Direct (which can occur while you are still connected to a normal wifi network for internet, etc.). Your PC needs to have Windows 8.1 for the Miracast software level support. It also needs wifi hardware/drivers that are Miracast capable. If the PC/device does not state that is in Miracast compatible then it will be hard to determine compatibility.

So will a PC from around 2008 with latest w8.1 that is connected with a cable to a bridge or access point that is connected to a router over wifi work? Can I just connect this device to this wifi network?

It probably won't work with your 2008 PC's built in hardware. Wifi-Direct did not exist back then, so it's unlikely that your hardware would have the logic required to support it. Cables, bridges, routers, and other network equipment don't play any part in Miracast. Miracast only uses a Wifi-Direct connection from transmitter to receiver. Other network technologies are not used by Miracast. It is a very simple and straight forward standard by design.

This is a must have for my Surface Pro 3

If you're going to use it at home mostly, you might want to check out that Sony Blu Ray/DVD player (BDPS3200 I think). It plays discs, has wireless streaming services PLUS it has Miracast. I was able to connect my SP3 easily.

Since I run all my components through an AV receiver, I'm assuming there wouldn't be any issues with this plugged into the AVR, rather than directly into the TV? I know it SHOULDN'T, but want to be sure before ordering one.

I have a Netgear PTV3000 that is connected through a HDMI matrix switch with no issues. This device is very similar so I would think it would work. It's just another HDMI stream in theory.

Can anyone suggest a transmitter that can work with this receiver?

Depends if your using a recent intel powered laptop it should already have it(may not have the app preinstalled though) if not or using a desktop their is a kit from actiontec(screenbeam) & if you look around online theres also a intel centrio ac desktop adapter(but your desktop still has to have a intel processor)

That Intel Centrino is PCI Express plug? I'm running 3rd generation i5. You have a link to an example of the Intel Centrino AC?

When will XBOX ONE have native Miracast support?!

Why can't my Xbox One do this?

They need to hurry this up. I don't want to buy a $60 adapter, I already bought their $500 for the their supposed ultimated entertainement box.

Its coming. YOu just have to hang tight. No sarcasm or trolling, Xbox One will support DLNA.

Well, it already supports proper DLNA with the latest update. But when will it become a proper Miracast receiver? For the project my screen feature?

Err, aren't they the exact same thing, except that the other accessory is superior because it has NFC pairing? I know it's mentioned in the article, but still, seems really weird.

That and this is more bulky then the other one

Yeah but you phone has to have nfc not all Lumia have it there are some Lumia device that support mirrcast but don't have nfc so this way both crowds the one with nfc and the ones without it will be happy

You can still connect to the other one without NFC. It can work as a regular Miracast receiver, just with the added benefit of NFC pairing.

Anyone know if this can be used with Xbox One, or whether Xbox One supports something similar?

The Xbox One has a USB port on the back as well as an HDMI in port. It will work wonderfully but the question is, when will the XB1 become a proper Miracast receiver on its own?

this is ridiculous ms allways focus US not for asian countries sucks MS "It's not you, it's us.""

Like it or not USA and UK/Europe have the largest markets, so more than any others they are likely to be the first to get nice things. Not happy with that? Head to an airport and get out of Asia already.

It's an American company, so shouldn't it be expected? Besides, you can buy all kinds of cheap Miracast adapters anyways. This one looks nice, but it's pricey.

So wait, is the hd-10 that NFC circular thingie from the ad, or is it something else entirely and the NFC pad is a part of the 59.99 wireless device thingie?

Will have to try with a Tosh Encore 8". The belkin one I have to stream to an old 24" monitor just didn't work. The Tablet utterly failed to find the receiver. Price wise, this seems comparable to most the others that I've seen.

Well, the name (Microsoft Wireless Display Adapter) isn't completely butchered (like the HD-10 "Microsoft Screen Sharing" debacle), but come on. This is a consumer device. Is Microsoft completely inept at coming up with a clever, catchy one-word name for something like this? Microsoft is such a complete fail when it comes to marketing to consumers. For $60, it seems like it should include a USB charger in case your TV doesn't have one. Also, I would be plugging mine into my home theatre receiver, not the TV. Not sure what sort of USB ports it has without looking. $60 is high, but if it goes on sale for $40, I'm in.

Does anyone know if this uses any different updated version of Miracast that is maybe less laggy than say the Netgear PTV3000, which is what i currently use. It works great for movies, music, etc......but for anything else, a wired solution is the only way. It works more like a remote desktop connection - mouse lag and such - it is usable for certain things, but screencasting and doing work has noticible lag. I hate that mfr's are opting to save the 2$ it costs them to eliminate micro hdmi forcing people into the wireless option. What I really want to see, is Threshold version of Windows Phone with a RT desktop that pops up when you connect to a larger display. We also need landscape support for the start screen. Even if it jarbles the layout to something you dont really want...there should still be the option there.....and the phone in your hand acts as the wireless touchpad/keyboard

I think the nokia HD10 is better because of nfc

Anyone know if the Xbox one has Miracast receiver in it? Cause I have been searching and keep coming up with different stories. I hope Microsoft plans to add this ability to Xbox one, I really don't want to have to switch inputs on my tv (I know I am lazy)

No it does not. It was mentioned before launch it would be getting Miracast reciver support but hasn't happened yet and Microsoft has mentioned it again, as far as I know. I don't see them never implmenting it, but no clue when it's going to happen. DLAN works. So if you're using a DLNA on your phone you can stream your media content or if you're a Windows 8 apps or Modern IE you can steam the content from them. Not as good as Miracast though.

All you need is the Smartglass app which streams content to TV via XB1(DLNA), but not the mirroring.

I have the smartglass beta app and never saw that option, can it grab local files as well?

No, he is wrong. SmartGlass is not a steaming client.

No you cant. Nothing streams from SmartGlass, it only initates content on the Xbox.

It was never, not once said that the Xbox One would get Miracast receiver support. There was a demo of the Xbox at a partners conference immediately followed by a demo of a Miracast receiver, and that confused a lot of people on the internet into thinking the Xbox had Miracast support. That being said, Microsoft did add Miracast receive support into the 8.1 August Update. One would think this would be in preparation for the Xbox to eventually support it as well. However, as of right now, the Xbox is still running on the 8.0 kernel anyway.

Your pre-order link doesn't work. I would post the working link to it, but your comment system wants to mark it as spam. Go to Microsoft's website > Shop Products > click Surface > click Surface Accessories in the page's navigation. It should be one of the first items listed. If we aren't allowed to post links, then remove the link button from the Filtered HTML comment setting.

Does my beloved Lumia 1020 support Miracast?

No it doesn't. The hardware predates Miracast support. Snapdragon series hardware has support for Miracast.

How about just support mhl...

Very cool, wanted for my pro 2 Posted via Nexus 5 WPC App

Perhaps a stupid question, but:
I assume sound is transferred as well?

Not all tvs have a USB port

Well you could use a usb extension cable and a usb plug charger.

Use an external battery for cell phones. Same.

Microsoft just continues to price its products right out the market. Steups. For an underdog in the mobile space, they pretty arrogant with their pricing.

The pricing is actually very similar to other common Miracast recievers. Netgear PTV3000 for example. Also, this device really has nothing to do with the "mobile space" and it's not locked in to just Windows Phone.

Which Lumias are compatible?

Those with Snapdragon 400, 600, or 800 series SOCs are compatible provided they have the right OS/firmware versions to support Miracast.

Works with my 630. Posted via the Windows Phone Central App for Android

So expensive but I preordered it

DLNA works when it wants to for me. More often than not it doesn't want to

I just wish my Lumia 635 would work with my Miracast capable sharp tv. Tried multiple Android devices that work on the first attempt. Not so with my Lumia.

This is why I avoid "smart TVs" and just get stand alone receivers instead. Check your TV for firmware updates.

How does it work? I hope it works like Chromecast. I don't want to stream movies from my Phone and keep my screen on. I want my Phone to work like a remote control not like another screen.

Second screen ;) Besides, the phone as another screen is much handier as being a remote. Just try it :)

But does that mean I would have to keep my phone running, lets say, Netflix all the time while streaming it to my TV? That's not handier at all.

Miracast does mirror the screen. Whatever you are sending to the TV will also be on your phone screen. Posted via the Windows Phone Central App for Android

Blows my mind that I can't do this on the Xbox One yet.

Bring Miracast to Xbox One please!!!

Yep. Or plug the HD-10 in the Xbox One's HDMI-in port.

I'd rather get the HD-10 as this is far to bulky and I don't want the hassle of extension cables lol.

Ordered, can't wait, will be taking this on my deployment along with my SP3.

We dont want to have to spend $50 to $70 to do something the box we already spent $400 to $500 is perfectly capable of doing it.

I don't want to carry Xbox all the time with me on trips

Seems too high for price , but very awesome!

It looks like the video also showed second screen :)

Will order the Nokia and Microsoft version just to test however do prefer the Nokia design as the Microsoft version is not perfect for every TV design wise.

Figures. I just bought, like 4 days ago, a Netgear Push2TV PTV3000 to help me convince my company to switch from iPads to Windows tablets. This MS adapter looks to be much more portable for our sales dept. But, my Netgear works great. I have used it with a Lumia 1520, a Dell Venue 8 Pro and an Envizen Digital V100-64. Works great on all of them. The only problem I ran into so far is my HP laptop. I can't get it to 'see' the adapter when adding a device. Every time I click Devices and then Project in the charms, the Second Screen charms appear and then immediately disappear. Anyone seen this? For those asking about the power and USB. I have an older Vizio 55" LCD that has a USB port that is supposed to be for diagnostics only. This does power my Netgear just fine. My receiver also has a USB port that can also power the adapter. So any piece of AV equipment you may have that has a USB port should be able to power the adapter with no problems.

Has Microsoft stated they aren't including the ext cable in the box for usb

Hope this also allows use of Windows "Play To" (PlayTo) as not many devices provide this option.

Display my SP2 screen on my 55 inch tv? Sounds interesting....

Does the Xbox One have this built in, if not why?

I also wonder what the main advantages are in getting this over the Nokia HD-10

Great, now what we need to see is for applications to support a 2nd screen intelligently. So if I have some content that I want to display on my projector or TV, I should be able to do so, but keep the controls on the primary screen. That way Miracast could work just like AirPlay. As for chromecast and Xbox like handoff that is a different story for now...

To expensive = FAIL I have two CC for the price of this 1. Microsoft needs to come into reality. The only way they can compeate with CC is to sell the damn thing for $20 - $25. Give it away.

Darn it - I just received the Actiontec screenbeam kit (today)! That being said, the Actiontec kit works great and will be useful for older laptops (comes with a USB dongle)... but for my Surface this guy would have done the trick.

They should've also included DLNA.

Well the biggest concern why Microsoft releases things in US n Canada only???? We Indians can't buy many Nokia Microsoft products coz we don't have a genuine store nor they these it via other retailers

So could this be used to stream Xbox One to a laptop or tablet somewhere else in a house?

adapter $59, very expensive... I need native support DLNA in wp8.1, HTC M8.

Need a VGA adapter for all the educational institutions stuck with old tech, even Apple realizes that on their airplay adapters.

HD10 no internet connection is needed, but this one needs Wi-Fi?
Windows Central Newsletter
Thank you for signing up to Windows Central. You will receive a verification email shortly.
There was a problem. Please refresh the page and try again.