New features for Windows Phone 8 GDR3 reportedly revealed; due in the coming months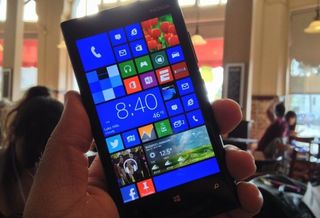 While many handsets are just now getting Windows Phone 8 OS build 10327 aka GDR2, it has been known for a while that GDR3 was due not too long thereafter, filling in another gap between Windows Phone 8 and Windows Phone 8.1
Like GDR2, GDR3 will not bring many new major features but rather lots of smaller improvements, driven by new hardware requirements. Those plans include devices with 1080P resolution and so-called phablets (devices with 5-inch displays or larger). Now, a variety of sources have come forth with some of those supposed changes.
While the list is interesting, it's not the big update that may are expecting. That of course is for Windows Phone 8.1 aka Blue, which is expected in early 2014. That version of the OS is currently being tested on various handsets by Microsoft employees, though the final feature list has not been specified. In the meantime, users on Windows Phone will have to settle for the smaller general distribution release (GDR) 3 that should arrive around October or November.
Here is the list of supposed new features:
Orientation Lock
Driver Mode, will turn on automatically when you connect it via Bluetooth. Can reject phone calls / sms and send auto reply back
Ability to have 3 medium sized tiles in a row
1080p / new SoCs, which we knew for quite some time now
None of that should particularly come as a surprise, though certainly the Driver Mode is new. The rest, including Orientation Lock, 1080P display support, and new chipsets are all driven by the need for new hardware and will offer very little in the way for current hardware.
Other features that may make the cut include closing of apps via the multitasking window and silent NFC i.e. no confirmations, though it's not clear that those features will be included due to time.
Over at the Verge, it is being reported that text message sync with the web is also being considered. That feature would enable one to view text messages at the PC instead of having to turn on the device. However, like other features it is not obvious that it will make it into GDR3 either.
As we've said previously, GDR3 should be thought of like GDR2: a software update to enable new hardware options for vendors. While it will bring a few changes for current devices, the big OS refinement for those will come with Windows Phone 8.1, which is expected to go to all current Windows Phone 8 handsets. That update will deliver new features, including a new voice assistant, Theme syncing with desktop and enhancements to text messaging as well in addition to the much coveted notification center.
Windows Central Newsletter
Get the best of Windows Central in in your inbox, every day!
Daniel Rubino is the Editor-in-chief of Windows Central, head reviewer, podcast co-host, and analyst. He has been covering Microsoft since 2007 when this site was called WMExperts (and later Windows Phone Central). His interests include Windows, laptops, next-gen computing, and for some reason, watches. Before all this tech stuff, he worked on a Ph.D. in linguistics, watched people sleep (for medical purposes!), and ran the projectors at movie theaters because it was fun.
Sweet.. Waiting for that Nokia Phablet with 41 MP camera :D


You got it. But the next 41MP Lumia will probably not be out this year.

I would suggest there will be another 41MPx device, just not in the same formfactor, It's more likely to see the next <5inch phone with 41MPx at MWC 2014

I doubt there'll be another 41MP Lumia this year just because it'll be expensive and end up being another niche device especially when coupled with things like quad core processor and 1080p display. My guess is we'll see one next year during WP 8.1 launch. But I guess we'll just have to wait and see.

Phablet 1060.. Take my money

Agreed, I think 5in+ screen and 41MP is too expensive at the moment for anyone to buy it. Nokia don't often release 'all-in-one' flagships because the market for them is quite low vs releasing flagships that specialise in a particular area.

I think that 5" phones are ridiculously stupid

+1 to that, but to each their own I suppose.

The device can have 5 inch but size should not be beyond 1020 for a 41 mp device dude...we also need the device without bump,it should have 920 shape

That will draw a LOT of power. Hope the battery is at least 3000 mAh.

I'm now awaiting a 'Phablet' from either Nokia, Samsung, LG or maybe HTC. Nokia is my 1st choice of course.

The Samsung Galaxy Note 3 is coming soon, as is the HTC One Max. LG just announced the G2, which is not exactly phablet, but it still has a large display at 5.2". All of these phones will be available to purchase later this year, but Nokia's phablet probably won't come around until early next year. I'm going to wait for Nokia's phablet :)

But if you can't wait then I would say go with the HTC One Max (if you can deal with Touchwiz I guess the Note 3 would be good too).

There is always the next model...

They forgot to mention, that nokia will release the Diamond update on top of that gdr 3 , to make the world a better place lol

I have a feeling those of us on AT&T will get GDR2 with GDR3 as a lump update instead of two separate occasions.

Nokia has pushed out setting updates that rely on GDR2 and/or Amber recently. It would seem they are expecting carriers to deliver GDR2 with Amber in the near future.

I have a feeling that if you want to see GDR3 and further, you'll likely have to buy a new device, particularly on AT&T or Verizon.

I don't think current devices will be locked out of GDR3, but certainly a lot of features will be unnaccesible.

I doubt that even the supposed big feature update next year, 8.1, will be available to all devices. By next year, the carrier, be it AT&T or Verizon, will want you purchasing another phone and re-upping a contract.
Microsoft has no control over that, unlike Apple who can push an update out via iTunes.

The carriers are certainly a problem, but you are over exagerating it and not taking into account the history of WP itself. The 8.1 update can most closely be compared to Mango, and Mango was delivered to ALL devices, and pretty quickly as well. When it came to WP8, MS took a lot of flak for not delivering the update to WP7's, especially the Lumia 900. MS has already stated all new phones get updates for at least 1.5 years or something, and I'm sure they wouldn't want the bad press of there being WP8 not getting upgraded to 8.1.

What you mean is that the 8.1 update will be made available to ALL WP8 devices but AT&T or Verizon will probably withhold it because they would rather you purchase a brand new phone with 8.1 in it. Just like Mango which was made available for ALL WP7 handsets but some carriers decided to withhold it from their devices.

It is not really an issue of 'getting' or 'not getting' the GDR updates. These updates are mostly to enable hardware support for more devices. GDR2 will be fun for the L920 because it will enable the FM radio... but outside of that the GDR2 update simply does not do anything for users of the L920. However, a phone like the 1020 simply could not exist without the changes that came with GDR2, so in that sense it is extremely important because it grows the overall ecosystem. GDR3 will bring some neat little goodies like orientation lock to existing users, but the bigger deal is that it will open up the ability to have larger 1080p screens, more modern CPU/GPUs, and possibly even quad core devices.
The bigger deal for Nokia users is that Nokia has been adding their own updates on top of these hardware enabling updates. Amber brings things like pro cam software, a camera firmware update, stereo audio recording, flip to silence, double tap to unlock, the persistent clock, more screen/color settings, and a bunch of other little fixes throughout. This is a much bigger deal than anything MS is throwing our way. With GDR3 there will be a new round of goodies that Nokia will release which will have a much bigger impact on existing devices than anything that MS is working on at the moment. I think that the nice thing is that with GDR3 MS will finally be mostly caught up on hardware support, which means that with WP8.1 (which most existing WP8 devices should get) will hopefully be the beginning of adding features, and changing some of the idiosyncrasies of the WP platform. We will also hopefully start to see more integration between various Windows 8 devices which could be very interesting.

Call/SMS blocking is the most exciting thing coming from Nokia (and enabled by GDR2) for me.

That is the main feature I want, but I see AT&T blocking this as they could sell you Smartlimits for $5/month

Picked up an AT&T 520 for my daughter and it has the amber update. When Nokia rolled out the extras and display updates the other day it came with the call/sms reject feature. It works very well and my wife and I are looking forward to having it on our 920s.

They haven't blocked it. I just checked it. Mine is working.

I am enjoying the Amber update on my new 1020 that I picked up yesterday.

Me too, also I hope BT gets better. My car's BT can't play music without stopping and sometimes crashing the phone.

It's not what GDR 2 will bring to L920, but what the Amber update will enable on Nokia phones. Glance and flip to silence will also be enabled. So even tho the L920 doesn't have the upgraded hardware (quad core/1080), we will be getting some good usable features.

idiosyncrasies. i'll keep this word in mind when i'm playing my next game of wordfeud.

In Europe at least the timeframe for Amber was Calendar Week 33 to 40 (depending on carrier among other things). I would guess the timeframe to be similar for Nokia around the world, including AT&T. Given that AT&T were the first to roll out GDR1 to Nokia handsets it wouldn't surprise me to see GDR2 arrive there rather sooner than later.

ATT has been fine with their updates... Received everyone on time since my Focus. (minus NoDo)

Greattt news. Whats the app in photo with hour and weather?

The HTC clock app, its only shown on a Nokia as its a mockup screenshot.

Ithought it was weather flow?

haha...i've been waiting for this

If you are referring to the weather app in the screenshot, it is "Weather Flow"

You do know that the picture is crude fake?

Try TimeMe. Almost identical.

I am hoping for a native implementation of tile grouping, like on Windows 8.

Thats probably in WP8.1, not GDR3

By this? You are easily blown away.

That was sarcasm. I'm not impressed with these gdr updates and the addition of features. Not expecting nothing big but they could put a little candy in there to keep the masses (me) happy.

- sorry, I misread this -

That's not what he is saying

First I would like to at least get GDR2.

I was waiting for someone to say that.

Still waiting for GDR2 as well

What is this mythical GDR2 update of which you speak? Those of us in HTC 8X land are unaware of any updates at all... :-P

Any word if the 3 tiles per row will come to current 720p devices, or is it just for 1080p "phablets"? Would be nice if it were a settings option so that users can decide how crowded they want their home screen.

I agree way back when they talked about this on WPC they had a upright pic as well and it looked nice on my 8X. I bet it would look even better on my 928

i hope for your friends' sake it won't come with a caps lock :P

that alone makes the whole update worth it for me :) been waiting for this small feature since...November 2012

So bizarre that Daniel specifically calls out orientation lock as a "need for new hardware that offers very little for existing hardware." Whaaaaaaa? Users have been begging for it for 3 years!!!

Seriously!!! Daniel, what are you smoking?!

Which phones will be able to have 3 medium sized tiles in a row? I suppose it will depend on screen size?

I don't think any existing phone will support this, it will come with new hardware that has higher resolution screens. That's one reason I'm resisting the 1020, will wait for a "1025" with a bigger and higher res screen. I hope that comes this holiday season and not next year with Blue.

Stole away my words.... I suppose its not going to support my L520 anyway

GDR3? I'm not even holding my breath to see GDR2 on my 928 anytime soon...Blue is just a dream.

I bet you have GDR2 within the next two weeks.

Yet to be seen, this is Verizon we are talking about...known for taking forever for phone updates

Waiting for it on my Verizon 8X also.

I'll worry about this after I finally get GDR2. AT&T L920 customer patiently waiting.......

Same here man but I saw someone comment on WP central on a different article that the update will come out around August 20th.

Same here. Come on AT&T! Okay, maybe I'm not quite as patient as you.

Orientation lock?
WP8 suddenly seems much more like an upgrade to WP7.

WP8 IS an upgrade to WP7.

by upgrade, he meant, a small feature pack(or service pack), :)

Except for the placement of the emergency call button, some of the settings buttons, and the emoticons (which are absolutely abominable in WP8, this is true. Some of the changes seem to have been made for no reason and with no consideration whatsoever. They're mostly all quite minor at least but I find there isn't the same levek polish as WP7.

WP8 did little beyond what WP7 already could. It even lacked some features that WP7 had. Purely from a consumers point of view, WP8 was not a meaningful update.

Of course it was! It allowed the platform to move forward!

I suppose switching from the CE core to the NT core wasn't a big deal then?

God forbid Microsoft should change its stupid policy of not improving the OS fast enough, hoping their current consumers will have endless patience... Honestly I think WP9 (8.1, Blue, whatever) will be just a bucket of cold stale water, pretty much like 7.8 was.

It's not exactly a policy. They've been battling carriers to get updates moving, and don't have the market share in mobile to influence them.

Then wouldn't it make sense to pack as much as possible into the updates they can get through the carriers? Two updates have come now, that's 2 opportunities to add features but they didn't. That's poor decision making on Microsoft's part, not the carriers.

These updates seem to be driven primarily hardware needs and not necessarily features for current owners. As such... new devices will ship with this update and the rest of it will get it whenever it makes its way through.

But why would that process stop with GDR3, as if somehow the rate of handset hardware innovation will slow just because MS finally catches up with GDR3?

My hopeless hope is that they are working on uniting W8 and WP8 APIs and such, and the new features will be mostly made with the new tools, thus pushing those features to Blue...

As it has been said, it's not the carriers that are responsible for the contents of the updates. They are to blame for the "approval" process that delays things, but they are not to blame for Microsoft's lazy stubborness in refusing to provide bigger and more meaningful updates.

Exactly. "Carriers resist making updates available so we should make updates as worthless as possible.". What kind of sense does that make?

And for those with unlocked unbranded devices? I bought mine direct from Nokia and have not seem MS moving updates.

Microsoft ran out of time last year so they didn't include a notification center with WP 8. Now it may not come until 8.1? Its obvious they were lying back then. They didn't run out time, they simply didn't even have started. 7 extra months since WP8 release is plenty of time to have released a notification center. Why do they think Nokia has all the time in the world? Microsoft will have a big problem if Nokia goes under.

Agreed. They obviously never intended on a notification center until they heard the complaints. If they had, it would already be available, obviously.

Keep the updates coming. GDR2, GDR3, Blue and then 9. It's all good stuff.

WUHUU!!!! FIFA 13 for WP8 !!!
http://www.windowsphone.com/en-us/store/app/fifa-13/b7f0b0ac-e026-4d6c-9...

Where have you been? We've known about that for a week already.

For a week? Make it two or three.

Small improvements are welcome but it's interesting that the big improvements/features are always said to be coming in WP8.1/Blue. I'd expect to see quite a large list of new features. I sure hope they deliver!

Yeah well, I suspect the 8.1 will be just another disappointment in the row of disappointing "updates" to WP. Accompanied by more BS about "great stuff happening in the future".
Why the fcuk are we supposed to even know about what amounts to device drivers to new phones (GDR2, GDR3)? This is stuff that should happen out-of-band all the time, not hyped up to be the saviour of the WP ecosystem. Compare it to the latest point release of Android: how many over-excited announcements of device drivers were there compared to actual features?

The text messaging via tablets is nice, the palm touchpad had that and its a no-brainer feature I think. I'm a big fan of the old school profiles for car, work and home, which sounds a lot like that car setting feature.

I, too, am excited for orientation lock, as small as it may be!

Can I have GDR2 before we speak of GDR3... Rogers in Canada still not pushing GDR2 on the lumia 920

i think most carriers are still not pushing GDR2 for L920

Text Message sync means they got it. One ecosystem to rule them all. It might be 8.2 before fully realized but its coming.

I hope all the carriers jump the GDR3 and not bring these to existing WPs. Why? This only will delay the WP8 Blue test for they!
I think that if they don't test the GDR3 they will test and approve Blue faster.
I don't want to receive Blue in the middle of 2014.

You'll receive Blue in the middle of 2014 regardless of carriers jumping GDR3 or not. Microsoft will not release Blue any faster just because carriers have jumped GDR3. Microsoft will not release Blue for approval before everyone gets GDR3. And carriers will also have to "approve" Blue anyway. . So...the only think Microsoft has to do is stop being lazy and start to pack GDR3 with more features (note that they still haven't addresses A SINGLE top feature on their uservoice) and start releasing updates faster.

Even though you have a point, orientation lock was one of the top requested features.

I agree... Orientation lock is a big user voice request. It's split across like 8 topics there so it may not show at the top of the list though.

Won't be buying another WP until the 8.1 update.

Should have said will wait and buy a WP with 8.1 software:)

We'll all have to buy new pants then, too, with gigantic raver pockets, because the phone will be a foot tall with two inches of camera lens sticking out of the back!

If you already have WP8, then there would be no need to buy another phone because the upgrade will also come to your phone!

Great. I will be able to see SMS on my phone then. But, will it also enable the phone to send SMS? Hey, what does 3 medium tile size mean? I don't catch that.

see the phablet in picture, ofcourse doesnt mean anything to current users.

Well, I understand that, though it's just a mockup image by another Windows Phone fan. Thanks for informing anyway.

Orientation lock!!!! Score! I hope someone can find a way to make it work with current devices. This is a huge "feature" for me, personally.

Me too!! I think for All of us (WP users) .. Now Microsoft felt the need to add Orientation lock? I wonder who the tester is :/

Yeah, me too! With that feature coming up, I can wait for longer.
But, hey, where they got the need of users about locking the orientation?

Honestly don't see a reason for it. But hey the more features the better.

You guys forgot that the GDR3 supports quad core and even octa core.

Another +1 for you. That's the SoC improvements, but it also will give phone the better GPU.

I thought WP8 supported up to 64 cores by default...

Yes, indeed WP8 can support up to 64 cores, by using NT kernel shared from PC version of Windows, but it still needs to be unlocked by making the driver for SoC based on ARM architecture.

Why should we care? How does it help us with our current devices?

Don't wake me till it gets to Hexa-core.

Probably a generation behind when it's finally released..

No, it won't be because the vast majority of Androids will still be at quad-core and 1080p screens because that's the point where Android performs at its best. Beyond that is overkill!

Orientation lock is huge for me, sometimes it is something really small that makes all the difference!

Seriously!! Lucky you.. I'm using WP 7.8 .. these updates aren't for me :(

People with 512MB of RAM on WP8 only get GDR3 update! WP8.1 memory base has been raised to 1GB RAM! I see WP7.8 all over again with GDR3 update.

Nothing has been said about that yet.

Dan, do you think they would do a GD2 + GDR3 update at the same time? GDR2 has been ready for some time now, and from what I've read, GDR3 is in testing. I was under the impression, which may be false, that Nokia would be releasing GDR3 devices sometime this Fall\Winter. ATT may be wanting to package the 2 updates?

GDR3 will come with new devices first just like GDR2 did. The roll out to other devices will follow that gradually.

These features couldn't be included in gdr2?
I'm grateful we're getting them within these few months anyways though. Other than the other issue my 920 has been nothing but an excitement to use.

Bitch Bitch Bitch Bitch Bitch Bitch. That's all for now.

Please, tell us more about your girlfriend.

Orientation lock is my most desired feature in wp8. I'm generally very happy with the os, and mostly use apps with lock built in, but mail, texting, and most importantly internet explorer can't be locked.

Talking 3 and most do not have GDR2. Please stop!!

It's useful information for those of us that haven't yet gone to WP8. The 1020 with GDR2 almost made me jump. GDR3 devices might be the ones to finally do it for me.

My next device will more than likely be a phablet.

Meanwhile, ATT users still await the much delayed GDR2 update :D

And don't forget most of the rest of the world!! Remember?? You are not alone so stop acting like you and at&t are the only ones getting left behind and screwed (I'm sure it's right around the corner anyway)

Normally I don't really care about 1080p resolution but I think it's a bit of a fail to bring that so late. If anything, the 1020 would've been the perfect handset to introduce 1080p on Windows Phone.

Well I DO care about a 1080p res screen but not on the 1020 nor on my own 920. The main reason behind this is that to me it becomes interesting when the screen size is 5" or larger since you won't see the diff anyway. PPI is important for me. You can stuff 1080p in a 3.5" screen but it has no added value IMO.

Orientation lock not for current hardware.? Needs superior hardware..? Are they joking..? They do something like that and i am bidding goodbye to WP faster than an aventador can reach 60mph. :-/

Article may not be clear on this but I'm sure the existing hardware will get this feature.

I hope you are right night watch. :)

Nice car analogy haha.

However, that was deifnitely a mistake in their writing's context. Orientation lock will not need new hardware. There's no reason it would haha

I know..!! But such things make me doubt that it wont need the superior hardware. I am no programming god, but i guess it shouldn't be a problem, enabling orientation lock that is. Some of my friends really need it, though i don't care much about it. Still, its a basic feature that's a must have in a smartphone, and saying it'll need beefier hardware is just stupid, implementing that is utterly cruel. :-/
And thanks dude. I am a gear head, so it comes naturally. :P

You know what I find funny ... If you take your newly purchased Lumia 1020 and goto .. Settings .. About and look at the model number .. it says .. NOKIA 909. WHY? HAHA

That's what they planned initially but thought that 1020 would be better for their new naming scheme. 1020 being successor of 808 and all.

That's because they had a decent name planned - Lumia 909 - and they decided to change it to the misleading "1020" (when the phone is little more than a 92x with a 41MP)

Ya I see why they did it but just funny that they didnt brand the OS correctly :)

my device also shoes 909..thats funny

Whatever the new phablet is, please bring it to Tmobile so I can get the most out of JUMP.

Kinda funny how GDR3 update is being leaked out yet my Lumia 928 doesn't sport the GDR2 yet.. Good ol' Verizon

I wonder how many will even have GDR2 before GDR3 is released...

Everyone except the people who locked themselves to carriers. You can't get mad, they want to sell you phones as often as they can, that's why they look cheap in the beginning.

You're confused about what "locked to carriers" mean, I think. You can buy a phone without a contract, like I did on T-Mobile with the Lumia 521, and you pay cash upfront - you don't get a discount, and you can cancel the contract anytime. It's not cheaper. The phone is still locked to the carrier for a certain time period (I believe it's 40 days for this phone?), after which you can unlock it. What does that have to do with when T-Mobile will push the GDR2 update?

Does it come as an unbranded phone or as a T-Mobile variant? That's what I meant. Sorry for the wrong choice of words, English is not my native language.

The Lumia 521 is, I believe, a T-Mobile exclusive (it certainly is branded with their logo at least), but I'm not sure. I know it can be unlocked so other carriers' SIM cards can be used on it, but only after a certain period of time.
Are you saying that if I unlock it, I can get the GDR2 update sooner? Honest question, not being facetious... I don't know how these things work, I thought all updates were pushed out by the carrier you happen to be using at the time, no matter if the phone is unlocked or not.

Unlocked phones get their updates through Nokia, in this case, it's Nokia US. Locked phones get specific roms and carriers decide to push an update or just leave it behind completely. Now, I don't know how Nokia does it but in most Android phones, they are almost always left behind with no updates (both by manufacturers and carriers) to force people get a new phone.

Actually change all the "locked" and "unlocked" to "branded" and "unbranded" then we're set. In my defense -again-, I learned English as a second language in high school. ;)

I don't believe that is true, after you unlock your update comes when T-Mobile clears it. Even if your using your phone on another carrier

I think what people outside the US don't understand is that we don't have a choice. Unbranded phones are not available here. Nokia does not sell them direct. All phones in the US are branded, unless you import. But then you pay more, often don't get the right bands for use on our networks, and often get features like internet sharing that don't work.

Hmmm.. I read a little on this and you're right. I think this should be illegal though.

There is no doubt in my mind that the mobile operators in this country are corrupt and in collusion on pricing.

I think unbranded phones is the least of our issues... contracts with outrageous early termination fees would be my first choice to attack. Then the insane monthly rates for texting and the additional charges for wireless access point usage (even though we have already paid for the data). They make a habit of breaking out features that cost them nothing to give us and making them separate, expensive options. Just deplorable.

Right. For example, T-Mobile's WiFi Calling feature, which is awesome. The stranglehold on the consumers is still in place, but T-Mobile's new model is at least a little less carrier-centric than the Big 3, which is why I paid the penalty to AT&T to switch to T-Mobile.

Finally, Thanks a Million!! for Orientation lock feature!!! Very much needed!! :) pls release asap.. also, what did you mean by Hardware changes in orientation lock?

What's that app that has that HTC CLOCK??? I notice that's a Nokia device with a HTC looking clock on the screen.

You know that's just a mockup and not a real device, right?

Yes, maybe I should've worded it different. Is there a app for Nokia's that's similar to the HTC CLOCK APP.

Give me transparent tiles or give me death ;)

Dudaaaaa...!!! Don't make such an offer. They might kill you as transparent tiles might be too much of a hassle compared to just hiring an assassin. :D :P

Come to think of it, an assassin is probably cheaper. ;)

And easier dude. Just make a call..give lucktr's ip..and bammm....GAME OVER..!! no more transparent live tile demands..happy Microsoft.. :D

Lol! This forum can no doubt make one man paranoid! Mk, guess I'd take liberty instead....wait! @_@

I don't want transparent tiles... Just black & white ones. ;)

Can you imagine transparent tiles with diagnol gradient theme color animations every few seconds!! +100

Since I became interested in wp8 I uncover more and more basic features that are still missing. In the past I assumed that orientation lock or landscape view were included from the beginning. Damn, 8.1 can't come soon enought.

Let GDR2 arrive first. I cant even dream of 8.1 now. Makes me weep incessantly. :D

Haha no kidding. It's like, every single tidbit about GDRx is followed by "but that will likely be in 8.1". Get ready for disappointment in 2014, guys :D

Windows Phone 8.1 is going to destroy iOS 7 & Android 5 ...!
-Window Phone 8 overtook BlackBerry 10 @5% as #3 (2013)
-Window Phone 8.1 will overtake iOS 7 @10% as #2 (2014)

I REALLY hope Orientation Lock is easy to enable/disable. I'd hate if MS made this a setting or something. If it was a simple gesture, or something simple like double tapping the home button.. Then I might use it.

Orientation Lock! Sweet Jesus, thank you!
Only a genius like Steve Jobs can be so demented to actually think automatic screen rotation is a good thing.
I'm sorry, but it drives me nuts.

From a usability standpoint they can also just lock the orientation when a keyboard is pulled up. That might even be a better implementation of orientation lock.

I actually like the cadence Microsoft is establishing with Windows Phone. A major annual update with lots of new features punctuated by two or three smaller updates to support new phones throughout the year. I honestly don't feel the need to compare Windows Phone against Android or iOS. They are three completely different platforms. Yes, Android and iOS are more mature, but Windows Phone is maturing in its own way instead of slavishly trying to "catch up" to the other two. I'm fine with this. I love my Lumia 920, and I'm staying with Windows Phone for as long as it stays viable.

Sorry fellow. The cadence is good for you ok... but the quick of this updates... it is too slow...

Removing the carriers from the update process should be done sooner than later. This is one solution to get consumers happy.

Totally agree with you. But... consumers happy? Are they with this goal? Seriously???? It is a bad joke this thing of Amber that never comes...

They do that, every carrier will just refuse point blank to stock the phone in both the USA and UK at least. As well as systematically brick every windows phone on their network. And they can because of the limited influence WP has on carriers.

Indeed gdr3 aint special, but It is If Nokia beefs It up again :d

May not be important to you but to me, it is very important! I want Orientation LocK! I want Driver Mode! I also want the ability to close apps from the Multi Tasking Window! Above all, I want a 1080p screen because my next phone will be WP8 phablet! So yeah, it's important to me!

The tiles keep getting smaller

I don't think they will. The additional 3rd row medium tiles will be implemented in the big screen formats or phablets.

I'd geez. Why they even bother throwing this out there when most don't have GDR2 and won't have it for God knows how long is beyond me. I really wish something could be done to get updates out in a timely manner

whats the name od the application with weather and time in the same tile ??


Any predictions on how Sprint might handle these updates? I'm picking up the Ativ S Neo and I'm hoping that I'll see some of the GDR's as well as Blue next year.

Nokia isnt announcing their flagship yet of the 9xx series and elop mentioned they are announcing it fall so maybe september or october.

Many are receiveing GDR2???? Where??? In Mars??? Nokia still ignores everyone and postpone for ever GDR2 update worldwide. A thing that should be simple and quick is Always made with suffer. This is boring and bad. When Nokia will learn it? When Amber will be released massively, widely? Stop this complications Nokia!!! Make us proud of our option!

I agree with you, I don't know what goes on in the background, but a Lumia with no carrier binding should get the update the day it is released no matter what region you are in. I hate it when I see big companies like Nokia & MS bend over for carriers, the only person who is getting frustrated is the end user, and the phone companies reputation.

The only update worth waiting for in my opinion is the Blue, all others are useless and functionalities that doesn't change the WP experience to the next level that we are waiting for. I am excited for the Blue, and I believe that it will support all WP8 phones since it is an 8.1.

WP8.1 won't work on 512MB RAM device's!

Plz dont talk shit, wp8.1 blue will come to all wp8 phones, no matter 512mb ram or 1gig ram

Although alluded to in the article (and others), part of the other 'behind the scenes' changes in the GDRx updates is in the inclusion of new APIs which allow the vendors (e.g. Nokia) to provide new functionality/apps for the users.
Recently notable was the SMS/Call blocking app that Nokia added to Lumia's Settings menu, which was apparently possible due to new APIs added in GDR2. We've long noted MS not providing programmer access to certain parts of the WP environment, so seeing this 'loosening of the grip' is great news for the app developers and in turn, the app consumers (you and me).
With GDR2 and 3, we should start seeing many more of the utilities apps we've been looking for.

I'm sorry but that screen in the image for the article looks like a busy mess. I do not want to deal with a mosaic of icons every time I unlock my phone. THAT IS TOO MANY ICONS.

To the photo's defense though, I do realize that it's a leaked photo and that might not be what the final situation is...

It's a mock up that everyone uses in WP related news. It's not a leaked photo.

So it's a sure thing that a 1080p WP screen will look like that? If so, I'm even more annoyed. I thought it was just a preliminary type, testing image and not a final product. "Leaked" "Preliminary" "Initial design"...whatever you wanna call it, no need to be pedantic.

He said a 'mock up' not a leaked image. Meaning it could have come from any Tom, Dick or Harry.

"Mock up" or "leaked" means basically the same thing. It's unofficial and may not be representative of the final product. But anyway... it's an ugly mock up and if it misrepresents GDR3, maybe it shouldn't be used as the headline image for the article.

No, on this instance it does not mean the same thing.
If it were 'leaked', then it would have came from an official source and would have been at least considered at one time or another.
A 'mock up' could have came from anyone and means nothing.

Jeezus, ok I should've said "mock up". I am heartfully sorry. That is not my point. Majorly pedantic commentary here. My point is that I really hope a 1080p WP screen will not look like that image because I do not like the idea of having that many icons on one screen and I also think it is ugly. That is my opinion. The end.

I think it's ugly too. I mentioned that it's a mock up hoping that Microsoft might actually come up with something more clever than this. So we're actually on the same page here.

What, is pedantic your word of the day?
The only thing "pedantic" here is your failure to understand basic words and concepts.

Yeah I did actually learn it yesterday. Good call. <----No sarcasm there...I did actually learn it yesterday and you called it correctly. But yeah, what concept have I failed to understand? And yes, your initial reply to me was pedantic. Comparing "mock up" and "leaked" photo as a correction to me? Whether the photo was a mock up or leak was beside my point and you were just correcting for the sake of correcting. It doesn't matter if a photo is a leak or a mock up, either way it is unofficial and can't be trusted as an infallible representation of a final tech product.

You sure are confused, and despite my attempts at informing you, it seems hopeless.
Good luck on your next word of the day!

I love ppl that choose to distract from making real points by arguing semantics. Btw, over usage of commas is a proven sign of inferiority complex. Just so we can both be "informing" each other...

Why does every comment section on any article about pending upgrades devolve into whining about how this company or that company does care about us? May as well declare everything is bad, crawl under a rock and die, people. I'm naturally grumpy, and you're all bringing me down.

Yeah, maybe these morons will educate themselves this time and we won't spend from now until GDR3 listening to people complain about how long its taking.

The whole point of a comment board is for people to post comments on how they feel about an article. If Microsoft is doing something cool with WP, I will be the first to be all excited and give props. If they are doing something I don't like I will express that too. They need to know how we feel, dude! But, I do feel you though when people ignorantly complain about things that could never be solved or that aren't Microsoft's fault.

The vocal majority here are usually just so wrong about everything they say, it makes it really annoying.
Many people read comments to find out more about a subject or help them form an opinion. Unfortunately, if you read many of the threads here, you'll come away with the wrong picture... ultimately, that's bad for Windows Phone.

If you read a comment board for any other reason than to absorb opinions of general public then you are using the internet wrong. Emphasis on "opinions" there...

Opinions always suck when they are uninformed.

I would like screen orientation lock and the ability to close apps from the multitasking screen.
But first I would like GDR2 for my freaking unlocked 920.

I still don't have GDR2 hopefully Nokia and EE push it out to users soon

Idk why everyone's complaining about Microsoft's unreliability with updates. In the end, we have to blame the carriers for the slow rollout; not to mention that these gdr's are minor updates, so not many new features are expected.

Everyone is still waiting for GDR2 to roll out let alone GDR3. Saying in a few months for GDR3 means nothing to me.

Why MS doesn't roll out upgrades on their own is frustrating to say the least.

Everyone will have GDR3 update by Christmas! WP8.1 rolled for everyone by WMC (Q1 2014)

When are we going to get XBox Video in WP8? With no mention of it in 8.1 I'm treating it as a rhetorical question at this point with the answer being "never". It's an embarassing feature gap considering Microsoft's whole "three screens strategy".

We could take bets on the over/under for when each indivudual carrier actually sees the GDR2 update. I'll set the date at August 20 and take the over with AT&T (this seems to be a nice concensus date being bantied about).

Will L920 support a 1080p resolution???

From what I read and understand Vinc, no! Not even the 1020 will support it, which I thought was a crime at first, then realized the screen size was the same as the 920. With that said, I can't see a 1080p making a huge difference on 4.5 inch screen! Maybe a 5 inch phone ya! My htc One was beautiful, but again only 4.7", but again that was a whole different screen in general and it kills the battery! There are a lot of good articles online stating 1080p is sorta dumb on phones cause of the screen size, plus the drain on the battery. I only had the Samsung s3 and notes, but many S4 owners state the screen is still not all that! I played with it in store, its brighter, little more crisp, but nothing mind blowing, Samsung really overhyped that crap phone imo! and yes its crap! My S3 and Note 1 and 2 would always start to lag after a few months! Either way I wouldn't loose sleep over it. Just my imo though and some info I read. Hope it helps!

1080p make big difference only after 32''!

No. How would a software update replace your screen with a higher resolution one???

Samsung ATIV S has missing hardware so no Bluetooth v4/FM Radio. ATIV S has Bluetooth 3.0 +HS support with GDR2! And "Data Sense" and "Fixed Other Memory problem!" My other is less then 2GB now! IE10 a bit faster! Can't wait to see IE11 with WP8.1

All "icing on the cake" features for me! Will be awesome if the L925 I will be getting will get all these features! I will hold out longer if there is a chance they will start shipping the L925's to restock with both of these updates. After that I will be looking forward to a phablet in the future. Like someone else said, I hope T-Mobile will get the/a WP phablet so I can us JUMP! to get it. Excited to see so many official apps and updates coming!!! WP is growing!!!...even if it is slower than most people on here want or say it should! I think it's growing at a good rate. Like I always say, good things come to those who wait!

Damn I just want the clock and a notification center, just let me swipe down! Just like the iphone and android...super easy! Whats the hold up! Either way, I can't bi*ch! I think we are slowly getting to the point of.....what else is there we can throw on a phone? Huge screen? Done! 1080p? Done! Excellent point and shoot camera? Done! I am a huge phone junky, never got into the fanboy crap, but love Nokia!! Always solid, plus I love the tiles!! Android got old and apples phones are too small for a 6'3 guy! I love the 1020, I just want a few more apps, a nice tile clock that works! and a better notification menu. I guess the lock screen is good, but I would never use it, just my opinion and two cents. Sorry for rambling!

You aren't rambling, and you are free to bitch as much as you'd like... you are the consumer! I also love Nokia's build quality and innovative photography features, but small stuff like no separate volume controls and no notification center get annoying. It's gotta be a great phone on top of a great camera, right?

True thanks!!! Crap forgot about the volume controls!!! At least my bluetooth volume never changes for my music!! That and improve PLEASE I.E.!!!!!! I hate the back button!!

And no forward button?!?!

The handset in the photo looks like a Lumia 920 am I correct? I hope I am, I only got my 920 a couple of months ago. I wouldn't like to miss out due to Nokia going mental with new handsets and crappy network carriers either not stocking the new handsets or being stupidly slow. I've been hearing more and more that the 9 month old Lumia 920 is now classed as old. Will the 920 get GDR3 or is 2 the end?

The pic just seems to be a photoshopped lumia....who knows....but I know your pain! I hate buying a phone and then boom! A new phone is released, and the updates we or you want aren't available to your phone! I think the 920 will still get the GDR3, its their best selling phone still, I assume at least, and they (nokia) know that the general public is not going to jump from phone to phone! The main reason I left android was I would buy a new phone, first day of release, top of the line specs, worked great, then boom! another phone was released by same company, or the carry wouldn't put my phone on the list for certain updates from google, and if it did Att took forever then to approve it! At least with W8 your set for the time. Hell I have the 1020, and its really just the 920 with a slightly brighter screen and better camera.

Cheers man. Yeah if i was an avid photographer I'd have jumped on the 1020 band wagon. But I'm happy with my 920. Gotta be, stuck with it now til 2015!

It will get GDR3 and 8.1 (or 'blue')... and several more updates over the next 2 years. So will my 822.

Excellent, stuck with my 920 til 2015 anyways. Would have gone for the 925 but EE the uks biggest network are rather slow at stocking it haha

512MB RAM WP8 devices won't get WP8.1!

Maybe folks know this, but I'm pretty new to WP8.
I am assuming that the 3 tiles across means, only if you're on an HD screen that can support the resolution to do 3 tiles across? Or will non-HD screens also get this feature? (ie, are they shrinking the tile sizes to make it fit?)

Thats suppose to be a mock up, I heard it was what maybe their phablet would be, or maybe its just lumia, who knows, I would think that three icons across would work on any lumia, its just making a few slight changes. I can't see the icons getting any smaller on the current models, but ya never know! I try not to read about update rumors, they drive me nuts! Ya never know whats going to happen

Thanks!
I have a few days left before I can return my HTC 8XT in the 14 day window, and I'm thinking that maybe the HD screen on the ATIV-S Neo would buy me extra real estate with the added feature, where the lower res screen on the 8XT wouldn't...
(Even though I love the 8XT...maybe Sammy is a better long term option.)

Good god - return it before its too late! I've never had a HTC which didn't prematurely break for some silly reason. My friend had the very similar 8S - it fell a mere one foot to the ground and the entire screen shattered (it is gorilla glass but it is incredibly thin to the point of flimsiness).
Get a Nokia (a phone actually solidly built) - any really- before youre stuck with it :P

I think the 6 tiles across is for 1080p display's as a feature of GDR3 update along with MSM8974 Snapdragon 800 support!

A 5" screen, quad core, 2gb ram, 1080p res and a 41mp camera,with a maximum thickness of 8mm that's the recipe for a beast Nokia windows phone 8,1 flagship device ;) ohh and a 3000mah battery

I'm tired of waiting for updates that will bring WP features the other platforms have had for some time. I know Microsoft and especially Nokia are working hard to bring it up to speed, but only having notifications featured on the lock screen? Navigation thay only seems to keep running in the background 50% of the time? The little things like that are building up to the point where even the amazing low light capabilities of the L920 can't make up for it. Being a functional phone is still my main priority over great photos. I own devices from the three top platforms, and WP is at risk of no longer being my daily driver... or the next device I purchase. When I jumped into WP8 I thought the update environment would more closely follow that of iOS than that of Android... I was sadly mistaken. I know there's lots to love in WP, and plenty of problems to be found on the other OS's in their own right, but I'm just voicing a portion of my concerns as a consumer.

I am growing annoyed at a lack of release/update calendar.. I find this news annoying as I still have no clear timeframe for GDR2 on my unlocked/unbranded 920 in Aus!

whats the name od the application with weather and time in the same tile ??????

Any word or is it possible with an app to make folders? Like instead of pinning all my camera apps, I just click my "Camera" folder tile?? That would be nice!

me parece tan poco las caracteristicas de las proximas actualizaciones. Ni la 8.1 da una solucion a todas las carencias del os

Message sync via the PC would be amazing, especially if they bring back the KIN Studio.

Wouldn't stating 'An extra column' or 'A 3rd column' be a lot less convoluted to say over '3 medium tiles in a row'?

Also... everyone 'tired of waiting' for updates... really? Is this your first smartphone? I don't care what you've had before... be it iOS, Android, Palm, Blackberry or even WinMo... these WP8 updates aren't taking any longer than any other has or ever will.

I want the screen casting....aka plug into or stream my WP8 screen to a larger screen.

Pretty happy to hear of a built-in orientation lock finally coming.
But will they add the ellipsis symbol to the keyboard??? (like iOS does when you long-press on "."). This rather bugs me, especially when trying to save valuable characters on Twitter or SMS's… and I like using "…"… 8) #justMe

No Unification Center ? Ugh... come on Microsoft. They better have good stylus support app for the phabets otherwise they won't stand a chance against the galaxy note.

Do the Clonephone thing...

What about text wrapping? Now that's a feature that would make the phone more enjoyable.

ORIENTATION LOCK!!!!!!!!! OMG OMG OMG. COME OUT NOWWWW!!!!!!!!!!

Wait... What "new voice assistant"?!

Still waiting for GDR2. Can't get excited over GDR3 yet.

It would be nice to play video purchased from Microsoft. (movies, tv shows).

A few months? LOL, more MS bullshit...ill see it when it happens but I would not count on it

-quote-
TechieFan
the L920 doesn't have upgraded hardware (quad core/1080)
-quote- 920's screen is capable of 1080p ;)

hello, can anyone tell me will huawei w1 have an update?

Everyone in August 2013 will get GDR2 update for WP8!
November 2013 Everyone gets GDR3 update for WP8!
February 2014 1GB & 2GB RAM WP8 devices get WP8.1 update!

All wp8 devices will get wp8.1 update, 512 mb ram phones and 1gig ram phones too, plz dont talk from ur ass

Theme syncing with desktop

Still waiting for WP8 to have the capabilities of Android feature of storing "Apps" on to the microSD Card.

Ability to move files to and from the SD Card would be nice too as well as a file manager.

Ability to have 3 medium sized tiles in a row

I hope that feature is usable on 720p phones too! That would be awesome! (on 4.5inch 720p screen you totally could have them at that scale without comprimising much)

Also - not to bang an old drum too much - but

more accent colours

!!! Come on guys - it really should be less 1990s games console and more like Pantone Colour Charts

I don't like Note 2 design, but the killer feature in it is the s-pen. If Nokia Phablet comes penless that will be a disadvantage. 1080p is just marketing. You hardly notice the difference in 42'' tv screen, its not whats missing from cellphones. I would take 720p and stronger performance over 1080p anyday. Thats why lg optimus g is better than xperia z.

Microsoft should give allow developers access to videos and songs so that we can send videos/songs on WhatsApp and WeChat,etc and personally i need the ability to save contacts on the sim card (this is just ridiculous,every phone can do this except windows phone) ,a brightness slider and wireless syncing like Zune :-D

Driver mode will be great! Hopefully it will encourage stupid drivers, that were smart enough to get a windows phone, to stop texting while driving!

So this isn't really an update that I will notice that much on my 810. It will be an update for the benefit of newer devices. I can understand MS tactics in this case. By controlling the chipsets they are not able to have the most up to date hardware, but they allow for a very optimized experience with the current hardware they do have. Anyway... Dammit TMO... give me my GDR2!

GDR3 coming in the next couple of months? I havent even seen GDR2 for my HTC8X on Verizon yet

Well I DO care about a 1080p res screen but not on the 1020 nor on my own 920. The main reason behind this is that to me it becomes interesting when the screen size is 5" or larger since you won't see the diff anyway. PPI is important for me. You can stuff 1080p in a 3.5" screen but it has no added value IMO.

All we need is that notification centre. It could be a simple "swipe to the right" from the live tiles screen. Plus we need full control of the "Other" Storage. Then we can have some of those new upcoming features from W8 like; the moving background of the start screen, or the guesture unlocking screen thing!

The screen looks like a mess just like on my desktop with all these icons so close together. It sometimes takes forever to find what I am looking for. Suggestions to MS
1. Folders - we can hide away our small tiles in a neat little folder
2. Multiple page options with ability to add titles - (Pin to page 1, pin to page 2 with max 5 or so pages) Everytime I scroll it should automatically stop at each page rather than a continuous scroll. This will make is a lot easy to organize and find items.
3. Notification center - Enough said.

One thing I have missed from my Pre3/touchpad days was being able to get and reply to my text messages on my touchpad - so the SMS sync would be GREAT! Already have the surface pro, so bring on the sync.

Now if they would just make it more compatible with my car with MS SYNC!

Notification center !!! Now we are talking

I would love a data backup option. Text,game save, apps to a local drive

it had better have orientation lock. that's one thing that anoys the hell out of me.

What ever the update it may be it should have a file manager...bluetooth sending of videos...organising gallery into folders...we should be able to see the downloads of internet explorer,received files so we need file manager,flv support of default gallery....

The next 41 mp device can have 5 inch but size should not be beyond 1020 for a 41 mp device...we also need the device without bump,it should have 920 shape...we dont mind if its slightly bulkier

we need a 41 mp device with 920 design and bump free..5 inch screen but device size shoul dnot exeed 1020 size,a file manager...a gallery that can be well organised
Windows Central Newsletter
Thank you for signing up to Windows Central. You will receive a verification email shortly.
There was a problem. Please refresh the page and try again.