New Microsoft Edge Dev site replaces Modern.IE for web developers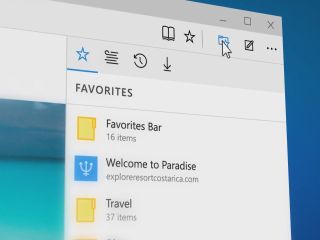 Last week at Build 2015, Microsoft announced that the final name for its new Windows 10 web browser would be Microsoft Edge. Today, the company revealed a new official Edge blog and, more importantly, launched the first beta version of the Microsoft Edge Dev site.
Microsoft Edge Dev is the replacement for Modern.IE to help web developers create sites that will work best with Edge. Here's what Microsoft says developers can expect from the site:
A new Platform Status page: We've updated StatusIE based on your feedback to make it easier to filter and find the information you are looking for.
A Microsoft Edge change log: As we ship faster and more openly than ever, including early previews through the Windows Insider Program, we saw a need to provide an up-to-date listing of what's new in each preview and stable release.
A new developer FAQ: We've compiled the most common questions from our #AskIE chats so you can find the answers to your questions about Microsoft Edge and Internet Explorer 11 on Windows 10. This will be a living document – you can always reach out to @MSEdgeDev if your questions don't appear here. Maybe we'll add yours next!
We've updated our TestDrive website, where you can find open source and interoperable demos showing off the latest web platform technologies supported by Microsoft Edge.
Microsoft is in the middle of holding its first Microsoft Edge Dev Summit in California, and you can watch the live stream from the event right now on Channel 9. The summit will end on Wednesday, May 6.
Source: Microsoft, Microsoft Edge Dev (opens in new tab)
Windows Central Newsletter
Get the best of Windows Central in in your inbox, every day!
Well that pretty much kills any chance of a full screen web browsing experience for Win 10. Doesn't look like we are getting a full screen mode for Edge

You need that? What browser has that?

Metro Internet Explorer 11 on Win 8.1

How about every browser. F11 - standard key for full screen mode

How does this article address the functionality of Edge?

I'm sorry but this seems like a really stupid comment. ALL browsers do full screen, F11 toggles it.

How do you press f11 with a touch screen?

With the on screen keyboard?

Why do you say that? They've already said Edge will have Continuum support.

Tablet mode in Windows 10 automatically makes apps full screen.

Can they just change the logo now?

Is InPrivate browsing available yet?

Well I have taken feedback from many people myself...the logo doesn't make much of a difference IMO...and everyone I have talked with seems to like the really clean and minimalist design...uncluttered is the word I would like to use...MS actually did a very good job sticking with the letter 'e'...still familiar with internet...and I don't understand the fuss with full screen browsing and Modern IE...that browser actually looked hideous with gigantic controls and menus

I still hope they will bring that address bar to bottom.

I mention it in the feedback app for everything. All tool bars should be at the bottom, especially on phones

You guys do understand people will also use it in desktops/non-touch systems. They ONLY need to do it Phones, it's not like you use tablets with a single hand.

It's actually a lot easier to enter on the bottom on a tablet that's held in landscape orientation. Not all tablets are iOS based or iOS clones.
And one of the biggest advantages of Windows Universal apps is that the UI can change so it can be optimized as needed. Address bar at the top for desktop/mouse use, address bar at the bottom for touch based systems.

Edge can show downloading task in action center?
Windows Central Newsletter
Thank you for signing up to Windows Central. You will receive a verification email shortly.
There was a problem. Please refresh the page and try again.