New Nokia 800 Windows Phone ads emerge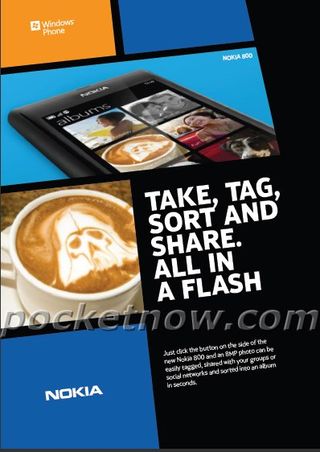 We mentioned on the podcast that we'll be seeing a lot of Nokia Windows Phone news in the run up to Nokia World. Sure enough, we're not getting a glance at reportedly new ads for the Nokia 800/SeaRay/Lumia.
With an interesting almost retro-tile background (seriously, looks kind of late 70's), featuring only distance or partial shots of the phone, clearly the ad is more about style and the print than focusing on the phone itself. That's not a bad thing because this is certainly eye catching and we all know, Windows Phone needs a little pizazz in their marketing.
So, what do you folks think? Yay or nay?
Source: Pocketnow
Daniel Rubino is the Executive Editor of Windows Central, head reviewer, podcast co-host, and analyst. He has been covering Microsoft here since 2007, back when this site was called WMExperts (and later Windows Phone Central). His interests include Windows, Microsoft Surface, laptops, next-gen computing, and arguing with people on the internet.
we need them to show us the 900+ devices

I hope Nokia makes some phones with physical keyboards. I don't care how big the screen is, I refuse to have a phone without a keyboard. Maybe a portrait slider like the DVP would be nice

I used to feel the same. That's why I have the DVP. But really if you practice and give the virtual keyboard a chance... you may be able to ditch the physical one.I can use the virtual kb pretty fast now (maybe 90% accuracy). However I use the physical keyboard when texting-n-driving since I dont have to actually look at the keyboard to do so. So I use both in different situations. However I've made it a point to practice practice practice with the virtual because let's be honest.... the 9mm n under physical-keyboard-less phones of the present & future sure do look a lot sexier (altho I find the DVP design to be beautiful)

You should try the speech to text option for texting while driving. Very effective and much safer! I've just become a convert to that after seeing how well it worked.

Unfortunately my new car - Kia Optima EX... has its own speech system. So it basically ignores my windows phone through the bluetooth which sucks. I get calls through bluetooth, but I don't get the texts read out loud to me :/

I drive a Kia Optima too! But mine's older, no bluetooth. I just use my speech-to-text option through the phone in my car.

no matter how much i love the screen keyboard on wp7, i just can't get the assurance with using any on screen keyboard when i'm writing a long email. I just feel more secured with using the keyboard~

Used to say the same, and for an android phone I might agree. Fortunately for us, WP7 has literally the best on-screen keyboard in the world, with the best error-correction capabilities and accuracy. I probably type faster on my virtual keyboard than I could on a physical keyboard simply because I don't have to be accurate to type accurately. Then again, I'm not really good at using physical keyboard on phones.

That's why we have CHOICES. On-screen keyboard is just not my cup of tea. If it is for you, then good, more power to you but I have my own opinion and preference. Unlike iphone users who don't really have much of a choice

We can all agree that iphone users do not have much of a choice.

You can be pretty sure Nokia will release a WP with a similar form factor to the E7-00, but I doubt it will be one of the first batch.

I'm with you. I got an LG Quantum just out of fear that it might be the last one with a keyboard. Then again, I wish they'd bring back the stylus, too. Playing Sudoku with fingers sucks.

A capacitive stylus is something I think you can get alone

Yeah, I've been looking at them, but it used to be so convenient to have a stylus fit inside the phone chassis. I guess those days are behind us. The Tilt 2 really gave us the best of both worlds as far as touch control *and* stylus accuracy. It looks like resistive touch screens are dead on phones. Another step backwards for the sake of the iCrowd. Sigh...

I love it! Hurry up November 26

I just hope they have something beautiful bound for the U.S.! I would love to see something hardware-wise here that matches the quality of the iPhone.

I just want the N8 with the requisite CPU/GPU and screen boosts and I'm good to go.

I own and currently use a N8. Wonderful piece of hardware (especially the camera, best on the market even a year after release). However, the aspect ratio makes typing hard as the keys are very close together. Now, I do not have the Anna update, which means no portrait QWERTY from Nokia. Instead I use the one from the Gravity app (hopefully, this will be ported to WP7 at some point). Maybe this is just a bad implementation of a virtual keyboard. However, I am inclined to say the N8 needs to be a bit wider for a proper experience with a portrait QWERTY.

I like the retro ad's. Retro is "in" right now and this approach works itself right into that.Also, is that phone the blue model or is that a stainless body I see.

Nay, the time is printed on the phone not the screen on the lower picture LOL

yay! I myself can't wait to rock the nokiatune on my phone once more.

It seems like there is no FF camera.

I hope they make keyboard phone too with at least a 4inch screen Then I'm sold nothing beats a physical keyboard IMO..

**** no i ain't getting this i need some of the high-end 900+ devices!

first add is the sea ray and the screen looks slightly higher while the second add looks like the screen is a little lower

"The sun will rise and set"Sounds like the Nokia Sun then
Windows Central Newsletter
Get the best of Windows Central in in your inbox, every day!
Thank you for signing up to Windows Central. You will receive a verification email shortly.
There was a problem. Please refresh the page and try again.