New Nokia Lumia 1020 ad boasts "Nothing else comes close", appeals to photographers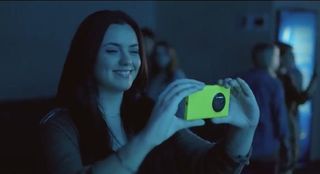 Microsoft and AT&T aren't slowing down with marketing the new Nokia Lumia 1020 as they have released a new thirty second ad for the Windows Phone. We've already seen one commercial from AT&T highlighting the Lumia 1020's "zoom later" feature and the latest focuses on the Lumia 1020 being the first smartphone to "put the camera first".
While the Lumia 1020 is a well rounded Windows Phone, the center piece is easily the 41MP PureView camera. With optical image stabilization, the Xenon flash, Zeiss optics, BSI sensor and the "zoom later" feature the Lumia 1020 is definitely a Windows Phone with the photographer in mind. We've been very impressed with the Lumia 1020 (here's our review) and tend to agree that nothing else comes close.
Have you seen this ad air on TV yet? Have your friends noticed? Let us know in comments.
Source: Youtube (opens in new tab)
Windows Central Newsletter
Get the best of Windows Central in your inbox, every day!
George is the Reviews Editor at Windows Central, concentrating on Windows 10 PC and Mobile apps. He's been a supporter of the platform since the days of Windows CE and uses his current Windows 10 Mobile phone daily to keep up with life and enjoy a game during down time.
Yeah I saw this yesterday, forgot to send the tip. Obviously WPC is on top of it though.
Good commercial.

This 1020 is nothing but ridiculous. There won't be anything close to it this year unless its by Nokia.

If you mean won't come close to the camera, maybe. But the rest of the device has been surpassed by competition well before it ever even came out.

If you're talking about quad core and 1080p, show me some real world examples where this tech will surpass Nokia. The apps might open a second or two faster. However, mobile apps aren't very power hungry and I don't believe you will see any apps that require quad core until quad core proccessors make up at least half the market of devices in use. 1080P is really just a marketing thing. i went into ATT and looked at the GS4. I couldn't really see much of a difference between the 1080p and 768p display on my 920. As a matter of fact, when I went to the same websites, the images on the GS4 were smaller and more blurry. I think this is because most mobile websites aren't designed for 1080p screens yet.

Nova runs flawlessly on a GS4. And the screen is much sharper than my 928. So I don't know what you're going on about unless you're some Windows Phone apologist who can see the faults of the system.

GS4 is the most laggy android, i guess you never tried HTC One troll.

More blurry because the GS4 has one of those disgusting pentile screens right? (1020 does too)... So 768p on the 920 vs essentially 540p, the GS4 simply can't compete (1020 is effectively 384p however).

The 1020 screen looks better than the GS4 though

Pentile or not, the GS4 and the 1020 screen look gorgeous. Suddenly the screen on my old 920 looks dated and lifeless.
I know there are fans of LCD, but to me AMOLED looks a lot better. And this pentile crap, honestly when the resolution is that high, that is above 480p, you can't tell whats pentile and whats not.
Its hard to decide which screen looks better, the GS4 or the 1020's.

what about the several seconds you wait when you take a photo ? snapdragon 800 would most definately reduce this time....

Surpassed? Not really better specs on a sheet of paper is one thing, but real world use is all that matters, and my Lumia 920 is the best phone I've owned since my evo 4g rooted with MIUI.

Awesome commercial....Nothing comes close is exactly how they should be marketing the 1020...Two thumbs up Nokia!!!

It's a Microsoft commercial.

Its not an AT&T commercial. This one is from Microsoft.

This phone could be classified under 'life-changing'

Though the commercial is acceptable, it does not have the oomph that Nokia ads have. I'm glad microsoft is also adding something to market the device, but I just have to say Nokia absolutely rocks in terms of music selection, layout and catchiness with their ads. Nokia ads are close-up, personal, human, and have a sense of something great. Microsoft ads put you as an observer with a business-like ambiance and with drugged-out hipster music on it. Microsoft could take a page from Nokia so they could be more effective when marketing their own products like surface. Or maybe I'm just cranky while waiting for my morning coffee.

Haha I happen to like both selections of music

ok, so maybe I'm just cranky due to lack of caffeine hahaha. I'll watch it again once I've dosed myself with concentrated coffee sludge. ;p

Kram Devil - I totally agree with you. Not sure why Nokia ads can only be seen on YouTube, but the first Lumia 1020 ad, with the song 'After Dawn' by Leatherette...No need for a 'voice over' - just watch and listen!

Perhaps Nokia doesn't have the budget to advertise directly on network television, but their ads run circles around Microsoft and U.S. carrier ads.

This is the only commercial we need. Just place it on all the networks. Short and to the point. You know what I mean.

Good ad letting consumers know iPhone 5 and Galaxy S4 don't have the best camera.

I felt this was weak for a advertisement aimed at even novice photographers.. When are they going to learn to showcase ALL of the features that make the camera great❔.. Not just the 41mp sensor... They need to spit out the entire catalog of camera spec's, and why they are important.. Or have multiple commercials that focus heavily on individual specs,, like OIS.. What is so hard about doing this❔

I agree with the last part. multiple commercials that are catchy and whimsical, not just a laundry list of specs and features. Nokia is good at that. Check out http://youtu.be/vB-lic-Fu0Q . Pretty good for a 28 second clip, definitely something I'd want to share with somebody. Music is great as usual. Not to mention those Nordic milkmaid-type girls in Nokia ads are hot!

I am certainly no photographer. However, I will be getting this just to take pictures if my kids.

I will buy one when/if they put it on Verizon. Unless another phone comes out and realllyyy impresses me.

Just seen it on Under the dome

Wait, The kid's iPhone turned into a HTC 8X

Just saw the concert commercial where everyone thought girl with the 1020 was in the front row. If it really takes pictures that good, then that is quite impressive.

This was a pretty good ad. Better than the AT&T.

Nice phone, but ill not recommended WP8 to anyone until MS can get on the ball and release timely updates.