New photo of the Nokia Sabre shows physical buttons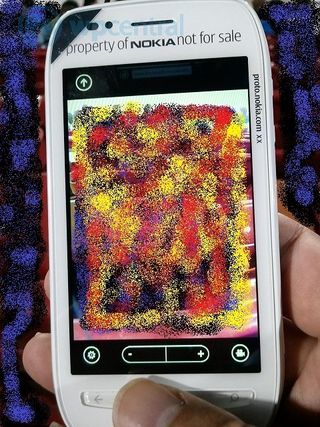 We just had another photo of the Nokia Sabre, admittedly heavily "masked", land in our inbox.
It looks remarkably like the earlier shot leaked today but this time we can see the lower buttons, which should make quite a few people happy: they're physical. Yup, the front-facing buttons look to be nice, clear gel type buttons which should alleviate a lot of accidental clicks that come from capacitive buttons.
Although the screen looks small (3.7") and this might not be the spec killer that many want, it sure looks like a solid little number. And we're sure Nokia's quality will shine through.
Update: Since the phone is in the camera app and it's running Mango, there's no switch for the front-facing camera. That can only mean one thing, that this lacks one.
Windows Central Newsletter
Get the best of Windows Central in in your inbox, every day!
Daniel Rubino is the Editor-in-chief of Windows Central, head reviewer, podcast co-host, and analyst. He has been covering Microsoft since 2007 when this site was called WMExperts (and later Windows Phone Central). His interests include Windows, laptops, next-gen computing, and for some reason, watches. Before all this tech stuff, he worked on a Ph.D. in linguistics, watched people sleep (for medical purposes!), and ran the projectors at movie theaters because it was fun.
Looks too thin to be hiding a slider keyboard, I guess I shall keep waiting.

I personally write more than I'd like to with my phone, and have been skeptic about touch keyboards on phones for long.Now, after playing with my Mango WP7 for about 1month, I think it's going to be difficult for anyone to sell me a slider again.Mind you, what I love about the touch one is mainly related to multilinguism, for which Microsoft has done a beautiful work that goes largely un-noticed by the hordes of all-things-english users.As a Spanish living in JP with lots of english and french speaking friends, it just feels great to have a virtual keyboard (and related dictionary, auto-correct features) allowing to correctly type on any of those languages and seamlessly switch between them.

I think people should stop trying to tell other people what they should or shouldn't like. If he doesn't like phones without keyboards then that's fine. I'm with him. That's why we have choices. I prefer a real keyboard cause the flat surface of a screen to me will never be better than actual physical keys with real texture. I can type faster on a real keyboard with less mistakes even without looking. That's my opinion and preference. If you like and prefer on screen keyboards then that's fine but It's not for everyone. No matter what you tell me, it's not gonna change my opinion

Not only do I prefer using the physical keyboard with my Quantum it also adds a bit of heft to the phone. I'm really not a fan of these thin and light models.

This is based on the Nokia 603 so no keyboard. Also the screen is 3.5 inches.

Since they have a HW keyboard doesn't it have a 3.7 as well?

It doesn't have a HW keyboard.

The Nokia 603, which this phone is obviously based on, does NOT have a keyboard and the screen is 3.5 inches.

So r they just releasing mid end phones this yr n high end starting q1 next year?

Except for screen size the SeaRay is far from mid-range. And to be, a large screen, is kind of mid-range. I detest it. I love the fact that there are smaller screens with high-end specs. Such as the SeaRay may be...

Definitely not the most beautiful phone I've ever seen, but to each his own.

I can appreciate this viewpoint, rather than the more popular, "It's fugly, Nokia is doomed!" comments.

Is that a mirror in the top left corner to see yourself to line up the FFC or something?

Why couldn't you use the screen to see yourself in the FFC? Isn't that what they're for? Maybe it is for enhancing the lighting for the FFC, since it is probably not as good of quality and lighting really effects the quality of those kinds of cameras.

Well I thought about that but I guess if the screen wasn't black and had the other party on it that you couldn't see yourself easy enough or something. However now that it looks like it doesn't have a FFC after all, I'm even more puzzled by that corner. heh

fwaits, the screen will be showing what the camera is shooting!

No, that's the tab for the screen protector.

It's a pull tab for the shipping screen protection.

Thank you! Love those physical buttons, the phone design is ok. WP7 needs more phones with physical buttons.

I dont care about design till its not literally ugly. But HW buttons - OMG how I miss them! Im gonna run into the stroe first available day for this one. I dont wanna press accident multicombo while removing phone from my pocket anymore!

Also, note how there is no button visible on the screen to switch to the FFC? I believe the phone is in the camera app. Whats up with this?

Yeah, doesn't look to have a FFC.

No FFC would be terrible. I don't really care about video calling but apps can use the ffc for some very fun things.

I disagree, no FFC is great, means they can keep costs down on a feature that isn't very important.

I just don't see why people are clamoring for these nokias. From all the photos I've seen on WPcentral, I think they look horrible. Every one has their own taste but these just are not for me. Out of all the upcoming phones the Focus S has the smoothest look, I think. But also lacks a little character at the same time compared to the first gen Focus. I think I just like my Focus too much :)

In terms of looks they really arent that putting themselves ahead of the pack. I want one mostly because I am hoping they have some killer optics, but mapping especially in europe I think is another big thing for people. Although the more time I spend with my Arrive, the more I love the keyboard.

I'm mainly interested in the penta-band radio and excellent reception. Being on Mobilicity I need the best radio performance I can get, as the network isn't that robust yet.

@Waucckhewww...Everyone does have their own tastes, and as far as I'm concerned, the device with the code name of 'SeaRay', looks better and more unique than anything HTC and Samsung has put out to date! As far as materials used, build quality, features, and camera tech, Nokia is the best, save Apple.This device is a prototype, and is a shell similar to the Nokia 603, which is smartphone with expandable memory and a 5MP camera, but without the bells and whistles of a ffc, led flash.What WP fans must keep in mind with regards to Nokia is that Nokia caters to ALL price points and markets - they are NOT going to pump out ONLY high end devices. Their current customer base recognize the Nokia brand and style, and this type of device will be affordable for many of them - which is exactly what Microsoft wants - market reach.Nokia World is 5 days away; and the launch devices will be in Europe. The U.S. will most likely see devices in 2012.

I agree Nokia is the best, but you're wrong about Apple. They're not even in the top 3, Motorola is a close #2, and might even switch places with Nokia at #1 at times. #3 would be Sanyo back when they still made phones, at the moment it's hard to say what the third best brand is for build quality, but I'd expect Asus if they put their hat back into making smartphones.

This is a low end model so of course it won't be too flashy. The 800 (Sea Ray) is a very nice piece of hardware design wise (Not the same old boring plastic) and we haven't seen anything high end from them yet of course.

Why, why must I choose between a front facing camera and physical buttons. I HATE capacitive buttons! I want physical buttons and a front facing camera.

Guess you'll have to wait, the LG Jil Sander doesn't have FFC either. I'd say 60% chance Nokia puts out a phone with FFC and physical buttons by the end of 2012.

I'm not sure what the camera app looks like for those with FFCs, but what if that little triangular piece is covering up where the FFC is? I mean it's not like we're even seeing a phone without the hidden case off of it so what do we really know at this point? Just wait and see..

It's the tab for the screen protector. I assume you never buy a phone brand new?

I just want a Nokia 900 series

well looks like the nokia wp7 line will have all the ugly phones. guess samsung an htc are my only options

i really want a slider keyboard so i can get out of DVP. Come on!!!!!!!

Any chance they're doing what apple did and put the phone into an outer case to hide the actual phone from prying eyes?Not a fan of this model though!

Well it's definitely a prototype model, so no telling exactly how close this is to the final build. I guess we'll see next week.

Not too likely, the design has already been released in the 603, they're not really doing anything new here as far as looks go.

Clearly a fake, its just an iPhone 5

whatever it is its hideous and dated, so hopefully not anything that will go into production looking like that.Not a big fan of the way the n800 looks either, but at least it doesnt look dated and a change from the usual black slab. maybe it will grow on me.

I'm fine with no front facing camera to keep the costs down. It's not a feature I ever used on the N95, and I don't expect to use it in the future.

This is the most ugliest phone I ever seen. Looks very dated and cheap. If this is what Nokia is going to put out, then they might as well close their doors now. IMOI will stick with the Samsungs.

Almost all phones look ugly and cheap in white... look at the HTC radar or even the white iPhone 4 (yuck). Go look at the nokia 603 in black, it looks pretty nice.

It has a FFC. If you look at this phone and compare it to the 603 you'll clearly see where the FFC is. The 603 doesn't have one btw.

That's possible, but why would the software not show the option?

they need to put windows on nokia e7

Not yet, they should wait until the OS has proper landscape support throughout.

NO FF camera? come on nokia have all your new phone with FF camera. Since microsoft purchased Skype at least have FF camera feature
Windows Central Newsletter
Thank you for signing up to Windows Central. You will receive a verification email shortly.
There was a problem. Please refresh the page and try again.