Is this the Nokia Sabre Windows Phone?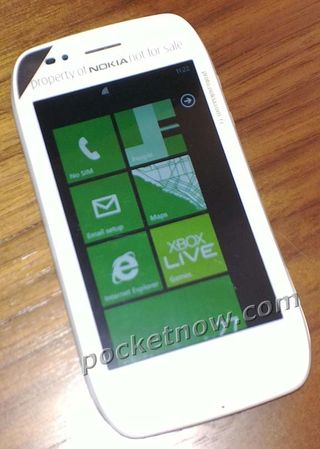 Could this be a prototype of the upcoming Nokia Sabre? According to PocketNow it could well be, definitely looks real enough. We previously touched on the codename with Microsoft Canada revealing the Windows Phone on their website briefly. Steve Ballmer recently stated that a "bunch" of handsets (opens in new tab) will be unveiled at next week's Nokia World, so the Sabre could well make an appearance.
Looking at the photo above, the handset is following suit of the HTC Radar (opens in new tab) in terms of colour uniqueness compared to the current line of Windows Phones and looks great. Reported specifications stand at a 1.4GHz processor, 1GB RAM, 3.5-inch WVGA screen, 5MP camera and a price tag of around €300-350 ($410-$480).
Source: PocketNow (opens in new tab)
Rich Edmonds is Senior Editor of PC hardware at Windows Central, covering everything related to PC components and NAS. He's been involved in technology for more than a decade and knows a thing or two about the magic inside a PC chassis. You can follow him over on Twitter at @RichEdmonds.
damm 1 gb oof ram nokia is pro now show us the sea ray

The press pics for sea ray just came out

those were renders of the sea ray not the offical and the ie symbol wasnt mango also the device had the exact same photo positioning like the nokia n9

that's one ugly looking phone

Why do you find it ugly? Looks like a nice little handset to me.

you probably haven't seen urself in the mirror lately if ur calling phones ugly.

It looks like it's in some sort of protective/camouflage sleeve to hide the styling.

My thoughts is it is a test bed model, meaning, basically just hardware to test, and not an actually consumer model.Looks ugly in this pic.... so I hope I'm right/ ; /

Looks pretty much just like the early rendershttp://goo.gl/PVDihHoping the ace follows the trend and looks like this onehttp://goo.gl/jqUyT

If that's the Ace then I'm all in. Well as long as it comes to T-Mobile.

I posted the same thing on another site.To those who think its ugly, this phone is obviously in a white case to hide the design. Zoom in on the top left corner and you'll see the depth difference between the case and the actual phone.

Windows Phone platform only uses 512MB RAM like iOS, so those specs are BS.

I don't think I've even used 100Mb yet so I wonder how this is going to be.

Some on another site are saying that this is looking alot like the same chassie used for the Nokia 603.So we have Searay=N9 and Sabre=603. But it the Ace is supposed to be 4.3in then it will have to be something new as I don't think Nokia has anything that big currently.

I read on engadget that its a protective case to hide the real design I hope so because this things looks ugly!

Barf. Well so long Windows Phone, we are the laughing stock of the mobile world if that's going to be our iphone beater.

jajajajaja wow dude ur so ****

Wonder why it has 1GB of RAM, I won't complain but 512MB would just make more sense given the rest of the Windows Phones out there.I like the look of it, screen is symmetrical in both landscape and portrait, the tapering is a signature Nokia look (that Motorola seems to have copied with the Droid Razr - not that I mind), and the aesthetic seems to fit Windows Phone nicely as well as being generally practical.White doesn't go so well with CBD though, so some other colours would be nice. I wouldn't mind an option other than black (which is a notorious fingerprint display colour).
Windows Central Newsletter
Thank you for signing up to Windows Central. You will receive a verification email shortly.
There was a problem. Please refresh the page and try again.