The new Razer Mamba gaming mouse promises to be super-sensitive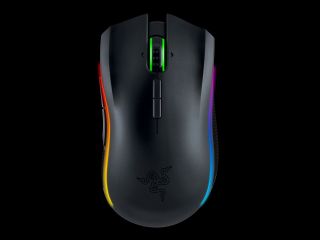 Razer continues to release new and advancing PC mouse devices made especially for gamers. The latest such launch is the new version of the Razer Mamba, which the company claims has the world's most precise gaming mouse sensor inside.
Razer says:
The new Razer Mamba also contains what the company calls its "Adjustable Click Force Technology" which allows its users to manually change the click force of the left and right mouse buttons "from distinct clicks for high accuracy actions such as sniping in FPS games to lighter presses for rapid fire action needed for MOBA games." It also supports Razer's Chroma lighting support so that gamers can customize the lights on the mouse with 16.8 million customizable colors.
The mouse will come in two versions, a regular one with wireless support and the Razer Mamba Tournament Edition, which is a wired mouse made specifically for pro gamers. That version will sell for $89.99, while the wireless Razer Mamba will be priced at $149.99.
Source: Razer (opens in new tab)
I'd swear there was a mouse called a Mamba when we went to Frys to get a gaming mouse a few weeks ago. Saw something that looked like a Transformer too. Made me glad I'm too old for this shit.

Mamba was also their previous version of this. Been on sale for at least 5 years now. Great mouse.

I dont know any other transformer mouse other than madcatz :p

As if we needed mice with that high dpi... I have lowered the dpi of my g400 to 600 for more accuracy in games and comfortable desktop use.

Some people do, I can't run anything slower than 8k

8k?! Please tell me you are using a 4k monitor.

No its a 1440 panel. I don't play games, I run AutoDesk Alias for work, and I don't like to move my wrist too much.

Never buying a razor product again. Cost to consumer = expensive. Cost to manufacter = pennies because it's cheap nasty material that is so low quality they break fast and easy. Had 1 mouse it broke fast, I put it down to a "bad batch" now own a 2nd mouse which the light under it seems to "wobble" and cause slight random movement on the mouse on screen. The mouse mat from them is "meh!" and the headphones I brought from them were a big mistake, they trap heat so badly, and the cable makes so much noise when it rubs against the desk, or shirt collar. Such a naff company. Over price, and rubbish quality.

I have always felt like Razer products were cheap. Their mice are far too light and feel very cheap, like a toy.

Couldn't agree more. I've had terrible experiences with all Razer products I've bought.. they are absolutely NOT worth their price, unless all you care about are aesthetics. Never again.

Weird, I'm still rocking my Copperhead from 2004 or something, still works really well.
Playing lots of RTS and ArenaFPS with it.

I had a razer habu, fantastic piece made my Microsoft and razer died of old age, the 1st imperator died in 2 months I'm on second but if it wasn't for the size of it I would have rsi it feels so good to use. If anyone knows of a nice big ish mouse please share, as I don't want razer again! Next time!

Hmm, you could try a RAT9 or 7 (depending if you like wired or wireless), as they are pretty adjustable mice. Other good options are the Corsair Vengeance or EVGA Torq X10.

Hmmm, Try G600, I personally use G300 and i feel its small, also my sister uses a gaming mouse from a company called trriger!! its big very big, try that if you want a cheap alternative to G600

$150 for a mouse or for an Elite XB1 controller? Hmmmm, I'll pass this time but I hope they work for those who buy them

I don't understand last paragraph is kind of confused

I've used mice from Razer, Roccat, SteelSeries and Logitech, however I now use the Mionix Naos 8200, works absolutely wonderful, great build quality, sensitive, sleek. Give it a try :)

It promises to be over-priced too.
I use a Ozone Neon as mouse, great and comfortable for both right handed and lefties like me.

I always seem to have bad luck with Razer products. It's a shame cause they look amazing. The mouse would double right click. The Blackwidow keyboard keys stopped working. The Carchias headset the cushioning fell off. If I were to get another Razer product it'd probably be the keyboard.
Windows Central Newsletter
Thank you for signing up to Windows Central. You will receive a verification email shortly.
There was a problem. Please refresh the page and try again.