New Surface 3 TV ad shows how it compares to the Surface Pro 3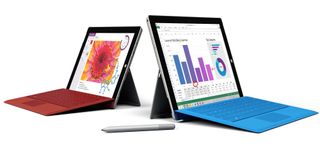 A new TV commercial for the upcoming Surface 3 tablet spends some of its time comparing the device to the older and larger Surface Pro 3.
Indeed, it looks like the point of the new ad is to give people who might not want the larger and heavier 12-inch Surface Pro 3 a chance to check out the smaller and lighter 10.6-inch Surface 3. The ad also shows that it can run regular Windows applications, something which the previously released Surface RT and Surface 2 could not. In addition, it shows the use of the Surface Pen as an added bonus.
The ad is not particularly flashy and isn't quite as memorable compared to other commercials made for Surface products, but it does gets its point across about how the Surface 3 might appeal to consumers who don't want something as big as the Surface Pro 3. The new Surface 3 is still scheduled to go on sale on May 5 with the starting price of $499.
Source: Surface (YouTube)
It's a clever advert. Especially the first line... "Been wanting a Surface?"

Yeah... That's almost a little psychological work MS is doing on people there..
.......
People that aren't very aware of Surface might think they are missing out, or late.. Automatically makes the product look as if it's in demand... Good job on MS's part hyping up a product in an ad.
.......
I'd like to see them ask "been wanting a Lumia" then go all out showing it's features.

Except when the answer is "No. No, I've not been wanting a ....." Then that is a dead end. FIrst lesson you're taught is to avoid questions that can lead to the end of a conversation.

yea but is not like you can answer to your TV when this ad comes up

Lol.. Exactly.. Dudes thinking way too hard.

Funny. You write a mini dissertation about the ad and I ask a question, but, I'm the one thinking way too hard. .

True... True.. You got me there... Lol.

I like that ad. To the point and not burdened by flashy stuff. Good ad.

Hope they pull off an appropriate international release. Need a new laptop and dont mind purchasing this for the time being, while I wait for Surface Pro 4.

Well, i've already seen it in Nantes at the Fnac, but you can only try it. It will be available in a lot of country since May 7th.

Thats great news, look forward to owning one on release =) thanks for the follow-up

I actually liked those ads. I thought they were fun, catchy, and did what they were supposed to do when introducing a new product: make people curious. The problem with them was that they should've been paired up with complementary ads more in the vein of their current Surface commercials, which show off the features. As standalone ads, they raised a bunch of questions and answered none of them.

Finally enough of the garbage kpop. It was catchy, but got sooooo annoying after a while.

It was pretty good. This level of marketing needs to spread across every product line at MS.

I was hoping for a line like: thinner than the Apple Watch!

Go away troll. Do yourself a favour and get a Microsoft Band.

Already have a Microsoft Band. You're a touchy fanboy arent you?

It's 10.8 inches not 10.6. Lol.....

Try playing backwards with your computer screen upside-down.

Terrific marketing.... Gives me hope that we might see this same level of marketing for the Lumia brand here in the US....

Nice ad. But I just don't get that i paid 2000euros for my surface pro 3, (i7) and it did not come with office 365 :/

Graphics is actually really good for a tablet. 50-200% better then previous Atom GPU. Better then all other tablets (except Surface Pro 3)

And still $50 cheaper than the Apple Watch.

I would like to see that MS release a 7.5" Surface Mini which I could hold it with single hand. OneNote with Surface pen would work great on that form factor. There is such a big gap between 6" L1520 and the 10.8" S3. Surface Mini would fill that gap nicely.

Wasn't impressed with the 'barely thinner', 'slightly lighter' ...havent learned from Apple you need to inspire people with tech marketing.

Sooooo, they advertise one of their products AGAINST one of their other products? Is it just me, or is that kind of self-defeating? Maybe they should advertise it against, oh, I don't know, SOMEBODY ELSE'S PRODUCT? C'mon, that's just bad business practice. I get the general idea, but you sould NEVER downplay one of your own products, even if it's to sell another one of your own products. Do you ever see GM say, "Hey, been thinking about buying a Silverado? Well screw that, just buy a Colorado!"

I'm excitedly waiting on the arrival of my Surface Pro 3 I ordered a few days ago. Now here's an ad about how I should have gotten the Surface 3 instead. (that's the nature of comparison) I'm still happy with my decision, I need the processing power and screen size, but I agree with you 100%.

I see it all the time for razors. Gillete compares the new whatever that swivels to the older one that doesn't swivel. They did the same thing when they added the 4th blade. To me this is silly but it seems to work for Gillete. Microsoft can't compare the surface to other Windows devices or the other manufacturers will have a problem even though the surface is better than most other Windows tablets and most laptops.

I agree that they can't be knocking Lenovo or HP, etc. But they could knock the Chrome devices (easy target) and Apple stuff. You know, their competitors, lol

Does a surface 3 have today's cellular wireless networks?

There is an LTE version being released but no release date yet. That is the one I am waiting for.

Still the marketing with the type cover is and will always be misleading to new buyers who don't know better.

Does the surface run flash player? Thats why I wont by an RT. Our phones run pretty much just like the Surface RT's. The Pros coast way to much for me.

It will run flash if you really need to install it. It is full Windows not RT, so you can install anything you want. Even if it will affect performance.

This isn't Windows RT, they don't make that anymore.

The drumming/tapping was a bit excessive and unecessary, but I'm really glad the Surface Pro 3 made a formal appearance with title at the end, it seals the deal that this is a new product that is joining an existing family member, well done.

I didn't like the tapping song thing, weird commercial. Not a great ad like everyone seems to be saying.
Windows Central Newsletter
Get the best of Windows Central in in your inbox, every day!
Thank you for signing up to Windows Central. You will receive a verification email shortly.
There was a problem. Please refresh the page and try again.