New Surface Pro and Pro 2 rugged case first to meet military standards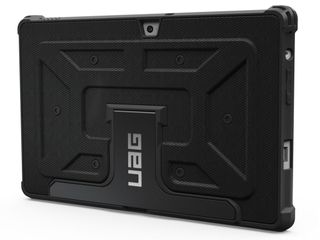 A company called Urban Armor Gear has started selling a rugged case, the Scout, that's been made especially for Microsoft's Surface Pro and Surface Pro 2 tablets. The company claims it is the first case for those devices to meet military standards.
The Scout has been independently tested to make sure it meets the MIL-STD 810G-516.6 standard for drop and shock when it is used in combination with Microsoft's Type Cover keyboard. That means the case can protect the Pro or Pro 2 from a drop of several feet. Urban Armor Gear adds:
The Scout case, which at the moment only comes in black, is now on sale for $59.99. There's no word on if a version of the case will be made for the new Surface Pro 3. If you use your Surface Pro or Pro 2 a lot, are you interested in checking out this rugged case?
Source: Urban Armor Gear
Now that looks like a hard case

For $60, that's a great deal!! Looks like a tank.

But... If it's for the Surface Pro and Pro 2, why is the Surface in the case the raw silver colour found in the Surface 2 and Pro 3?

It's probably a dummy model and they got a little confused with the colorings, seeing as all the buzz nowadays is about the Pro 3 EDIT: Here's a picture from the site that shows that these are merely dummy parts and not an actual device http://cdn.shopify.com/s/files/1/0121/2322/products/Surface_Pro_02_BLK_PT04_1024x1024.png?v=1403643519

Anyone else notice that there is a light colored aluminum device in it? Neither the Pro or Pro 2 comes in that color.

Nice. Now make one for the SP3

Why isn't there a case for the surface rt series?

I might have to pick this up for my pro

Very interested for my sp1.

Would love a SP3 case from them

I've tried emailing them about phone cases. There response basically was that windows phones aren't popular enough. Hopefully now they will start to make them for our phones too.

I've dropped my 920 on concrete a few times. So I guess they don't need to make cases. I would buy one for my mothers 1020.

Did you have to pay to repair the concrete?

No. That part of the building is at least 50 years old so no one notices. I'd like to be able to post pics so I could show the hole it put in my hardwood floor.

Very tempting.. If only the kickstand was multi-position capable.

That's what I was thinking. If its got a multi-positional stand, it would be a great addition to the SP1

What I would like to know is when can somebody get their hands on a FreedomCase? That's what I would want!

I wish it were water proof. Not because I am going to take my Surface into water but because I would like to take it to the beach sometimes. No way I am going to take it without a waterproof case with all that humidity and sand flying everywhere.

There are a ton of Surface 2's out there. Why the neglect? Companies (incipio for example) are still coming out with stuff for the Surface and ignoring the Surface 2. Frustrating.

Any chances of the Surface overheating in that thing? The back of the tablet often gets reallllly hot depending on what you're doing with the tablet. I'd be afraid of it overheating if it had something covering the whole back like that.

We modified the graphic to show the air vents on our case. http://cdn.shopify.com/s/files/1/0121/2322/products/SRFCPRO2_BLK_PT06_10...

Does it allow for ventilation - it looks as though it is covering the fan exhaust technology on SP1 and SP2?

The PR bullshit says their stuff will protect your thing from shock and fall. They didnt consider overheating protection, what do you expect to have, everything?? /sarcasm

Ricsip, It has vents that aren't pictures at the moment. Give us a week and we'll have our photos updated. Cheers.

I just ordered mine... I hope it has good ventilation on the sides, looks like it has some speaker holes.

okay, so I sent them an email asking about the ventilation... and this is what they said. "We have integrated slots for the ventilation system. We will be updating our images online soon."

Will wait for the new images, because as it look now, you Surface would overheat and die without the vents.

I've got an inside source and can confirm the production model has vents. The model on their website doesn't show them but the one you receive has them.

Well, you also need to look at making cases for Nokia and the Surface 2.

Yes it does, graphic and description update to address the ventilation questions. http://cdn.shopify.com/s/files/1/0121/2322/products/SRFCPRO2_BLK_PT06_10...

I've owned UAG cases on my HTC One (M7) and they are awesome. Inexpensive, durable and I think they look really cool. It's a shame they don't make one for my 1020 because I'd get one immediately.

When I upgrade my Pro to a Pro 3 and give said Pro to my daughter for school - one of those will be on it!

If they made one for the SP3 with access to the stand, I'd buy it in an instant Of course, I guess a little creative work with jig saw could open up the back and give access to the stand

So we had Laptops, then the thinner & lighter race began... So we got Tablets thin & light as "Air"... Now we want them in thick & heavy cases!!! Just joking!!!

1) Of course, I want to run right out and buy a shock and drop care that effectively blocks the perimeter vent on the Surface Pro and Surface Pro 2. You may fry your tablet but at least it will be safe in a couple foot drop that it can generally already handle. 2) The only military standard it meets is a basic drop test. That is hardly an achievement. I give them credit for advancing the old line about a fool and his money being swiftly parted but not much more....

Ordered mine from Amazon. Will be here Thursday. Can't wait
Windows Central Newsletter
Get the best of Windows Central in in your inbox, every day!
Thank you for signing up to Windows Central. You will receive a verification email shortly.
There was a problem. Please refresh the page and try again.