New upcoming Xbox exclusives revealed: Project 'Midnight' from Compulsion and 'Pentiment' from Obsidian
We've got details on two more upcoming Xbox exclusives.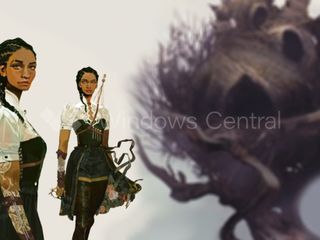 (Image credit: @JezCorden | Windows Central)
Microsoft is having a stellar year for gaming, with titles like Microsoft Flight Simulator, Age of Empires IV, and Forza Horizon 5 all breaking franchise records in quick succession. Forza Horizon 5 hit 4.5 million players after just 24 hours of general availability, boosted by the value proposition offered by Xbox Game Pass.
Much like Netflix, ensuring Xbox Game Pass has a steady flow of new subscribers is at the top of Microsoft's gaming agenda. A steady flow of new subscribers means the firm needs a steady flow of new content, and they're investing more in that area than ever before. We know about upcoming Xbox games titles like Halo Infinite, Starfield, State of Decay 3, and Redfall, but we've been offering a sneak peek at some as-of-yet unannounced exclusives too. Microsoft's publishing arm is working hard on partner titles like Project Dragon from IO Interactive, and Project Belfry from Stoic Studios, among various others. Internally, we have Project Cobalt from inXile, and we recently detailed Avowed gameplay from Obsidian I'd been lucky enough to see early. Recently, we were tipped on some new exclusive details for upcoming Xbox games as well.
Compulsion's Project 'Midnight'
Compulsion joined Microsoft near the start of their content acquisition spree. The firm is known primarily for We Happy Few, which despite some gameplay problems, delivered big in the art direction department. We Happy Few's twisted vision of a fallen Britain proved a truly intriguing concept, and solidified Compulsion as a studio with a lot of potential.
Recently, we received some details on Compulsion's first outing as part of Xbox Game Studios. Currently codenamed "Midnight," this upcoming title is supposedly a third-person action game set in a dark and fantastical world. Some of the game's early concept artwork can be seen above. They represent the game's protagonist, alongside warped harpy-like humanoids that appear to descend through various iterations of mutation. On the left, we can see what appears to be harpy nest-style dwellings built atop a tree.
Midnight is described as a "coming of age" tale drawing upon inspirations from America's Deep South. The game features magic and large fantastical beasts with a strong "southern gothic" vibe. The game is a wholly single-player experience, with what has been described to me as a "strong" story.
Right now I have no info on the launch timings of Midnight, but you're likely looking at the next couple of years for an official reveal and perhaps even a full launch, although it could come later depending on Compulsion's growth and ambitions for the title.
Obsidian's "Pentiment"
Recently revealed by Jeff Grubb on his premium Grubbsnax show (opens in new tab), Obsidian's "indie"-style effort is emerging from a small team led by Josh Sawyer, famed for his leadership on what is arguably the best Fallout game; New Vegas, as well as a personal fave, Pillars of Eternity.
I recently revealed the game's name with my co-host Rand_Al_Thor_19 on our Xbox Two podcast. It's being called "Pentiment," which refers to "an underlying image in a painting, especially one that has become visible when the top layer of paint has turned transparent with age," according to the dictionary. This naming convention hints at the game's premise, by which you act as an investigator in 16th century Europe uncovering the truth behind a grisly murder.
Grubb mentioned that Pentiment takes cues from the likes of Disco Elysium and the branching narrative designs Josh Sawyer is known for. You'll be able to investigate and make accusations against the characters in-game, which could lead to cascading consequences if you're wrong. It'll be a dialogue-heavy game with decisions to make and response options to choose from, which will shape your experience as you unwrap the murder conspiracy before you.
I am told that Pentiment is being built by a small team of around 12 people, and is more of a narrative RPG adventure than something combat-oriented. The art asset above may represent some of the designs the game is gunning for. Jeff Grubb also mentioned that Pentiment is exploring "experimental" gameplay elements, too, although they may ultimately not make it into the final release. Speaking of which, Grubb also noted that Pentiment is indeed gunning for a 2022 launch.
Even more games for Xbox
The underpinning reality among all these game projects is that Microsoft is investing more than ever into its first-party games portfolio. From smaller games like Pentiment to larger titles with hundreds of developers like Halo Infinite, Microsoft is all-in on ensuring that it can see off competition from some of the bigger players in the space. Some of the bigger trillion-dollar tech outfits like Apple, Google, and Amazon are all sitting up and realizing that there's something serious about this whole core gaming thing, as companies like Netflix begin to explore adding gaming features to their subscription services.
Microsoft is showing no signs of slowing down either. Xbox chief Phil Spencer this week noted that he's exploring expanding Microsoft's casual gaming portfolio through acquisitions, and I also received word of yet another upcoming Xbox Publishing partnership, codenamed "Vonnegut," presumably after the novelist Kurt Vonnegut, although beyond the game's codename, I have no information on exactly what that is or who could be making it. Vonnegut falls alongside another first-party title codenamed "Velvet," although, once again, very little is known about who or what it could be.
With Xbox smashing all sorts of records right now, I firmly believe we could be entering a second golden age of Xbox, with a steady cadence of high-quality titles now becoming a consistent reality for customers in the ecosystem.
Windows Central Newsletter
Get the best of Windows Central in your inbox, every day!
Jez Corden a Managing Editor at Windows Central, focusing primarily on all things Xbox and gaming. Jez is known for breaking exclusive news and analysis as relates to the Microsoft ecosystem while being powered by caffeine. Follow on Twitter @JezCorden and listen to his Xbox Two podcast, all about, you guessed it, Xbox!
Midnight looks interesting from a concept art perspective. I also like detective/mystery games as you are playing aa game within a game. Can't wait for these to drop!

Despite being, on paper, a game I'd typically dislike, I really enjoyed We Happy Few. Pretty excited to see whatever Compulsion is working on next.

See, I absolutely adore the setting and narrative in WHF but the collection/survival and crafting stuff in not interested in so from a gameplay perspective it wasn't for me. If Midnight has the same high level of storytelling but in a game type I prefer I'm going to be all over it.

Looks interesting, guess I'll have to finally get to play We Happy Few, which I've had in my backlog for some time now.

This is moot in my opinion. I'm not purchasing any new Xbox games until I can buy a new Xbox without paying the scalpers. If they continue at this rate, many will either a) realize they don't need it, or b) wait for the next best thing, even from Xbox. It's ridiculous what this has come to.

You can pretty easily but the Series S now... I assume you mean the X

I am referring to the X, but the S has been sold out as well. Also, what's the point in buying the S? Why buy the inferior version of a company's "next-gen" system?

With game pass you don't have to buy new xbox games if you don't want to lol. Besides, it's really an issue with the supply chain from materials to shelves due to the ongoing pandemic. People are acting like it's over... It's not... far from it.

Because it's not inferior?
It exists for people with older HD tvs and those p!aying on desktops, like kids and students.
It neither is you, fine.
But that is not a reflection on the product.

🤔 For a minute, I thought I didn't type "inferior" - maybe "interior". Well, last time I checked having a weaker processor and graphics card constitutes a gaming system as being inferior, especially to one produced by the same company. I have no doubt the Series S is a good buy, but with the exception of better loading times, I feel you are hard pressed to purchase one if you have the latest One X. I have the original One and I'm not buying a Series S.

I'm trying to figure out who Phil Spencer dislikes more, you or Jeff Grubb. Phil, "Who keeps leaking my codenames?"

Both of these games sound right up my alley, can't freaking wait (although they are probably still ages away from release).

Unique gaming titles in terms of concept. This is something Xbox Studios really needs to have. They are already getting strong plays in the usual AAA genres and they need more of these deep concept games with compelling storylines as a common experience to delight their gamers.