New Windows 10 'Core' and 'Pro' Store apps may shed light on upgrades and licenses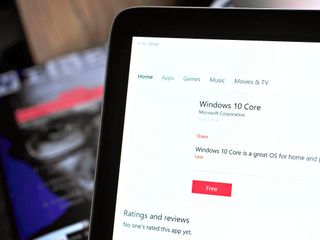 The Russian site OneTile.ru have posted an article about two new apps located in the Windows 10 (beta) Store. The apps cannot be downloaded at this time, but their names suggest they may be related to upgrades and licensing of the Windows 10 operating system.
The apps go by the straightforward names of 'Windows 10 Core' and 'Windows 10 Pro'. No other details about the listings, including images or size can be learned. The links to the listings also cannot be opened in the Windows 8.1 Store, at least not yet.
So what are these apps? OneTile.ru puts forth the idea that these are connected to the massive Windows 10 upgrade effort by Microsoft. Specifically, they wonder if the concept of a traditional 25-character license key may be replaced by a Store license and user account analogous to app purchases.
Indeed, it was just this past Friday that Microsoft blogged about tying your Microsoft Account (MSA) to your Windows 10 Insider Preview to get the final RTM build later in July. Of course, Microsoft also noted that you are "not required to use an MSA on new PCs that come with Windows 10 pre-installed or clean installed from media".
According to OneTile.ru, you need Windows 10 Core to download and use the Windows 10 Pro 'app'. They speculate that this may be a method by which users can upgrade their 'basic' Windows 10 OS to the Pro version all through a mere Store purchase. The license is then tied to their account making things easier if moving to another PC. Windows 10 Enterprise is noticeably absent from the Windows 10 Store listings, but that is likely because of the "special licensing regulations" for Enterprise (they are exempt from the free upgrade offer).
All in all, this appears to be Microsoft's way of simplifying licenses and activations for users. Instead of traditional activation checks from previous OS releases, Microsoft may be going to a Store and user-account method instead. Such a system also helps those in the Insider program, as Gabe Aul noted on his blog post:
In 2015, Microsoft is all about change and shaking things up. This new structure for licensing appears to be a part of that and hopefully we'll learn more in the coming weeks.
Store Links (cannot be downloaded, only viewable in Windows 10 build 10147 or later)
Windows 10 Core app
Windows 10 Pro app
Source: OneTile.ru; Thanks, Denis, for the tip!
Daniel Rubino is the Editor-in-chief of Windows Central, head reviewer, podcast co-host, and analyst. He has been here covering Microsoft since 2007 when this site was called WMExperts (and later Windows Phone Central). His interests include Windows, Microsoft Surface, laptops, next-gen computing, and for some reason, watches. Before all this tech stuff, he worked on a Ph.D. in linguistics and ran the projectors at movie theaters, which has done absolutely nothing for his career.
The only question I have is about what will happen to users that wiped out their OEM license with a pre-release version. Is Microsoft going to force those users to really buy Windows again?
This news sounds great and helps clear up any of this confusion that may happen in the future, but it doesn't help the current situation.

On new PCs (last few years) the key is actually a part of the chipset, so for at least those devices they will have no issues.

And what if I move to another newly assembled desktop machine ? Can I install my Windows 10 copy upgraded from Windows 8.1 on it ??

cannot tranfer OEM to another PC.

What happens if I have a OEM license in my laptop (Windows 8.1 single language) and want to install a genuine Windows 8.1 Pro license (retail) to get a Windows 10 Pro license instead of a Home version?

If your OEM licenses is for home, you will have to pay extra to get Pro. If your OEM license is PRo, it will upgrade to Pro.

I have a Windows 8.1 pro disc (boxed) and I want to put that license on my new laptop and replace the OEM license that came on it. Is it possible?

Yeah, that's no good for some people. I have a PC bought with Vista that got a free upgrade to Win7 when that was offered. It runs Win10 very well, but I have to do a full wipe of the drive to get the preview on it. Needless to say, I'm looking for my upgrade info to get MS to honour the free Win10 install for a valid Win7 license.

many of us are in similar situations. I had 2 partitions, one running 8.1 and the other running 10. I had a huge issue with some build so I had to reset the windows 10 install, turned out that the reset wiped both partitions and when the computer booted it went straight to windows 10. There has to be a way that Microsoft knows I had a genuine windows 8.1 install on this PC before -__- THERE BETTER BE A WAY lol

I have activated my OEM licences by phone many times.

Also, in most of the PC/Laptop you buy new, in the Box are the Windows Licence printed alongside the User Guide or pasted outside the Box. You can always install the version of Windows the Licence is from, and then, put the Licence and you are good to go.

Thats meant to be a last resort if you cant get the pre-activated key working. Something HP vista users know alot about

Store Links (cannot be downloaded, only viewable in Windows 10 build 10147 or later)

I have build 10130 and can see the store link, it opens the store beta app and shows me the apps.

Getting mixed results on that hence why I put that in, it's not really pertinent either way.

Agreed. Just thought that 10147 is a leaked version and maybe the apps are for internal purposes for now, but since official builds can see it too (at least I can), then maybe there's a reasoning to that. Prolly an easier step for preview users to get the final and official Win 10 OS, or maybe they're keeping their statements and still will offer free Win 10 to everyone.

Does anyone know if Windows Insiders will get a free license for Windows 10 RTM?

They call it activated not licensed. Doesn't make any difference to the end user but helps in saving them a lot of headache legally. And yes, you will get a fully activated version provided you use it with your Microsoft account.

And provided you remain a member of the insider program. If you opt out of the insider preview program builds you will need a valid license (either Win 7 or 8.x within the first year, or Win a 10 license).

This is good, but let's hope it works as flawless as it should. Windows 10 is shaping nice but still as expected, there are some mysteries that only can be solve by RTM and scooby doo

Daniel, these 'apps' specifically declare B schema:PRODUCTOPERATINGSYSTEM;1\\\\ and "ProductType":"OperatingSystem","MediaType":"OPERATINGSYSTEMS" , in their page code, so that's all lines up with the proposed WaaS concept and tying stuff to accounts..Not much of a speculation, but unannounced yet licensing facts dug out from the system =)

What about one account that is activated across devices (e.g. my MSA activated on my laptop and PC)? Also what happens if you have an Insider account activated on 2 PCs?

I made a comment to the original article: they may upgrade the account's Devices page to accommodate licensing management, as currently if you are signing in to a PC and acquire apps on it, you add that PC to your PCs list. They may add more buttons to a similar interface besides "remove".

sounds interesting, so we might get the upcoming builds accomodating this feature? Good to know, will be better if they add those 'Core' and 'Pro' app licensing a feature that will detect how many PCs/Laptops (tablets are the exclusion, as I think they have license installed in a chip) that I can install...

Core will be confusing for Joe user.Drop Core. Windows 10 and 10 Pro

Yes, it confused me, if 10 and Pro is what they mean, then that's what they should say.

We sure waste alot of time and money trying to predict what the future holds. Pointless.

If they tie it to our Microsoft accounts how will we get Windows on multiple machines?​

Otherwise known as in-flux. Hopefully this will be decided before the roll out.


Anyone ever tried to extract native Windows 10 technical mkv and hevc codec... and copy them to 8.1.?
Don't want to install adware codec packs...

http://windowscentral.com/commenting-guidelines

It's related to Windows 10 paki

I don't understand why some people are claiming for some things. This is the first time Microsoft will release an update from one edition to another for free, in a limited way, but free, and people are always wanting more. A lot of sites are trying to explain this case and after read their article people continue to act like dumbs. Just wait and see how this is gonna work before talk to much without reason, people. If you get the free update, great. If you don't, its not like you never had to buy a new edition or pc each 3 years. Just relax.

I have a question,I have a W7 laptop,have W10TP installed & herb using the builds on the slow ring with no problem since October 2014. Everything is perfect at build 10074,then comes a bunch of updates & build 10130 all goes well it restarts,all I have then is Microsoft logo & loading circle. Can't do anything only complete restore,this has happened twice now I'm back to W7 till I can figure out where I've gone wrong,any help or ideas would be appreciated.

What is that windows 10 pro website??

I hope Visual Studio 2015 Releases with Windows 10. I've been wanting to start coding again, but I don't want to install 2013 (2013?) and then have to uninstall it to upgrade, cause upgrading developer tools suck unless it's XCode on a Mac (due to the way Apple has bundled the package, kind of ingenius for keeping the system clean when you install an IDE, too I wish Microsoft would do something like that for their dev tools) and uninstalling Visual Studio is a royal PITFA. I remember having to do it for VS2008 and ended up just wiping my computer and doing a clean install instead. I don't want to install Beta/RC Developer tools on a production laptop. I've been trying to decide if I want to take a crack at it on Windows or OS X. Whichever one I decide, I plan to make a bit of a long term investment (books, etc. are expensive for this stuff).
Windows Central Newsletter
Thank you for signing up to Windows Central. You will receive a verification email shortly.
There was a problem. Please refresh the page and try again.