New to Windows Mixed Reality? Here's how to get started!
Peer into Microsoft's vision for the future.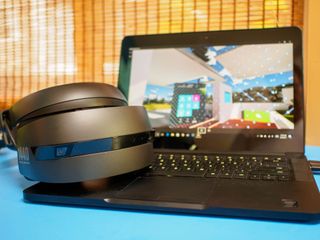 Perhaps the biggest feature to come with the Windows 10 Fall Creator's Update is Windows Mixed Reality. It takes all of the great things about Windows 10 and moves them into the virtual world. This isn't a different operating system, but a unique new way to experience your existing operating system. By putting on a Mixed Reality headset, Windows 10 takes on a new shape and becomes something existing all around you. Apps live on the walls of a virtual home you customize to your liking, and gaming takes on a more immersive step which encourages you to get up and move around as though it were real.
Sound like a lot to take in? Don't worry, we're here to help you get started!
How much room do I need for Mixed Reality?
Microsoft recommends you have at least six feet of open space around you to fully enjoy Mixed Reality. This is enough space for you to walk around without running into walls or lamps or people, but you don't need to be standing to enjoy Mixed Reality. For the most part, you can be seated at your desk and get the full experience. You have the option to walk around, but if you'd rather not there are other ways to move around in Mixed Reality.
Read more: How to set up your Mixed Reality playspace
Which Mixed Reality headset should I buy?
The coolest part of Mixed Reality is how many options you have when it comes to choosing a headset. Microsoft has worked with several partners to ensure the headsets are well-designed and offer the same basic experience all around. There are some small differences with each headset, so choosing one is all about what small details are the most important to you.
Would you like a headset with a glossy white exterior instead of the more common flat black? Dell has you covered. Want to make sure you have every possible feature so you can customize the fit to your needs? Samsung has what you are looking for. All you really need to do is figure out which is best for your needs, knowing the overall experience is designed to be nearly identical once you have the headset on.
Read more: This is what makes each Mixed Reality headset special
Can my PC handle Windows Mixed Reality?
Microsoft designed the basics of Mixed Reality to be something just about any modern PC can run, including student-focused laptops and ultrabooks. To get started in Mixed Reality, your PC needs to have:
Processor: Intel Mobile Core i5 (e.g. 7200U) Dual-Core with Hyperthreading equivalent
Graphics: Integrated Intel® HD Graphics 620 (GT2) equivalent or greater DX12 API Capable GPU
RAM: 4GB+ Dual Channel required for integrated Graphics
There are a few more details, like an HDMI port and available USB port so you can connect the headset, but any PC with these specs will get your in the door and started with Windows Mixed Reality.
Read More: The Minimum System Requirements for Windows Mixed Reality
If you want to explore Windows Mixed Reality to its fullest, there's a separate set of requirements Microsoft calls Windows Mixed Reality Ultra. This is for the intense gaming parts of Mixed Reality, including eventually being able to play SteamVR games in Windows Mixed Reality. The minimum system requirements for Mixed Reality Ultra are a little different.
Processor: Intel® i5-4590 / AMD FX 8350 equivalent or greater
Graphics: NVIDIA GeForce® GTX 970 / AMD Radeon™ R9 290 equivalent or greater
Not sure what is inside your PC? No worries, Microsoft has made a helpful app you can install on you PC that will run a test to see how ready you are for Mixed Reality.
Install the Windows Mixed Reality PC Check app from Microsoft
What PC should I get if I need to upgrade?
If you're unable to upgrade the hardware in your PC, or you're ready for something new, we've done lots of research for you. These are the machines you want to look at!
Best Laptops for Mixed Reality
Best Desktop PC for Mixed Reality
Would you rather build your own Mixed Reality-ready PC? We can help with that too!
Why Mixed Reality? Why Not Oculus or Vive?
Microsoft is far from the first company to make a VR-style headset you can play games in, so why would you go with a Mixed Reality headset over the companies already shipping hardware? Don't these companies have more experience?
There's a lot to be said about choosing a VR headset you know you are going to love and want to spend a lot of time enjoying. Microsoft is offering two important and unique features with Mixed Reality, which should be considered heavily when comparing it to anything else:
Windows Mixed Reality is a part of Windows itself, not a series of apps made by a third party. Integration is a feature!
Windows Mixed Reality headsets do not require external tracking sensors like the competition
That having been said, if you're curious about how these technologies stack up side-by-side, we've got detailed looks for you here.
Get the Windows Central Newsletter
All the latest news, reviews, and guides for Windows and Xbox diehards.
Russell is a tech nerd who chases the best of everything, from phones to game consoles to laptops and everything glowing or beeping. He's the Managing Editor of gaming content for Mobile Nations and can be found contributing to all of the Mobile Nations sites. Reach out on Twitter!