Microsoft Store opening soon in Westchester, NY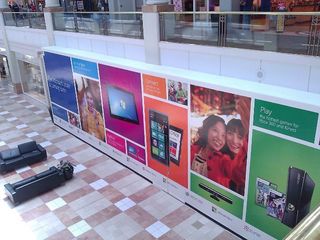 Microsoft is set to open a new store at Westchester in New York, and according to the construction manager on-site it's set to open "very soon" indeed. We've previously looked at an unofficial list of Microsoft Stores that are to be revealed in the states and the software giant has also recently opened a store in Freehold, NY.
New York Metro has a job listing for a Retail Store Teacher position at the Westchester store, should you be interested in such a career with the software giant. More information will be published when the store is open and ready for business, so stay tuned and take a look at the above photo of the retail store under construction.
Thanks, Sean, for the heads up!
Rich Edmonds is Senior Editor of PC hardware at Windows Central, covering everything related to PC components and NAS. He's been involved in technology for more than a decade and knows a thing or two about the magic inside a PC chassis. You can follow him over on Twitter at @RichEdmonds.
Want these in Australia!! :(

Unfortunately a few Microsoft stores don't make it worth leaving my job family and friends for.. Maybe in a year or 2!

Bring ur family too lol alot of land out here

It looks like Microsoft is just getting started as a company lol opening everywhere even though they been on top

Looks nice - at least it doesn't have an "Apple" look (dim & techy) - at least not from this picture!

If you ever have the chance to visit one, they are not like apple stores, they are techy, but the store is so much brighter and more colourful - all postitve things. Not like the dark and dingy look of Apple Stores.

Dark and Dingy? The two stores I've been to (Perth & Sydney) use a lot of glass (especially in those all-glass stairs), white everywhere, and are filled with light. I dislike Apple immensely but their stores look great...

Please, lets try not to contribute to the A word here in the WPCentral forum; Especially with negative overtones like CNet and other have toward MS

Why not? Im not at all an apple fan, but the whole point of a comments section is to state our opinions about not only our company, but also it's comparison with the competition. Btw I posted a pic of my visit to the ms store on my fb one time and had a 52 comment argument with like 4 people telling me it was the exact clone of an apple store. Nosir, though it may be similar, its quite different.

Wait, so we can only display hatred and animosity towards Apple even though just the fact we're registered members on a WP fansite suggests we obviously support MS more? Good one! I'll have to support the previous poster in his observation that Apple stores are far from dark...though I prefer MS' products I have to admit Apple's stores do look rather nice and well lit IMO

Anyone think we'll ever get at least one of these in England? (would most likely be in London)

Yes, according to this list on Companies House Website it looks like Microsoft will be opening a store in the UK, could open one in time for the relase of the Surface Tablet. http://www.neowin.net/news/microsoft-is-one-step-closer-to-opening-uk-retail-location

I heard a rumour from a mate in the UK that it might be in the new(ish) shopping centre in Shepherds Bush

Just one in England will do, come on Microsoft!

We need one in every area that an Apple Store is located here in the UK....
Would be nice to have at least one in Midlands

Apple store sucks so boring and when you come in you see these phony they say genius hahhaha yeah right salesperson. Microsoft is opening everywhere because are requesting it and that's a very good sign Microsoft gonna be on top again.

Also Microsoft store is so much better designed than apple store.

I have a rumor of a Toronto store :)

I sure hope so, I really want a surface pro when it comes out. Better be at the eaton centre.

It's going to be at Yorkdale.

http://mobilesyrup.com/2012/06/21/microsoft-to-open-first-retail-store-in-torontos-yorkdale-shopping-centre/



So close... New York City, come on!

+infinity It is as if Microsoft does not know NYC exists. (I know Xbox launches stuff in NYC but they operate separately from the rest of Microsoft)

+1 again. Maybe it will come when windows phones have subway directions?

And when will san Francisco, ca have one? Need some serious competition w/CrApple!

There are two in the South Bay.

Can't wait to see one in the UK.... Would like to buy a surface pro direct from them....

My wife's parents live in Westchester and we go there often. I will definitely be using that store to get my Windows Surface tablet! :)

One is going to Puerto Rico...
http://www.facebook.com/l.php?u=http2F...

I'll keep tabs on the opening of this store. Maybe when opening day is known we can schedule a reader meet up for anyone in the area. Anyone interested in that?

Come on Microsoft open a store in Bakersfield.

Bakersfield, CA? If that's the case I'm afraid that the best you can hope for is a kiosk at the local CSU maybe...

I would love to see one in Vancouver but then again, there are two in Seattle which I can drive to easily. I love how both are very close to Apple stores. Apple stores are so boring in comparison.

Don't you mean Freehold, NJ??

The need one in NYC so I can work there

I hope they come to India,preferably in Mumbai! :-)

I bet this is going to be in Westchester Mall in White Plains, they have an apple store there as well, I work 5 minutes from that mall :D

That's exactly where it is:-)

I hope they will open a store i Copenhagen,Denmark. We love microsoft
Windows Central Newsletter
Thank you for signing up to Windows Central. You will receive a verification email shortly.
There was a problem. Please refresh the page and try again.