Take advantage of the new YouTube mobile website with IE11 in Windows Phone 8.1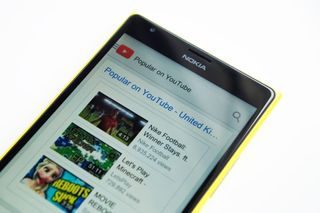 Google and Microsoft simply do not get along when it comes to YouTube. We've covered the situation between both parties fairly extensively in the past, resulting in almost four years without an official app released for Windows Phone. Windows Phone 8.1 brings Internet Explorer 11, a superb mobile web browser, which renders the new YouTube mobile website perfectly on a smartphone. While it's not a native app experience, we'll take this sweet interface over what we've had to endure in the past.
How does one get started? It's super easy. Just visit m.youtube.com and you're good to go. Better yet, why not pin a Live Tile to your Start screen for quicker access? It would be even better if YouTube could implement support for updating content on said tile and more, but we'll take a basic shortcut. After pinning, you can also utilize Cortana to open the YouTube website.
Here are some features included in the web interface:
Full account support and access
Check your history, messages and "watch later" lists
View your assortment of playlists
Be notified of new videos from subscribed accounts
Configure Connect to TV and more
With the new web browser, Microsoft has made it possible to integrate with web media, particularly video content playback. This enables you to better control videos while playing and have access to a richer experience we did a fairly detailed article on how the YouTube web experience is more integrated in Windows Phone 8.1. They're subtle changes to what we're used to, but go a long way.
An added bonus of browsing and viewing YouTube videos in Internet Explorer 11 is the new gestures. Swiping left and/or right from each side of the Windows Phone screen will take you either back or forth in your browser history. This makes exploring the website much more convenient and simple.
Will you be enjoying YouTube through Internet Explorer or are you a third-party native app fan? Let us know in the comments. Thanks, Nathan, and others, for the heads up!
Windows Central Newsletter
Get the best of Windows Central in your inbox, every day!
Rich Edmonds was formerly a Senior Editor of PC hardware at Windows Central, covering everything related to PC components and NAS. He's been involved in technology for more than a decade and knows a thing or two about the magic inside a PC chassis. You can follow him on Twitter at @RichEdmonds.
I love the new player. I noticed it can be used in more sites than YouTube, but on some,other sites the previous player will load.

So what's up with the APIs released by Google some month back? I thought that will make us have our youtube player back as well as some good Google apps :(

It looks a lot beautiful and useful than earlier Dear google and Microsoft please work together to get a better gmail like this too :)

First, Google didn't block the YouTube app because of API.
Second, there is no Good Google apps , all are shit except YouTube

You don't like or know anyone who uses Google hangouts?

NOPE, GOOGLE HANGOUTS IS CRAP AND EXTREMELY LAGGY, I USE SKYPE

ALL CAPS and stealth Ninja don't go well together :)

Open the desktop version of YouTube in IE11 and pin it to start.... The tile automatically gets YouTube icon..... Just found it now...... Cool.....i guess....:)

Anyone know how to change the resolution of the video ....cant find it ......on a slow connection and it stutters

You need to request the website as desktop, so you can have the ability to change resolution like PC

WTF! Really? So I can't choose between video quality! I knew it can't all be roses and sunshine

I told you, you can when you change it to desktop mode, don't know how to do that?!?!

Well I am getting the option to select HD whenever I visit the youtube website.

I use Wiztiles to make a tile to the mobile YouTube site.

FINALLY you can search by pressing the go button on the keyboard!

+1 followed by 100 zeros
(warning, nerd joke, BING it and you'll understand.)

Someone else who uses Metrotube! Who needs to pin a mobile site lol.. ;D

A full featured article about a mobile webpage... Okay.

I think you missed his point.

Well there is a lot of unnecessary hype around wp8 not having a YT app and I personally don't see why. Its a little inconvenient but not major, just open the bloody website! I haven't upgraded to 8.1 yet and I can see the mobile site has been updated to the version android and apple got months ago, makes no difference to me, its just youtube...

This is a one of the most popular apps in the world! However you are saying "It doesnt matter"! Are you really frank?

Doesn't matter to me, yeah.

I agree with him. Or to put it "frankly", fuck google. If they want to play this game why not stop using their stuff? I chose my side so to speak when I put my money into WP. I'm not going to let a free website make any determinations on where I spend my money.

This guy gets it. Google and consequentely Youtube is so full of shut that I can't even use it on my Desktop because I have plugins set to block useless stuff that Google now requires on Youtube like Google+ integration.

it doesn't matter if you have access to the content. it's the content that's important, not the app.

It matters a great deal to a lot of people i think you will find.

For YouTube you can have the full experience from the website, an app isn't required. It's not like Facebook where you need notifications or there's just so much content that a native app is more efficient. You go to YT, search for the video you want and hit play - an app is superfluous.

Windows phone is dying because of the terrible app drought

Windows phone is growing mate, not dying. If I was inclined to this "everybody says so" way of thinking I'd be a much sadder person. I'd play CoD instead of TF2, listen to crappy same sounding hip hop artists instead of enjoying prog metal and I sure as hell would not have a Windows Phone. A lot of people wanting a Youtube app doesn't make it a necessity to our ecosystem. Wp8.1 rectifies all this however, so rejoice.

Just noticed the new interface today morning

What about RedTube? Yea, yea, judge away... Still, use to play from the last browser.

In settings, tell the browser to ask for the desktop version of the website. You're welcome.

Ok, I have to ask my dad, if I am allowed or not...lol

Better use InPrivate also. FYI. LOL.

I wonder how many hits RedTube got from WP devices today due to that comment

I did it from the very first moment you've told us that we can pin websites to start screen with IE11

I swore my metro tube, them I tried my tube. I hardly use metro tube now.

I'm with you man while metrotube set the bar mytube has raised it and seems better supported as well to me.

I also have switched from metrotube to mytube. Metrotube also has too much wasted screen space on the top and bottom of the screen. Mytube utilizes the entire screen and the animations are gorgeous.

Yeah MyTube is awesome. I have the paid version of both apps. The "OPEN WITH METROTUBE" Java hack keeps me faithful, tbh.

Sure. MyTube is simply better.

I have both but after try toib, I stock with it! Toib is great!

*JavaScript
Mytube has one as well http://rykenapps.com/openinmytube/

Toib for the win. Toib is the best youtube app on the windows phone store. I use it evenly with the mobile website

Youtube HD is also very good. Never tried metro but toib allows pinning vids to the start screen. It is a bit buggy though, toib, but quite refreshing

+920 myTube is killing the game (in a good way) of ad-free online videos

Supertube for me, but this is nice considering the gimped YouTube experience on WP otherwise

Better than the one on WP8

Of course it's better, But is it good enough to replace a decent app like Metrotube or Mytube?

Nope, because it doesn't have HD video support.

Are you serious? No HD video support? I think I'll stick with apps for now. Thanks for the heads up.

You can watch HD videos if you use the desktop version of YouTube.

Guys! This is a shame we have to discuss some noname youtube apps instead of using a cool official one!

Lol, at first I thought you are serious :D

I always use Metrotube. Very good app!

Live Stream is not yet available ! #Podcast

so frustrating ... i cant watch live streams e.g. Sports

It's sad, no WebM support

I use toib. Best Youtube client for WP8 in my opinion.

Mytube is my app of choice used to be metrotube but switched to mytube but either of those is as good as the official app on Android or iOS as far as I'm concerned...

Good to hear but I'm still gonna use mytube/metrotube. Google lost me as a customer for a while now and its gonna take a lot more support from them to get me back.

Internet Explorer 11 changes the layout of the page when I load porn now. Is not comfortable.

It's actually better! Lol

Not for me, now I have to go to "check full site" to go to the full mobile site like it was before to get everything right.

Depend what sites :P
Pornhub is better now. OBVIOUSLY I don't go there to watch porn. I go there to... Ummm.. Study the impact of pop-ups on my bandwidth...

I found a page that has premium users/passwords for a lot of pages. So I stick with m.moxx(x's are letters F and O).com. Are we going to get banned from wpcentral for saying these things? Probably Daniel R. Is laughing to tears while he's on the bathroom reading these kind of comments.

I love how YouTube is a gateway to pornsites. Haha.

Lol I know right. The internet is for PRN

Available if you use the desktop version of YouTube.

I just use the desktop website when not using myTube. Still get all of the annotations and even 1080p support.
Loving IE11.

i just hope google doesn't pull another trick of anti-wp

They'll probably block it soon, or re-direct IE users to a different site and claim "compatibility issues".

Not sure why we are pinning the site to Start when there is a nicely branded launcher app.

I like the way the browser handles it now but I still use myTube primarily.

Am I the only one who has been able to pin web site shortcuts to my start screen all along? I mean, what has changed in this regard? You're on a site, hit the three dot menu (...) and "pin to start".. It has been there since WP8 launched way back when...

There is no 'hq' on/off option. I'm trying to conserve mobile data. this sucks now.

Try Nokia Express
http://www.windowsphone.com/s?appid=cbf5f827-aa0a-4670-8ba6-775676f275b0

Yes but metro tube saves your video progress if you multi task. It saves where you were if you switch apps.

Yeah it is good and much more reliable but I'm fan of metrotube. It's just incredible

Been watching YouTube thru IE ever since.

Microsoft and Google do get along when it comes Youtube. Have y'all ever used the Youtube App on the Xbox 360 or Xbox One?
Google just picks and chooses when and where.
Im expecting a Official Youtube App for Windows 8 and Windows Phone 8 after the launch of Windows Phone 8.1.

Never liked it after the ui update. And it was one one of the apps that over heated my old 360 s to the point every app/game/the dashboard crashing after a few mins.

The dev unlocked native app that was designed by Microsoft does well enough for me

Its not working at all...you can check it now...IE 11 has 10000's of bug's

can you list those 10000 here....

Biggest one for me is the battery drain using IE 11

it might be fix with lumia cyan firmware update...

The only issue I experienced with IE are few and really rare crashes

I'm a MetroTube user, but I love new stuff, so I gave it a spin (LINDSEY STIRLING!!). I'm very impressed! You can see your subscriptions similar to how the mobile site for Facebook organizes its material on the left and right sides, and it automatically goes to full screen for me with a flip and a tap of the phone. I think I might use this more, and I also think Microsoft should use this interface for Xbox Music and Video. :) (feedback sent for that design recommendation)

And for those of you who don't know who Lindsey Stirling is...search it on YouTube/MetroTube. You'll thank me later :) (probably not many people, I'm sure...but highly recommended)

I like her elements song both versions and her Zelda theme that's my current ringtone

Yep I know who she is, her song crystallize dubstep edition is just awesome.

Too bugged, always showing me a codec error WTF

Yep even I am facing that issue and more the browser seem to be crashing whenever I load YouTube on it.

I now use the web browser as well as Metrotube and Supertube.

Just got an Amazon Fire TV (won it at work) and found out that I can wirelessly stream/control YT content from the mobile site in IE 11 to the Fire TV YT app. This may have always been true for the Google TV YT app (...but who ever owned that?). Either way I'm happy with the new mobile site. I'll still use MetroTube for phone streaming, but will switch the mobile site if I want to stream to my tv.

This is as good as the YouTube app MS released last time. I ❤ it.

If I was chief of Microsoft, I would close Skype for Android devices!

Then no one wants you in that position

So good to be true hahaha..... :D

I know, but YouTube is big as Skype is and Google doesn't give us official app for it. If we can't have their official app, why would they have ours (Microsofts)?

Because some people and businesses act maturely. Some businesses (Google) and people (you) act like selfish children.

Think once again, who is here acting childish or selfish? We (as you said children) or google (as you said business) who don't give us right to have their official app? Please go to android central, you google fan boy!!!

You really have serious reading comprehension problems. I'm not a Google fan boy. In fact anyone with half a brain could see I was calling Google selfish and childish because they are the ones that won't share their apps with (Microsoft) Windows Phone users. And yes, you are selfish and childish for suggesting that Microsoft not share their poducts (you did say Skype) with users of other mobile operating systems, ie. Android, simply because Google won't share theirs with people using Windows Phone. You are dense.

I don't have a reading problems but I do sometimes misunderstood what was written because I'm not from USA or UK and I don't speak English very well! I apologize for what I wrote!

Thank you for apologizing. I appreciate that.

Master Chief? Or just chief?

I love watching the video while continuing reading article!!!

So who has modified the interface google or Microsoft?

does anyone know if the new webpage can actually view live streaming events? I know before you couldnt with any of the wp apps.

I am using this from the very beginning lolz. Well btw is your IE crashing when loading YouTube? Mine seems to be crashing since morning.

But video quality can no more be selected

IE 11 is a big improvement in rendering mobile websites. But it still sucks at rendering facebook mobile when the app redirects you to the webpage to view a picture that gets cropped when in portrait mode. The pictures do render un cropped in landscape mode though for some reason. Just a little frustrating that ios and Android can get their browsers properly sorted.

I don't know why people still care about an official YouTube app! YouTube apps like Metrotube work great with functionality that NOT EVEN GOOGLE is smart enough to implement i.e. YouTube downloads!

It's all about "official" support. It's Instagram all over again.

I like the new design, but I want a YouTube app with that design. It's so cool :D Maybe Rudy Huyn can be do something like.... 6Tube :D

6(inch)Tube. I just had too. You left yourself open on that one.

i dont understand... with this article i get that the new design of youtube loads on wp only if is 8.1 (because new IE) but i am in 8 and IE load exactly the same design and works great, in UC and QQ browsers not loads the new yt pics: youtube - wp8

I'll stick with myTube, thanks. But still, much better than what we had before. It's decent enough that I don't feel forced to find a YouTube video on my app when I see one embedded in a web article or something. Good enough for me to watch it straight from the browser.

I don't want to knock the effort too much but it is not a good experience. MetroTube and MyTube are much better options. I understand that it is better than what Microsoft was offering but no! Hopefully Microsoft will come up with a better app so that all this conversation will end. Until then just use those top rated apps. Sorry but I'm very disappointed.

It doesn't work. Just says I need an app for it and takes me to the store then tells me there aren't any apps for it.

On the subject.....WPCentral would you please add TOIB to the list of YouTube apps that are able to load videos from your WPCentral Windows Phone app? You have forced me to always load your videos in the browser which ultimately works but we all know is pretty poor (IE10). I beta tested Toib before release therefore I have an ongoing free beta. Please make the necessary changes to allow this very nice YouTube app to work with yours. Thank you.

I like the new player for embedded videos in articles but for YouTube now I have to turn off the rotation lock or I can't use the real full screen. I didn't use YouTube apps before now I had to find one. On other pages I can't even switch to full screen where I could before and no apps to help here. Any idea maybe?

I don't fully understand what you're saying but you can try Toib. Search in the store for it. I watch full screen with it all the time.

I meant that the full screen on YouTube isn't landscape when auto rotation is locked.
And apps work only with YouTube, other video sites doesn't have full screen (or at least what I watch).

I use TOIB Beta for my YouTube experience, but I do have the YouTube shortcut from Microsoft from the store (the one that was a web app, then a full app, and now a shortcut). I find it better than pinning the site to the screen, since I dislike how IE mobile pins sites (using a screenshot vs. The favicon)

Also still using metrotube for windows phone. Why? Simply because it has the option to videos offline, a powerful feature.

This is such a waste... When my tube is available, why do we need youtube mobile site...

There are people who have jumped from dumb phones to smartphones. Therefore may not know how to use / utilise the "search" function of the store. I have had to teach a few elderly people as they want to stay in touch with their grandkids in regards to tech.

Living in Turkey and not being able to open YouTube...
Democracy ftw !

Metrotube or Mytube that's all you need :P.

Can't MS make the same for Facebook ??

I like the new mobile,I go there more than Toib these days

i still use Youtube player for dev unlocked from XDA

Me too! I love it and play in mobile browser is extremely nice to have too

No longer HQ to LQ toggle option.. :(

Does online streaming videos crash now on wp8.1? Cz i downgraded as online videos crashed...

If you dev unlocked your phone you can still use the ill fated Microsoft YouTube app, I am

"Tied Tube": Go ahead, the next app have my permission to use this name.

Would be great to have an app for YouTube just like that. I know It's Android look, but so do Facebook is :)

The greatest YouTube app of all time was Microsoft version before Google blocked it.

In the last month I saw different times YouTube in that mode, even if I have a wp8. I dont know why.

If you don't like that their isn't an offical app, just don't use YouTube until there is. I don't care either way I avoid all gogle """"""free"""""" products.

This is off topic, but has anyone noticed that you can upload images on certain pages? I noticed it on Facebook when sending a message to a page. It says 'Send photos instead' below the message box & gives you the ability to upload 3 images. You tap browse & you can choose Photo Hub, OneDrive, or Phone. But when you choose to upload photos for status, it says browser not compatible with this feature. Presumably this should work anywhere we see a browse box.

BTW you can also use the HTML5 player on youtube.The link below will enable htm5. So those not on 8.1 can still use most of the features. I keep mine on desktop. when i go to youtube with the browser when I cbf opening up the Metrotube or watevers. Link below. Just enable it then go back to youtube.com www.youtube.com/html5

I pinned it too my start screen it replaced the Metrotube App!

I can't make videos play in HQ, why?

There is alternatives like youjizz and spankwire LOL!

Is there a way to stop it from playing in full screen? Not all the time I enjoy full screen video.

The best third party apps is you tube HD try this...

Btw try this, in internet explorer, swipe from off the screen left to right, you'll go back to the previous page

For the people getting errors it could be that not all web developers have adjusted their code for mobile try desktop mode instead

Microsoft should subsidize MetroTube for WP users until they get this YouTube situation properly taken care of.

The ui of this youtube is also been changed in windowsphone 8

Looks and feels awesome! No need to use the metro tube app now!

The change with pinning websites is that the time may now be "live" depending on website support. Pin the WPCentral page for a test. Previously the tiles were static.

I dont get the new interface even though I have WP 8.1 why is that so?

Third party FTW! mytube is pure awesome. Youtube in IE doesn't display HD video.

SoundCloud is loads better in IE11 too. Can listen to a recording on a site under the lock screen.

Some videos shows error decoding

Is there yet a way to upload a video to YouTube from windows phone?

Liked it but i can't change the video quality with the new UI :(

It's a real shame that windows phones don't get any proper love in the app departmeent it stops me from using a windows device exclusively.

check this problem in windows phone 8.1 not play you tube videos in other browser like google app or uc browser like windows phone 8.

Still gonna use "Open With MetroTube". Wish I could turn off YouTube autoplaying on IE11 actually so I don't have to deal with it. Better than it used to be but still prefer the MetroTube app.

No Need this Just You all Download Youtube HD app From Store its really working great IIn IE 11 no good for video Seeking..... Problem.

Download YouTube videos on windows phone SD card...
http://m.youtube.com/watch?v=qu2tsvTGwH0

Microsoft, design a better app for YouTube , by using IE link to the YouTube internet really a worst experience for me in 1520.