NVIDIA GeForce RTX 4090 preorders and where to find stock - live report
NVIDIA's latest flagship RTX GPU is here and we're going to show you where you can buy one.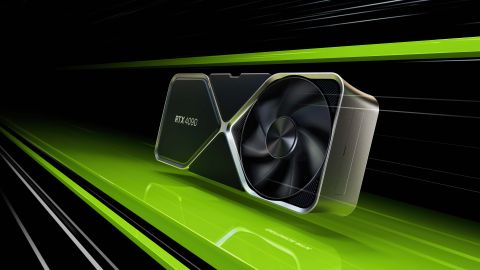 (Image: © NVIDIA)
The NVIDIA RTX 4090 preorders took off in style yesterday and stock lasted way longer than expected, a few hours actually rather than mere minutes. It's slim pickings today, but we'll keep you updated on the latest sightings below - there's certainly no need to give in and head to the scalpers on eBay just yet (or ever!).
NVIDIA's mighty (and power-hungry) new graphics card, the Geforce RTX 4090 is certainly one to watch if you crave the ultimate upgrade in 2022. This is one of the most powerful GPUs to date from the company, allowing gamers to crank up settings at 4K and even play some games at 8K. We're going to be covering the launch right here so you can hopefully buy one.
Things are already looking a bit better than most RTX graphics card launches as we saw a good number of retailers in the US and the UK get stock online at launch. Most are greyed out again now, but there are plenty of options to keep checking. Anohter option we've highlighted in our live report below is picking up a pre-built PC with an RTX 4090 already inside.
When can you buy an RTX 4090?
The RTX 4090 series officially opened up preorders on October 12. Stock seems only to be on sale at the big retailers you'd expect for PC parts. NVIDIA's site in the US and the UK is something of a wasted trip as it just points you to the same retailers as we have below, not even as many in some countries. So if you want the best list of stores to check for RTX 4090 stock, cast your eyes below, and maybe cross your fingers and toes for a bit of luck.
US: NVIDIA GeForce RTX 4090
UK: NVIDIA GeForce RTX 4090
NVIDIA GeForce RTX 4090 review
Senior Editor Rich Edmonds worked frantically to get his ASUS TUF Gaming RTX 4090 OC review finished as early as possible, and it's now live on Windows Central for you to check out.
Short story? It's an incredibly powerful GPU with NVIDIA's new DLSS 3 that's capable of decent 8K gaming and high-end 4K gaming. The review is definitely worth a full read whether or not you were able to snag a new RTX 4090 today.
RTX 4090: live updates from the launch
Get the Windows Central Newsletter
All the latest news, reviews, and guides for Windows and Xbox diehards.
Thank you for signing up to Windows Central. You will receive a verification email shortly.
There was a problem. Please refresh the page and try again.