Newsflow for Windows 10 brings you all your favorite news sites and now has Fluent Design
If jumping around from news site to news site is tiring out your mouse hand, Newsflow saves you some effort by bringing them all into one place.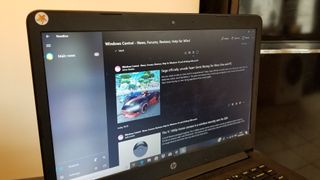 From international news sites to dedicated blogs, it's great to get information from a variety of sources. But bouncing from site to site can be tedious. Newsflow brings all of your favorite sites into one place and wraps them in a beautiful package. A recent update to Newsflow brought the implementation of Fluent Design, bringing the app up to date with the latest Windows 10 design.
In addition to looking great, Newsflow also brings offline support, notifications, search, and more.
Newsflow is available for free on Windows 10, HoloLens, and Windows 10 Mobile.
See in Microsoft Store (opens in new tab)
Bringing the news
While some websites have a nice layout, it's convenient to bring all the news you'd like to read into one place. Newsflow takes any RSS feeds you give it and organizes them in an easy-to-use interface. You can hop between sources or browse from story to story. On the feature side, you can mark articles as favorites, sync Newsflow between devices, and get notifications for news.
Where Newsflow goes beyond just presenting news from websites is in its support of offline reading. You can download all the news you'd like to read and store it locally. This is great for if you commute on a train or subway that doesn't have service or if you're on a plane and dont want to pay for WiFi. Similar to podcast players, Newsflow can download the content you want when you have a connection and then gives you the flexiblity to take it anywhere.
Newsflow also supports YouTube and HTML video playback directly within the app so you won't have to switch to your browser or another app even if an article has an embedded video.
Bringing the look
News apps and RSS readers are aplenty in the Microsoft Store. While they don't all have the exact same feature set, many of them are close enough that appearances become a bigger factor. Personally, I like the look of Newsflow with its round icons, acrylic backgrounds, and other Fluent Design elements. The developers have done a great job of bringing the modern look to their app and it's easy on the eyes.
While liking the design of an app is suggestive, I think Newsflow is one of the better looking apps in the Microsoft Store. It has a clean design that uses just enough transparency to look good without making entire windows transparent. Some apps just throw acrylic effects all over an app and it gets in the way of reading. Thankfully, this isn't the case with Newsflow.
Overall thoughts
Newsflow features an attractive design which became even better thanks to its recent update. The app's option to download content makes it easy to brings news stories with you where you don't have the web. Other little features such as search, categories, cross-device syncing and news notifications round out an impressive app that's easy to use.
The only real downside is that Newsflow can't work with Feedly or other RSS aggregator services; you have to enter in all of your sources manually. You also can't sync across platforms such as iOS and Android. There is a paid extension that's in preview that allows this so it seems like it will be available to everyone in a non-preview version eventually.
Newsflow was already a good app for keeping up to date with the latest news but the Fluent Design implimentation, including an excellent use of the reveal effect, pushes it to another level.
Pros
Works with RSS feeds
Features beautiful Fluent Design
Has offline support
Free
Cons
See in Microsoft Store (opens in new tab)
News Writer and apps editor
Sean Endicott brings nearly a decade of experience covering Microsoft and Windows news to Windows Central. He joined our team in 2017 as an app reviewer and now heads up our day-to-day news coverage. If you have a news tip or an app to review, hit him up at sean.endicott@futurenet.com (opens in new tab).
Sean, I see in the store, it claims Live Tile support. Does that include images or text on the tile and support different sizes? I really like that about the Microsoft News app, but resent that Microsoft's doesn't let me specify my own core news sources. If this combined those two features, I'd grab it in a heartbeat.

I just tried it and it did show image in background with text overlaid for largest tile. You have several settings for live tiles including turning on/off images

@Luc4, thanks! Your response got to me try it. I installed it (so far just one computer), and it looks great. Beautiful Live Tile. Search for sources has had all that I was after w/o needing to manually enter any feed names. I'll try installing it on my aging Windows Phone too, but so far I love it. Really impressed with this. Thanks to Windows Central too for making us aware of this gem of an app.

You really need to use for a while to really appreciate how good it is. I hope I don't sound like I'm hyping the app. It's just that good...

I have been using this app since few months now, it is one of my favorite apps. Good to see it featured here. I wish there was a similar app in Android too.

The best news packaged source on windows 10 mobile!! Glad it's getting a mention...

Sorry to have to be the bearer or bad news Newsflow… speaking as one developer to another.... but MS is discontinuing its consumer interests at almost every turn. Windows mobile devices dead! Cortana dead! Groove music player dead! If you had any hopes of having customers browsing the MS Store and coming across your app, you can all but forget it. You are way better off running... not walking... away from the MS Store ecosystem. Target Android and iOS if you want an ecosystem that actually appreciates and encourages non-Enterprise customers. The MS consumer-focused ecosystem all but dead.

Dear Newsflow, if you would have listened to that guy, I would not have been able to download and use your app. So there's that. PS. Lots of enterprise Windows users like me have Windows PCs at home too.

OnTheSurface, Windows Mobile failed, but is being replaced by Windows (w/o a special mobile version). I use Groove everyday on both my phone (still a Windows Phone) and my PC. I also use TuneIn radio daily and sometimes Pandora and iHeartRadio. Yes, Microsoft discontinued their streaming music service, but not the Groove player, and they did that because it wasn't a viable business model with Spotify's success (itself available in the Microsoft Store). The only thing they discontinued was Groove on other devices, which makes sense when they're no longer offering a service. Not only is Spotify available in the Store you deride, Apple is even adding iTunes. Also, ever heard of Xbox? That's clearly 100% consumer focused. Microsoft has a strong overall interest in the consumer space. Enterprise is just their strong suit, where the dominate. No question the Store is weaker than Apple's and Google's, but it is the only place to get any apps for Windows S devices and I preferentially target Store apps over downloading from websites across all my devices for the security and the automated updates (the automatic, annoyance-free update process alone makes the Store the best place to get apps for Windows users). And we will be releasing our company's app on the Microsoft Store soon too. The worst thing for developers adding apps to the Store is other developers hurting the platform by not supporting it. This is one case where the competition is good, because it makes a stronger overall app ecosystem, which brings more users to visit the Store, and that's good for all of us.

It CAN work with Feedly, you need to buy a plugin for that
https://www.windowscentral.com/e?link=https2F%2Fclick.linksynergy.co...
Windows Central Newsletter
Get the best of Windows Central in in your inbox, every day!
Thank you for signing up to Windows Central. You will receive a verification email shortly.
There was a problem. Please refresh the page and try again.