Newsly Reader is a beautiful and functional news reader for Windows Phone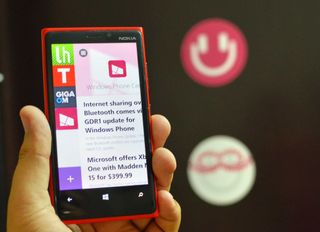 Newsly Reader is a fantastic news reader app for Windows Phone that went under our radar last month. I'm glad that I've discovered it now, and have been using it since a couple of days. Developed by Nemanja Stancic, a Serbian developer, Newsly Reader is a full content news reader and allows you to read from your favorite news sources and RSS feeds in one place sorted in the way you like it.
You can pick from featured sources (bummed that WPCentral is not listed there) or from a variety of categories. You can also search for topics and feeds to find favorite sources or discover new ones.
While the app is nicely designed (I quite like the purple color!), the user experience is pretty neat as well. You can switch between different sources by swiping from the left. Once you tap on an article to read in a nice, readable format, you get an estimate time to read the article as well as an option to open the article in a browser within the app. Swiping from the top or bottom takes you to the previous or next article. You can also share a particular article over email or via your social networks using the standard sharing protocol of Windows Phone.
There are a couple of issues though. One, the app works only when you have an active data connection or are on Wi-Fi. I prefer reading on flights when I'm offline and I would've liked that functionality. Second, the app doesn't have an option to change the theme to a dark one.
Download Newsly Reader for Windows Phone 8 devices from the Windows Phone devices. The app is free, and there are no ad banners or popups. It's a pretty good news reader app, and you should definitely try it once. Let us know how you like it.
Hey, remember Flipboard on Windows Phone? Yeah me too, good times. Lol. :)

Yeah, that was a nice unicorn.

I used to think flipboard was the be all, end all, but nah. The Windows 8 version sucks ass, and NextGen reader offers a much more concise and accessible user experience.

Newsly, Nextgen Reader and Magnify News Reader are all great news readers.
Nice MixRadio background, by the way.

And weave news reader too.

weave is one buggy horrible junk. It has so many issues, that it's worse than lagdroid.

I have no such issues with weave. For me it comes second only to WPCentral.

I've been using Weave since WP7, and I love that you can now sync it between the WP8 and W8 apps, but it never loads all sources for me, and takes a fairly long time to load the ones it does.

For me it comes second to wpcentral too, but indeed, it lags,user experience could be better , and general stability and fixes need to be done. Has anyone emailed them?

I love weave but its hasn't received any update

I too discovered this light yet functional app some weeks ago and I love to use it.

My favorite is HIGH.FI News Reader

Does this have OneDrive sync? Currently, I think only Weave has this. I refuse to have a Google account and Weave is the only app that uses OneDrive to sync between the cloud, phone and PC. Weave is definitely my fav, but it hasn't been updated in ages :(

Did you bother to look in windows phone category or look at the screen shots as I can see wpc's feed is listed

In the featured list... This is added as a source seperately.

Are you the baxiabhishek that published the app incode???

I am :-) Here's the post on WPC about the app: http://www.wpcentral.com/incode-useful-lookup-directory-india-all-your-codes

Hmm you say that WP Central is not included, but it's in the screenshot?

In the featured list... This is added as a source seperately

Wish Flipboard would come to the platform. Its been over a year at this point.

I'm quite sure developer is Serbian, not Siberian - https://twitter.com/Mali_Ze

Thanks. My bad. I mentioned Serbia in tags, but incorrectly put Siberian in the post. Corrected.

Terrible app. Searching then adding sources doesnt work. Installed and uninstalled.

Wonder why many people are so fond of Flipboard. I've tested it on Android and iOS lately and didn't like it much. Same goes for NewsRepublic. For me the best news app on any platform is Bing News.

I agree! Bing News is my favorite on WP.

Syncing options? Feedly (sounds like it)? InoReader?

I found this app to be pretty buggy,. Search doesn't work and adding multiple feeds it looses some and you have to add them again. It has also crashed several times in me using it for a few hours and wont even bring up mashable feed.

i use the fifth by ardent. http://www.windowsphone.com/en-au/store/app/the-fifth-news-reader/5942cf5c-f4b0-4ab1-b2a4-69608a06572d. it is available for windows 8.1 and windows phone 8.1. it sync between all devices usin onedrive.

Can't play video. Dealbreaker.

Newsly Reader is a fantastic news app that provides us all the latest and trending news happening around the world. http://socialnomics.net/2017/03/01/business-apps-and-tools-to-boost-prod...​

its an latest and newly developed app that provides us with all the latest news happening in the world.
Windows Central Newsletter
Get the best of Windows Central in in your inbox, every day!
Thank you for signing up to Windows Central. You will receive a verification email shortly.
There was a problem. Please refresh the page and try again.