Next Assassin's Creed will take players to merry old London for a spot of tea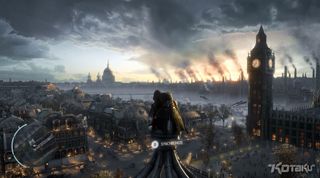 The Assassin's Creed series will be hitting the English capital for its next instalment, according to sources cited in a recent Kotaku report. Believed to be titled Assassin's Creed: Victory, the publication reports that the game will be set in the Victorian era and will be released in 2015. In response to the leak, Ubisoft today released a statement to the media:
While it's no announcement that Assassin's Creed: Victory will definitely be hitting shelves, it has certainly added weight to the Kotaku report. The next AC title is expected to be released in the fall 2015, but we'll be on the lookout for the official unveil sometime next year. Here's a look at the gameplay:
How would you enjoy roaming the streets (and rooftops) of London in the next AC?
Rich Edmonds is Senior Editor of PC hardware at Windows Central, covering everything related to PC components and NAS. He's been involved in technology for more than a decade and knows a thing or two about the magic inside a PC chassis. You can follow him over on Twitter at @RichEdmonds.
Yes. Hopefully it actually appears on the UK steam store so I can buy it - unity is still awol :-\

Spot on, brilliant, but no real tea that your character can drink...

Great! As much as Unity was a bug filled mess i still enjoyed it. Hopefully this one will be more stable.

Poisoned tea assassinations!

Well that certainly will draw attention from the ac unity debacle...

"Victory" seems a bit ironic. Their nation used to own the world but were eventually all pushed back to their island.

It's still one of the most powerful countries in the world, especially economically.

Im not doubting its importance. Just making a funny / true statement :)

Oh was it was supposed to be funny?

The irony I would suspect. Once the empire that the sun never set on has been wiped back to its regular corners Posted via the Windows Central App for Android

Yeah but you know who's more powerful? USA! USA! USA!

We is just kidding you ;-)

Man, called this years ago. Seems like a logical step for the series. Great historical characters and setting. Political, social, and economic tension abound. Imagine scaling Big Ben, meeting Arthur Conan Doyle, dueling with Jack the Ripper, eluding Scotland Yard. Absolutely can't wait.

Yes, I've thought for a long time that they should make one based in England. I hoped it would follow AC2 actually, and be set in the Tudor period. I can't think of a time more rife with plot, intrigue, conspiracy, betrayal, political and religious upheaval, clandestine societies and secret symbolism. It would have been perfect. Maybe they still will do this one day. I'll take Dickensian London as a close second.

You forgot about meeting the Doctor.

Jack the Ripper can be a tie-in somehow.

With love from Paris...to London...hope they have a stop planned at Italy and Spain too !!!

In Portugal Rogue it is. http://www.youtube.com/watch?v=EZ7IDkXfcnc

I would like a full game with all the historical accuracy. In Rogue they just use Lisbon as an instrumental location. For example, what destroyed much of the city near the river wasn't the earthquake per se, if was the tsunami that followed it.
I think one during either the Age of Discoveries or during the fall of the Monarchy would be a cool game. Posted via the Windows Central App for Android

AC 2, brotherhood and revelations all took place in Italy.

Lol revelations was in Constantinople, modern day Istanbul

Oh my god the graphics look so real. I wish I had a good pc or an xbone

It's not in-game, retail graphics.

No look closely, you can see the map and "B to synchronise"

Still, it's not optimized for several platforms yet. Look how drastically different Watchdogs was from the first gameplay trails, which also had button prompts. The Crew is another example, and The Division will be another. They all look good at retail, but not as stunning as pre-release stills/trailers.

Oh.. Ok
But overall the game will be amazing as always with the series.
I just hope I can get a decent PC by the time it comes out.

Better get a decent X1 to play it with. As I read, Unity was ported to PC after being developed for the consoles and was a completely mess, yet worse than with the bugs on PS4 and X1. Moreover, you need high-end hardware to make it run smoothlessly, whereas you can enjoy the game out of the box with a console (as long as it isn't completely buggy). Also, you need to keep your PC hardware up to date to be able to play modern games flawlessly, which is also costing you a ton of money. In my experience, a console is the easiest and best way to go.

Being a Londoner I do hope they base the streets on Victorian reality so I don't get upset about streets being wrong, I know London very well, and always hate films where they show, someone go past St Pauls, heading for say Charing Cross and then they go past Tower Bridge, you would have to go backwards a mile to do that, gets me well wound up it does ;-) I would have prefered to see London just before the railways were developed, they did almost has much damage to London as the Luftwaffe managed but I will take mid/late Victorian if I have to. And I do love a decent cup of strong tea, I wonder if some of the tea stalls I frequent now are in the same place......

Well supposedly Unity was pretty accurate, and Victory being the true sequel (not like Rogue which is more of an expansion pack to Black Flag) I don't think you'll have to worry too much.

I love Assassins' Creed, I really do, but after next year's PC version of Rogue I'm taking a long break on this franchise.

Rogue was disappointing. Very short main campaign. Maybe worth a weekend rent.

I want a Splinter Cell with the scale/scope of Assassins Creed. Also sequel to Prince of Persia 2008, Rayman 4 and Beyond good and Evil 2.

Ubi should make Londoners happy with their depiction of the city. Living in the Boston area I enjoyed AC3, more so for running around the woods of Lexington and surrounding areas.

"...enhancing the experience..." You mean fixing horrible bugs, optimizing and actually finishing the game.

Cannot get excited about AC anymore its like CoD to much to often. I do enjoy the the games but I skip every other one. Keeps it a it a little fresh.

That's the best title you could come up with for this article? Come on....

London is not merry! It's a dump

For ultimate irony, the characters will have French accents. :)

Well I would like to have it as I played AC unity

Paris then London? Awesome I really hope they do Prague at some point, I would love to jump around that city's diverse architecture

If the details they put into London are the same as they did in Paris, it will be amazing and I can't wait to play it! And I would also love one in WW2 Berlin. Posted via the Windows Central App for Android

Wish they'd funnel that funding into a new I

Just trying to get through AC III now without bashing my head against the wall of how much of an unfinished awful game it is.

Hopefully we can take out the queen with a headshot and throw the corgi dogs in the river to drown

Bought every AC game on PC as well as all DLC. Some I even bought on disk then later on steam. But this time Ubi can shove it. Won't buy the next or Unity for two reasons... Absolutely unbelievable price increase over previous, like almost 100% in £ and to put the last nail in the coffin, its not available on steam for UK users. This comes after they took my preorder money then punched me in the face repeatedly with that watchdogs scam. They make EA seem like saints.

SOOO glad they didn't do Japan!

Just recently my wife joined me on the couch while I was playing Unity and told me about how awesome it looks and how much she liked Paris. I said I've been to Paris before and it's a beautiful city, but I'd desperately like to play an AC character in London sometime, which I've also already been to... I didn't think then, my wish would come true so soon, but now, that I know it, it just became eternal to wait for it

Wow that Front image... What was London called as those days? "City of Fog"?
Windows Central Newsletter
Thank you for signing up to Windows Central. You will receive a verification email shortly.
There was a problem. Please refresh the page and try again.