Nextgen Reader bumped to version 4 with improved support for Windows Phone 8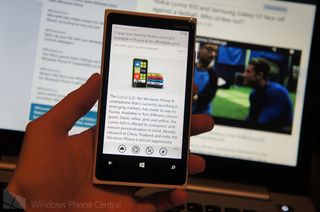 The popular Windows Phone RSS reader Nextgen Reader has been update to version 4. We last looked at the Windows Phone app when it was bumped to 3.1, as well as the release of Nextgen Reader for Windows tablets and desktops. This latest version is a big one. It's good to see such an offering receive more developing investment to push further on the platform.
So what's included in version 4? A few noticeable improvements include high resolution display support, which will please those who are making use of more advanced Windows Phone hardware. Speaking of Windows Phone 8, multiple sized Live Tiles are configurable. As well as that, the Nextgen Reader app is now sporting a new icon, closer resembling the Windows 8 app.
Here's a full run down on what one can expect after installing the update:
Support for HD and higher resolutions.
Brand new icon (similar to Windows 8 app).
Brand new "paper theme" for great reading experience.
Fast app resume from start screen.
Support for multiple small, medium and wide live tiles.
Support for Lock-screen notifications.
Always read complete stories using "full article mode" (powered by Readability).
Customize article list views.
New gestures for changing articles.
New metro style share menu.
New: 'Show image captions' in articles view.
New: Pin 'subscriptions list' to start from app bar menu.
Faster image caching by 2-3x times.
Improved YouTube support with IE10.
Fixed: Image resizing in article view.
That's quite an update indeed. One highlight we know Windows Phone 8 owners will enjoy is the added integration with the lockscreen, which will see a counter displayed alongside missed calls, new SMS and more. Several design improvements, bug fixes and enhancements have also been included in the released update.
You can download NextGen from the Windows Phone Store for $1.99 with an unlimited free trial available.
Rich Edmonds is a word conjurer at Windows Central, covering everything related to Windows, gaming, and hardware. He's been involved in technology for more than a decade and knows a thing or two about the magic inside a device chassis. You can follow him over on Twitter at @RichEdmonds.
One of my favorite apps keeps getting better, except the icon change that I hate.

I love the new icon, much more in line with all of the other Windows Phone icons. I hated the old one. My thinking is that unless you've got a brand that has a distinct icon/logo like eBay, flickr, foursquare, , your icon should be a white image with the system theme color as a background.

I don't want a sea of blue (or whatever theme I'm using), I like the variety and there is also a dying number of black tiles (at least that I use). Thankfully Rowi went back to black after the last update. What would be nice is when devs change the tile if they somehow make the old one still available as an option.

+1
I dont want an epileptic fit looking at my startscreen.

Please vote via app settings -> uservoice and will conisder a dark background option in future update. :)

I've been using Feed Reader and really like it. Would love to see a 'best rss reader app' comparison article.

Unlimited trial = free, but I paid for because it's so good.

I bet they have at some point. I use Weave, I really like it.

Nice! I have been holding out on trying other readers until they updated to support WP8.

Its so fast compared to the previous version! Also like new icon & wide tile! Awesome!!!

I always liked NextGen Reader, after this update it's really awesome looking and fast.
I hope we can expect the WPC > WP8 update soon two of my favorite apps.

I had been using the beta for a few days already. This is my favorite RSS reader by far. Looks like part of the OS.

One of my favorite google reader clients. Loving the latest "Paper" Theme.
btw, has anybody been able to link nextgen reader with their facebeook accounts from app settings -> accounts? Upon entering my username and pwd, I'm getting an error message about cookies not being enabled in my browser. In IE10, I've changed advance settings to accept all cookies, but that didnt help either.

Tap twice on facebook text at top and re-open page.

I moved away from this since since nextgen couldn't display whole articles for many of my feeds. Profootballtalk, wpcentral, etc. Hopefully that is fixed, sounds like it was and hopefully they can play videos and see images.
Weaver did that well, but the problem with weaver is that I can't save the feed so if i install it on a new phone, i have to manually do all the feeds again instead of just signing in.

Hopefully everything is good now for nextgen..

NewsSpot does everything for free!

I moved away from this since since nextgen couldn't display whole articles for many of my feeds. Profootballtalk, wpcentral, etc. Hopefully that is fixed, sounds like it was and hopefully they can play videos and see images.
Weaver did that well, but the problem with weaver is that I can't save the feed so if i install it on a new phone, i have to manually do all the feeds again instead of just signing in. Also weaver maxed at like 10 articles for each a couple of feeds even if i didn't read. So if trhere is a big influx of news on a feed, i probably would of missed a few due to limitations.

Hopefully everything is good now for nextgen..

Gonna have to stick to Weave. Still doesn't display the whole article, have to continue reading to open up whole article or turn on full article mode which loads take a bit.

Default shoudl be all the article showing, but some feeds, not so much.
Hopefully weave does a login.


If you don't see the entire article in the reader, it's because that's how the feed is set. Check the actual rss link and you'd see it yourself. In other words, the "problem" is the source of your feed, not the reader.

Does anyone have any tips for an RSS world news feed that displays photos in Nextgen Reader? There's no category for world news and none of those I've tried manually adding (Al Jazeera, Guardian, Telegraph, BBC) include photos with the articles.

Please give us back old tile, or at least allow color change!!

Please vote through app settings -> uservoice.

Glad to see this. I use the app regularly and have been pleased overall with its function. I'd like to see the full text open automatically, at least as an option, but am willing to wait for another update for that one. I'm not sure about the new tile design as I kind of like having a bit of variety in tile color rather than a sea of only one color. I'm hoping that apps will soon start allowing us to change the tile color on our own.

Thanks! Full article text is available in article view and will consider the color choice option in future update.

Am I missing something or did the ability to save articles to Pocket go away? I've been playing around with the app but can't see where I can do save articles.

It took me a while to find. Save to Pocket now shows up when you hit the share icon (second one in the row).

Thank you so much! That was 1 of my favorite features of the app.

I don't necessarily mind the icon change, but is the live tile flip gone now? I kinda like seeing a highlighted current article on the flip side of the tile.

Ok figured it out. Main app live tile is counter only (with headline on large tile). If you pin subscriptions or 'All items" via long press you get options for different live tile styles.

Yes, main tile is similar to mail app and doesn't flip.

I've tried the new live tiles, but haven't yet got any live info on them. I selected a folder, long press, and the Unread count style (up to 999), but the tile on my home screen doesn't show any numbers. I've tried different sizes, and removing some other live tiles (in case I had too many). Live tiles are enabled in settings.
I've also added the unread count to the lock screen, and nothing has showed up there yet either. Any ideas?

They don't show up immediately, it only shows up on the next cycle (In NG Reader settings) which I think is hourly by default, but I set mine to 30 minutes.

In addition to @fwaits reply, please make sure that "Nextgen Reader" is not blocked in phone settings -> applications -> background tasks.

Yes, please enable it via app settings -> live tiles. Let us know if you've any issues.

Seems like it disappeared from Chinese windows phone market after upgrade…TOO BAD!!!!

Sorry, we're looking into it. Can you please try the download link again: http://nextmatters.com/download/

Er…still doesn't work, please inform me when this problem gets fixed…THX

Submitted again, it should be available in next 24 hours. Sorry about the inconvenience.

Well, there must be something wrong......still can't find it in the market......

My live tile does nothing after the update, been using the paid version for several months.
Nokia Lumia 920
ATT
Portico


What exactly is the limitation in the free trial?

Live tile not working Lumia 925. Pls fix it.... /Svein
Windows Central Newsletter
Get the best of Windows Central in in your inbox, every day!
Thank you for signing up to Windows Central. You will receive a verification email shortly.
There was a problem. Please refresh the page and try again.