Nextgen Reader Review: Read RSS in style on Windows 8 and Windows Phone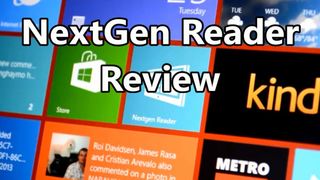 Nowadays news moves fast, and to keep up with it you need the right software. I'm here to tell you that Nextgen Reader by Next Matters for Windows 8 is the best tool for the job. With an elegant Microsoft modern design, array of customizable features, and support for a variety of external applications – it hits all the sweet spots. Get the full review after the break.
Let's take a detailed look at the client's design, functionality, and value to see what really makes it shine.
Design
The application's interface is simple, yet beautiful. A list of your subscriptions are displayed on the left hand side in a column that can be minimized to save screen real-estate. Users can easily jump between individual subscription sources, all sources, and "starred items".
On my Microsoft Surface RT the application can fit the latest eight news stories on my screen, while on my 22 inch 1600 x 900 display it fits twelve. Each news listing shows the originating source, post title, and time the posting was pushed. If a title is shorter than two lines, the application will begin to show the first sentence of the post.
The right hand of the screen is devoted to showing the current article you have selected. The viewer displays content while sustaining the original formatting of the post and image placement. Quick access to view the content on the web, share with friends, star as a favorite, or mark as read/unread is readily available.
Functionality
Features and functionality of Nextgen Reader are really what bring the application to life. On the front end, you can select if the app shows content summarized, as the full article, or as the original webpage.
Users can choose between a light or dark theme and an accent color. In the screenshots you are seeing in this review, I am using the light theme with a dark orange accent. If being able to select the theme and accent color aren't enough, you can also select the font family (Segoe UI, Calibri, Cambria, or Verdana), font size, and text alignment (left or justified).
The mobilizer for articles can also be chosen when rendering content; the default is readability, but instapaper and Google mobilizer (with or without images) can also be selected. Nextgen Reader also likes to play nice with others; you can connect to 3rd party services like Pocket (For a great Windows Pocket client check out our review on "Pouch", here).
A fountain of additional options are also included in Settings such as the ability to open content links in an external browser, show favicons, mark articles as read when opened, and more. Users can also set the number of articles to sync and save for later.
The client was previously powered on the backend by Google Reader, but will now be powered by and synced to Feedly; the update to enable this transition was recently pushed and should be available now in the app store.
.
Live tiles support is also enabled to bring the latest blog updates to your Start screen - like all applications, the live tile can be disabled if you wish not to use it.
The feature list for Nextgen Reader creates a fully featured application that is ready to handle all the news you can throw at it.
[UPDATE] We forgot to mention the great modern style UI viewing mode. You can view the video below!
Value
Nextgen Reader currently sells for $2.99 on the Microsoft app store; with its large feature set, stability, and customizability – it is definitely worth it. The folks over at Next Matters are always churning out updates for their software and there is never a feeling that a bug will go unnoticed or a feature opportunity missed.
Wrap-up
Overall, I couldn't recommend Nextgen Reader any more highly than I currently do. I see little room for improvement with an app that is so close to perfection. Add on the fact that Next Matters makes a nearly identical version of Nextgen for all Windows Phone devices, and you have a new best friend whether you are at your desk or on the go. Download Nextgen Reader now from the Windows 8 and Windows Phone app stores – I give it a ten out of ten (Please Note: This decision did not come lightly; I spent hours trying to find something wrong with Nextgen Reader - I failed).
You can download Nextgen Reader for Windows 8 here

(opens in new tab)

.
You can click here or scan the QR code below to download Nextgen Reader for Windows Phone 8 ($1.99, 14 MB).
Enjoy and let us know what you think!
Windows Central Newsletter
Get the best of Windows Central in in your inbox, every day!
Finally a good RSS reader app.

Finally? Nextgen has been available since launch of WP8 and W8 as well as was available for quite a while before the launch of WP8 on WP7. I've been using it for over a year and a half at this point. No plans on stopping, it's simply the best.

With the added feedly integration it's my choice now. Works great and looks good to with lots of options.

NewsSpot is my first choice for phone!

Agreed! Love NewsSpot! The quick mark read and star gestures are just beautifully implemented.

Why does it show "This app is no longer published" for me? I have Windows Phone 7.

We're having a tough time verifying whether they pulled the WP7 version or not. Can you find it by searching the store from your phone?

No, cannot be found in the store when searching for it. And using the link will throw a "not available for your phone" at you.

The WP7 version is not yet setup for Feedly sync I'm afraid. They are working on updating it as we speak, a beta version apparently is in the works.

Thanks!
Yes, we're working on WP7 update, please sign-up for beta here: http://nextmatters.com/contact-us/

That's good to hear! Thanks for replying.

It only found "Flux". Another rss reader. :(

Sorry for the delay. We're working hard on WP7 update, please sign-up for beta here: http://nextmatters.com/contact-us/

One of the very few apps I wouldn't mind paying double the price. WPCentral and ProShot being the other few.

I'll be awaiting Weave for windows 8 before switching back to nextgen reader, It's not my favorite in terms of live tiles and design...

Yeah, I'm a big fan of Weave myself. I've been waiting for it to come to Windows 8 for awhile now.

Nextgen reader is elegant and resource light and ive been using it since windows phone 7 and windows 8. that said, i dont expect it to be for everyone so if you want a weave alternative on windows 8, try News Bento. its image centric like Pulse and Weave and pretty good.

+1. I use nextgen for their live tile but use weave for reading news on my 920. their mobilizer is very good, I love it.

Best RSS reader on windows 8

Love the app but I can't wait for Fuse to add Feedly support!

The RT version is missing an option to cache articles for offline reading, other than that it's a fantastic app.

Been using this since almost as long as I've been a Windows Phone user. I'm still on WP7 and its the best reader I've used. Its also my reader of choice on my Windows 8 tablet.

Article Search doesn't work anymore and that's one of the most unique features on this app. I'm using it daily. Hope it will be fixed asap!

It is planned for future. Unfortunately feedly cloud doesn't support search yet.

Thanks for your quick response! I love the search, can't wait to have it back!

Their support is just wonderful as well. Very quick to reply and go to great lengths to help.

i have to agree with you there. support fromt the developer is great.

I like Nextgen reader but would like to see full auto sync for articles for offline use. Currently it does just update the live tile and headlines only. Feed Reader does a great job on auto updating articles during the day without manually pulling them. Maybe add a sync time option. This is a feature I would like to see. Keep up the great work!

Does it support import/export of OPML files yet? I refused to support it when it was Google Reader only, and I'm still deciding if/why I would use Feedly.
I currently use RSS Central, which I really like a lot and does what I want. BTW, what does a mobilizer offer me? As you might gather from my comment about Feedly, I'm opposed to signing up for a bunch of third-party services.

I've been using bento on windows still trying to find good readers for the phone. Using geek byte and design spire on the phone atm

I'd love to take Nextgen Reader for a spin, it looks very attractive and people seem to love it but the fact that I have to sign up to a third-party service to even start using it is a deal breaker. I don't understand why I need to tell Google or Feedly what feeds I'm subscribed to in order to use the app. I'm not so infantilised by technology that I can't take a few seconds to recall when I last looked at my feeds and ignore those before that time.

Windows 8 is very good indeed.

I have been using RSS Central for well over a year now. I chose this app because I didn't see the point in needing an app that required Google. Can anyone explane some benefits from switching to NextGen Reader?

It needs a Feedly account, and apparently Feedly logs in with Google, so I'm not switching back to NextGen.

Yesterday, I bid "adieu" to NextGen Reader. I have been using it on my phone for the past year or so. I have had to leave it behind, however, because their solution to Google Reader going away was to choose a backend, Feedly, that, incredibly, does not support Internet Explorer. I need access to my feeds, not just from my mobile devices, but also from desktop computers, some of which are running Windows 7, and even the ones I run Windows 8 on, I'm in desktop mode, and it is too much of a context switch to go to the Windows 8 reader. One of those desktops is at work, where all the corporate web apps require Internet Explorer. So I'm going to switch over to Chrome to check my feeds? Again, too big of a context switch. So I plunked down the $24 to switch to premium NewsBlur on the back end and Feed Reader on Windows Phone. I so far do not love NewsBlur, but it does what I need - it works in IE. And Feed Reader is not nearly as nice as NextGen Reader. But with RSS reading, it's not about best-of-breed; it's about end-to-end, and the NewsBlur + Feed Reader is the superior end-to-end solution. In a year, when my NewsBlur subscription is up for renewal, I will re-evaluate.

Oh no... Feedly: http://cloud.feedly.com now works on Internet Explorer.
Anyways, hope you enjoy reading.


Any chance NextGen Reader will support Newsblur sync in the future?

NextGen Reader on WP8 and RT sync much faster with the feedly update. The in app browser on RT also seems faster. Anyone else have the same results?

Couple of free alternatives:

- Dark RSS (pretty layout except for 1080p+, bit slow on Surface RT)
- Microsoft news: you can customize and add any RSS feed. Downside is that you can't see multiple feeds in 1 view

I love the design and ease of fuse. An article picture goes a long way in getting me interested in reading an article.

I love News Bento. But I'm privately hoping for Feedly to come to Windows...
Windows Central Newsletter
Thank you for signing up to Windows Central. You will receive a verification email shortly.
There was a problem. Please refresh the page and try again.