NextMatters and WPCentral team up to make Nextgen Reader free for 24 hours [Now Over!]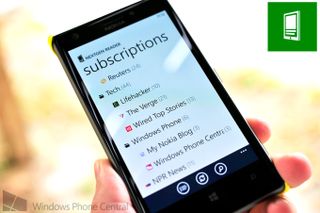 When it comes to RSS feeds, Windows Phone users have numerous choices for an excellent experience and superb design. One of the more established creations is Nextgen Reader, which goes way back to January 2011 on Windows Phone. How's that for dedication? The app now uses Feedly for RSS management and it's a joy to use.
Version 5.31 is now live in the Store and we're teaming up with Nextgen Reader to make it free for 24 hours. You heard that right. The app usually runs for $1.99 but if you grab the app in the next day, you'll have a free, perpetual license on this excellent RSS reader forever. That means if you buy a new Windows Phone, this app will still be free for you.
Why? Because you folks deserve your news.
The latest version only contains some bug fixes, as opposed to the larger recent updates. In addition, there are no ads or feature limitations for a month in the trial version—but the app is free, anyway.
Nextgen Reader uses Readability, Instapaper or Google mobilizer for viewing of articles, allows offline support, UI themes, tons of custom options and maintains 4.5 (out of 5) stars from 1,851 reviews—so you know it's good.
Don't forget, if you like Nextgen Reader, do the developer a solid and leave a positive review in the Store. You can also grab the excellent Windows 8 version (see our review; Store link (opens in new tab)), which will be updated for Windows 8.1 support in the coming weeks.
Download. Read your favorite RSS sites. Prosper.
Nextgen Reader – Windows Phone 7.x and 8 – 14 MB – Free – Store Link
Daniel Rubino is the Executive Editor of Windows Central, head reviewer, podcast co-host, and analyst. He has been covering Microsoft here since 2007, back when this site was called WMExperts (and later Windows Phone Central). His interests include Windows, Microsoft Surface, laptops, next-gen computing, and arguing with people on the internet.
Already bought awhile ago, thx anyway!

I have it too, bought phone and desktop version, great app

I would gladly pay much MUCH more than $1.99 for this outstanding app.

What about Collector? I think collector is better than NextGen. One feature that Collector has and NextGen doesn't have is the ability to manually add rss link and that is a huge important feature in rss reader. I just bought the full version several weeks ago after I had done intensive testing with this 2 apps.

I never used NGR, anyway, Collector has a couple issues like force closing, non working live tile, non working auto update, formatting issues and it hasn't been updated in months.

Not sure what you're talking about. Nextgen Reader does allow you to add feeds via their RSS link. Open the app, click on "add subscriptions" in the three-dot menu, click on "search" in the application bar, and enter the feed's RSS link in the search box. It's that simple.

What do you get in the paid that you don't get in the trial?

Nothing more, it's adfree unlimited trial :P

A good one! And for free? Much better!

Can i download windows 8 version on my 8.1??

Probably have GDR3, 8.1 is still coding and testing.
Yes, download it.

Yep, it just doesn't support features like variable snap size and 4x4 live tile yet

Yes, Windows 8 version works fine on 8.1. The 8.1 update will just allow the customizable sizes and new tiles.

I'm not sure if that's something they're working on, but they really also need to re-write the auto-update functionality for Windows 8.1. The tombstoning on close in 8.1 means that the "auto-refresh on start" option is useless unless you fully close Nextgen every time (by holding the window until it flips).

It's on our ToDo list. Will implement it soon. Thanks!

thank you guys... http://store.wpcentral.com/noisehush-nx80-35mm-stereo-headphones/11A29A9145.htm

He didnt meen WP8.1 :) . He ment Windows 8.1 And , yes , u can.

Excellent app! I paid for it and never regret

How about you guys make WPCentral app free for 24 hours?
Thanks for this deal though.

They did about a year or so ago maybe longer. Thats when I snagged it lol

This is what I'm talking about.

Now that would be an excelent deal, since some of us can`t buy any freaking apps cause microsoft wants to force me into having a credit card.

It's amazing how Engadget provides a nice app for free but you have to buy WPCentral app to get a simple live tile reminder.

great app from a talented developer, recently switched to phonly but I highly recommend this app.

I'd use it if it didn't require a Feedly login. I don't need to sync feeds anywhere else.

Agreed. I don't have a google account and don't want to create one. Weave is a very nice reader with text to speech. I wish it would play nicer with the quotes and apostrophes and that it could mobilize the WPCentral feed though. It used to read the WPCentral feed fine, but that broke recently. Anyone know why?

Don't know but I've noticed the same thing. Weave can no longer show WPCentral articles.

The advantage is that they have a Win8 app; so now I am sync'd in both areas. This is huge and allows me to reads hundreds of articles a day without reading the same ones. Excellent app on both WP and Win8!

I don't think anyone will argue the value of it overall. It's just not valuable to everyone :P

Same here. Although it looks like a well made and attractive app I'm not going to sign up to a service I neither need or want in order to use it.

AAAAAWWWWWWWWWWWW YYYYYEEEEAAAAAAHHHHHHHH!!!!!!!!!!

Thanks a lot guys,both @wpcentral and @nextmatters :)

Thank you. Now tell me when the Lumia 1520 is coming out :)

You guys should totally team up with most of the devs to make shit free, everyone benefits!

How does the dev benefit??

The best thing I did was switch to Windows Phone. But do you know what was even better? Reading WPCentral for a long time before making the switch.
This is the first website that I keep opening everyday. Also, Daniel, you rock. All of the WPCentral team rocks :D

[edit: I do love and use Nextgen Reader a lot, and this is awesome]

bit off-topic, but are you (Daniel) from Brazil? I happen to be Portuguese, so, olá :P

+620
For me my desicion to switch to wp was 50% because of Nokia and 50% because of this great site and community!

I guess it was the same for me ;)
Also +925.

@zinksilver Thanks for the compliments and glad you like our site! Sadly, I'm not from Brazil, though I hope to visit there some day!

Oops, my bad then. I just guessed it randomly because of your name. Not that all Daniels are portuguese or from Brazil :)
Thanks, and thank you everyone for the replies. Glad to know I wasn't the only one (switching because etc)

+920 I also used to read WPC about 6 months before I made the switch. I'm so glad that I did. WPC completes my day! :)

1020 for this, great people here

This needs a Google account?

Awww yeaaaaa thank you wpcentral you are awesome

The description says its an ad free trial. Which is it, a trial or the whole enchilada?

thank you :) ..... edit : it needs google account :(

Already have it but thank you. Beats paying a fortune for Weave.

Can't decide between phonly and this... Tough competition!

Alot of thanks for you :D

Thank REALLY!
since i'm in iran I couldn't buy the app!
Thank You So Much!

I thought it was already free? Unlimited ad free trial...

Wpcentral really should learn the nice and swift animations in nextgen reader ;)

Rats, need a google account. Closed mine a while ago during the Youtube fiasco. My loss I guess.

Not really a loss. Can't say I like Google accounts, but sadly the Feedly service only offer Google log in. If you want them to offer something else than Google sign in you can vote on their uservoice site. Create a feedly account to acess without google. (2338 votes) http://feedly.uservoice.com/forums/192636-suggestions/suggestions/375461... Offer Feedly's own login (839, but marked under review Oct. 8th 2013) http://feedly.uservoice.com/forums/192636-suggestions/suggestions/408070...

Look at all these free app recently aweeesoome

Unless I am overlooking something it requires a Google account.

Thanks but no thanks.

I find that adding sources in this app takes a lot of work. You have to click and confirm each single source one by one. Therefore I uninstalled it. But the app looks good and works smooth. Hope they fix this.

For sure. Thanks for the feedback!

NextGen is one of those apps that are so good, they feel like part of the operating system. You just use it, period. Been my daily news readers for maybe a year already.

I use Weave every morning (I did pay $9.99 for it from my 928 credit) but, I'll check it out now that it's free, a lot of people seem to like it a lot... Thanks !

I have a google account just for crap I never have to look at or respond to...like my Facebook account, only less intrusive so I deleted Facebook from my life and only use the Gmail account for crap. I have garbage accounts for stuff I might want to use or reply to, but anything google or requiring google goes to crap account.

Thnx for the app WPC! Google and no Swedish language makes it a though cookie to swallow thou. :|

You can't beat free, so I'm giving it a spin. Thanks WPCentral and Nextgen! You guys rock! That is all, go back to your lives.

Question in general about RSS feeds when connecting with feedly. Some site don't show the whole story, requiring you to open the link to read the rest. Is this because of the site, the feedly service or the nextgen app? And is there any way to change this?

Hi. It is upto website owner to provide a summary or full conent in rss feeds. But there's a unique feature in nextgen, that allows you to read full articles anyway. Just tap the three dots at bottom (in article view), select "change open method..." and you can set it per feed. Hope that helps!

Awesome! That just made everything so much better! Does it also work in the windows 8 app?

Yes, just tap or click the "manage" button in bottom left corner on Windows 8. Thank you!

The first (left) button in the task bar can be set to "open full page". This used to have the same effect as setting it to Full Article in the per open method. This no longer works. It just opens up the page as rendered by ie, as opposed to just text in theme. Is this on purpose? Any plans for a fix? I really would like to "open full page" per story, rather than per feed.

Thanks for the feedback. Will add the option in future update ("read full article") as you suggested and rename "open full page" to "open webpage".

does anyone know if there is an app that can edit pdf files?? like quickoffice and those on other mobile os

Opinion requestion: Nextgen Reader VS. Fuse?

You forgot Weave. I wonder which of these three is best.

Also: Phonly! Best looking!

I really wish they add a SkyDrive sync option. I refuse to create a Google account. :(
(P.S. thanks WPCentral and NextMatters for this great deal!)

Wp is all about live tiles. I realy like to see more options for nextgen reader live tiles. Like showing all new news not only last one, or image and text etc.

Agree. Will have more amazing live tile experience in future update. Thanks!

This is a great app. I use it all the time on my WP and Windows 8 devices to plow through all RSS feeds I have. By far the most frequently used app for me. It works very effectively once you get to know how it works. The developer did a fantastic job. I hope he/she was able to make some money out of it.

For those complaining about having to use Google login, there's not much Nextgen can do about it because it's Feedly that decided to require Google login for migration from Google Reader which was shut down recently.

Thank you! Correct, we can't do anything about the Google requirement. Btw Feedly has plans to implement Twitter and Facebook authentication soon.

Thanks for the free app but I AM NOT going to use a Google account for it.. We need options..

Since you log in to the Feedly service, which only offer Google log in you can vote on their uservoice site. Create a feedly account to acess without google. (2338 votes) http://feedly.uservoice.com/forums/192636-suggestions/suggestions/375461... Offer Feedly's own login (839, but marked under review Oct. 8th 2013) http://feedly.uservoice.com/forums/192636-suggestions/suggestions/408070...

There's also another user voice topic which is more popular.. Creating a WP app. And since they have no plans in doing that, I will just stick to Weave.

No, but they link to apps using feedly. On their site you have four apps for Windows Phone and Nextgen Reader works perfectly with my Feedly account. If I only can get access without Google it would be perfect. http://www.feedly.com/apps.html#windowsPhone

I don't have a google account and don't want one.. Any other options to sign in

I`ve been using phonly since i move from a galaxy/droid to my awsome lumia920 (less than a month ago) and it`s been working just fine, but i guess i`ll give this nextgen a test-drive. Hey, it`s a freebie! Thx NextMatters and WPCentral.

I'll give it a try. Thanks!

What happened to the old full article view? ie, when I tap on the icon for full article, it doesn't load in the dark theme, but loads the full page instead.
Windows Central Newsletter
Get the best of Windows Central in in your inbox, every day!
Thank you for signing up to Windows Central. You will receive a verification email shortly.
There was a problem. Please refresh the page and try again.