NFC Ring Kickstarter funded; Windows Phone app on the way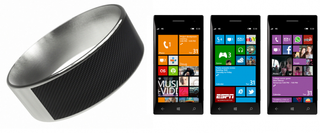 A few weeks ago we mentioned the NFC Ring project that was looking for funding on Kickstarter. While there are always tons of similar projects out there, this one received quite a bit of attention including some BBC coverage. However, what was more relevant was that the company was willing to make a Windows Phone app if they reached £110,000 in funding.
Today, the company's Kickstarter has just concluded and they managed to surpass that £110,000 by nailing a whopping £241,947 in funds. And yes, that means a Windows Phone app will be made (and not a Windows Mobile one that some of you were concerned about).
The company went into some detail recently about the Windows Phone app and how it will work with the NFC Ring noting that it will be built with the PhoneGap developer tools and it is currently in review (although that was a few weeks ago). The good news is this isn't vaporware as the app will be out when the NFC Ring is available to actually purchase. The bad news is PhoneGap is hardly the ideal development solution for Windows Phone (think of Untappd), as it is more of a "one size fits all" answer that doesn't leverage Windows Phone native design.
The reason why the NFC Ring project went with PhoneGap should be obvious: it allows them to write for Android, Windows Phone and BlackBerry all at once and get the app out quickly—like real quickly. Later, the company can focus on making native apps for each platform as they see fit (or demand requires).
The other limitation is the Windows Phone platform: It won't allow the ring to unlock our devices, at least not yet. Windows Phone users should not be strangers to the limitations of NFC on their devices, including the annoying 'nag' confirmation screen, which is reportedly going away in a future update. Still, the NFC Ring should be valuable for information sharing like contact info or launching apps.
Interestingly, the project was looking to make a BlackBerry 10 app but as it turns out, the flagship Z10 phone has a curious limitation of its own. The Z10 (and some Samsung devices) have the NFC antenna below the battery making small inlays as found in the standard sized NFC Ring impossible to read. That means you'll have to wear an "Alpha" sized ring to get it to work. Luckily, Windows Phone doesn't have that problem. Finally, due to the iPhone not supporting NFC at all (at least not currently), no support for iOS will be offered.
We'll keep you posted as soon as the NFC Ring is available and since we helped funded it, we'll be receiving one to test out. In the meantime, you can watch the above demo video to see the concept in action.
Source: Kickstarter (NFC Ring)
Windows Central Newsletter
Get the best of Windows Central in in your inbox, every day!
Daniel Rubino is the Editor-in-chief of Windows Central, head reviewer, podcast co-host, and analyst. He has been covering Microsoft since 2007 when this site was called WMExperts (and later Windows Phone Central). His interests include Windows, laptops, next-gen computing, and for some reason, watches. Before all this tech stuff, he worked on a Ph.D. in linguistics, watched people sleep (for medical purposes!), and ran the projectors at movie theaters because it was fun.
Awesome. I going to get one for sure.

Should have pledged money to the Kickstarter project as it would have been much cheaper. They offered "The Collection" with three NFC rings (Normal, Alpha and Stealth Black) just before the weekend. I'm not sure what I'll do with three NFC rings, but I'm sure I'll find a use.

If I knew about it I would have.

I really hope there are major NFC updates coming in future. NFC on Android is awesome. One tag and you essentially switch to a new profile. On Windows Phone, you can launch one settings page after confirming a popup. It's quite a joke.

Hey, at least it's not iOS.

Then again, I'm sure the next iPhone will have NFC and "everyone" will hail it as a magical new development by the geniuses at Apple!

And if Apple does it right, unlike Microsoft, it would deserve half that praise.

picked up the 3 ring deal, interested to find out what the Stealth Bomber ring is:)

stealth bomber is all black

You know, the only problem I have with this, is the NFC thing is going to mess with my phone while I hold it. I mean, if I had my contact info tied to it, wouldn't my phone try to add my contact info every time I pick my phone up and hold it where my ring is on the back side of the phone?

Depends on the phone, but with the Lumias at least the NFC chip is at the top of the phone, and your ring finger will sit near the bottom. Or even if you use other fingers, they're unlikely to come near the NFC chip (otherwise using NFC at all would be impractical).

Can't wait till mine comes in =D

Will this be available worldwide ?

It is. I'm living in Indonesia. They ship outside UK

I'm still struggling to figure out what I can do with this (or NFC stickers, for that matter).

Share contact info or a URL, for instance, on the public side. The private side you can have unlock your front door, or perform a specific action on your phone. The possibilities are quite grand.

It's more the WP capabilities that I'm struggling with. Unless I'm missing something, at this point it doesn't seem to be much more convenient than pinning a tile to the start page.

Yeah, I can't quite figure out the real-world benefits of this either (especially for WP, but in general). Are there really a lot of people out there with NFC-enabled door locks?

Yeah, So far all this NFC stuff is useless. Not sure why it's even in the windows phones since nothing can really be automated with it.

I use it for connecting/disconnecting to/from my Bluetooth Audio equipment all the time. The nag screen only appears the first time I pair the device but then it's only tapping the phone onto the speaker to transfer the music there and another tap to disconnect and have the music on the phone again.

"Share contact info or a URL, for instance, on the public side. "

What does this mean in real world use? Can someone explain?

The ring can store different sets of NFC instructions, and it's been suggested that you use one side for more public stuff, one side for more protected stuff (Door locks? Banking?). What the previous poster meant is that you could use the 'public' side to store your contact info (email, phone, etc) so that if you run in to someone that you want to give your info to, you can fist bump their phone instead of dictating or looking for a business card/pen paper, etc.

But can't I already do that with my NFC enabled phone? What do I need the ring for?

Sure, but there's less geek cred that way.

I use it to go to my Bluetooth settings without having to pin an app.

I'm getting one for sure, for the sole purpose of experimenting :P.

I think it could be used to store medical data blood type and similar

Is it still open I still would like to get one cheap

One question, is it waterproof? Cause it will get wet after all..

NFC doesn't requirer any electricity, so not sure how it's relevant....?

Maybe he thinks that the chip inside will get wet and become unusable because of the humidity or corrosion, because it's a piece of electronics.. But she says that there isn't any electricity needed, so I'm baffled too.

But electricity is involved. The initiator (phone, door knob, whatever) generates an RF field that powers the target (ring). Just because there isn't a battery in an NFC target, it would seem that water could be a problem for the device if it isn't properly sealed.
http://en.wikipedia.org/wiki/Near_field_communication#Essential_specifications

Daniel, do you have any recommendations for NFC doors?

Electromagnetism. Phone generates a weak magnetic field from the on-board NFC circuit. The magnetic field induces an electric current in the NFC tag, which then generates a magnetic field that your phone reads.

The ring's developer, John McLear, stated that; while still in testing, the ring has proven to be quite water resistant to several feet.

Hey Microsoft, mind opening up Windows Phone so that we can get cool projects like this to work?

Uh ... PhoneGap costs next to nothing to support Windows Phone with, so why did they need extra funding for it? For extra money I would expect a native app.

Probably for the extra effort for the extra app. Devs seem to gauge interest in less popular platforms by contributions on kickstarter. Nothing new.

This is PhoneGap. There is next-to-no extra effort required if you're not building a native-themed UI.

Granted I don't know anything about PhoneGap, but my second point still stands. They do it more because they can, nothing new.

I think I've watched too many spy movies. I could see the next installment of 007 where someone is relieved of a digit or hand for the expedient use of their ring to unlock a door or device, or to effect the desired data transfer.

That would be sweet! I could see Daniel Craig (in a cool 007 type of motion) twist the ring then fist-bump his car door to unlock his Aston Martin. Then twist it again to start it. Yeah!

no more bledges for this project? how could i get one?

They will be available to the public to order starting in September-October.

Missed this, project originates from the village I grew up in, which is pretty cool to say other than that, our biggest claim to fame was a wild parrot called Elvis

what is the point of having an nfc accessory or app in wp8 if os keeps prompting for confirmation each time.
Nfc tags are able to support multiple tasks and i am worried if wp8 os supports that too.
I tried using nfc launchit, tagwriter,interactor but none of them could configure multiple tasks on my nfc tag.

I also funded this ring and want to unlock my phone and computer with it.
Iv found the ASUS NFC Express for my home computer to achieve this but despite how much I love my windows phone Im seriously thinking of dumping it due to the NFC nag prompt which basically renders NFC useless on Windows phone and buying a HTC One.
Windows Central Newsletter
Thank you for signing up to Windows Central. You will receive a verification email shortly.
There was a problem. Please refresh the page and try again.