NFC Toolkit updated with extra profiles and more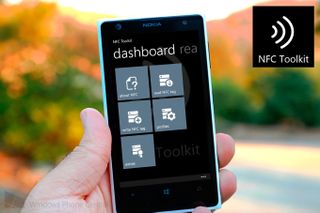 We first took a look at NFC Toolkit in early November. The app allows users to take control of the NFC abilities on their Windows Phone. While NFC support on Windows Phone is currently limited compared to the options available on Android, NFC Toolkit does the best it can to help users maximize the potential. The app has seen two updates since we last covered it, let's take a look at what's new with the app.
The app is currently sitting at version 0.9.7.0 in the Windows Phone Store, but there was an update between our initial coverage (0.9.6.0) and now. What was introduced in in that update? The following:
Corrected custom profile bug where the 4th and the 5th item were the same
Added Mix Play & Share as new extra
Added a simple car dashboard as new extra
About page updated
Privacy policy updated
Minor bug fixes
And today we're looking at version 0.9.7.0 in the Windows Phone Store. That update includes the following changes to NFC Toolkit:
Fixed error in car dashboard when no album cover is available
Added battery saver to custom profile
Added rotation lock to custom profile
Added launch extra to profiles
Added launch app to profiles
NFC Toolkit picks up some cool tricks with the latest updates. However, Windows Phone itself needs to step up its game if we're to have a truly stellar NFC experience on Windows Phone. For example, developers are only able to take you to a setting page vs. actually changing the settings for you. Hopefully Windows Phone 8.1 will introduce such capabilities for developers. In the meantime, other devs can make their app a little more NFC friendly by giving their apps a custom URI scheme. Our app, WPCentral, has such a scheme and therefore you can set up an NFC profile that launches our app. Interested in adding a custom URI scheme to your app? Check out this blog post on how to do it.
NFC Toolkit is a pretty stellar app for the NFC things Windows Phone can do and it's on sale from now until a day after Christmas. Normally it goes for $1.49, but now you can pick it up for $0.99 in the Windows Phone Store. There is a trial that lets you use the app for 10 days.
Windows Central Newsletter
Get the best of Windows Central in in your inbox, every day!
I hope NFC triggered actions without confirmation will be here on WP, too. I'd hang a tag coded "WiFi on, Whatsapp honey I'm home, coffee maker start" :)

I really don't know why people think having WiFi and Bluetooth on all the time has any impact on battery life as long as alert me when I find new networks is off

Because it does use more battery. Get a graphing battery app like myBattery and check it your self. FWIW, I have a Lumia 920.

I have one too and my battery with them on usually sits between .5 and .8, so if they do use battery, it isn't much to worry about

Not sure what you mean by "usually sits between .5 and .8" but I usually have my WiFi on when at home with network set to 2G. If I leave there is a definite steep drop to the remaining battery level. Do you have WiFi set to turn off when the screen blanks? If so, that might be the difference.

If devs could only have it change settings, driving mode would be so much more convenient for those that do not have bt in their cars.

Currently what can we do with the NFC in our phones without this app? Come to think of it, I've never really used it before. Is it only for tap to send?

It works when connecting Bluetooth devices that have NFC. For example, instead of searching and finding a Bluetooth device, you just tap it and automatically connects as long as Bluetooth/nfc is on.

So you saying that a NFC profile can't cut on Bluetooth when I get into my car car, only open the BT options? Sheesh. Defeats the purpose if that's how it is.

Will NFC on increase cancer rate?

100% of people that use NFC will die. Probably from old-age though :P

I think that you should be able to make any tile on your home screen an NFC tag. (I submitted this as a feature request on the Windows Phone User Voice site. Feel free to vote it up. ;) I can't include links here, but you can search for "Create NFC tag from any tile".) If this method were baked into the OS, then every app would have NFC capabilities out of the box, and the level of NFC support would be as good (or bad) as the level of live tile support that a dev chose to implement. The better apps do a great job of using deep pinning to go straight to places within an app (e.g., a particular playlist in a music player, a predefined address in navigation, a particular feed in a news reader, etc.)—how awesome would that be to show to your Android/iOS friends?

Actual transactions would be nice at some point.
Windows Central Newsletter
Thank you for signing up to Windows Central. You will receive a verification email shortly.
There was a problem. Please refresh the page and try again.