NFL finally releases official Fantasy Football app for Windows Phone 8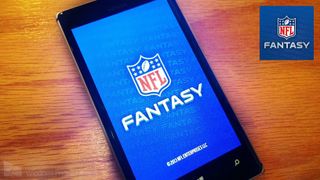 The middle of August is when the NFL released their official app for Windows Phone 8. NFL Mobile was a very welcomed app for fans of American football around the world. Then came the announcement that official NFL Fantasy Football apps would be coming to Windows 8, Xbox and Windows Phone. We've seen the Windows 8 and Xbox versions and they're pretty darn good, but the Windows Phone version was absent from the Store. Today, the official NFL Football Fantasy 2013 app for Windows Phone finally comes to the Store and is unfortunately a disappointment.
Before we get into why the app is disappointing, let's check out all the things you can do with the official NFL Football Fantasy "app" for Windows Phone. Here's what you can do:
Live scoring: Follow your teams and players in real time.
Set your lineup: Start or bench players on the go.
Transactions: Improve your team with players adds, drops and trades.
Player News: Get official news and injury updates, direct from NFL.com.
Manage multiple teams: Access and control all of your NFL.com teams and leagues.
Play more games: Access Perfect Challenge, Weekly Pick'Em and more.
That sounds really cool right? That's everything you could want in an app for fantasy football. Well, those are also all the things you can do in the mobile web version of the NFL.com website. Which is basically what you're getting with this app. You know that idiom about a wolf in sheep's clothing? We should have a new one for websites in app's clothing. You're getting what looks like a PhoneGap app.
To me, that's really disappointing and it's hard to justify keeping this app after downloading. You might as well continue to use the website and not take up any space on your Start screen. Speaking of Start screen, this app doesn't come with a double wide tile or any support for controlling the Lockscreen. You can't pin players or teams to your Start screen. All features you'd want in a fantasy app for Windows Phone.
Again, all missed opportunities from the NFL, Microsoft, or whichever development studio was responsible for this. Like the app? Dislike the app? Sound off below.
If you still want to download this app for free, but only for Windows Phone 8 devices. If you're on Windows Phone 7.x don't feel too bad about now having this app. Grab it in the Windows Phone Store, use the QR code below, or swipe to the right in our app.
Thanks for the tip Alex S!
I couldn't have downloaded it faster!!!!

Ok, not overly impressed. It appears to the same as accessing it from the NFL mobile app. But glad we have it!

Except that it actually works and allows you to swap players

Still waiting for Yahoo..... (patiently).

Yep been waiting for this one a loooonggg time

Ditto. Someone (maybe me) make a forum of all the apps we'd like and provide a twitter handle and Facebook page so we can demand a wp8 app.

Have you tried STATGNOME (for Yahoo Fantasy Sports). Using it right now and I think itsn very functional. Its much better than the NFL app or better than the ESPN FF app, or at least as good and its updated frequently though it may even still be called BETA.

Devs are just waiting for GDR3 to develop the big and Famous apps and to update it like iOs and Android ..
Because in the GDR3 the programation will be more open as i heard !
So don't worry it'll be updated in the next year and improved ! lets be optimist
:D

Mind yo explain what do you mean by "more open" and what will that mean for the developers?

Always with the waiting. Just wait till 7.5! Wait for wp8! Gdr3 will be better. Wait till 8.1, then we'll dominate! It's the story of windows phone, and the story is starting to get a little stale.

I agree and its sort of getting tiring waiting for the next version of WP for that big light bulb moment to happen. I'm gonna ride with the platform til the end (whenever that may be) because I'm just not interested in an iPhone or any Android phones around.

BB10 is the great too tbh i'd be using it but att charges double price data rates cuz it's a "business" phone

I agree. Everything is about waiting for this platform.

This is just like the iPhone app they have. So I dont see this one getting much better.


Yes NFL fantasy kind of sucks. Yahoo is much better imo

Maybe for now, but I'd imagine NFL.com would rather have everyone playing fantasy football on their site. They do have the power to make that happen too.

Being more "open" does not speed up the development process for apps in any way, shape, or form.

Yes its the same as accessing it from the NFL app but it a warm welcome to Windows Phone!!

I downloaded it before I saw this article. Was shocked it was there. Now, if Yahoo and CBS Sports would release official ones, all would be right with the world.

If CBS had a fantasy football app, I could finally convince my CEO to switch to Windows Phone.

Just the normal European reminder that this isn't really Football. It's American Rugby. =P

FYI - this is exactly the same as their iPhone and Android apps. They prefer to host web content due to maintenance overhead. WP is not getting cheated. :)

Funny nobody is making this a point........its on par with all platforms people!!!! Sam should have pointed this out in his article ;)

But we're better than other platforms :P

I agree! But any time an app is brought to Windows Phone at full feature parity with their iOS/Android version I consider it a win. :)

Hey - I sent you an email, Sam. I worked with the NFL on building this app. If you get a chance, please respond back. Thanks!

I will check my nephews iPhone to see if it stacks up to theirs.

No need.
https://itunes.apple.com/us/app/nfl.com-fantasy-football-2013/id393689120?mt=8

Thanks for the link, shocked they don't have a native app on iOS. Makes me feel better about the WP one

Crashes every few minutes. Better than the NFL Mobile app, but that's not saying much.

If they had just made the FF link in the NFL Mobile app able to on to in to the start screen it would have been easier.

Looks lime same app I've had since drafting

As Sam mentioned, it's a wrapper for the mobile site. Same exact way they do it for iOS/Android apps. But luckily, the mobile site works very good. I just wish it had a live tile and notifications. But I went into the NFL.com notificatios and turned on SMS/email. Works pretty good.

Here's the funny thing about all of this: The Windows 8 app is miles better than all of the phone apps.

Thanks! I worked on that one too. :)
Man, that was a FUN project. So proud of that app!

Mike Downey
Principal Evangelist - Consumer, Media & Entertainment | Microsoft | miked --at-- https://www.windowscentral.com/e?link=https2F%2Fclick.linksynergy.co...

I love that app! Any plans for that advanced version coming to Windows Phone?

It's definitely on the table for next season. There just wasn't time to get anything big done this season. Fantasy use tends to fall off a bit as the season progresses so you only have a relatively short windows to get apps out there before you're better off just waiting until the next season. That said, I make no promises. I'm just helping the NFL out. It's obviously their decision on what and when they release apps. They are very committed to Microsoft platforms though.

Need a CBS fantasy app... Although I find working in mobile app works as well the iPad app for me.
Windows Central Newsletter
Get the best of Windows Central in in your inbox, every day!
Thank you for signing up to Windows Central. You will receive a verification email shortly.
There was a problem. Please refresh the page and try again.