Get ready for the upcoming pigskin season with the official NFL Mobile app for Windows Phone 8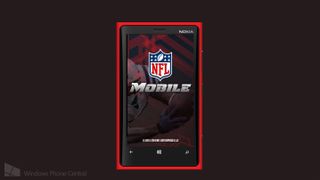 Right now the NFL preseason is underway. Football teams across the United States are gearing up for the 2013 seasons that kickoffs on September 5 with last year's Super Bowl champs the Baltimore Ravens. If you're outside the United States you'll probably read the headline, roll your eyes, and move on. For the rest of you, there's a redesigned NFL Mobile app for Windows Phone just in time for the new season. Let's check it out.
NFL Mobile for Windows Phone 8 is available for everyone, but Verizon customers look to be getting a special perk. Let's first check out the features available to everyone. Here's what you'll be doing with NFL Mobile.
Scores – Receive up-to-the minute NFL game score updates from around the league
Custom team alerts – Follow your favorite team and get customized alerts – including injury updates, highlights, game start times, entry into the red zone, and scoring plays
Fantasy Football– Manage your NFL.com fantasy team directly in the app
Video Highlights – Watch highlights after the game
And more – Check team standings, stats, rosters and schedules, play along during Thursday Night Football and A Football Life with the Xtra companion, browse the NFL.com shop, find game tickets, or read expert analysis wherever you are
We fired up the app on our Lumia 925 and are digging the new digs of NFL Mobile. You can sign in with your NFL.com account and it'll populate the app with your favorite teams from the get go. Speaking of favorite teams, the app will notify you of nearly anything related to your team. Pretty handy if you're a diehard fan.
So what do Verizon customers get with the app? Here's what:
Premium features – Verizon customers can upgrade to Premium Features to gain access to live streams of NFL RedZone on Sunday afternoons, live NFL games on Thursday, Sunday and Monday Nights, live game audio, live NFL.com webcasts and NFL Network 24/7.
Since I'm not on Verizon Wireless I can't comment much how these premium features perform in the app. I'm on T-Mobile with the Lumia 925, so the area of the app with these premium features won't load. If you're rocking something like the Lumia 928 on Verizon be sure to let us know below how the features work.
NFL Mobile is free for Windows Phone 8 users. It is ad-supported. Grab it here in the Store, use the QR code below, or swipe to the right in our app.
Now for the big question. Who is winning the Super Bowl this year?
Via: Windows Phone Blog
Windows Central Newsletter
Get the best of Windows Central in in your inbox, every day!
Are you ready for some football!!!

What another Bengals fan? Not many of those out here. They are looking good; I will be happy with playoffs for a third year in a row but really want to have at least 1 playoff win.

I think (probably setting myself up for a letdown), that we are going to get more than that this year.

I hope we do get more; the NFL is all about having a great program and I feel like we are finally moving that direction.

RAAAAAAAAIDERRRRRRRRSSSSS!

Still waiting for official NBA GAME TIME.

YES!
watchESPN for sure, I've been harassing ESPN about that and improving Scorecenter for months. No luck though, they always respond by saying something about Windows 8 or Windows Phone 7.

Yeah, I've emailed and tweeted ESPN about the ESPN Hub (Scorecenter) app and how bad it is, I also got some generic useless email response that led me to believe that they have no intention of doing a thing. The live tile on that app showed me nothing but scores from the "second round" of the NBA playoffs....all the way up until August!

ESPN Hub & Scorecenter are two separate apps and quite different, but neither are that good.
Also, CFB Live and watchESPN are apps I'd really like to see.

Quite different? What's different? There's a bit of a different look but they do pretty much the exact same thing.

If you use them side by side you'll see the differences. It's not just looks, there are different features too.

They are a LOT different.
Hub version live tiles don't work worth a shit though. Scores update 3 days later wtf..

NBA would be okay for a few but you can't put it in the same league as the NFL. Ratings / popularity wise the NFL dominates in the U.S.

I want the official UFC app. Watch some mma fights!

UFC thumbs for that. even if I have to PPV everytime :)

Agreed; we really need UFC and NBA now; glad to have more official apps

I think it's more than a "few". We don't need to squabble about our fav sports. We need them ALL because they all appeal to MILLIONS of people. NBA is actually more global than NFL. Bring 'em all, I say!!

Not sure about that NBA being more Global than the NFL. I'm pretty positive the Super Bowl is watched alot more than all the finals games combined worldwide. You can't even compare tv ratings between the two. $300 for the Sunday ticket compared to $50 for the NBA season pass. I'll agree w8 phones need it though. I'd rather see a NCAA football app first

im not from US, never been there neither to understand a culture. :) Never watched a footbal game in my life, of course referring to american football. But yeah following the NBA quite tight. So I want the game time on my phone although my lumia 920 wont sport much of view time the battery on this girl is too bad. Still love it though.

Ah football season is back ..looks like a good season for the packers!!

Lions. I know...wishful thinking. Hey, there's always next year. :(

Nice!!

LETS GO BIG BLUE!!!

Reviews haven't been looking good so far.

Yeah I noticed that too, but for me on my 920 it has worked just fine, even logged in my account and all seems fine. Not sure, maybe not fully stable on all models or something, hopefully it will get bug fix updates fairly soon either way.

Those reviews carry over from the previous version, which wasn't all that great. If you like the latest version be sure to leave a good review. Hopefully the NFL will bring some more apps to the Store!

Downloaded and been playing around with it and seems to work just fine on my 8X. Too bad about that premium stuff being exclusive to Verizon though.

Yeah, some of the carrier exclusive stuff for apps isn't the best thing for the platform.

The carrier specific stuff is BS. But I can live with that.

What I cannot live with is the layout which I agree with many of the comments already left for the app. That being, the header and footer are too large. Really, I do not need NFL Mobile taking the top 1/3 of the screen. Then you have advertisement and menu bar at the bottom taking another large chuck of realestate. At a minimum they could have minimized the menu at the bottom. I do not need to see the score button on every page.
So much screen is wasted it makes it hard to read the articles. They application is definately not native and is slow to start up.
While I am happy to have an official app, it is a half hearted effort IMHO.

+920!!!

Can't wait to see how Chip turns this team around!

Streaming ESPN MNF now with no problems on my 928

How are you liking it so far? Tell me how you really feel.

Its decent so far. However, and maybe I am missing how, I can't pin a tile for my team... Am I missing something?

Lucky Verizon customers! But still, sounds like a good deal for us football lovers. Let's go!

MLB At Bat 13 comes 5 months after spring training and the start of the season. NFL Mobile comes in the 2nd week of the preseason. I guess we see which major US sport respects us eh?

NFL does have ties with Microsoft already, they will be using the Surface as playbooks.

I agree. I didn't renew my MLB subscription because they wouldn't do a WP app. But it's finally here and the app is good. Might consider subscribing next year.

MLB AtBat 13 is available here in Norway. NFL app is not :(

Where is watchESPN app for windows phone??

Please help me harass ESPN about this!

Will be happy to, if you help me harass DirecTV about allowing authentication to it's subscribers to even use WatchESPN. DirecTV doesn't seem to be allowing authentication to much of anything. There's WatchESPN, there's a ton of shows on Hulu Plus that now require TV provider authentication, I can't even watch CNBC online because DTV doesn't authenticate. (By the way, when are we getting HBOGo??)

Hmmm... I don't have DirecTV... so... well, I guess I could just act like I'm a long time customer when contacting them.

Go Hawks!!! All the way baby.....

Broncos are winning the Superbowl!

Not against the Niners they're not. 2013 will be the year of the Niners!

Last app I needed to get my former NFL-star CEO to consider Windows Phone! :)

It's been around at least since WP8 dropped, this is just an update really.

US only? Can't download it from the Great White North.

Premium NFL Mobile is not free on Verizon, there is a montly fee. This is a good start but what MS really needs to do is to beat DirecTV's door down and get them to make their full NFL Sunday Ticket mobile app available to Windows Phone. DirecTV has/had this app for old Windows Mobile but so far haven't supported WP8. (We need DirecTV Everywhere on WP8 as well.)

yes this!
I am very hopefull that Directv will have a Sunday Ticket App for WP8, but if not it will be a HUGE let down for me.
Also, I am hoping they have one for the xbox this year. They had one for the Playstation last year, but with microsoft's new ties to the NFL I am really hoping the XBOX gets one.


The 49ers.... Are headed all the way!!;

Tell the Ravens thanks for Anquan.

...to an early exit to play some golf.

Ravens are a non-issue this year. The Niners will roll to victory!

MLB : ✔
NFL : ✔
MLS : ✔ (Needs update though)
NBA : ✔ Needs NHL GameCenter now :)

2014 is going to be a great year for WP❕❕

What's the name of the NBA app?

That's what us guys who've been around since WP7 dropped have been saying every year. Still hasn't come around.

You're lost... I'm not saying 2014 is finally going to be a great year for WP,, I'm saying that it is going to be even better than 2013 was... 2013 was an extremely great year for WP, and a lot of progress has been made in numerous areas.. 2012 wasn't to bad either with the L900 proving that Nokia hardware, and WP software, can be a great match.. Plus, Mango made WP plenty good enough for the Average user... I'm sure looking towards the end of 2014, into 2015, I'll be saying the same thing again,, because WP is in it's youth and growing in popularity right now... No, I'm not waiting year after year for WP to have a great year.. Instead, at this point, I'm watching WP build upon success from previous years.... You needed me to explain this to you❔

You forgot the official NASCAR app just came out last week too.

My Ravens are defending champs!!!!

I still can't get over Denver blowing that game. That play where Denver dropped 8 guys back in zone and the ravens receiver still got 10-15 yards behind the safety for a T.D. I still say that game was fixed......

Now that you Microsoft have achieved almost all the specific WP apps for US can you please remember that there is a whole world outside your country and get some specific apps for us too?? I dont know how is the situation in Europe countries, Asia countries, Africa countries and all others regions, but here in Brazil there are almost no one brazilian specific app for Windows Phone!! And the few there are the majority are all poorly made. The biggest bank in here, Banco do Brasil, has a app since the first months of Windows Phone 7 launch, but NEVER got a update and the app is freaking ridiculous!!

Complain to those businesses in Brazil.

Great to have the app, but the exclusive deal w/verizon sucks. I love my Bears, but I won't be switching from AT&T to Verizon, ever. So, how does the most popular sport in America alienate hundreds of million fans, not on Verizon. Not to mention , passing up on all those $$$'s! I'm really disappointed by that deal.

Hundreds of millions? Not on WP.

all the good stuff is carrier specific on Android and Iphone as well

Won't let you download unless you change your region to United States. Those outside the US will have to do a region change to install it

Google can't bring us down!

We aren't easily Scroogled

I hate google. I wish YouTube wasn't own by them.

I agree on both accounts. The "Do No Evil" company is now worse than Microsoft ever was in some ways. I used to love Google a few years ago, but I'm at the point now where I have no use for them.

Now if we could just get DirecTV to watch Sunday Ticket :D

How do I stream the live games right now? I have Verizon fios

Couple things. I don't like that you have to have your location on in order to watch videos. Just like Crackle which I deleted for that very reason. Also, your forced to link with you Verizon Account. I just hope I won't get charge for anything since I do not want the premium features.

Am I missing how to pin my team to the home screen? :(

I sitll have my team pinned from the old version. Was about to unpin it to see if there was a newer tile.

It may be incorporated into the main app tile, but mine doesn't seem to be "live". It could be like ESPN Scorecenter and not update until your teams next game.

Man, sucks it's Verizon-only on some features. Still, at least they got us the app before the season, unlike MLB (the sport I much prefer over football).

And now, to pin the Jets to my home screen.
Don't judge me...

I don't need to know your sexual orientation, just what NFL team do you like?

I know this has nothing to do with this article but FUCK google !!!

Im still upset at them.

I am ready for this app! And... For the Seahawks to win the super bowl! ;)

Ok cool checked my account it was not added...

Wow.
Complete overhaul of the app, looks amazing.
Premium services for Verizon customers is $5 a month. Includes live streaming of the NFL Networks, Monday/Thursday Night Football and Sunday Night Football.

Titans going to the Super Bowl...actually I would he happy if they were over a .500 team.

They all got tickets this early?

Ads? I guess WP8 didn't get much love in that $400 million deal between Microsoft and the NFL.

Kick Ass! All it needs is Hank Jr.doing the intro music. But since there is no Chris Berman and his ....AND....HE COULD GO GO ALL THE WAY, I can live without Hank

They dropped Hank a year or so ago.

Yeah, I'm quite aware of that they dropped Hank. I usually don't miss MNF Games LOL I'm just saying this app could use him though to add a spash of non-blandness.


928, i believe premium is $5/month for us verizon folks. Last year audio was free but had to pay for video. This year audio is also a premium feature. Its still preseason so cant comment on how well or if the premium is worth the $.


Nice app ... Go Ravens !!!

US only? WTF? Surely there are NFL fans outside the US... /sarcasm

Yes, lots of us. this is why there is an International game (or two) every year here in the UK.

I didn't know until I read this thread that it's FREE! On my Rezound it was free then they started charging. I haven't seen what a game looks like yet with the adds, but I'm not that interested in payiing for it. You know the game is always on in the bar, lol.

I cannot download in the UK :(

I'm in Australia, is there any way I can get this app?

Change your Region to US in Settings-> "Regions and Language". It will ask to reboot.

Awesome, simple and it worked. Thanks pal.

For real, this app was one of the top reasons I went with Verizon. Diehard Seahawks fan, had to have the NFL Mobile app to catch games when I'm not home (or in a bar) and my Hawks are playing. Premium features work great on my 822. Watching live NFL games on the go is pretty sweet. Plus NFL Network all the time. It costs $5 bucks or something per month, and for me its well worth it

Wish I could pin my team to the home screen.

+a Lion!
Can't pin favorite team Detroit Lions as a LIVE TILE to show live score or game update.

Omg yes!!! This is great news! Windows Phone really has arrived! Screw google and instagram. Who needs em!

That's prob what they'll average on offense this year. Maybe 10ers or 11ers, but prob around 9ers.

WTF indeed.
There are millions of die hard NFL fans outside of the US, me included. The app availability only for the US has to be changed asap.
I've been waiting for a long time now for the NFL app for windows phone and still can't get it.
If the MLB app can be made available for everyone so should the NFL app.
By the way, what about all US expatriates how live all over the world? They can't get this app either.
A bit short sighted by the Verizon and NFL.
Disappointing

Should have supported NFL Europe, now you no NFL love. LOL
Isn't Verizon Wireless US only?

Is this app only for US??

Well we have our cricket apps in plenty,sexy and good. Enjoy some of your weird game goodness

Are there local market blackout restrictions for the live games?

Using a lumia 920...why does it say it's not available for my device? was so excited.

Too much space taken up at the top of the app.

+1020-928-920-820-810-720-710-620-520-titan-focus

This just might get me to finally make the jump to the 925...

The only problem with this app, is that if you are on Verizon, you cant use it unless you subscribe to their premium service. I wondered when I went to the app page and saw the "reinstall".... Now I remember!


1

You can use the app, you only have to subscribe to get the premium services (live streaming), which is exclusive to Verizon.

The font they use in this app is so bad from a usability standpoint

This is the year for the Falcons. We have a nasty squad!

I hate that Verizon has an exclusive for the extra content way to go NFL and shutting out half the US

Sprint the same way with the NASCAR app.

NFL Scores and Alerts allows me to pin any game(s) to my home screen as live tiles, and to get alerts for score changes, period ending scores,,,etc. Don' t see tyhese features in this app, and you don't need to be a member to get it.

"If you're outside the United States you'll probably read the headline, roll your eyes, and move on"

Nope sadly I'm just annoyed I can't get it outside of the US
Windows Central Newsletter
Thank you for signing up to Windows Central. You will receive a verification email shortly.
There was a problem. Please refresh the page and try again.