Football kicks off today, grab the official NFL Fantasy app for Windows 8 and Xbox 360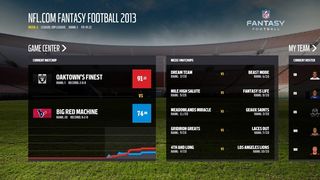 Today, the 2013 NFL season gets underway. The opening game will see defending Super Bowl XLVII champions Baltimore Ravens up against the Denver Broncos. Both teams met in the playoffs last year, but only one went on to become champion. Should be an exciting game that helps set the tone for this season. What better way to enjoy the 94th regular season of the National Football League than with companion apps on your Windows Phone 8 and Windows 8 device. Oh, and your Xbox 360 is getting in on the action too. Ready? Break!
Some of the promotion we'll see from Microsoft and the NFL over the next few months
We first heard of Microsoft and the NFL getting all cozy back at the Xbox One unveil event in May. Since then the two expanded on what their partnership meant. The deal between the NFL and Microsoft lasts 5 years and we'll see most of the fruits of their endeavors on the Xbox One. But the Xbox One isn't an insular experience as apps on both Windows Phone and Windows 8 will help improve the experience of watching the game. That's why Microsoft and the NFL have launched NFL.com Fantasy Football apps on the Xbox 360 and Windows 8. This is what you'll be getting with the Windows 8 version:
LIVE SCORING: Follow your teams and players in real time with Game Center featuring the exclusive live scoring chart
VIDEO HIGHLIGHTS: Watch in-game video highlights to track your team like never before on game day
SET YOUR LINEUP: Start or bench players
PLAYER NEWS: Get official news and injury updates, direct from NFL.com
MANAGE MULTIPLE TEAMS: Access and control all of your NFL.com teams and leagues
A version for Windows Phone is coming soon, we've heard, maybe even as early as next week.
We did play with both the Xbox 360 and Windows 8 version and we like what we see so far. After creating an NFL.com account and joining a Fantasy league the app loaded all our data. We've yet to have the draft yet, but it looks like a solid first showing from both Microsoft and the NFL.
Kick off starts soon, so head to the Windows Store (opens in new tab) to get your Fantasy Football on. Don't forget to go to the app section on your Xbox 360 and try that version out as well. We'll let you folks know when the Windows Phone version comes.
Who's winning tonight? Broncos or Ravens?
Via: Xbox Wire (opens in new tab)
Thanks for the tip Kyle!
I thought it was for WP8 for .2 seconds. :(

Really is irritating when WINDOWS PHONE Central reports Xbox and Windows news.

Did we force you to read it?

Well I like how they do, but I think it would make more sense to change the name as they don't just report windows phone news.

That's why you gotta read first. The WP8 version should come out next week we've heard.

Hopefully the Yahoo FF app follows.

You guys outside of the US should call our Football "soccer" ;)

Football uses yards. Yards have feet. Case solved. ;)

There already is a sport named handball, so then those people would be pissed.

Should call it American Egg Ball and then everyone would be happy..... Oooosh!

What kind of eggs are you eating?

HandEgg. That's what you meant

Thank god its football season!

Not into football so thank god F1 is on this weekend :D

Just got home from Allan Berg racing. Now I'm truly pumped for this weekends race :D

Its cool to see these NFL apps coming out and stuff, but what about us NHL fans....yeah yeah I know, "what's hockey?" "who the f*** cares about hockey" "hockey is for losers"..but ya know what? Screw you....just like Ricky Bobby said "if you don't chew big red gum, then f*** you" haha...but for real, NHL needs some love too. Hockey is like the fat chick of sports (no offense ladies)

Broncos will probably win. Peyton is a monster and the ravens lost alot of key players on defense.

So I should play Wes Welker instead of Steve smith? :D

Same. If your in a ppr league I would start him. I'm starting Decker.

I hope you took our advise.

Im a freaking idiot. Luckily my opponent started ravens D

What's josh said. Peyton had 54 FP in my league. Good thing I didn't face him :D

Thou shall NOT call football to what football is not - saith the Lord!

Hey Jay! Windows 8 app? Hope it's coming soon.

The Windows 8 app, doesn't work well with a mouse and keyboard. The Xbox app is to slow

What is a mouse and keyboard?

The best pointing and text input devices.

The Xbox app says I don't have a fantasy team, though I definitely do.
...
Watching the game, the Microsoft deal with the NFL is brilliant. I just saw a iPad vs. Surface commercial, if they are able to show MS commercials during every NFL game it might have a huge effect.

Their selection of apps is a bit strange... a cricket app and flickr.
...
Seems like a few people here want a yahoo ff app, you guys should tell them about it. Show that there is a demand, I think that's probably the best way to get apps on WP.

"Lets go Cowboys" ,Jerry Jones

If I wanted an app to see fully grown men in tight panties dry humping and jumping on top of each other I would've installed "InstaHomo"

Sounds like your problem if that's what you see.

Ditto. A WP8 Version should be live within the week
Windows Central Newsletter
Get the best of Windows Central in in your inbox, every day!
Thank you for signing up to Windows Central. You will receive a verification email shortly.
There was a problem. Please refresh the page and try again.