Microsoft and the NFL get together to bring you the ultimate football experience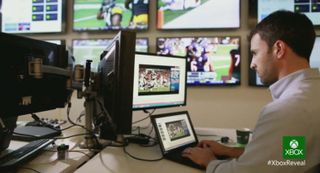 Microsoft has been wrapped up in sports deals for the last few days and yesterday's partnership with the National Football League, was yet another welcome addition. The NFL and Microsoft plan to upgrade interactive TV viewing for football fans through the company's latest entertainment console, Xbox One. The $400 million deal was announced Tuesday and will be set into effect as early as Q1 2014.
Brian Rolapp, chief operating officer of NFL Media, stated that "the challenge is how to bring technology to make it [football] a better experience…"
Football fans will be able to Skype video chat with others, view game statistics, access highlights in real time, and easily manage their fantasy league all on their TV. If you prefer to keep your big screen reserved for the game, you can grab your tablet or smartphone and use Microsoft's SmartGlass technology to follow along.
Xbox One places an extreme focus on TV integration, and Microsoft wants to absorb the large majority of viewers that are sports fans. According to Don Mattrick, president of the IEB Division at Microsoft, "NFL on Xbox will provide the most complete way to enjoy live football by bringing the first fully integrated fantasy football experience to the TV."
The deal between the two giants will last five years, meaning that as technology of the Xbox One improves, we can expect to see added experiences in the future. In addition, due to the short five year agreement, the NFL can decided whether Microsoft's idea is best or if it might be more beneficial to partner with the networks themselves.
It doesn't take a savant to predict that the world of sports will be seeing a technology assisted future as we move forward. The goal, get fans closer to the action while allowing them to interact with others online.
Are you a huge sports fan – what do you think about the idea of "Sports 2.0" with Xbox One?
Source: NFL
Get the Windows Central Newsletter
All the latest news, reviews, and guides for Windows and Xbox diehards.