Microsoft partners with Major League Soccer on exclusive Windows 8 app: get closer to the game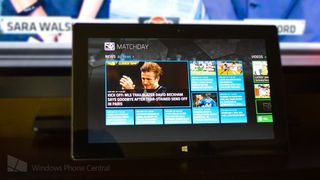 Yesterday at the Red Bull Arena in New Jersey, Microsoft announced their multi-year partnership with Major League Soccer (MLS); the two companies are announcing a unique Windows 8 app to bring the globally loved game even closer to its fans.
The partnership is part of MLS' goal to be known as "the smartest league"; taking advantage of the latest technology to deliver "cutting-edge experiences for soccer fans in the stadium and online." MLS is the top-fight professional soccer league in the United States and Canada.
The new Major League Soccer app for Windows 8 allows viewers to follow the current game and entire season anywhere from their Windows devices. Using the app, fans can view the current season's schedule, standings, highlights, play-by-play, roster lineups, game stats, goals, cards, and submissions.
This latest soccer app also makes use of Windows 8's live tiles; users can choose from a variety of options to customize game updates delivered to their start screen.
If you don't have a Windows 8 tablet though, you can check out the Windows app on the Microsoft Surface tablet in-stadium at over forty games throughout the season - Microsoft wasn't joking about the extend of their partnership with the league.
Kathleen Hall, general manager of Windows Marketing, stated that "as technology and sports continue to intersect, we look forward to continuing to provide innovative interactions for fans whether in the stadium or at home through Windows 8."
The new application is exclusive to the Windows 8 platform, so you won't be seeing it on any competitor's devices - at least for a while. The application is currently available for download from the Windows Store and fans of the sport can dive in right away.
Will exclusive experiences for sports fans bring more users to Microsoft's latest platform - what do you think?
For Windows Phone users, there is an official MatchDay app but it came out last year and has not yet been updated for Windows Phone 8 or 2013. No word if an update is pending, but we have a feeling it will be...stay tuned. In the meantime, you can check out our Football/Soccer app roundup.
Download the new Major League Soccer app for Windows 8 here in the Windows Store.
Source: Windows Experience Blog
Get the Windows Central Newsletter
All the latest news, reviews, and guides for Windows and Xbox diehards.