Microsoft partners with Major League Soccer on exclusive Windows 8 app: get closer to the game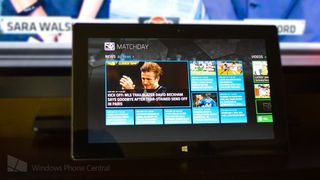 Yesterday at the Red Bull Arena in New Jersey, Microsoft announced their multi-year partnership with Major League Soccer (MLS); the two companies are announcing a unique Windows 8 app to bring the globally loved game even closer to its fans.
The partnership is part of MLS' goal to be known as "the smartest league"; taking advantage of the latest technology to deliver "cutting-edge experiences for soccer fans in the stadium and online." MLS is the top-fight professional soccer league in the United States and Canada.
The new Major League Soccer app for Windows 8 allows viewers to follow the current game and entire season anywhere from their Windows devices. Using the app, fans can view the current season's schedule, standings, highlights, play-by-play, roster lineups, game stats, goals, cards, and submissions.
This latest soccer app also makes use of Windows 8's live tiles; users can choose from a variety of options to customize game updates delivered to their start screen.
If you don't have a Windows 8 tablet though, you can check out the Windows app on the Microsoft Surface tablet in-stadium at over forty games throughout the season - Microsoft wasn't joking about the extend of their partnership with the league.
Kathleen Hall, general manager of Windows Marketing, stated that "as technology and sports continue to intersect, we look forward to continuing to provide innovative interactions for fans whether in the stadium or at home through Windows 8."
The new application is exclusive to the Windows 8 platform, so you won't be seeing it on any competitor's devices - at least for a while. The application is currently available for download from the Windows Store and fans of the sport can dive in right away.
Will exclusive experiences for sports fans bring more users to Microsoft's latest platform - what do you think?
For Windows Phone users, there is an official MatchDay app but it came out last year and has not yet been updated for Windows Phone 8 or 2013. No word if an update is pending, but we have a feeling it will be...stay tuned. In the meantime, you can check out our Football/Soccer app roundup.
Download the new Major League Soccer app for Windows 8 here in the Windows Store. (opens in new tab)
Source: Windows Experience Blog
Windows Central Newsletter
Get the best of Windows Central in your inbox, every day!
Yeah, if they could partner with the UEFA for a kick ass app, that would be great..

true. But please for the love of god it is called FOOTBALL! Just because americans call their sport football where a player barely touches the ball with his foot does not make european football "soccer".

Nice! Two of my favorite things: Soccer + Surface!

I saw them there yesterday at the game; NYRB season ticket holder. And it was nice to see Microsoft doing some public events. The WP App is like semi-updated in that the news/video sections work great but the scores/standings are out dated.

Follow Chris bettin on twitter, a developer for MLS. I see Xbox ads on MLS games all the time and somehow being a super fan of both Microsoft and MLS soccer is hitting a cross road where they both intersect, not to mention the sounders' Xbox sponsored jerseys look the best in the league. I hope they release a MLS live app for windows 8 and wp8 to watch the stream of the week and subscription, not fair it is available for iPhone and iPad when they do nothing to help the growth of the league. Anyways... Done with that rant. Dale Dynamo and Forever Orange

You guys have great taste. WP + Houston Dynamo = best group of people. Ever.

Now if we could only get MLB at bat....

Hah, I thought the same thing!

I read "Microsoft partners with Major League" and got excited for a second. I then read "Soccer" and immedately got depressed and lost interest.

Really wonder if MS has tried reaching out to MLB at this point.

I hope they have. Its kind of embarrassing that WP can't get an app for MLB when even Blackberry has one

I'm surprised at the amount of people I know say they won't switch to Windows Phone until MLB has an app.

It's a big deal to those of us who have a mlb tv subscription. It bums me out that I cant watch live games just because I'm on WP

It's funny, I'm a new Lumia 521 user and I just wrote an angry email to MLS (and some other sports leagues) over the weekend over the lack of an update MLS app on WP8, pointing out that with all the money Microsoft are spending advertising during MLS broadcasts AND their partnership with the Sounders, they should be able to do atleast something simple.
Hopefully something is coming soon.

It's called football because it's played with your feet!!

Welcome to the site, Michael. I look forward to reading more articles by you :)

Thanks Agent-P! Great to meet you! :D

My name is awesome and im from wonderland, Hello good goin microsoft

Nice, now they could update their already good WP app. Allez Montréal!

We want partnership with uefa or at least just epl

Yeah, hope a Premier league app comes out, but the MS sports app isn't too bad I guess.

Uh, I'm pretty sure the argyle kits Sporting have are the best, by far.

How about MAJOR LEAGUE BASEBALL WTF!!!!

Nice! I'm going to show this to my friend who is a die hard Apple fan and a soccer player/fanatic...

Premier League would be nice

This is so BORING TO ME. Then again I'm in the USA. soccer is one of the lowest rated sports in the US. I understand worldwide this is a good thing so I'm cool with it. I just wish W8 could get a official NFL app. If MS could get a NFL Sunday Ticket app that would really boost sales.

Nice to get exclusive content, but I will say, MLS Live already know works flawlessly on my Surface RT in ie. And the current mls app is pretty solid for team news and videos. I do like my android match day app, so if they can get that experience to WP8, I will not be losing a great app when I finally can upgrade from jelly bean hell to wp8 on sprint.

would be nice if we could get an official NHL and MLB app for W8 and WP8.

How is it that WP has been prominently displayed through out all the NBA playoffs...yet no app? Seems we would have got an APP first, or at least around same time.

The fact that M$ supports MLS is one of the biggest reasons I'm becoming more of a fan :-) of the Microsoft brand. It's the sport with the lowest popularity and appreciate all the support and I always look at the sponsors when making purchases.

Now if only NFL and MLB could get on board....

MLB has Exlusive Free for this year with tmobile but no wp app yet and Verizon has NFL , Sprint has Nascar
but now MS has MLS also thanks Michael for the Article now i can use it to check on the NYRedbulls.