NieR Replicant for Xbox and PC preview: A cult classic reimagined
There has never been a better way to experience NieR: Automata's predecessor.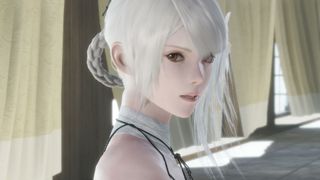 (Image credit: Square Enix)
While the incredible 2017 action RPG NieR: Automata received widespread praise from critics and players alike and is no doubt one of the best Xbox games, its 2010 predecessor, NieR Replicant (simply NieR on the Xbox 360), wasn't nearly as popular. Though many loved its story, characters, and music to the point where the game became a cult hit, the visuals were considered to be very lacking when it released. On top of this, the combat, while great in some respects, was also clunky in many ways.
These were issues that the developers of NieR: Automata learned from — and armed with these lessons, developer Toylogic and publisher Square Enix have returned to NieR Replicant for a second attempt. The remake of the game promises to be extensive, with improved graphics, deeper, more fluid combat, new dialogue and music, and new voice acting from the original actors. I was able to get my hands on the game to try it out ahead of its April 23, 2021 release, and while I haven't been able to play through the full experience just yet, the remake has definitely lived up to the hype so far. Here's why.
A new coat of paint
The marketing for NieR Replicant has positioned the remake's improved visuals as one of the best parts of the game, and after playing the game, I can confidently say that I agree with that notion. The original game's world was very dull and listless in a way that often felt in contrast to the tone of several of the game's themes and story beats, but in the remake, environments are a lot more vibrant, colorful, and just more appealing in general. This has driven me to become more invested in the game's world than I was in the original game.
In terms of the level of detail, NieR Replicant is about as impressive as NieR: Automata, which itself is a great-looking game. It's far from the most graphically impressive title out there, but it's beautiful nevertheless, and a significant upgrade from the original.
The thrill of fluid, satisfying combat
Another huge change in the remake is the addition of NieR: Automata-like combat to the game. The gameplay of the original NieR Replicant was serviceable, but compared to Automata, the game is a bit sluggish. In the Replicant remake, though, fighting enemies is every bit as fluid and engaging as it is in the sequel. Players can bob and weave in and out of combat with well-timed dodges, pull off beautifully-animated combos, punish enemies with counterattacks, and more with unparalleled responsiveness. Every fight is a thrilling and satisfying experience.
Aside from your weapons, there are also tons of diverse magic spells that you can bring to bear on foes. Some examples of things you can do between melee attacks include peppering enemies from afar with projectiles, sniping enemies with massive energy bolts, and dishing out huge amounts of damage by creating spears that jut out from the earth and into your opponents from below. These tools complement the primary hack-and-slash gameplay excellently, as they give you alternate ways to approach battles and options for creative mix-ups.
A great story gets even better
Finally, the remake makes several enhancements to the original narrative of NieR Replicant that makes the story better than ever. Firstly, the developers have introduced new lines of dialogue that augment the original's worldbuilding and character development. These new lines do a lot to help flesh out the writing and give it more overall nuance, which in turn leads to a richer and more enjoyable narrative.
Secondly, the game's entire script has been re-recorded by the game's original voice actors. While the initial performances were (and still remain) great, the new ones are even better. Each voice actor brings an entirely new level of depth, subtlety, and refinement to their role, and as a result, I've become even more connected to the game's story and characters.
Final thoughts
While I haven't gotten through the full game just yet, I've loved everything about the NieR Replicant remake so far, and I think every fan of the original will agree that it enhances the 2010 cult classic in every way possible. Whether you liked the original and want to see how the remake stacks up or you're a fan of NieR: Automata that wants to experience the best version of its prequel, I can't recommend checking out the remake of NieR Replicant enough.
NieR Replicant is expected to launch on April 23, 2021 for $60 on Xbox Series X, Xbox Series S, Xbox One consoles, PS5, PS4, and Windows 10 PCs. It's available now for preorder as well. If you don't think it'll be up your alley, make sure to check out our roundup of all the best Xbox role-playing games for alternative action RPG options.
Where it all started
Automata's predecessor reimagined

The remake of NieR Replicant substantially improves the game's graphics and visuals, overhauls the combat, adds in new nuanced dialogue, and includes redone voice work for the characters that's better than ever before. This is, without a doubt, the definitive way to experience the prequel to 2017's NieR: Automata.
Get the Windows Central Newsletter
All the latest news, reviews, and guides for Windows and Xbox diehards.
Brendan Lowry is a Windows Central writer and Oakland University graduate with a burning passion for video games, of which he's been an avid fan since childhood. You'll find him doing reviews, editorials, and general coverage on everything Xbox and PC. Follow him on Twitter.