Nike Kinect+ Training Review: Keeping fit with Xbox 360 and Windows Phone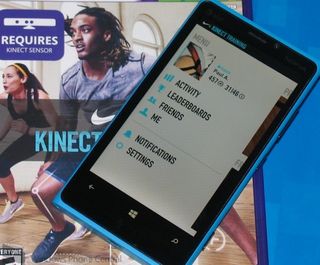 While the Kinect's suitability for gaming is sometimes a subject of debate, nobody can deny that the Xbox 360's motion peripheral is perfectly matched for workout games. Of all the consoles, only the Xbox 360 with Kinect can track a user's entire body positioning with any real degree of accuracy. Gamers who aspire to get into better shape without leaving the home have many options thanks to these Kinect workout games.
Microsoft has thrown its hat in with Nike and developer Sumo Digital (makers of the awesome Sonic & SEGA All-Stars Racing Transformed) to produce the most definitive fitness game to date: Nike+ Kinect Training. We know they're serious about it because they announced it on-stage at E3 (to a generally Kinect-apathetic crowd) and produced a terrific Windows Phone companion app to go along with it.
Live-action meets digital
A key area in which Nike+ Kinect Training stands out is production values. The game starts out with a live-action introduction starring real-life fitness trainers, and similar sequences precede certain parts of the game as well. These segments look like something you'd see on an actual TV fitness channel and should help non-gamers warm up to working out with a videogame.
Once the actual training begins however, players will be face-to-face with one of two digital trainers. Well, they're real trainers who voice and presumably provide motion capture for 3D representations of themselves. The game offers both a male and female trainer, so users can choose whichever makes them most comfortable. The 3D models generally look great, other than their robotic eye and facial movements.
Getting started
The first thing you'll want to do with the Xbox 360 game is connect it to your Nike+ account. You can create it directly from the console or just make life easier by doing so from the Nike+ website. By linking your account, all Nike Fuel Points earned will be trackable through the website. Unfortunately, Fuel Points earned outside of the game can't be shared or viewed within the game – a missed opportunity to make the game even more useful.
Next you'll need to go through an in-game physical fitness test. The game doesn't warn you beforehand, but it's a lengthy and strenuous test lasting around 45 minutes. I wasn't really planning to spend so much time with it my first time out, but Nike+ Kinect Training demanded it. Notably absent is any input about the user's physical condition before the session starts. Fit or fat, young or old, you're thrown into a high-intensity test with no say in the matter. Anyone who spends too much time sitting (like me) might just find themselves exhausted and feeling sore the next day.
Work it out
During Nike+ Kinect Training workouts, you'll see the digital training on the left side of the screen and a solid colored version of yourself on the right. You'll generally go through one specific exercise for a set duration of time, followed by a short rest period, and then it's on to the next exercise. As the trainer performs the target exercise, your job is to mimic it as closely as possible. The trainer will let you know if your positioning is off and things like that. Successfully performing the various moves fills up a meter and gets you Fuel Points.
Now, one of the Kinect's weak points is tracking users while on the floor. As a result, early fitness games like YourShape: Fitness Evolved often excluded traditional exercises like push-ups and crunches. My own Kinect generally has a tough time tracking my feet due to the way it's mounted, but I'm not moving it anytime soon. Luckily, the game makers developed new tools to help the game track users in positions close to the ground. This game can track my push-ups and such without problems – a remarkable accomplishment compared to my previous Kinect experiences.
Fit and friendly
The game has some cool cooperative and competitive elements to please those of us who dare not do things alone. If you need some company, try working out with another person online and communicating via Kinect video chat (pictured above). On the competitive front, the Weekly Challenge lets friends try to outdo each other at a single timed exercise. The Take on the World mode has players perform a new drill every minute as their progress is matched against a global leaderboard . Also, this game is compatible with the Kinect PlayFit app for Xbox 360 so it contributes to that app's overall social calorie-burning goals.
Ups and downs
Nike+ Kinect Training is a very well-made game, but I do have some complaints. The menus are styled after Dance Central's awesome menus but behave more finicky in practice. The menus also support regular controllers (always appreciated), but the controller doesn't work with certain screens like the title screen for some reason.
Also, like YourShape before it, this game doesn't have any actual stretches to perform prior to exercising. Stretching is super important and I don't see why fitness games leave it out of their regimens. I would also like more control over the length of my workout. There are two options: a quick 5-minute workout and a full workout which lasts about 24 minutes. Why not let us choose something in between as well?
Companion App
The game keeps track of a great many stats, and the app's primary function is to allow users to check those stats outside of the game. The app's interface is super slick and closely follows traditional Windows Phone design principles. The main menu page links to a calendar of the user's activity; a leaderboard comparing weekly and all-time progress amongst friends; a dedicated friend feed, the user's profile; and settings.
You can also pivot left or right from the main menu to access tiles dedicated to various other aspects of the game. These Live tile-like icons display your most recent session progress, progress towards the fitness program you selected in the game; a link to a friend's profile; your progress in the game's Weekly Challenge; and your Fuel Print. Note that for friends to show up in the app's features, they must be manually added to your Nike+ friends list via website. Xbox Live friends don't automatically get tracked.
The Fuel print is a graph representing a user's fitness and athleticism. Tapping on the Fuel Print opens up a detailed breakdown of your ratings and how they compare to people of the same age group. Fuel Prints can be shared directly to social networks like Facebook and Twitter from within the app.
Overall Impression
Nike+ Kinect Training for Xbox 360 is easily the best workout game I've ever played. The production values give this title a visual authenticity that budget fitness games typically lack. The integration with the Nike+ system should appeal to Nike enthusiasts everywhere, although I wish the communication between the game and website was 2-way instead of just 1-way. And the co-op and competitive workouts are perfect for socially-minded gamers. I only wish the game offered stretches and more workout customization.
The Nike+ Kinect Training companion app for Windows Phone is practically essential for anyone who plays the game and also rocks the coolest smartphone platform around. The app's interface and layout are both super smooth and functional. It does exactly what a companion app should by letting you analyze your progress and that of your friends at any time, basically linking you to the game in a meaningful way. It's too bad you can only view the progress of friends linked directly from your Nike+ account though.
Nike Kinect+ Training for Xbox 360 is available at retail or via Games on Demand for $49.99. The Windows Phone companion app is free and you can get it here from the Store.
Get the Windows Central Newsletter
All the latest news, reviews, and guides for Windows and Xbox diehards.
Paul Acevedo is the Games Editor at Windows Central. A lifelong gamer, he has written about videogames for over 15 years and reviewed over 350 games for our site. Follow him on Twitter @PaulRAcevedo. Don't hate. Appreciate!