Nitro Nation starts its racing engines with its Windows 10 PC and Mobile game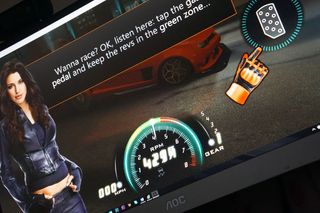 Developer Creative Mobile released its free-to-play racing game Nitro Nation for Windows Phone, and now the team has recently launched a version of the game as a universal app for Windows 10 and Windows 10 Mobile
In announcing the new version of the game, Creative Mobile stated:
Like its Windows Phone counterpart, Nitro Nation for Windows 10 is focused on the street drag racing genre, with players able to purchase, upgrade, and customize their cars so they can compete in both offline and online races with other players
I'll probably download this game because of the attractive woman featured in the screenshot...lol.

Be careful, this is drag game.

Does that mean she is a drag queen?

Hahaha. 1GB ram.. -_- 512MB is adopt child...

With storage of 200GB 1G is nothing

This comment makes less sense the longer you look at it

What the f**k.. Have they accidently released an app for WP? Look at the info.. It says most addictive android drag racing game.. :D :/

Project Astoria confirmed.

Maybe it is the most addicting drag racing game on android and now it's on WM10.

It is even present under Important label.. Says requires Android 4.x or higher.

Oh My God..
I was waiting for this game from very long time..

Installing. I'd like to see more older vehicles, from developers country of origin or available for sale in their country. Using the same vehicles in race games can get boring. Show me what moved your people around 20, 30, 40 years ago, even if it's slower than molasses. Anything can be modified to go fast in a straight line.

What are the controlling options? Touch only? Keyboard? Xbox Controller? Thanks. Posted from the sweet LG G4

I have played with an Xbox 360 controller, touch and I just tested the keyboard keys work. Best drag racing game ever. No silly timers for upgrades or fuel to replinish. Account sync works great across devices. NOTE: On Windows 10 Mobile, setting a password may capitalize the first letter and add a space between words! I spent about and hour locked out of my account and not able to sync anything. Example: if you type your password as "fordexplorer" the game may enter it as "Ford explorer" and tell you that your password is incorrect when you typed what you originally typed "fordexplorer" I found that signing in to a second device also works best with the Username instead of the email address as I kept getting an "email address not found" error mesage. I email the developer concerning the sign in issues.

Been playing this on my L640 for a couple weeks. Very fun game but typical of phone games 'pay or grind endlessly' for upgrades system. Still worth it, alot of events to keep you busy.

I would like to see pics of the games inside the articles that are about the game.

I've been saying that for months and he still doesn't include pics of the game in action. I know we can see pics in the store listing but having pics here would be more convenient for readers.

Hey john thank you for great article but did you notice that the game discription is for android?? like

IMPORTANT Nitro Nation requires an internet connection to play, Android 4.x or higher and 512MB of ram (1 GB of ram recommended)

?!!!

Wow, another drag Racing game on wp store......... How..... Exciting.............

The best drag racing game on the Windows store. Account syncing, no repair timers, no fuel that you have to wait on, fair progression, excellent graphics and crazy fast load times. I have played a lot of drag racing games, big named ones, and they all either have timers, fuel, or long loading times. Nitro Nation is a blast with the best UI in game and perfect controls. The graphics are top notch as well. It isn't just another drag racing game, it is the best. Even the shifting and nitro mechanics are well thought out with easy to see UI elements.

Better than Perfect Shift? I'll give it a try..

1GB RAM, shoot, have to get it for PC
Windows Central Newsletter
Thank you for signing up to Windows Central. You will receive a verification email shortly.
There was a problem. Please refresh the page and try again.