No end in sight for Microsoft office closures as COVID-19 looms large
Microsoft has indefinitely delayed its plans to fully reopen its offices.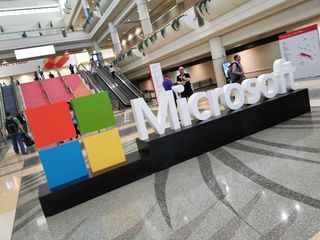 (Image credit: Daniel Rubino / Windows Central)
What you need to know
Microsoft won't fully reopen its offices in October 2021 due to the COVID-19 pandemic.
The company initially planned to have its offices fully reopened in July, but those plans were delayed until September and then October.
Plans to reopen are now delayed indefinitely as Microsoft says it will stop trying to forecast a date to reopen its offices.
Microsoft will no longer fully reopen its offices in October 2021. The tech giant began a limited reopening of its offices back in March 2021 and at one point planned to fully reopen offices in July of this year. Those plans were then pushed back until September and then into October. Now, the company has postponed plans to fully reopen offices indefinitely (via The Verge).
"Given the uncertainty of COVID-19, we've decided against attempting to forecast a new date for a full reopening of our US work sites in favor of opening US work sites as soon as we're able to do so safely based on public health guidance," says Jared Spataro, Microsoft corporate vice president of modern work.
The delays are in part due to the Delta variant of COVID-19. "The evolving Delta variant is compelling many of us to adjust plans for reopening worksites," explains Spataro. "It's a stark reminder that this is the new normal. Our ability to come together will ebb and flow."
Microsoft is helping lead the charge for hybrid and remote work, so its employees should be able to cope with the offices remaining closed as well as anyone. Earlier this year, Microsoft shared its vision for the future of hybrid meetings through Microsoft Teams. The company also discussed the growth of hybrid work after unveiling Windows 365.
News Writer and apps editor
Sean Endicott brings nearly a decade of experience covering Microsoft and Windows news to Windows Central. He joined our team in 2017 as an app reviewer and now heads up our day-to-day news coverage. If you have a news tip or an app to review, hit him up at sean.endicott@futurenet.com (opens in new tab).
Good, I'll send this article to my CEO. They tried to reopen fully, many people quit, now we're back to at home.

Unfortunately this is a reasonable decision. Even if you had a vaccine mandate, there's too much uncertainty about breakthrough cases and contact with high-risk individuals in a company with thousands of people. Also, WA state is not going to hit herd-immunity levels of vaccination and Covid (especially Delta) survivors for a while, and maybe never if the vaccines' power wanes quickly. Same with the other states frankly. This is a disaster of epic proportions. More people getting vaccinated earlier and India not incompetently handling the virus would have helped, but it may not have eliminated the problem in the long run.

Any company that can operate remotely should operate remotely for the indefinite future, imo. Cramming people into cubicles and desks isn't going to boost company culture or something silly like that, it's just going to put people's health at risk.

Yup, for places that engage in such hamster wheel practices working from home would be a massive relief. Also, it does reduce the number of vehicles on the road. Which means less road maintenance and less polution. Similarly, less people on the trains means you don't become a human sardine crammed into a train twice a day. So no commute which means many people will have more time together with their families. Plus, businesses can scale down their office space requirements - reduced costs on leases. In doing so overheads like utilities is reduced. Which ultimately puts less strain on the grid. All the large tower blocks of offices, can be repurposed to provide affordable community housing. As well as hydroponic farms for fresh food production. On the flipside, as much as enjoyable working from home is for most folks. As long it's not accompanied by a nationwide lock down. People's mental health would improve too. However, there is still going to be many cases of clausterphobia after awhile - especially if your stuck working long hours in the same space or in small flat / apartment in a expensive city where space is a premium. I do hope, remote working becomes the norm due to benefits mentioned earlier. However, the entire landscape of home building has to change too. As instead of wasting space for ground floor car parks for blocks of flats that section can be used as a nursery for the families in the block. As well as shops for daily necessities, cafes etc. That would apply to car parks directly under the block. For blocks with large external car parks, they should become greenspaces and mini parks. Ensuring they are clean and well maintained will also create / maintain jobs. For blocks with underground car parks, they should remain and have electric charging points too. Ensuring they are upto code and maintenance will also create / maintain jobs. Anyway, i'll stop typing before i type up a novel lol lol.

I am still working from home, office job, 1.5 years later. Would love to do it permanently, but that's a pipe dream right now, sadly, unless I switch to a new employer. Working alone would not have worked for me, and I don't. Working from a 1-room apartment would also have caused a breakdown I suppose, and that's not the case for me either. In some cases, left-over space can be rented out to a third-party, if given their own keys and door or something. I do understand that people are different. Those who are super-social should be able to go sit in an office, but you are 100 % right that it does not mean everyone need to go back, crammed into a small space again. Just let the social people gather in a safe way. There will be a lot of empty space to use when the rest works permanently from home.
Windows Central Newsletter
Get the best of Windows Central in in your inbox, every day!
Thank you for signing up to Windows Central. You will receive a verification email shortly.
There was a problem. Please refresh the page and try again.