NOAA Hi-Def Radar is a new and powerful weather app on Windows Phone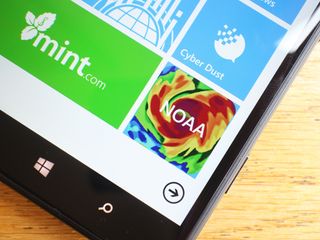 NOAA Hi-Def Radar is now available on Windows Phone. This powerful app brings real-time high-definition animated weather radar images to your phone. This app comes from WeatherSphere, the team behind the popular Android and iOS app of the same name. With NOAA Hi-Def Radar, you're getting a beautiful and functional new weather app for Windows Phone.
Here's the list of features available in the initial release of NOAA Hi-Def Radar for Windows Phone:
Install and go, no complex setup
Sharp images
Choose between Radar layer for rain or Cloud Coverage layer.
Check the current weather + forecast for any point on the map
Fast Loading
Near real-time, shows the latest radar images within minutes of being gathered.
Bookmark multiple locations for quick access
Intuitive Play/pause/manual modes for moving between frames.
See images from up to 6 hours ago by increasing frame interval and number of frames to maximum
Supports Portrait and Landscape modes
Get fast support from within the app
Why NOAA Hi-Def Radar for Windows Phone? It has a few features that are unique. For example, this is the only app that allows you to control the loop speed and that automatically augments land-based radar images with the latest images from NOAA satellites.
Most of you don't need to know the weather beyond what you can learn in apps like MSN Weather. For those of you in areas with constantly changing weather NOAA Hi-Def is worth checking out on Windows Phone. There's no trial, but the app does work on 512 MB devices. Windows Phone weather aficionado? Let us know what you think of it after downloading and playing around.
Note: The National Oceanic and Atmospheric Administration (NOAA) is a scientific agency with the U.S. government. Therefore, this app is only useful for those in the US, including all 50 states and territories including Puerto Rico and Guam.
Thanks for the tip Daniel G!
Windows Central Newsletter
Get the best of Windows Central in in your inbox, every day!
Finally! An app that the store thinks is there!

Can't download it in Austria :/

NOAA is a US government agency. Will update for those not familiar.

What is the "Cyber Dust" app? :P

Try to scroll down from this article and you'll see it.

Yea thanks! Went to the store and saw it! Neat app

I am in USA, this app is still not useful because I want to check the weather in Thailand. I'll stick with weather bug.

Try Amazing Weather HD... Set up multiple locations around the world to just scroll through as needed. It's a pretty smart app, looks nice and plays nice with WP. I'm still gonna try this NOAA radar as I am a bit of a weather geek. LOVE me some NOAA, but would not expect it to be world-wide.

I'm guessing this is only useful to US residents?

Since the NOAA is an American agency, the answer is yes unless you are outside the country and curious about our weather patterns. :-)

Perhaps the author should have explained what or who NOAA is. Personally, I thought he was the guy who took all the land animals onto a homemade boat during that huge flood where all the sea creatures ruled the earth.

I don't think that ever happened. Makes a nice story though.

That's one of those stories that's hard to discount though. Like how people on opposite sides of the planet have been telling their own separate flood stories for millennia.

I agree, I doubt it happened at all. It's just ridiculous to suggest that suddenly there's a huge extra amount of water on earth to cover all land masses then it magically disappears again. Same goes for all those bronze age shepherd stories, they are based on the knowledge of the people at the time. We know now there are millions of species of animals but think how many animals the original author(s) would have known of. They'd never have seen giraffe or elephants or anything outside of their walkable radius so it didn't sound impossible to fit "all" the animals on a boat. Anyway, how did we get onto this topic? :D

NOAA National Oceanic and Atmospheric Administration: the USA National Weather Service. http://www.noaa.gov/ You are thinking of Noah as the builder of the Arc.

Gee, thanks for the clarification Mr. obvious. :-)

No, no. Thank You, Susie, for being such a charming girl.

A quick Bing search would've told you exactly what NOAA was. Could've done it in the amount of time it too you to comment.

I wonder how the images compare to MyRadar...

Yeah...would be nice to have a trial to check the views, zooming, and animations.

How would we know anything about your radar??

Kurtd, MyRadar is an app. Hahaha

Oh, that's cool. What's your radar app called? I'd like to take a look at it.

The vast majority of radar images published in the US (including those used by MyRadar) are eiither raw or derived data from NOAA/NWS radar sites. The only differences in final presentation are how quickly they are pushed, if any smoothing is added to the raw images, or if any value added products are included from the raw NOAA feeds. I do not have the referenced NOAA app (3rd party, not published by NOAA) and cannot attest to its similarity to MyRadar (which I do have on my WP). I use radar regularly with my flood forecasting business, and I often just link directly to the NOAA/NWS radar for quicker access (no 3rd party lag).

I love weather apps but without a try before option. Its a no go.

I thought that's always sunny in Philadelphia.....hm bummer

It also seems it never rains in southern California.

Why pay for an app backed by govt? We already paid in taxes right?

Good call. They just waste our tax dollars anyway.

It's not an official government app. WeatherSphere just pulls the data stream from NOAA the same way TWC, AccuWeather and everyone else does. Same data, just parsed differently. Frankly I'm surprised they get away with using NOAA intheir apps name.

You can use NOAA's website to see weather data: http://www.weather.gov If you want a more capable viewer you can purchase an app that displays the same underlying data but with a more convenient presentation. For example, most radar apps let you zoom in on the radar data so you can see the details clearly. I don't know anything about the program in this article so I can't comment directly on it.

What about support for Live Tile?

If there was a trial available, I'd consider buying it. But I'll stick with MyRadar for now since I can't tell if this app is better.

I bought it. YUK. I measure weather apps by what Weatherbug gives me and this ain't even close. Wasted $2.15; yes I had to pay tax also.

Anyone with live tile not working?... Or it's like that...

Sad there is no trial available, already have my radar with all the extra in app purchases that works great. Would definitely have tried it to compare them and possibly purchase your app so you may want to reconsider decision.

Think I'll stick with Weather Radar Live from Tregware...

Can't try it so I won't buy it...

Nice. Looks awesome. For years NOAA has always been my go to site for accurate weather information on my desktop PC. Wish there was a trial for this and available on Windows 8.1/RT.

Be aware that this app is not published by NOAA. It is a 3rd party app.

For two bucks, I'm buying it to support our platform and our developers. Plus, I love weather apps! (yes, I do own MyRadar with all the IAPs purchased as well!)

Let us know how it compares to MyRadar after you've tinkered with it for a while. A trial version would really help.

Currently stalled during the download... "pending". :(

Downloading as well... Ed is right. Don't let $2 hold you back from enjoying your platform.

I hear ya, but I have paid for at least 3 so far that I can remember. Looking for the right weather app that has has great weather forecast and great radar with alerts. So far I'm using two to bridge the gap with MyRadar as one of the two. MSN weather is currently the other, but I will at times use Amazing Weather or Weather Flow instead.

Well so far it seems good. Guess I'll have to wait for some rainy/stormy weather... to evaluate. My state has clear skies tonight! ;)

Shoot, I've spent over $40 already this month alone in apps and games.

I've had it for IOS for a while now. Pretty good.

Hmm, download stalled "pending" grrrr...

Nice. Looks good. Loads fast, flexible. Forecast screen looks very nice. Add locations from map scroll and pointer or input a general location like a city and add that or even a specific street address. Have just added my in-laws house so I can keep an eye out for them during tornado season. Seems very useful ], easy to use, weel thought out, practicle and functional. No Live Tile is the only draw back.

Does it have any large tile functionality like weather.coms radar image and flip to conditions on one side, or like the ms one where one side of tile shows the 5 or 10 day forecast?

As I stated just above you here... No Live Tile.

I stick with buienradar, much better information and a working live tile with updating weather radar images...

Not available on my device ? Lumia 1520 uk
Windows Central Newsletter
Thank you for signing up to Windows Central. You will receive a verification email shortly.
There was a problem. Please refresh the page and try again.