The Nokia 3310 to get a Windows Phone refresh, but only if you dream hard enough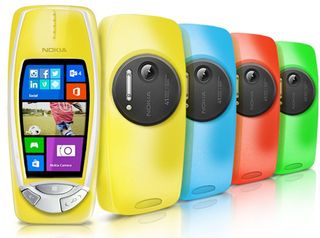 The Nokia 3310 is an iconic phone. Nokia released the mobile phone way back in the fourth quarter of 2000. It went on to sell over 126 million units. The inability to run Windows Phone is by far the biggest drawback of trying to use the Nokia 3310 today. Which is why we're pretty stoked that Nokia is giving the 3310 a modern refresh. Live tiles and 41-megapixel sensor? Sign us up!
Nokia has stayed true to the original design of the 3310, but has added a few modern twists to the internals. Inside you'll find the same camera power that you get in the Lumia 1020. How about a 41-megapixel sensor with Zeiss optics and Xenon flash? Baller.
Here's Juha Alakarhu, head of imaging tech at Nokia, on the refreshed 3310:
Of course this is an April Fools' joke. But it's pretty hilarious. Head on over to Nokia Conversations for the full specs of this fictitious phone.
Source: Nokia Conversations
Thanks for the tip Kyle!
Windows Central Newsletter
Get the best of Windows Central in in your inbox, every day!
April Fools but the built looks awesome :D

I love this april fools' joke

I think you missed the spirit of April fool's; people are supposed to actually be fooled, and this was way too obvious.

It still did put a smile in my face

Bah the joke is on them as it's after 12pm here :P

Hey guyz there is a Chinese website who leaked developer preview for wp 8.1 and you can download the same using nokia care ..... I am downloading now

Also the new nokia firware name wud be Lumia Crimson Red....

I'll take that rather than "Cherry Blossom Pink" which sounds really gay (no offense meant for LGBT :) )

Nokia firmware will be Lumia Blue,

I doubt coz its Amber, Black, now it has to be C.....

Well, Cyan is a shade of blue, and it's very common with Nokia stuff....

Its is not an alphabetical order thing, it is blue and I have seen it.

Oh cud u let me know.... Whr have u seen it

Can u check this : http://wmpoweruser.com/forget-lumia-blue-wp8-1-screen-shots-reveal-lumia...

Now say it is gyan official announcement

Jokes aside... Nokia please give me a new cyan phone :)

Isn't the cyan 920 only on AT&T?

Nah, I am using cyan L920 free from any carrier. Bought it from Jordan. I think it is available only in Europe and MEA.

it's nowhere to be found here in Cambodia, even the box doesn't show cyan!

I really hope that the Lumia 930 not making it in time for Build is an April Fools joke too, cuz I'll be like ha ha.

I agree. The cyan devices look amazing. Was really hoping for a cyan 2520 or 1520.

Cyan is kind of an old color now. It was made to introduce the L900 sporting windows phone 7. But with the introduction of windows phone 8 , Nokia decided to go with yellow to represent WP8 . I wonder what's next ?

Cyan is never 'old', period. Anyhow something tells me that Orange is the next main color.

It would make more sense if they use the deep blue color as the new face because its gonna be called windows phone blue

Well, the next firmware from Nokia is called 'Cherry Blossom Pink' but that doesn't mean that we're gonna see a pink Lumia lol. But who knows :)

The cyan 820 shell is a damn rare sight I tell you.

You ruined Nokia's joke with the title xd

No two stage camera button, no sale! What's Nokia thinking?!?!?

Bigger news.. Surface 2 with LTE for $499 at best buy! I'm still so happy I got that

Actually... A bit awkward...

Lol! It looks fabulous though... Dreaming....

Funny... But it does look pretty.

The screen look like a coffin

awwww look at the widdle 3310. its cute :3

I remembered the way Nokia fooled us with the awesome microwave with WP8 in it... *rofl*

You are right. I ve also one microwave..

Ring, ring, ring, ring, ring, ring, ring, bananaphone

lame prank!
btw make 'space impact' for windows phone

Lol Sam even reports this

I know, I'm just waiting for the darn WP 8.1!!!

Does it have Qi or PMA? Damn you AT&T! Posted via the WPC App for Xbox One!

Lol! I wonder if it ships with 8.1? Posted via the WPC App for Android!

Sorry. No wireless charging.

But it will pick charges electrons from thin and you will never need it to plug into wall socket.

Wow, did not know there was an WPC App for the Xbox One. I don't own one yet, and while I knew that there were apps for it, I did not know how developed the app market was for the Xbox One. Unless that's a April Fools prank as well. God I hope I get a job soon so that I can buy one.....

You were pranked. It was a good one too.

Happy April fools hahaha good one wpcentral almost got me :)

Weird designs should be back!

Pass the tissue. I just came

Lumia 3310... "It started of as an April's Fool joke... Then, Microsoft (our cash cow) bought us and we dare to dream again"

Meh... battery's too small. I doubt I could get more than a few days of life out of it.

Indestructible phone, indestructible OS.

Lol I nearly fell for it ... :D, the screen design looks so impractical that it made me wonder if its fake

Its not a bad idea though !! They could create limited edition pieces for this epic phone ;)

So cool looking. Wish it were real.

Worst fools day prank ever..

I feel for it :P too bad MS build is today lol

I bet if this came out, especially in the European and Asian countries and with a decent price, it might sell well. I remember the days of aftermarket car stereos switching to electronic buttons but never caught on as old fashion rotary nobs were well loved. One day phones like these will come back and even phones with qwerty keyboards will be a hit again.

Classic and still the best. Posted via the WPC App for Android!

Would one ass ugly phone lol. I hope it really stays at a April fools day joke.

.... I'm forgot that that's 1st of April and was shocked at first

Wow the 3310, My first Nokia. Cmon Nokia bring out a limited edition with color screens.

You guys almost got me until I realized it was April 1st.

Now I know why BUILD starts on 2nd , they are "serious" about WP8.1

Wow that one ugly Obama phone.

I believed the headline. How stupid of me even after knowing its April fools day. Didn't expect to be fooled by wpcentral..:D

Love it, well done guys great choice for a phone ;)

Can't imagine how difficult using the keyboard on this would be...

But the idea is good. No need for 41mp, a little inexpensive Amoled, iconic shape, a decent camera. Nokia could sell millions if the price was right.
I like the shape of the Aprils fool design... Screen could still be a square.

I had one of these phones. It was dark blue. It was my second phone. My first phone ever being a Nokia 2110i. It had the extended battery so it was a brick. But man did I love holding it between my cheek and shoulder (while driving)and biting on the antenna to pull it out. Those were the days.

Nice joke. But Google making windows phone will be a real joke! Happy April Fools day!

*Heavy breathing* WHO'S YOUR GOD NOW ???

You heartless b******s.... lol

Definitely using my upgrade for this if it comes to AT&T! ;-)

Hahahaah! but damn! It looks awesomely cool! I would get one. Will add it in my collection.

PLEASE PLEASE give This Phone *_*

Just the screen shape and tiles alone are hilarious. I bet whoever mocked that up was laughing his or her butt off. :)

Come on guys, here's how April fools jokes work: you can't throw the joke and say it's a joke straight away, in the same article.

Not everyone gets it though.

Awww this made me miss the days when phones have bold and unique designs. Every smart phone now has common design core.

Where are those guys that will comment on the bezel? where the eff are they? where are the guys who says seems faster? where the eff are you!?

how many of you would buy it just for the removable battery?

"but only if you dream hard enough" made my day!!!

Maybe Nokia can use the design to make smart pureview camera - just like galaxy camera...

BBM for windows phone 8 released......

That phone would survive all falls

Nokia can bring the N series and engage and communicator design with wp

Ohhh no this one doesn't have dedicated camera button..

A little over the top. April fool's jokes are supposed to fool people.

C'mon no one's gonna believe anything today

Hmmmm....I remember a similar 41MP Nokia Windows Phone device.... http://www.phonearena.com/news/Nokia-Windows-Phone-with-41MP-PureView-ca...

Not funny and the phone looks hideous. Try again next year Nokia.

I guess the "taking the news seriously with newsroom" was an april fool ! Oh , and a it seems faster .

y don't they release 8.1 today...april fool for googlers

Best April fools joke ever! :'D

Lol you know...this phone, if they managed to make it true, could very well be Windows Phone's best chance of ever reaching double digits and even become the number 1 OS. I can't count the amount of Android and iPhone users I know that say they wish they'd bring the 3310 back. So perhaps Nokia's R&D team should pick up this joke and try to make it real...lol

I would buy the hell of it. Loved the weird designs nokia phones had back in the day.

That's pretty darn funny. I remember having one of those guys, back before Nokia exited the U.S. market and everyone here forgot who they were.

Ah a Windows Phone that you can go a week between charges. The good ol days.

I might buy it if it hit the shelves... Darn Nokia ;)

I like the way the tiles curve at the top. Could work on a Windows Watch.

April fools news are so childish and stupid...If you take into account the time and work it takes to put together the fake article, you'd think they are wasting money. I wouldn't do these in a site of my own.

Nokia should have released a 3310 carbon copy, but with S60 3rd (like what we saw on the E5), a 2000 mAh battery, a crappy camera, and a Cortex A5 processor. Dreaming is free, but that phone could have been a beast, even with Symbian.

Would love to have one of those!

Daaaaamn, I was about to trade my 1520 for it! Lol

You know I was wondering where the time is on the top? There is no time at the top right like all other wp

That must be a april fools joke. If nokia releases it, it will become a fool....

I thought this was true. Old looking phones are a trend in Japan

Funny thing is that I bet it would sell!

Haha, good one! Posted via the WPC App for Android!

Damn i thought it was real n wud seriously buy it for sure

Curved display looks a bit forced here.
Windows Central Newsletter
Thank you for signing up to Windows Central. You will receive a verification email shortly.
There was a problem. Please refresh the page and try again.