Nokia to announce the Lumia 630 in the Philippines tomorrow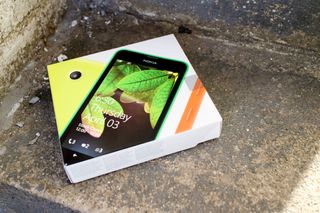 We just covered the Lumia 630 announcement in India, but Nokia are also set to launch the Windows Phone in the Philippines. The company will be holding an event in the region on May 13. An affordable smartphone with quad-core processing, the latest version of Microsoft's mobile operating system and more certainly makes the Lumia 630 package more appealing to consumers in targeted markets.
While we eagerly await the official unveiling in the Philippines, be sure to check out our unboxing of the Windows Phone for our initial impressions of the handset. We'll also have our in-depth review published in due course.
We'll expect to have more details on pricing and availability tomorrow. Stay tuned.
Source: Nokia Revolution
Windows Central Newsletter
Get the best of Windows Central in your inbox, every day!
Rich Edmonds was formerly a Senior Editor of PC hardware at Windows Central, covering everything related to PC components and NAS. He's been involved in technology for more than a decade and knows a thing or two about the magic inside a PC chassis. You can follow him on Twitter at @RichEdmonds.
UK suppose to be this month according to Carphone warehouse the 930 next month

They better hurry before China takes the 630 away from them too lol

The Chinese need to leave them alone.

yeah... they've been bullying us for so long... ever since..from businesses.. everything... chinese people has part (i;m not being racist.. im just patriotic), Unless US make us your 51st state lol! just kidding haha!

I heard chinese are building your country a transcontinental highway

hahaha! yep! i'm waiting this for the long time! and finally it's here tomorrow! unless china invades us hahaa! but hopefully the 930 arrive also soon!
btw, is there any report how much it'll be here?

Been checking the Nokia 630 UK page and others every few hours to try and get hold of it just for 8.1 however still no news, hope they release it before next wekeend for some weekend 8.1 exploring :-)

This is great news! Am glad they are giving some love for the Philippines : ]

Nice! But, I will wait for the 930, as 1520 is too big for me. Not to mention 930 has 8.1 out of the box.

If only the 1520 would hurry up and release with the green color or in an orange. I dont get the hate that the 630 is receiving. It's being panned by the community it seems

It seems they want the 630 to pack the same hardware as the high-end Lumias...

Yes! I so want the green ;-)

I want the 930 specs with External Storage, Glance & Touch to wake support as 1520 is too big for me.

Even I want that but I think I should wait for gold finger next year. I'm satisfied with my Lumia 720

Ironically there's a store that sells them already for north of Php8k.

It was Fone Style (something like that) in Glorietta 2. They had a 630 on display.

i hope they also release Nokia Lumia 2520 tablet here in the Philippines, it will be a good compliment to my Lumia 1520.

Ok, now this is starting to feel personal, UK dates, aaarrrggghhh Feel better for that...

I just thought some of you guys would agree with me on this one and vote: OneDrive application on the phone has no option to sign in/out, any one who get hold of your phone have access to your data on your OneDrive. http://windowsphone.uservoice.com/forums/101801-feature-suggestions/sugg...

Cool! I've already seen a lot of local gadget stores promoting the Lumia 630. Y'know, with dummy phones and posters and stuff.

Isn't it about time you guys stopped referring to Nokia? The entity now known as Nokia is not launching anything phone related, so that name shouldn't be used anymore.

You're right, I suggest ' the Phone formally known as Nokia', or maybe we could just draw a picture.

Damn, my 620 even tried to insert a picture of a Phone for me, but emoji are blocked in comments it seems

Nope, the 630, 930 down are the last Nokias, its still applicable here. :P

Always happy to see news for the Philippines from WPcentral

Yep, same here. And, it's good to know the WinPhone community in the Philippines is growing!

Oh yeah.., sometimes i wanna hug people who r using a windows phone.., hihi.., really hate that there only few users that i cant even find any nokia accessories anywhere but the nokia store., and they dont have cases.., i asked a lady from a store yesterday and she was like "NUKYA??" LOL

Same experience. A sales lady once said, "LUM-YA??" Haha.

I love announcements about announcements.

Don't you guys means ... Microsoft to start selling ?! Since Nokia doesn't handle that stuff anymore

Xbox subscription and mixradio please.., still not available in our region.., haiz..,

wow but gonna wait the 930

what is the meaning of this guys? announce only? not release?..

In previous years, the Philippines usually was one of the last countries to get the new Lumia phones! How refreshing that this time around, the Philippines is one of the first countries to get it!

tom will release the lumia 630??

FYI only in the philippines that there are more nokia phone owners. than samsung and apple. Even lumias and ashas are hit here in the country

If they would only promote Lumias here in Philippines. All I see is Nokia X ads on GMA. I'm looking forward to the 630/635. Can't pick if LTE or dual-sim. Posted using Samsung Galaxy Note 10.1 (2012) via WPCentral App

I read a news that recent survey showed that Nokia is still the most popular mobile brands in the Philippines. It's interesting to know 'coz I know that the market is flooded with Chinese brand phones and local brand but made in China phones. I wonder, maybe the survey is talking about "dumb phones" only.

Enjoy reading comments from my kababayan...

How much folks? Cant wait this wp 8.1

They should release a dualcore 8mp dual SIM Nokia phone, that would sell in countries like the Philippines.