Nokia Lumia 630 launches in India; available starting May 16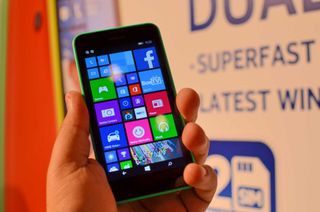 It's here! In a press conference in New Delhi, Microsoft today announced the availability of Nokia Lumia 630 in India. The Windows Phone will be available in the market from May 16. As was expected, there was no mention of the Nokia Lumia 930 at the event.
The Nokia Lumia 630 comes in two 3G variants and is the first Lumia with dual-SIM. The phone of course runs on Windows Phone 8.1. The single SIM variant will be available at a best buy price of INR 10,500 and the dual SIM variant will be available for INR 11,500.
Announced at the Build conference in April this year, the Nokia Lumia 630 features a 4.5-inch IPS ClearBlack display with 854 x 480 pixels resolution. It runs on a Snapdragon 400 quad-core processor at 1.2 GHz. There's a 5-megapixel camera on the back and a microSD slot behind the back cover for expandable storage. The Lumia 630 though does not have camera flash and packs in only 512MB RAM.
The Smart Dual SIM features an innovative dual SIM experience. Two separate phone and messaging tiles in different colors keeps calls, contacts, messages, and calendars of each SIM separate, although, one can also link both phone tiles into one and/or link both messaging tiles into one.
Also, the new SensorCore brings low power motion sensing to help people track their activity all day using apps like Bing Health and Fitness.
The phone boasts of a new matte polycarbonate design with changeable shells available in bold new colors - orange, green, and yellow - in addition to matte black and white.
Specifications
Operating System: Windows Phone 8.1
Display: 4.5-inch FWVGA display, ClearBlack LCD, Gorilla Glass 3
Battery: 1830mAh
Processor: 1.2GHz quad core Qualcomm Snapdragon 400
Memory: 512 MB RAM, 8GB eMMC with 128GB micro SD card support
In India, the Lumia 630 will come pre-loaded with premium video app BoxTV free of cost for 2 months, free eBooks worth INR 2000 on Flipkart, six free games by Gameloft, and the nexGTv app for cricket fans, allowing them to live stream all the IPL action for free. Also, all Vodafone subscribers can also enjoy 1GB of 3G data per month for a period of 2 months on the Lumia 630.
Dual SIM on Windows Phone has been clamored for since long in the Indian market, and Nokia Lumia 630 brings that advantage to users. Also, it's the first Windows Phone 8.1 device in India. I think Microsoft has hit the right mark with the pricing as well, Are you looking forward to pick or recommend one? Let us know your thoughts in the comments!
Windows Central Newsletter
Get the best of Windows Central in your inbox, every day!
Cant say that about the 930 yet, sadly... :(
Abhishek what's your guess about the 930 ? By when can i expect it out for release and/or shipping ?

Yea. For 1gb ram and less price.

Yeah, 525 with dev 8.1 and 630 can eat the s#it

Er...better processor, larger display, larger battery, sensor core & clearblack vs 1 gb ram....u serious?

Most of new games doesn't work on 512 Mb ram, i have Lumia 520 i know the frustration

I too have a 520....other than a few games....most work fine....
And I'm not a big fan of gaming on phones...but that could be just me

It must have been FEW of the games instead of MOST. I can name only subway surfers and temple run 2 not available for 512mb

There are a few others...and even few that run on 512 devices are not very smooth...bt like i said gaming on phone isn't important for me...
I bought windows for its fluidity & elegance... If u want to play games get an Android

You forgot that half of the gameloft games are not available for 512MB devices!

The thing is...games are a priority for u...so RAM matters....i don't game on phones much....so it doesn't...

Most of people dont buy phone because of games you know ...

I dont say it is bad product but leave free stuff aside and add 1gb ram, pretty unbeatable products could it be

Upgrading the H/W and providing free software is totally different...

You people should understand that 525 was specifically created for those on strictly limited budget who want to play the high end demanding games.
The general population need a relatively large phone, good display, smooth performance, long battery and dual SIM in a cheap ~10k price. 630 is specifically for them.

Bingo...!!!! We youngsters love gaming on our phones but our parents nd every othr doesn't bother low ram.. Phone is gud to have ..

You're right. I have a 720. I'm satisfied with that. There were a few times I thought a should have gone for 820 but in shoot with Lumia 512mb ram too as I find no emergency to upgrade. I have a god at home called pc for games. Now my next phone will be Lumia gold finger

Hahahaha me tooo havin 720 :)

I need the 930, should be much cheaper than the goldfinger too. Sadly, it hasn't even been announced yet..

Looks like we both are on the same train! I need Lumia 930 too! I am done with 520 now!
EDIT: If 930 is priced at anything around 35K then this phone is gonna be epic! But i doubt that!

They said its going to be 36k+taxes. But i doubt it (the price was given in dollars and converted to rupees) as 1520 is available at 37k, while it has a bigger batter, bigger screen and sd slot. So this should be around 34-35k i think.

Really, this vinay27 dude is just trash talking. The dev preview isn't even customised for his 525 by Nokia yet.

That's a lot of free stuff, and at that cost. Wow.

Don't know difference 1gb ram bring to table ??

Dude, why so aggravated? I know the difference, but you can wait for one if you want. Im just saying this sounds like a good deal with all those benefits. The net cost to the buyer will be below 8-9k, and that's brilliant pricing for any smart phone, irrespective of 512gb ram or 1gb.

And so it begins!!!! I do hope they maintain the low pricing here in the UK - I haven't seen anything regarding the pricing or availability so far...

Me too, it seems nobody has any idea about UK release dates - and just to preempt the standard reply, I dont have a contract, so dont ask me to contact my carrier, please.

And if you go to Nokia 630 availability page, UK is not even mentioned :( damn it Nokia (Microsoft), I want dual sim 630 here in UK now.

Totally agree, I don't use front camera, I have flash disabled for rear all the time, and I don't play games so this in dual sim for me is a gift and at this price would also be a steal

http://www.unlocked-mobiles.com/sim-free-mobile-phones/nokia-lumia-630-s... I hope/assume the price is a placeholder as it would translate to about €245 where it is listed around €150 everywhere else.

Amazing pricing. I am gonna replace my 520 with this now!

If you don't play games and just use apps then its fine. Otherwise give it a second thought as there is only 512MB RAM.

Ok affordable price with great free stuff..
But was eager to hear about Lumia 930 :( when will it be released in INDIA??

Nokia priority in Jamshedpur said Lumia 930 would come in first week of June, they would call me when it arrives

Hey really ? Do you mean it ships in the first week of June ? REALLY ? Or do you mean release in the first week of June ? Please clarify, I'm really anxious.

Customers will start getting L625 from first week of June, that's what nokia priority told me... I m too pretty excited ti have one n selling my L625

So Lumia 630 is kind of taking the crown from Lumia 520 instead of 620. I doubt we will see a Lumia 530 in the future. What I really want is a successor to Lumia 720 with 1 GB RAM, 720p screen and 920 camera module without changing the design. That will make a kickass mid range device.

725 will be better and the best piece 820 has similar specs to what I'm talking but price should be like ₹18,000

D specs u say is what even I want on 725 but that would shoot d price above 20000 4 sure...
They should give out an option of swapping 725 with a minimum amount with ur 720 I LL definitely do it ... Man... May this is be true

You guys still dreaming about 725?

They have a phone like that. Its the 920. Don't expect them to make a rather inexpensive product similar to an expensive one.

Price should be bleow ₹10,000 to attract ppl

It's a good launch price considering the free stuffs bundled. Will come below 10k in a month. A really viable option at this price point placing it between 525 and 620.

10500 is the price at Nokia stores. Retailers would give a little discount, so its likely that the market price would be 10000

Dont forget the cash back for online purchases via credit card.

Yeah and in Germany all the store said that it will be available starting the 5th of May. Since that never happened they now say 16th of May. I wonder if it will be available here at least at the end of May :)

Wow. Let the market soar!

Only if they added 1GB Ram this would have been my next phone

Need the full review of Lumia 630 pretty quick. Three of my friends from android are waiting for my approval to jump ship :P

I am disappointed by the 512 MB ram and no flash. They could have increased the price a little and added both. I'd be perfect.

Yeah, that's why there is a range of Lumias and not just two fruits. These specific demands of yours (and most of us 620 users) are sure to get fulfilled in the coming months. Patience is a virtue ;)

Any info on 930 release date in India ?

MSFT hit the right spot with the pricing. It will give tough competition to Lumia 520 and Lumia 525 in India.

525 is already a goner... It's not available in Indian market.. Except online...

525 is also available offline
u cn buy it frm any decent mobile store in ur city

I wait for an 830 or 730 with al little bit better specs than the 920.

I would rather wait for true successor of Lumia 720 than buying Lumia 630. Lumia 630 betrayed Lumia 620, Lumia 625 and Lumia 525 !!!

Me too, like a 730, or maybe an 830 would be awesome also.

I still have the same question, does it come with Lumia Cyan or not?

Is it with the nokia cyan update...?? If so then when it is going to come..? I already own 8.1 dev preview ,, waiting for the update....

Yes it will. Available from 16th may, election result day.

You're right. I have a 720. I'm satisfied with that. There were a few times I thought a should have gone for 820 but in shoot with Lumia 512mb ram too as I find no emergency to upgrade. I have a god at home called pc for games. Now my next phone will be Lumia gold finger

Awesome , my girlfriend was looking for a new windows phone, 10k for quad core processor, wp8.1 with cyan update out of box.

im expecting something like nokia 640 with 4.5 inch almost zero bazel and IP 67 , 2 GB ram with qualcom snpdrgn 801 with 2500 mAH battery and dual SIM option and thats my dream phone from MS

For free off-contract. Isn't it so? :D

Expect a dreaming high price for dat tooo :)

You obviously have no idea how the Lumia model numbering works.

Not impressive, at least they should have given 1GB and a Flash

I'm gonna get this or 625 for my dad sepending on how much he wants to spend. He is fed up of his Galaxy Grand Lagdroid! I would be happy if MS released a midrange Dual SIM with 1GB of RAM.

Too bad i brought 525 only 3 months old for 10200.now 630 is available at same price with dual sim big screen big battery etc...

No, you'd have missed out on the 1 GB RAM though.

525 is still a good device nd better than 630
the only 1 which better than lumia 525 in 15k range is moto g
525 secure a second slot in the list

That's the gadget market dude, today there is 930 tomorrow HTC one, then lg g3, iPhone 6 etc. Don't regret as you have 1 gb ram whereas l630 doesn't have it.

Well, I take all of my words regarding pricing back. This is priced considerably much lower than the Moto G, and is perfect for the features it packs in. Microsoft has hit the right spot with the pricing. Good times await.

But Moto g has an hd screen mate. I understand that this is a budget phone, but Moto g's screen is much better, while being a couple of grand more.

There should've been 1 GB of ram! Not worth buying! Waiting for #lumia930

Does the 630 have Glance? It has CBD so it should have Glance, isn't it?

It packs in only 512 MB of ram. I would still prefer Lumia 525

15.5 in Finland for 148€.

Any details about glance screen on that device

I cant buy it coz of unity games...

I wont mind paying 1000xtra for1 Gb ram..but who knows most indian people don't think of specs only some at here only knows its disadvantages

Nope not true always. Even a noob here wants a phone with 1gb RAM. But don't know what's the use of it. And windows phone doesn't need 1gb ram to run smoothly unlike laggy android

Did u played fifa....subway surfers...any unity games all need 1 Gb ram..not talking of ppl here in matrix or wp..check out the real world dude where ppl choose phone by just a brand

Who cares about 1Gig Ram, i feel bad for the poorguys who will use the Music app and will be frustared on a new device

Well you never know how well it works with the cyan update

Cyan will fix the Music app? Huh.

Cyan brings in hardware level updates specific to the OS, at the moment it's like running 8.1 on a pc with drivers for Vista, though it's compatible. The music app (and other apps) would definitely improve with the cyan update

Will it be available under exchange offers?

How's the battery performance with 8.1 because it is not stable in preview of developer version, I was downgraded from 8.1 for my 1520.

The dual sim is very useful.
when is the international version of 930 release?

Its Finally here. Lets see what firmware it comes with.

Can anyone tell me that Lumia 525 or Lumia 630 which is a better buy? And which one is more fast?
Does the performance of a phone depend on it's RAM or the Processor?

dude if you wanna play games go for 525 as it has 1 GB of RAM - because some games require 1GB of RAM like Temple Run 2, subway surfer,FIFA,and many more, I am not sure on the part of performance which would be better because 525 has a Dual core but with 1gb RAM and 630 has a Quad-core 1.2 GHz Cortex-A7 processor.

Thanks for the suggestions.. :)

1GB of RAM also be faster. Lumia 525 is a lot faster than Lumia 520 in performance.

If you don't play many games, go for the 630 as it has relatively newer hardware, and you get WP8.1 out of the box. 525 has a denser screen though, if that gets you going, because in comparison to other equally large devices, 630's screen might look sort of outdated because of its pixel density IMO. Of course, I'd have to check one in person to be able to comment for sure.

Currently i'm using Lumia 520 and I just feel that upgrading to a 525 won't be a wise decision as it is pretty much the same with just 1gb ram( I think that is the only difference). Lumia 630 should offer me a refreshing new experience with windows 8.1 so I think that 630 might just prove to be the perfect upgrade.
I'll be looking forward to the reviews of the 630 and then decide accordingly.
Thanks for the suggestions :D

Absolutely. You are right, 525 won't really feel new. Besides, the best thing about 630 is WP8.1. Its definitely a big difference and if you get cyan with it, it'd be truly cool, cuz I reckon it'll take ages for official WP8.1 to come for 525.

It could not have been launched at a worst time than this, as we know tomorrow motto E is going to be launched - much better specification than Lumia 630 and around 2 to 3 thousand rupees less the price

Much better??? Seriously??? Lets see. Moto e vs 630. Dual core vs quad core. Ordinary display vs gorilla glass display with clear black. 4GB internal vs 8GB internal. 1GB RAM vs 512MB RAM. 1900mah battery vs 1800mah battery. It seems to me 630 has much better specs than Moto e.

So u want people to buy a device which has half the RAM and less battery for more the price (i.e.3000 rupees more) . Seriously???????????????? as far internal memory goes moto e has sd card support so that not a issue at all.

But Moto's an android and this is a WP device. Very different. Each has its own advantages. :)

So you will take a device which has half the processing power(not to mention the power optimizations done on the processor) with a better display(not to mention the robustness & quality of gorilla glass along with sharp color) for 512MB RAM and just a 100mah juice??? I wouldn't recommend it. And difference is 3k? Is Moto E going to be sold for 7k? The import price in itself was 6300 according to indiatimes. So I think it will be priced at 8k+ after the taxes and other costs. PS: if you haven't noticed, Android with only 4GB internal memory tends to freeze lot many times than one with 8GB. Also in my experience, camera hardware from Nokia was way better than Motorola's. Since we do not have a review until now, I didn't mention it as an advantage of one over other.

For your kind information YES moto E is sold for 7K so you can through your logic of import price and all that crap down the drain.

Yes Sir... What about the better processor and other craps mentioned? Care to tell me how Moto E has better hardware than Lumia 630?

lets make truce you win 630 better than moto e,but being a microsoft fanboy and a google hater i am worried that moto e( and moto g) are going to kick the crap out of all other Lumia devices along with other android devices

Truce ;-) sorry but I do not usually pick fight(especially in net forums) but I was just hearing that Moto E is way better than Lumia 630 from many of my Droid loving friends ever since Moto E was announced and whatever rational arguments I make falls in deaf's ears. So I guess I took out the frustration out here :-D I should have known better than to argue with them(well, according to them Moto G is far advanced than Lumia 92x). Anyway, sorry to have bothered you :-)

Moto is basically selling phones at cost without profit which is not the case for MS.Also Moto service centres are utter shit from what my friends who own Moto G say.Also stock Android sucks

I was guessing MS might price the phone above 15k... Thank God that MS proved me wrong and priced the phone at a perfect cost...

Last I checked 930 can be preordered for ₹38k.

Walk into a Nokia store and ask.

Just got this from Nokia UK - "Hi Nick, the Lumia 630 will start selling in the UK at the end of the month - it won't be dual sim though"

If only, there's flash, nfc, front cam, 1gb ram. I definitely go for it.

Need at least 1 GB of RAM !!!

Hi,
I bought a Lumia 630 yesterday in Delhi and soon realised that the phone is getting heated up so I got it replaced with a new one at Nokia store but the new phone also is getting heated. Seems that 630 dual sim gets heated more than other Lumia device as I also have 720 which never get heated even after playing games and long calls. Has any one else also noticed this in 630.

I have been eagerly waiting for Nokia Lumia 930 launch in India .. Do you have any update as noe apple has launched iPhone 6 and 6plus but I guess lumia930 is the best phone to beat apple anytime.. Please update me with the same.. Lumia 930 in India???