Nokia announces the Lumia 1520, a 6-inch display with full 1080p display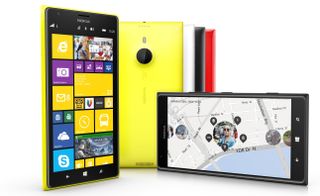 It's finally here. Nokia World 2013 is in full swing and the expected has finally happened. Nokia has announced the Lumia 1520, a device with many firsts for both Windows Phone and Nokia. It's a device many have highly anticipated, one that is set to rival large smartphones like the Samsung Galaxy Note family of devices. Here are the full specs for the Lumia 1520.
Like we've reported in the past, the Lumia 1520 is packing a 6-inch display. That display is notable for sporting a 1080p resolution, a first for Windows Phone. It's gorgeous and has your favorite features like Nokia's ClearBlack technology, super sensitive touch, great visibility in sunlight and Gorilla Glass 2.
Imaging is another area Nokia is very strong and the Lumia 1520 looks like it'll live up to those expectations. This doesn't have the 41-megapixel sensor found in the Lumia 1020, but instead a 20MP sensor. With the camera module you're getting Zeiss optics, optical image stabilization, 2X lossless zoom with oversampling, and dual LED flash for lighting up the scene. Bulletin point time for you speed readers:
Windows Phone 8
6" full HD 1080p LCD, ClearBlack, Sunlight readability, Super sensitive touch, Gorilla Glass 2
PureView 20 MP, ZEISS optics,OIS, 2x lossless zoom, oversampling, dual LED flash
Video 1080p @ 30 fps full HD video with optical image stabilization
4G LTE
Nokia Music for unlimited streaming of ad-free music
Free global HERE Maps and HERE Drive+, HERE Transit available in the Store
Microsoft Office built-in
Qualcomm Snapdragon 800 (2.2GHz Quad Core)
3400 mAh (integrated) with built-in wireless charging
Yellow, white, black, glossy red
We're very excited for this device and you should be too. Battery life is expected to be stellar on the Lumia 1520.
Stay tuned to Windows Phone Central, we'll be getting hands-on photos and videos up on the site soon.
Yep, and one of the most powerful smartphones in the world is a WP device, and the most advanced phablet in the world is the 1520.

This is not the most advanced phablet in the world.

The Note 3. Multitasking and a stylus with accompanying software. You can say you prefer the 1520, but to say it's superior to a phablet that uses the large screen much more effectively is simply wrong. Core OS aside, the Note 3 has way more functionality than the 1520, and there's really no way to say it doesn't.

Less is more. I've used a Note 3 and half the functionality are just gimmicks that hog memory. Even the S-pen is not worth a "pen" for just capturing screenshots and doodling ugly pictures. Way overrated. Screen is gorgeous though..

You're obviously not using it as intended. Not to mention that nearly every reviewer, even those who are pro windows phone, love the stylus in the note 3. The multitasking functionality alone is enough to make it a more advanced phablet than the 1520, the stylus is just another step. Other Android phablets are worse without the stylus than the note series, so is the 1520.

Most of the people buying the Note 3 will still probably use it like the Note 2, regardless of what Samsung intended or wants:
http://www.youtube.com/watch?v=0tMWHyZlsqc

I agree about the stylus, it's too bad that the 1520 doesn't come with stylust. for me it will be much more natural to write it down all the note I want to take than type it down using the virtual keyboard.
but, of course as WP fan, I will choose 1520 than note 3 everytime.

Just get a aftermarket stylus and keep it in your bag... I bet WP8.1 will bring some software features, similar to the productivity features found in the Note 3, to Office.. You may even see some future Lumia devices with a stylus.. Remember, we still have not seen a Lumia device that is to be a direct competitor to the Note line of devices.. In 2014 Microsoft will continue to flood the market with more diverse Lumia devices.. We still have a possible 11xx, 12xx, 14xx, 16xx,, and endless possibilities.. Maybe we should wait before we jump on the 1520 because there is definitely more to come..... Well, screw that.. I want my 1520❗

After market stylus and keep it in your bag? That is just dumb. The S Pen is not just a stylus. It is an important part of the phablet.

And yet thousands of people will root their Note 3 to use Cyanogen or some other form of stock ROM.

The stylus is a joke. And the Note 3 has pathetic software and even worse hardware.

More likely the majority of Note 3 customers will use the N3 strictly as a stock media consumption device, and forget that it has a stylus.. This is reality.

So, you're saying that a 8 inch tablet is not good because it doesn't have a Stylus❔... You're saying that two page Word document that I typed out in office, on my 920 with a 4.5" screen,, wasn't a breeze❔.. You're saying that the majority of interaction with the screen of a phablet would be conducted using a stylus if it was available❔ Does the average consumer care that much about the productivity of the N3, or are they using this as a consumption device for the most part❔... I think you have some defined notion about what a Phablet is mostly, or supposed to be used for.. A lot of people, probably the majority, aren't buying, or wanting a phablet for it's productivity.. They are simply looking to have a bigger, and better media consumption experience than a conventional sized smartphone.. And while the stylus is a very nice, and useful, feature,, it's just one feature, and it doesn't single handedly define if a phablet is going to be more enjoyable or not.. As a matter of fact, for most it's barley going to make their experience with their tablet, excuse me, phablet, more enjoyable... Look at the big picture, and the reality of what a phablet is mostly going to be used for, then think about what the "total package" really means... IOW,, think outside of your own personal use, because you obviously use your stylus a lot more than the average consumer, or what most of us here would ever do.. And, I'm sure if Nokia's market research said any different than what I'm saying then that 1520 would have a big fat stylus shoved right up it's ass...
The main point is,, where is it written in stone that a phablet has to focus on productivity, work, and bordom❔..... You take your N3,,, and we'll have FUN with our 1520... So, now everyone is happy❕.. Case closed❗❗❗❗❗

Sounds Subjective.. So, I prefer what the 1520 has to offer, and you like the Note3... Seeing that the Note3 is running Android, in my opinion whatever software it has is just not good enough, and I think the 1520 has more features that I would actually use on a everyday basis... You don't think that the 1520 has the software that you need to consider it the best phablet, and other features, besides a stylus, just aren't that important to you... So, It's all subjective on both of our parts... The only thing I know is that three guys at work have a N3, and they don't use half of the features on it as I do on my 920... And, my 920 has features that the N3 doesn't that they wish they had.. I'm talking about useful things like wireless charging, super sensitive touch, glance screen, OIS, dual HHAC mics, clear black, the fastest screen refresh time-9ms, XBL... Those guys were all laughing one day saying that they haven't even pulled the stylus out yet... So yes, In my eyes I would rather have my 920 than the N3, and the 1520 blows my 920 strait to hell... Is anything going to convince me that the Note 3, with a smaller screen, fake leather back, and some software suite, and a stylus is better than the total package of the 1520❔... No... But, that's just my opinion,, because it's all,,,, what❔❔

+1 to twelvetudors. They really need to add a like function to the comments area.

And a thumbs down button..⬇⬇

Agreed. I have the Note 3 and I use most of its functions and features. If you buy the Note 3 and only use it for phone calls or texting or FB, then perhaps you should use the 1520 or a 5s. Also, my previous phone was the Note 1. There was so much you could do with its S Pen and the Note 3 has added tons of more features for the pen.

at last they made a device with sensible bezels, but its too late, it will be doa in a couple of months when nokia is handed to microsoft

And guess what it has fm radio

Yes, and it even has "a 6-inch display with full 1080p display". Yo Dawg, I heard you like displays...

I see your display about displays.

I would love a 1520 with a stylus. "Case closed!"

want it just to have it. even though I already have a 1020. no microSD tho? :/

I heard her say 32GB AND expandible to an additional 64GB!

you are correct. SD support included. Finally!!!

Just don't put apps or maps on it :)

It has expandable storage,, and I want it NOW❗❗

Fantastic! Need to request an early upgrade.

That's what I want to know.

162.8 x 85.4 x 8.7 mm, 209 grams...

yeah.. that weight is making me reconsider.. sadly.. I have a 920 right now and wanted something lighter.

so you expected something with 1.5 inch more, with 1.5x mAh and the bigger cam to be lighter

One can always ask right?

Nokia dropped the ball on this one, I just got their wireless car charger and the widest it will open is around 84mm. They didn't plan ahead so well.

Its so thin! I'm amazed. Nokia good job!

sweet mother of GOD!! this is nice.! now im looking forward on having it!!


$749, fair enough, Similar to note 3.
I wont have the $$ for one though, kinda broke after buying my first dslr.

What is the Front Facing Camera ?!

The device is really thin , hope not too heavy .

Built in wireless charging :D

Yeah, that's what I noticed too! From what I recall, that was the only item not previously leaked.

Does it really though, this is driving me crazy. Almost everywhere is saying built-in, but at Att.com/lumia1520 , it says there is a wireless charging shell, sold seperately. What's the real story?!

Would love this on T-Mobile but I doubt it. Probably AT&T exclusive :(

This one put my NL 1020 into shame. Beautiful, Stellar and an very good foldable cover-cum-stand accesory. Nokia Really invents and rocks.

Well in fact in the photography area the 1020 is still the best smartphone EVER ... Even this beautifull piece of Lumia is not as good ...

This is my next. When do the AT&T preorders begin?

rumor says coming to at&T november 8.

ID PREFER OLED.... buttttt
getting!

i was hoping this was oled also, but only samsung has oled devices that are this big so they probably couldnt get samsung to make the displays for them. instead they got lg's ips lcd. nice backup.

LCD has natural colors... AMOLED is saturated... I always preferred LCD, and this one is IPS LCD...
Also in AMOLED blacks are pure black, which is awesome... Nokia claims this is ClearBlack LCD... so this shud b good too!

Didnt the 920 have clear back LCD? I'm looking at it right now and the blacks are more of a super dark gray

hopefully Nokia improved it since then...

They can't improve it without changing the screen type. LCD, every pixel is activated. Even the ones firing the color black. On oled, only ones for color and light are activated which is why the contrast ratios are so polar between the two

T-mobile, t-mobile, t-mobile

Yeah, this would be nice on Tmo . . . but I am happy to wait for the aluminum/poly upgraded version instead.

You gotta figure, with Tmo missing out on the 1020, the 1320, and the 1520, that when they do get around to getting a new flagship Lumia, it is going to be one heck of a device. I'm thinking something along the lines of a 1520, with the 1020's camera, and the 925's alum/poly body. It may be a long wait (middle of next year), but I am patient. Glad Tmo got the 925 instead of them 920, and will be glad to wait for them to get whatever spawn of the 1020 and 1520 Nokia is bound to create . . . I mean seriously, we all know that a 41MP 'phablet' has to be in the works from Nokia sooner, or later. And I bet that quad-core processor handles processing those 41MP shots, far better than the 1020 can handle them.

Patience.

I need this in my life.
I hope it comes to Canada. Or at least has the same LTE or HSPA+ bands as Rogers so I can buy one outright!

Looks awesome but 6 inch seems too big. I wish it was 5 inch, man that would have been awesome.

There ya go...built in wireless...! Who has a problem nw...??? :D

And it has integrated wireless charging, YES!!!!!! This is my next! Bring it to Norway fast (though I doubt it will be that fast, but my 920 still is going strong)!

And I have 1.5 yrs left till my contract ends. Oh well at least I have my Lumia 928

Sell your phone and pay the differance.
two year contracts in the tech world is tooooooooooooo slow for me. i change my mobile on a 9 - 14 month cycle, cant stand looking at new stuff and suffer internally lol

Is that a Wireless charger without a case?

This will probably be my next phone

Okay i want this phone :P
When is it available?

here it is
http://www.nokia.com/global/products/phone/lumia1520/#ProductSpecsWidget
i want this!

I may even go with ATT's horrible-ass Next upgrade to get this! Ready to step up from 4.3" L900..

Same here. If they tell me I can upgrade early if I sign up for next, I'll be right there. Even though it is a horrible, horrible deal.

RAM and Storage capacity please....

2GB ram, 32GB built in, up to 64GB card slot.

hope T-mobile get this phone !!!!!!

I would like to know when 1520 be available in Latin America (Brazil)?

This. Is. Going. To. Be. My. New. Phone.

I wonder was Cyan not a popular color because since the 920 i have not seen any high end lumias using cyan.

best part:
with built-in wireless charging

This is international version I guess... so hopefully for AT&T USA version also...

Crap... its heavier than the 920 :(

Wait 2 months and they will remove the wireless charger, make it aluminum, and call it the 1525 ;) if you wait a littile bit more you might get a 1528 :P

Damm this is sick. Now i have to start funding! @_@

Storage 32gb internal...sd card 64 gb...

Wireless charging ehem, how much does it weight ?

more than 920. 206g vs 185g. :(



you expect a 6 inch phone to weigh less than a 4.5 inch phone?

Wonder how much weight they could have saved if they used Gorilla Glass 3. There is a lot of glass there...

baby at last your here now when will you be with me...

No stylus, would have been an awesome note taker.

Beautiful device. They should stick to the 920 form factor which allows them to make the camera flush with the rest of the device. That camera bump is unappealing to me.

Did you see the side? So thin! Did I say it is super thin?

No AMOLED display? Bummer.....

The thing I don't get about Nokia and Microsoft announcements is why they bother announcing something so far in advance. If this were Apple I'd be able to walk into the store tomorrow and buy the damn thing. Apple is going to announce several new products today and guess what you'll be able to buy them today.

Of course its heavier than the 920, it has 1.5 inches of screen on it.

Then you see the Galaxy Note 3 that weighs nothing.

Ofc it weigh's nothing its plastic shit !

That's apples and oranges. We are comparing one Lumia to another. Nokia obviously makes phones on the heavier side.

Which also last's longer fyi

Somebody please tell me that the integrated battery is a misprint. Please.

What? Of course it's not a misprint, are you drunk?

I don't understand. Every inductive charging phone has done it through the battery door. All with removeable batteries.

No...? Lumia 920, Nexus 4, and now the 1520 all have integrated wireless charging with no removable battery. Where have you been?

Playing with tablets and I wouldn't give the Lumia 920 or the Nexus 4 a second look.

You're still wrong bro. I prefer devices with built in wireless charging. That case swapping is extra especially because I hate cases.

I don't swap all the time. I just like it there for emergencies. And there are times I can't get near power at all. And no I don't want to carry an extendable battery. That defeats the purpose.

What is that new wireless charger they showed? What about the DT 601?

Monster Lumia yet its beautiful

I will sell my iphone5 in a heartbeat for this beautiful thing.

A small screen and lacking of 1080p resolution is pushing me away from buying Lumia 1020 and here with Lumia 1520 is that camera question - will it be as good as 1020's or again compromise?
Nokia - I need at least 5" phone with 1080p resolution and photo tehnologies found in Lumia 1020 (exepct that long time between shots)

Of course the L1520 camera won't reach the quality of the L1020. But I'm with you on the wish for a 5" version of the L1520 but with the 41mp camera (although I'd be happy to have the 20mp as long as the size of the device didn't surpass 5")

I really like it, and I'm tempted by the big screen but I had hoped Nokia or MS would develop some special phablet-specific features- a stylus, app-snapping a la W8.1, maybe some tweaks to Office, special mirroring software or video out, etc...
I have no idea, I'm just throwing stuff out here but it seems like it would be great to have some kind of differentiation beyond the bigger screen and an extra column of tiles. Nor does this to appreciably advance things from a design and build standpoint. Maybe all that is coming next spring /summer with WP8.1.

Stuff like that is to be expected with wp8.1 rather than a phones launch I think

Certainly with Windows Phone 8.1 !

If it has Super Sensitive screen/touch, I wouldn't be suprised if we can still use a Stylus with it...
...but what Apps are there that can utilized the stylus? That is the question. MS Word perhaps?

:)

They announced two note-taking apps that are coming, at least one of which is specifically designed for writing (with a finger ?!?). So certainly notes apps would benefit from a stylus, as would any drawing apps (like Fresh Paint) and even some photo apps (trying to outline objects with your finger is a PITA). Annotating pdfs, other docs or even photos would be easier. Stylus would also be good for math/equations. This isn't easy stuff, and obviously it starts to infringe on Windows 8 devices, but that's what happens when you want to make a great hybrid device.

I want this phone so bad!!!!!!

Just read the complete spec sheet on wmpoweruser. I have sparkles in my eyes. This phone to me is "big"!

Big it is. Beauty but worth? Up to you all guys.

*throws credit card at screen

It better have an amoled display (for dat glance)

Wow... That's one thing I just really don't get....