Nokia Bluetooth Share updated to version 2, makes us think Windows Phone 7.8 is near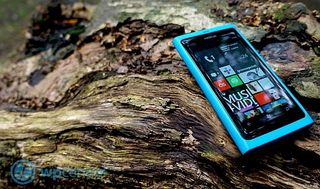 One thing you can count on Nokia to do is continually improve the user experience of their devices. While they're busy pushing forward with their Windows Phone 8 agenda on the 820 and 920 series, they still provide stellar support for devices running Windows Phone 7.X. Their Bluetooth Share for those older handsets has just received an update. What's new?
Job your memory real quick and you'll remember back in September that Nokia announced continued support for all their current handsets on Windows Phone 7, two apps were mentioned in specific – Bluetooth Share and Ringtone Maker. Both apps showed up in the Windows Phone Marketplace Store around mid-December. At the time Bluetooth Share was working fine on 7.5 devices, but Ringtone Maker prompted users to install an operating system update, 7.8 right?
Well the update to Bluetooth Share is giving that same message to users on Windows Phone 7.5, asking users to update their operating system with the Zune software. The app also receives a big version jump, going from 1.0 to 2.0.2.2. So that leads us to ponder aloud, could Windows Phone 7.8 actually be imminent? We can't exactly tell what's new in this updated version of the app at first blush. The UI is the same, so maybe you can spot something we can't.
We've been told to expect Windows Phone 7.8 in the first part of 2013, it's possible that the update could show up in the next 48 hours. Doubtful, but possible. For those of you with a Lumia 610, 710, 800 or 900 running Windows Phone 7.8 check out this link to hit up the Windows Phone Store, use the QR below, or swipe right in the Windows Phone Central app.
Thanks for the tip Simon C. and Er. Akshat
Come on att.. I want 7.8 goodness on my l900.. I have been patiently waiting

If Microsoft will want to roll out 7.8 at the same time worldwide, then it's not happening soon. Judging by Navifirm some operators still have to prepare 7.8 (in Germany, for example, only o2 has the update ready).
But let us see what happens.

We really want that 7.8 update especially 'cause in my country the windows phone 8 smarthphones are not available so it would be nice ......

In fact, even 'Contacts Share' just got updated to v2.0.0.14. No changelog.

Contact Share has got the sharing via Bluetooth.. (L800 on wp7.8)

Wait so is this app for WP7.5 only? what about WP8??

You can share straight from wp8, an app isn't needed..

NFC...Bluetooth...rings any bells?

Now the app is supported in WP 7.8, too. Tested on my Lumia 800, WP 7.8

Ringtone maker never asked me to update when I was on a WP7.5 device.

Lumia 800 WP7,8 updating .....

Waiting and waiting for 7.8 AT&T please pull the trigger.
we need this.

Nothing happened when I plugged into Zune. Downloaded the update off Navifirm last night sick of waiting. Scared to do update.


Same was I dude, but its really easy and fast, I did it and now I enjoy it a lot!! Just the tiles and minor changes, but it feels like a new OS, its awesome :D

Video sharing. That's whats new.

Video receiving was already present before this update. Video sending is still not possible. I haven't noticed any new feature but feels faster than before. I use a 710 running 7.8.

Microsoft is just taking forever to deliver the updates, both WP7.8 and Portico.

Microsoft finished these updates forever ago. Its the carriers "testing" the update (AT&T....)

Nokia is great and I can confirm that Nokia keeps improving their non-WPs as well. Symbian is getting updates continuosly. For esample, Nokia Drive is a long time that includes live traffic rerouting. Simbian belle has just been updated again. Well done Nokia.

i can't find these apps :( lumia 800 here

Had mine 7.8 since mid December on my lumia 800 are quite pleased

I doubt 7.8 will come in Jan. Even though I want to get it that badly, it will be released in Feb. I think MS wants its L620 to sell well in Countries like China, India and other major markets. Then they may roll out the 7.8 update. Btw there has been no word from HTC nor Samsung about their "Special" addition to the 7.8 platform. Wonder what's happening behind the scenes :P

is there any Bluetooth file transfer feature for Samsung ownia w in 7.8 update

This is beginning to resemble some kind of religion. End is near, Messiah is coming soon etc. Our faith must remain strong, my fellows. Those, who shall not abandon their hope, will obtain an eternal life in heaven with small icons and multiple color themes.

In India 7.8 is already available for Lumias at Nokia Priority stores.
No Kids Corner :(
My wait continues for Samsung Omnia W :(

I'm in no hurry to get 7.8 - I just bought a new Lumia 900 late in November, so I'm still enjoying 7.5 :) But I'm beginning to think that 7.8 will be released either a few days after MWC 2013 or no later than March 31st. 2013.

I am already using wp7.8 from 21.12.2012...... Got updated from Nokia care centre.......

My guess is, it now supports video import. Previously i tried importing videos, it comes but says file not supported, i tried it now, and this time it was saved in Music+Videos and was playing quite well.
@Kashyapjani said it was available previously, are u sure?
Ya video exporting is still not available.....

See this bt share support page, its not updated yet, and supported files do not have mp4 video format, but now it supports...... So this is the change
http://www.nokia.com/global/support/bluetooth-share

According to Nokia spain and italy (as some people told me) they said WP 7.8 will be released before the end of January, at least in Europe

http://www.elsiglodedurango.com.mx/noticia/417908.windows-phone-7-8-este... here's the link :)

That cyan looks almost as good as it does on my 920 :)
Windows Central Newsletter
Thank you for signing up to Windows Central. You will receive a verification email shortly.
There was a problem. Please refresh the page and try again.