Ringtone Maker and Bluetooth Share for Windows Phone 7.8 now available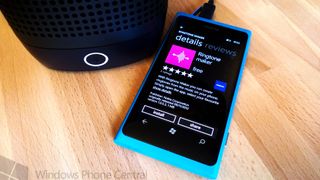 While many of us mere mortals still eagerly await the arrival of the coming Windows Phone 7.8 update to be handed down to us from up on high that doesn't mean apps aren't already appearing for the new OS.
It is now possible to download the Nokia Ringtone Maker and the Bluetooth Share Apps to your devices. If you are lucky enough to have an updated 7.8 device then you might want to read on to find out more…
Bluetooth Share UI is looking good..
First up is Nokia Bluetooth Share, designed to give many users who have been begging and pleading for this feature much to celebrate about. According to the blub in the store:
The app is currently showing as version 1.0 in the Windows Phone Store and was said to have been released on 14/11/2012.
Ringtone Maker - Such Sweet Sound!
Second up is the Nokia Ringtone maker, helpfully telling you that you'll need to plug your Windows Phone 7.5 device into the Zune client to get an OS update to use the app. We have covered this app before in its Windows Phone 8 guise and its very much business as usual in this variant.
Uh uh uh, no 7.8 update - no ringtone maker..
Once again we're really glad to see Nokia are already cranking up their engines to continue delivering new apps and updates for Windows Phone 7.x devices. With the coming new features of the OS and the Nokia Specific apps, owners of pre Windows Phone 8 devices will see a healthy use for their smartphones for some time to come. We know we do bang on about this, but Nokia really are leading the way on how apps and updates should be handled, it's simply great customer support.
You can download Ringtone Maker here and Bluetooth Transfer here
Ringtone Maker
Bluetooth Share
We know that some of you guys have been installing 7.8 from various sources, we'd like to hear from you on how the new apps are working for you. If you have anything else you'd like to say, comments are open for that also.
Source: symbiantweet 1 & 2
Awesome NOKIA! Show the other OEMs how support is supposed to be.

What about samsung 7.8 update? Nothing yet? What you know about it?

Love my job, since I've been bringing in $5600… I sit at home, music playing while I work in front of my new iMac that I got now that I'm making it online(Click on menu Home) https://goo.gl/v45eR

Please take your garbage elsewhere.

I have been using the Ringtone maker for quite some time now. Works really well. It takes a little time to load (sometimes over a minute, may be because I have over 1500 songs) . ALso, it only takes in MP3 songs. So all the songs downloaded from Nokia music store cannot be used.
Have installed Bluetooth share today. Will post about it later



upgraded to 7.8 on lumia 710 today and got both these apps pre installed. not yet tried ringtone maker, but yeah, bluetooth share works good...!

Did you flash with NCS? If so, can you message me your method or give me a hand?

I upgraded thru nokia care centre. Its available at all care centres in india.

Really but the official Nokia blog says the update will be available in Q1 of 2013

I am using these apps since Izu flashed my lumia to 7.8 3 days back. absolutely loving things! ringtone maker is awesome! you can select ANY part of song upto 30 sec and set it as a ringtone from app itself. and UI for cropping song to make ringtone is awesone n way to easy!
bluetooth sharing was a feature i wanted since i owned lumia. missed it totally on WP and friends used to tout that you have so costly phone but can't shere via bluetooth. now they will shut up!
many people simply thought this WP doen't at all have bluetooth and refrained from buying just because that. i know atleast 5 such people.
only drawback of nokia bluetooth sharing is application must be open to for sharing to contineu otherwise it terminates but i can do with it.

are these services available on htc phones? or they are only available on nokia?

From what I gather, they are now available to everyone whereas they used to be exclusive to Nokia.

As if now, only nokia. :(

Someone knows how to update to wp 7.8 in Mexico?? Tnks for the help!!!

Unless I'm going crazy, that Ringtone Maker app is no longer available for Windows Phone 8. I remember downloading it and being one of the many in which it didn't work. I uninstalled and it seemed to be promptly removed from the Nokia Collection. Unless it was fixed and named something different

THANK GOD THERE IS SOMEONE WHO THINKS LIKE I DO!

and i would like to thank nokia for this constant and great support for their products. i am sold to them. after using nokia WP and all nokia services especially location based, i think its pointless to buy other WP unless price is too much tempting but nokia drive, transport, counters, nokia music, nokia express browser (beta state), contact transfer n contact share, city lense all extends the utillity of phone to whole new level. second to none.

and these apps have no alternative in marketplace if u compare with HTC and samsung exclusive apps. almost all of them have equivalent or better alternative in store. it is because nokia have deep access to WP code because of exclusive deal with MS and they can access whole lot things. eg. bluetooth layer with sharing app, whole music library for editing (in form of ringtone maker app), whole call logs, system details like total usages for internet, sms, calls in form of nokia counters app, internet rendering technology to compress web pages (technique used in express browser which is still in beta state for WP). all such apps have no alternative in app store.

just saw nokia's tweet...thse services are available only for lumia devices. crap!

why would they available to others?? its nokia's money, resorces and time. its their intellectual property and they have right to protect that.

Where do I find this Nokia Ringtone Maker? Running 7.8 on Lumia 800

http://www.symbiantweet.com/nokia-ringtone-maker-app-now-available-for-l... Open this link. And just above the QR code. You will see a ringtone maker name. Tap on it and it will open the wp store.

Ah, thanks man! It was called "Skapa ringsignal" for the Swedish region; explains it. :-)

Seems like it hasn't been released to all regions yet. Can't find it either here in Sweden.

This is freakin awesome.. Lumia 900 v.7.8 flashed uk.:-)

These all sound splendid and good for Nokia for their continued supprt of all versions of WP but shouldn't they get 7.8 out the door before they start releasing apps for it?
Maybe this is an indication that it will arrive sooner rather than later?

Well I've been running the 7.8 update since Sunday and it's amazing what a new lease of life to my Lumia 800 it provides. Feels like a fresh phone and these apps only add to the experience. Should tide me over until I can afford to buy my next handset...Lumia 920 hopefully. Nokia blazing trails once again :)

Guys, Nokia truly is the best. Quality devices, quality support, quality services, quality apps... What more could you ask for from a company???

the windows phone 7.8 is really good..looks very fresh :) :) ...for those in india can update there phone by going to nokia care ( i did went to a one in delhi and they update straightforwardly ) and now they are also providiing with these apps...

But how can it be possible that nokia care centers are disturbing 7.8 without it being released..?

Lol..apps are out before OS is released officially...and worst part is some of us Lumia 900 owners are/were on ATT, so just hope ATT releases the firmware before the world ends... :-S

Funny.
I installed this apps in my Lumia 900 with 7.5 but, when launching the app I get this message:
Sorry but this app won't work with this version of Windows Phone. The good news is, you can download an update from Zune.....(Zune guidance talk)

I received the same message when opening ringtone maker.

Even though it is clear from the article that this is for WP 7.8, I was able to download to my Lumia 900, but I am running 7.5 (not 7.5 refresh). I can certainly wait until 7.8 if that is when it will be fully functional :0

What is sad, are the few people who go out and put a one star review on the app, when they know (based on their review comments) that the app is not yet 'for use' for the version of WP that they are using. I wish Nokia had not made it available, yet; I get the feeling that the apps will be pretty good, but the rating may suffer a bit because of the 'few' who choose to rate it poorly before even using it.

Released on "14/11/2012" lol. ;)

it was waiting for me for soo long...

What happened to the wp8 one released about 2 weeks ago? When will it be re-released?

No sign about HTC telling us anything about 7.8 :S

Just updated to 7.8(lumia 710). Both ringtone maker n bt share work great. Only drawback is that U can only send or receive audio( mp3 format only) and pics for now. It doesn't yet support video,pdf or office file types. Hopefully we should see these features in comming updates

Can ny one tell me when will sammy release 7.8 update???

Everybody waiting for this, but nothing announced =/

LOL so now they release unusable apps.
I mean...it's a great sign that they are keeping Apps for both OS's but as someone already said...shouldn't they FIRST release the 7.8 and THEN release the Apps? What's the point of releasing Apps for a OS that no one "officially" has? (except those with pre-production devices that already got it)

Everybody waiting for this, but nothing announced =/

Gotta give it to Nokia. They're really showing that they're not playing. I'm a proud L800 owner :)

Is it only me or is it only capable of connetion with other phones?
I'm trying to send a picture to my laptop, but after pin code, it stays at 'no connection' in the bluetooth screen..

Got my lumia 710 flashed at a nokia care centre.. M loving the new start screen tiles.the bluetooth share though disappointed me ; as i cudnt connect wid my note2.hav to chk wid other phones also.m waiting for the nite to pass by :P

No Video File support for Bluetooth share....
After updating WP7.8, opening apps from the start screen is bit slower.....

No Video File support for Bluetooth share....
After updating WP7.8, opening apps from the start screen is bit slower.....

They've already solved this. The Apps are no longer available for download on 7.X devices.

Nokia I always trusted you! But the Microsoft still can't fix the USSD bug and multiple file select.

IVE ALREADY UPDATED MY 610 TO WINDOWS 7.8,,,BUT UNFORTUNATELY BLUETOOTH SHARE IS NOT AVAILABLE IN THE MARKETPLACE RIGHT NOW..OMG WHAY IS IT THAT NOKIA REMOVED THE APPLICATION BLUETOOTH SHARE,,,,,CAM SOMEONE ANSWER ME

Try using the QR codes above. Both took me to the respective download sites.

I am using lumia 710 running wp 7.5, i am unable to download it.?

i completed a full installationwith NCS..
as it was for region euro1, i downloaded the euro1 version using navifirm. When i try downloading bluetooth share/ringtone maker app, windows marketplace says it is NOT available for my phone for either updating issue or region issue.
i do think the availablity depends on the region..what should i do? should i download+install 7.8 for another region or only i am facing the problem
this is SOOOO disappointing...

This (Bluetooth at least) definately does not work for Nokia Lumia 90 UK.

I have a T-mobile Nokia Lumia 710 phone running WP 7.5. Was not able to download Ringtone Maker - told me I had the wrong phone o/s. Was able to install Bluetooth Sharing, but when I tried to run it, I was told that I needed to upgrade my operating system by connecting my phone to my computer, updating Zune to the newest version (already) was. Still no O/S update available (surprised?). Guess I still have to wait for the release of 7.8, whenever that is.

HI, i just Update my phone to windowsphone 7.8 but I can't install Bluetooth share or ringtone maker. Say that I must update or is not available in my region. Do you know what can I do?

Make that three of us. BT share installs but when I open it it says I have wrong SW version or not available in my region. 7.8 installed.

I just updated as well this morning. No luck with either of the apps. Give them time to iron out the wrinkles. It just dropped officially yesterday. [Not to mention, I forced the update- waiting for AT&T to push it out is pointless]. TG for workarounds!

Doesn't work for me either. I am following up with @NokiaHelps at https://twitter.com/pyuagrawal/status/296985128536788992

WHY i CAN'T INSTALL BLUETOOTH TRANSFER ??? :(


I use a lumia 900 and have updated to windows 7.8 but still have problems with the bluetooth share.The ringtone maker works frine though..Can i get any help concerning this?

hi i have htc radar phone with updated OS 7.10.885.136. So i want to know that Nokia WP 7.8 ringtone maker and Bluetooth file transfer apps are for others phone or not. If yes then how much time they will take for publish for other phones and if not then tell me any other alternative related both apps.

Can you please help me?? I get this error when I try to start recovery:
C:\ProgramData\Nokia\Packages\Products\RM-801\RM801_059L702_1750.0823.8858.12460_042.vpl has invalid signature.
Thaaaaank you so much in advance!!!!!!

Guys,,it's still wont work....even i have upgrade to 7.8 ... please help me...its still say " this app wont work on this version blallalla......" :(

i just updated my LUMIA 610 to WP7.8 but when i open BLUETOOTH SHRE app in market place ....it says that it is not available for your phone your phone software needs to be updated or the app is not available in your region[pakistan] or the app is exclusive to a different mobile provider...........................................PLEASE GIMME SOME RESPONSE i am really worried about it's BT problem

bluetooth share not available for my region on indonesian, many of us are disappointed with the fact that, please to be fixed for our region, or is there another way that we can install bluetooth share for Indonesian region. thank you.

bluetooth share not available for my region on indonesian, many of us are disappointed....... with the fact that, please to be fixed for our region, or is there another way that we can install bluetooth share for Egypt region. thank you. plzzzzzzz help us

What about samsung 7.8 update
Windows Central Newsletter
Get the best of Windows Central in in your inbox, every day!
Thank you for signing up to Windows Central. You will receive a verification email shortly.
There was a problem. Please refresh the page and try again.