Nokia Camera returns to the store, rebranded as Lumia Camera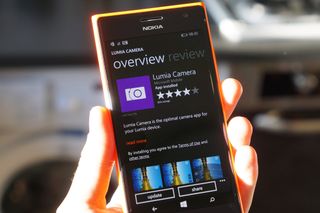 Microsoft recently removed the Nokia Camera from the store. Now, sporting new names, both Lumia Camera and Lumia Camera Classic are available for download, but unfortunately there aren't any new features in the latest releases.
It was only a matter of time before Microsoft released an update for Nokia Camera to remove the branding prefix and release the app as Lumia Camera, just like all the other Nokia Windows Phone apps now under Microsoft's control.
Lumia Camera replaces Nokia Camera, while the Classic version is actually the Nokia Camera Beta. An odd way of doing things, but Classic is targeted for hardware without the Denim firmware update. Both apps are currently sat on version 4.9.1.2 and as touched on above, there aren't any noticeable changes in the two new updates.
Thanks to everyone who tipped us!
Windows Central Newsletter
Get the best of Windows Central in your inbox, every day!
Rich Edmonds was formerly a Senior Editor of PC hardware at Windows Central, covering everything related to PC components and NAS. He's been involved in technology for more than a decade and knows a thing or two about the magic inside a PC chassis. You can follow him on Twitter at @RichEdmonds.
Nothing new, Lumia 1020 :/

The same old version... :(

Don't update unless new feature. Keep your Nokia camera name lol

Hmmm, strange that there are no new features as the version increase significatly from 4.8.4.3 to 4.9.1.2 And why does the Lumia camera requires the VOIP calling library?

A wild guess: It might need VOIP because it needs to be launched using the hardware camera button?

isn't VOIP for Voice Over IP in this case?

Maybe it is required for Cortana. I don't know.

The new features will come with the denim update. I read it in the Lumia camera classic app description

I did have it
I have a Lumia 1020 (RM-877_lta) with mexican carrier Telcel and I received the update this morning. But, due to the hardware I got on my device, I won't see much of the magic this app promises to the high-end devices like Icon, 930 & 1520 7_7

Cannot download Lumia Camera Classic, Lumia 1020.

I can get classic but other showing not available. L930

The opposite for my 1020.

Actually, now I did get the Lumia camera classic! But not Lumia camera

I guess you people (930/1520/830) will get a new Lumia Camera with new features. And the Classic one for those who want the retro Nokia Camera. We (1020/92x) won't get the Classic since we get the same old Nokia Camera rebranded as Lumia Camera.

And Microsoft, as always, being clear as mud.

i think the classic one is for the new firmware (denim). the opposite of what was said on the article..

930/1520 can still download Classic without Denim. And 1020/92x can download Lumia Camera without Denim.

Yep, article currently has it backward. For me, I have a 1520.3 on ATT without Denim firmware, and could not get Lumia Camera, only Lumia Camera Classic.

On my 1020 it's the opposite of what you say.

BTW, 830 has Denim but still cannot get Lumia Camera.

Same. 1520.3 can't get to Lumia camera, but I got Classic just fine.

Can't download classic on 920 :|

Lumia camera downloaded from store is a rebranding... Lumia camera classic is same as the above one but it is for 830, 930 and 1520... New Lumia camera will come with the denim update... It updates the whole Nokia camera as new Lumia camera app that can't be downloaded from store with all the new Lumia camera features

830 has Denim already but no Lumia Camera.

What about Nokia camera beta? Wasn't it rebranded?

I have Lumia Camera Classic but cannot access Lumia Camera at all. I assume I have to have the Denim firmware now?

Actually i thought , that it was the lumia camera running on denim firmware devices

Lumia camera classic not available for download! I have Lumia 525 with Lumia cyan

You have the classic Lumias.lol

me too, lumia 520 with cyan

Updating... from Nokia to Lumia camera

Item not Available in the Store!

Check for apps update on your phone

Lumia camera classic is for those guys who got denim update or what? Or it is holding new features that cannot run on lumia 630? Nothing new :/ just name changed. Waiting for denim update. :(

Damn not available for lumia 710!

Updated lumia camera classic, but no lumia camera for 1520.
Guess this will be the case with the high ends, and the opposite with the low end phones..

My 1020 is not low-end. Still cannot access Classic.

Did you get lumia camera?

Then I guess the Lumia 1020 won't get the new features of Lumia camera after the denim update...

Exactly... That's what it seems.

Lumia Camera not available in Australia however the classic version is. --- so can we expect the Denim update soon :)

Classic not available for my L920, Lumia Camera is though in Oz.

I guess Lumia Camera Classic is not in Kansas anymore ... ;-)

Can't download Classic. Lumia 920

R.I.P. Nokia's name, we will miss you :'(

I think the non classic version is for Denim device like 830.

I have non-Classic version on my 1020 with Cyan.

I can't download the non-Classic on my 830, but it might still need time to propagate.

Same with my 830, can't download the non-classic version.

Sorry forgot to mention im using the 930

It's saying it's not available did my 1520...

Same here on my L930. Only Camera Classic (rebranded BETA) available for me. Normal version not available.

Because it needs Denim to work

Cannot install on 830. Denim preinstalled... So Denim is not a requirement at the moment.

Can't use living images on Lumia 925 with cyan

Same here. What a bummer, they said it will be available for pureview models

Can't download Lumia Camera, item not available in the store. Lumia 1520.

The irony is they don't give transparent tiles for their own apps

Ooooh I hate transparent tiles

Lumia Camera not available in the store only L1520. On the other hand LC Classic is available.

Only Lumia Camera in your download links -- not available on my Icon.
Lumia Camera Classic in the description says the Lumia Camera version will be included with the Denim update for 830, 930, 1520, and Icon owners.

You can download Classic version. No need for Denim.

So on my Icon, Classic is available. And on my 928 the regular version is. No matter, both crap. Too bad I hard reset my 928 and lost the good version I had on there (Pro Cam on Icon, but it has data loss issues).

Agreed! Pro Cam was better than Nokia Camera.

1620? Or is it 1520? Else it would be an outing of an unreleased model. I have a 1020 but am holding out to update until it actually is updated with anything different. Something new, a new UI or whatever. Not just a minor bugfix or name change. But, it's interesting nonetheless to see what Microsoft is up to.

Classic not available for my L925 running 8.1.1 and Cyan... Weird

Why is there a difference between Camera and Lumia Camera? Shouldn't it be one and the same thing as both are Microsoft apps?
Which one would you recommend?

Must be the UI update they are preparing for. I remember reading about an unofficial UI redesign which a bunch of pro photographers got their hands on to try out. The Classic version is likely a way for Microsoft to not upset customers when the UI update takes place. I think everyone eventually will be able to install both versions and use them in parallel, to both have your cake and eat it, so to speak.

Both are developed by Microsoft. But the apps are not the same. Camera is for smartphones that have Microsoft's OS (Windows Phone) (Any device running Windows Phone -Microsoft Lumias, HTCs, Samsung, Blu, etc.) Lumia Camera is for smartphones by Microsoft and that have Microsoft's OS (Windows Phone) (Microsoft Lumia Phones) So, if you have a Microsoft Lumia, you got both apps. I think Lumia Camera has a more professional "look and feel" than the OS Camera default app.

I can't update to Lumia camera, keeps showing not available, but the other class is there. Using Lumia 1520

Lumia camera classic not available to download in India region for lumia 720

Odd, I downloaded the Lumia Camera "non-Classic"... And I have a 720 in PD... But I cannot download the Classic... PS: Sorry For my bad English...

Confusing, and they say Android is fragmented. Why does there need to be two versions? Make one version that supports both firmware versions.

This isn't fragmentation. They are creating two different versions for different devices.

I checked from Store directly instead of the link(it was not their earlier). Got notification for the Nokia Camera Beta and when I tapped to update it redirected to the Lumia Camera Classic.

the new features will come with the denim update right?

Not for (x)x2x phones... :/ (except 1520)

So how long until denim comes out

Since your devices are already classic(1020) you already have the classic features so you will not be getting the Classic one. Classic is for the for the non-classic lumias so they can get the classis featutes.lol Hey...did someone says it loads faster?

That's what it seems. Classic only for non-classic phones whereas others already get the Retro app as Lumia Camera.

yeah its loading a lot faster then before, I guess its more noticable on the Lumia 920, however its taking about the same amout of time to take a pic after lauching

It also seems faster to me on my beloved Lumia 920, also between pictures.

So just is name ? Ha ha ha
And no sign of Lumia Denim

Which device do you have? I have a 1520 and it is showing me a sign. I cannot get the new Lumia Camera as my device is not ready yet..

My device is L520 with Cyan firmware, Lumia Camera works for me. As you know it's just rebranding from Nokia Camera for now.

Now I have app that starts with L :D

Almost all Nokia apps that were rebranded now start with an 'L'.

Nothing new, but it is way faster on my 630. It's like 100 times faster.

No comments about its faster.. However this one really is faster. I no longer get the loading screen when launching the app via the hardware button, even when the phone is locked. Lumia 930 using the Lumia Camera Classic App

Nokia Camera BETA already loaded without the 'Loading...' screen. So nothing new.

Never used the Beta so this is a welcomed upgrade

Classic is available, but Lumia Camera not available, Lumia 1520 and 930

Need to have Denim..since it will offer new features so you stay with Nokia Camera untill the next Firmware update.

I figured, thx for the info

I've got denim on my 830, but still only the classic version is available.

From 10 apps with the first letter 'N' to 0 .... :/

There are still some Nokia apps that have not yet been rebranded.

I don't see Lumia camera classic . 720 India

That app only for pure view devices

Cannot download on 1020. And it is the PureView king...

I also noticed that the following Nokia-branded apps have been delisted: Nokia Care Nokia NFC Writer Nokia Share Nokia Trailers Nokia Video Director I don't know if these apps would come back as Lumia-branded apps.

Still not available for Lumia 1520

I get to download the classic version but not the normal one. Lumia 830

24fps shooting modes disappeared. Lame.

I still have them in Lumia Camera.

Can't download Lumia camera,L830

You will get a new Lumia Camera with Denim with new features.

I've lumia denim pre-installed on my Lumia 830! Than why? I'm confused

You will get the new Lumia Camera with new features when it is released. It is not released yet and it requires Denim. You'll be one of the first people to get the new features in Lumia Camera.

Oh thnx for clearing my confusion

Try Lumia camera classic that's the app for pure view devices

It's just a Name changer update nothing new in that

They will update this app with the denim update u guess between am gonna get a 830 soon!! ;)

Bit off-topic. Since the Store didn't give notification about the Nokia Camera(non-beta) when I tapped the link on the WindowsCentral app. The Store gives a message as not available then both app crashed(Store and WindowsCentral).

I bet Microsoft will stop updating Classic version very soon (if they didn't already, it has been quite a while since the last significant update).

For you guys thru released classic app check our out Lumia camera for old devices :S

I started to hate you Microsoft.... I use WP only because of Nokia...

The same people building Nokia phones are still building the Microsoft phones. So why hate?

I can't get the Nokia camera classic on my Lumia 920 (WP 8.1).... Why ?

Because That app is only for new hardware like 1520,930 !!!

I thought the Lumia camera classic was the old Nokia camera beta.....

Because you got Lumia Camera with no new features. Newer phones will have a Lumia Camera with new features and a Classic app for retro feel.

Seems like it...because I was not able to download the beta one and same with classic.

@http://www.windowscentral.com/users/sip1995 Yup..but you(device) are no longer needed for Beta.

There so serious about the name thing

I have Lumia 930 the Lumia camera steel not found but Lumia camera classic is found what does this mean?

updating my L920 with the Lumia Camera. update: not available to L930. needs the denim firmware

fuck Microsoft. Is this even available in India. There is no Lumia camera in the store. Do they release anything in India????

Of course it's available in India, just wait for the servers to propagate.

Tipped about Lumia camera!!

Seems fas... Just kidding

It seems faster on L730. On Nokia Camera there was few seconds delay but it's faster now.

I'm running a 1020, 8.1 PVD and have both installed. The Lumia camera is available to update, but the classic tells me that it is not available for my device (but it is still installed and functional)

And they remove the app again (Lumia Camera)... :/

Hope can set shutter speed 4s
520

Why exclude Lumia 920 and 925? These devices can surely run whatever Lumia 830 can run. This kind won't motivate existing Lumia 920 and 925 users to get another Lumia device. Seems harder to recommend Lumia to my friends.

ehm i updated with a l920 dnt know what ur whinign about..

Were you able to install the Lumia Camera Classic?

Nope no classic on my l920 or living image as per description in normal camera

I have a 920 and have living images and speed improvements, are you sure you are not opening the Camera app instead of the Lumia Camera app?

How do you get living images on a 920?

Cool thanks. But why is it called like that? Is it exactly the same as living images? And if I send these to android/ios devices can they view them without special apps?

I don't know I'm hoping for the day Lumia integrates all the specialities into the main camera (Refocus, living images, selfie timer) and seamlessly integrarte the other lenses/apps (cinemagraph, panorama, storyteller etc.)

Living images capture a few seconds video before snapping a full resolution picture, while smart sequence captures a series of lower resolution photos. It's not the same. Living images used to work on the beta doing a trick with it's settings but that is not possible anymore, sadly.

Portugal, lumia 930, lumia classic available but not the lumia camera(not available at the store). just put denim and gdr2 PfD OUT microsoft,that's what we need!! thanks!

I'm still puzzled about the time it takes to release Denim. That's one of the things I don't like about Windows Phone: Announcements, promesses, but no follow-up.

What you mean like the Apple Watch... announced last month but wont be available until Spring 2015. Compare this with the Microsoft Band... announced and released on the same day. It works both ways... I'm just saying...

On my L1520 I update to classic . But Lumia camera not available

I have Lumia 930 the Lumia camera steel not found but Lumia camera classic is found what does this mean

Lumia Camera app page is not available now when clicking on the link in the article. Opening the link on my Lumia 830 takes me to the Nokia Camera page in the app store - which is again not appearing in searches on phone or on the web - from India. Nokia Camera Beta on my phone got updated to Lumia Camera classic though.

I can't get it still on my 1520.

No update in my Lumia 1520

Please.. Pause for video rec..

Hi, are the updated apps supports transparent tiles now?

There's nothing at all different about them except the name. No new features. They mention this is in the article if you care to read it.

Just Nokia Smart Cam left to rebrand now and all traces will be effectively eradicated.

Barely opens ! Buggy update

I can't even install the Lumia camera and I got denim on my Lumia 830

what exactly is Lumia classic camera?I can't install it

I mean I still have Nokia beta but can't install the classic

so I can no longer get the Lumia classic app, whatever... just waiting for a better phone to be released next year already

Odd that classic is for non denim Lumia, but cant be installed.. And it refers to living image.. Anyone got that working in a l920

See, I told you guys that it's just for the rebrand ;)

Classic is for phones with Denim, not without denim. Article wrong.

No, classic is like the former 'Nokia Camera' for all devices. 'Lumia Camera' will be installed automatically with Denim if you have a modern device like 1520, 930, icon and so on

Classic wont install in l920 and the blurb in the app says classic is for newer phones with denim I have Lumia camera app installed and I don't have Denim. Actually reinstalled after I removed before beta trials.

What about the yellowish blurry pictures? do we still have these problems? i mean post processing of images..

Item is not available !!! Are they kidding ?!!!

Which mean denim is nearby?

In my app list that leaves Nokia Play To. Which should be built into the OS (Android has it built in!). And Nokia Xpress, which will end up as an IE feature, best case.

It says: new name and bug fixes.

Cant get Lumia Camera Classic. I suppose you have to have Denim for that?

As i said above. But was told I was wrong. But classic needs denim.

Can't download Lumia Camera -,-

So classic is not available for my 520 ... Does this mean camera beta is Lumia camera? Also the classic does say bug fixes....

I have Lumia Camera on my 810, but not Classic isn't available. Haven't checked my 521 yet.

Man Lumia Camera Not available for Lumia 1520 in India

You need the Classic Lumia Camera

I KNEW that was the only reason it was missing (didn't disappear from my phone at all), because Microsoft just HAS to do away with the name "Nokia" everywhere and any chance it gets. I'm definitely not a fan of that because I've been a big fan of Nokia for nearly 13 years now.

It came as Lumia Camera Classic in my 1520....
It says that this version has all features till Cyan update...and 830,930,1520,Icon will automatically get Lumia Camera App with Denim Update...

After reading most of the comments, the Lumia Camera is available for those who have old phone like 625,520,1020,920,925. And Lumia camera classic is for those who have new high end phones like 830,1520,930. Coz they will get Lumia denim update.

Odds can't. Get the classic but the current yes, it's odd, probably the classic will be for denim upgrade

Got a message from microsoft saying that the beta is over and they told me to unistall the beta app. They also said that all the features have been added to Lumia Camera, but thats not true, I still have Nokia Camera Beta installed and it is much faster to launch than Lumia Camera on my 1020. Really hope they won't stop updateing Lumia Camera (classic) now on "old" devices.

I have been playing with it and it definetely brings a lot of speed improvements in taking the picture and in the app itself, at least in my 920

I downloaded the Lumia camera but cannot download the classic one on my Lumia 730.. The 730 & 830 literally have the same specifications regarding the processor and ram.. Except the camera.. Microsoft likes to play pranks.. :D

Nothing new.. But noticed the photo qualities have increased a bit.. And camera is a bit more responsive... Decent photos can be taken on the Lumia 730 .. Pretty nifty optics..

Some people can download lumia classic while others Lumia camera. Why is classic available on new phones and not old phones? Doesn't classic means old, ancient? Get it together MS I thought we were transitioning into One Windows for all devices. How are you going to do that when you can't even release one universal camera app for all.

Lumia Camera will be available for all devices....when denim is live...my guess is Lumia Camera for 1520,930,Icon will be part of Denim update....and these phones will have both of these apps....classic one having all of the current features like smart sequence and all....and lumia camera one will have new features like moment capture etc...if Lumia Camera from Denim has all old features which nokia camera had...then i guess we can remove classic one...but i dont think thats happening because they chose a different name Classic one for a reason..
In the end older phones will have only one version and ppl with 1520,930,Icon will have two...that's how it makes sense to me..

Actually, according to the betalabs : a) Lumia Camera, on the 930/1520/830, will get updated, once Denim is rolled out, to >= v5. Thins brings hdr, etc. b) For the same devices, Camera Classic (which is the beta rebranded) is there as a "backup", the classic nokia camera as of today c) The beta is closed. Camera Classic won't evolve to my eyes, d) For older devices, as they won't get novelties (I assume), no need for a Classic version. We get v4.9 today, I don't even know will it be updated. What's certain: not enough to justify a "classic" and a "new" version. Voilà, that's the explanation.

Being told not available in the store

It's a bug!Every time I start Pro Camera and turn to start screen ,then turn to Pro Camera again to take a picture and I get this bug: it can't work,if I take a picture ,it can't save and when I use back key to off the app, the Camera can't close the lens cover.
Only restart can make it!!!!!!!

What's the notorious differences between Microsoft default camera
and the Lumia camera recently updated... I can barely see the difference

This update Freezes my camera on o2 1020

On my 930 the Classic App feels quicker. Holding the Shutterbutton takes a series of pictures. Don't know if this was possibe before.

I can't install Lumia Camera. While installing it shows an error code 8103012c..What should I do?? Fix it MS asap..!!

Just bought another 1520 and I can't update the Nokia camera from camera PRO?

Is this the version which is supposed to make the shot to shot time fast or primarily JUST rebranding?

It is unbelievable, 1520 notice me that my phone is heating just 5 mins I took video.
Pls improve much, I lost my great moments in video recording with my family.

It's not available for my L930, but the lumia camera classic is there. WTF!

Lumia camera is not in the store, the classic version is fine

Why not available in store for Lumia camera for L1520

Hello everyone , can anyone tell me how can i get NOKIA PRO CAM for my nokia lumia 1020 , i am not satisfied from LUMIA CAMERA APP ,this is bulshit...