Nokia City Lens (Beta): A Closer Look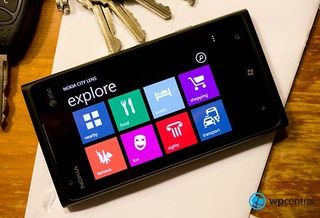 Earlier today Nokia Beta Labs released the beta version of City Lens, a local search engine with augmented reality. We took the beta app out for a brief test drive and it's an impressive little app. City Lens has some really nice features, a simple interface, but we could tell it was still in the beta stages with the augmented reality portion a little shaky on tagging businesses.
Head on past the break to read our first impressions on City Lens.
When you first run City Lens you will need to calibrate your Lumia's compass (move the phone in a figure eight pattern until it calibrates or your arm falls off). From there City Lens' main menu will offer you eight search options; Nearby Establishments, Food, Hotels, Shopping, Famous, Fun, Sights and Transport.
There is a three-dot menu to the side that gives you access to settings (distance measurement choices and turn on/off location services), a link to send feedback to Nokia, and access to the About Screen. Additionally, if you want to search for a specific location or service there is a keyword search button just above the tiles.
Once you choose a tile, City Lens has three modes of operation. Lying the Lumia Windows Phone flat and you will see a road map with the nearby locations mapped out. Hold the Lumia upright and the locations are displayed in list view. If you hold the Lumia horizontal, like you're going to take a picture, the camera turns on and the locations are flagged based on the your location and the camera's view. It gives you a physical landmark to match up against what you are looking for.
From any of the City Lens modes you can tap on a location to get more information on the business including driving directions, contact information, and other businesses nearby. Locations can be pinned to the Start Screen for easy access and shared via email or text messaging.
In just a short time with City Lens, the app has potential. I really liked how the display changed with the orientation of the Lumia but also wouldn't mind seeing a way to turn that feature off. All in all, Nokia Beta Labs is moving in the right direction with City Lens.
City Lens is only available for Lumia Windows Phones. It isn't listed in the Nokia Collection but if you scan the QR code below or open this link (opens in new tab) from your Lumia Windows Phone you will be sent to City Lens' Marketplace page to install the app. Remember it's a beta application so don't be surprised if there are a few bugs present.
If you've tried City Lens, let us know what you think in the comments and share your thoughts with Nokia through the app's feedback link.
George is the Reviews Editor at Windows Central, concentrating on Windows 10 PC and Mobile apps. He's been a supporter of the platform since the days of Windows CE and uses his current Windows 10 Mobile phone daily to keep up with life and enjoy a game during down time.
I never was asked to calibrate the compass, so the directions are often a bit off. Other than that, it is really impressive. I am noticing alot of things in my area that I didn't know about.

Work quite well even in small suburb where I live. But seriously though, they need to figure a way to integrate this with their drive/walk app. I can only show route but can't just launch Nokia Drive for me, quite annoying. This application sandboxing on WP7 is now limiting app integration too much.

love the idea of integrating this with Nokia Dirve and Transit! Should add ability to mark your vehicle. I've gone into the city and parked in places i've never been...would be cool to mark your car to find it. Or maybe the ability to mark things like your home, waypoints, car, work, etc

Nokia should integrate these map apps

Give these suggestions on the nokia beta labs site. I am sure, they will consider them.

I have a N8 and hadn't considered downloading this app until yesterday! I downloaded it and it works pretty well, even though it is more optimized for the version of Symbian that I've yet to update my device to. And on the Symbian version, maps are integrated with voice guided directions for walking (not sure about driving). So, hopefully, they will find a way to integrate it into WP the same way, or better, than it is in Symbian.

But it's a trip - I didn't even go outside; I just help my N8 up to the window, and businesses in that viewing area popped up on the screen. I can definitely see the utility for this app for traveling/vacations.

I agree that it should launch Drive or Bing Maps. Also wish it pulled from more sources, was missing many places where I live that show up on Bing maps but not Nokia maps. Overall a great app, will use it often but look forward to improvements.

How long are you seriously have to wave on that figure eight pattern? Yesterday on two different phones we were waiving like mad men and it never got calibrated. Well guess this shows its a beta. Still a very nice app.

Takes about 2 seconds before the phone buzzes to tell me to stop.

First calibration seemed to take forever... thirty seconds or so. From there each calibration after that has taken only a few seconds

On the Lumia's sometimes the compass gets stuck, try flipping it upside down and shaking it :P

I have been calibrating it with the phone laying down, parallel to the ground. Took forever. Yesterday, I tried it with phone upright, like I was taking picture. Only took about 2 seconds that way.

Lol! Sounds like something worthy of reporting to Nokia Beta Labs - they are very responsive to bugs being reported.

I found with the two 800's we have, that you had to do big, large loops with the phone. Being sheepish about how goofy you look while waving your phone in a figure 8 has to go to out the window. :)

Cool app, but who really uses these augmented reality apps on a regular basis? The idea is very cool, but most of the similar apps on iPhone and Android have faded out.

Barring a few cosmetic differences, looks much like Wikitude.

As for figure-8 calibration, I don't think it is necessarily a hardware issue. Sometimes calibration is quick and sometimes takes forever on my HD7. I think a lot of it depends your environment during calibration. People staring at you during calibration makes it take a lot longer. ;)

I was dissapointed when giving directions the app pointed to Maps instead of Nokia Drive like I expected.

I undrstand ur concern and like that idea too, but I believe that Apollo will fix it. Since wp8 is based on windows 8 kernel and windows 8 has app to app sharing, wp8 should also have it, atleast I hope so!!!!!

This would be great if the compass on Lumia 800's actually pointed north in the southern hemisphere. I've tried 3 times with reboot in between and it's out by about 90 degrees. So bad. Same with other augmented reality apps so it must be a handset issue.

same here!, i'm from chile, and my lumia 800's compass never point to the north :c, this feature works on the north hemisphere? plz nokia fix this issue!!

This is one of the coolest apps I've tried. As other people have said, lots of things you don't know about that are close to you. It's always wonderful if you travel a lot or drive around a bit.
Windows Central Newsletter
Get the best of Windows Central in in your inbox, every day!
Thank you for signing up to Windows Central. You will receive a verification email shortly.
There was a problem. Please refresh the page and try again.