Nokia Create contest now open, winner showcases their app at Mobile World Congress 2014 and much more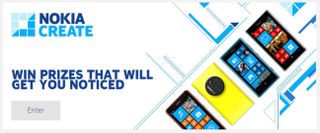 It's times like these I wish I knew how to create apps. Unfortunately, I couldn't code my way out of an Altair 8800 if my life depended on it. But if you find yourself being savvy with Visual Studio, C# and the rest of the development skillset needed to create winning Windows Phone apps you might be interested in this contest.
Nokia Create is a just launched contest to develop for Windows Phone. There are various prizes throughout, but you're going to want to read on for the details for the grand prize winner. Nokia will make you very happy.
Nokia Create is a global competition, available from Timbuktu to Shangri-La. All you need to do is have the development chops to create apps for Windows Phone and Nokia Lumia. The last contest, Nokia Future Capture, was centered on imaging and their recently launched Lumia 1020. This contest however, has 8 different categories. So it doesn't matter if you have gaming skills, imaging skills, or location skills.
The 8 categories are as follows:
Image & Photo
NFC
Maps & Places
Music
Cross-8
Fun &Games
Work Life
Freestyle
Basically, if you can develop for Windows Phone, there's bound to be a category above that could interest you. And it's a contest worth entering. Grand prize winner will get an all-expenses paid trip for two people to Mobile World Congress 2014 (we'll be there too!). The winning app will be showcased at MWC. Additionally, a video will be produced highlighting the app that will be spread through the various Nokia Developer channels. From there the app will be heavily promoted across a handful of Nokia social network accounts. That same winning app will get four weeks of promotion on the Windows Phone Store and App Social. And finally, the winner gets 10,000 http://www.windowscentral.com/tag/app-socialeuros to use on PubCenter to run their own campaign.
And of course, there are various levels of prizes and mini-contests within the overall Nokia Create challenge. It's worth hitting up the source link below to read the fine details and see the various prizes you can win throughout the contest, which runs until December 5th.
Thinking of entering?
Source: Nokia Create (opens in new tab)
Developers, developers, developers :)

wish I had time to learn programming.

Same here... I have an idea that hasn't been done before, but im scared to say what if is, because if people hear about it, someone WILL make it... Not only can I not code an app, but it would need ALOT of backend systems to make it work. So im screwed...

Who I thought was my best friend took one my ideas and paid a programmer and made alot of money :/
My advice don't trust anyone with your ideas.

You can trust me, just whisper it.

Execution and talents is the key.
Just as everyone can come up with the idea of making a salad with lettuce and cheese, one chef can do a Caesar Salad, and a creative one can do a lettuce cheese bacon wrap.
I wouldn't be afraid anyone would steal your ideas unless you can't execute it.
I'm hungry now.

Yeah, pretty much what I said... I can't fucking execute!!! But I can make just about every kind of bunny food you just mentioned... Doesn't help me whatsoever! Making salads doesn't make me better at making apps. Still not telling what I want to make.

Also, just to be clear... Your analogy about coding an app being equal to the execution of making a salad is pretty terrible. Just about anyone can make a damn salad, but not anyone can make a damn app. I can't tell if your being facetious or being serious, but your comapiring apples to chicken le cordon blue here!

Well, I told you that I'm hungry.

but if you keep for yourself and never implement it your idea as good as dead. Share it here, we are all wp fans so chances are that it will appear on wp first :) Seriously, share your idea to someone you trust. If that is not possible next best thing is to share it with the world. Keeping it inside forever is the worst of all options

Not to be a jerk, but everyone has an or multiple ideas for an app or game, but it usually takes quite a bit more than just a general idea to make an app a) a reality, b) a successful. Even if you can code.
- Developer

I thought he meant An Atari? Lol ,and thats great,. Hope to see some good useful apps

Is this the friday 13 surprise? if yes, #frustrated

i have some good ideas (i Think), but cant develop them. Like a proper Road Recorder. Just mount The Phone in Your windscreen and record The drive route. Autodelete last 3-4 Minutes or manual press The screen to save. Van also have a gsensor incase for collition. There u have one og my ideas. Start develope :) there is almost an app like This in The store, but you cant save videos local...

I've stolen your idea. Now I just need to be bothered to learn how to program. Just give me 5 years :)

Saving videos to local is Windows Phone's limitation... so its really not the developer's fault but they can do things like uploading to SkyDrive, etc.

Sky would be The second best, but The apps that are Out today dont work sharing at all:'( or they stops working, freeze Your Phone or you cant delete Your recordings.. Some have a good base, just need some Updates to make Them work properly.

Guess this confirms a big announcement from Nokia at mwc

Does knowledge of nursery school Java and HTML help in learning C#? I was the top of my class in our final project, making an address book. -_-a

Channel 9 is a great place to start if u have time doesn't take long to get a good feel, I got several apps building now, just waiting till I perfect them to release, I'll be back and forth here as progress goes, good luck to fellow aspiring developers. Developers developers developers

Fwiw, you don't have to learn C#. I use Pascal from RemObjects. That was one of the nice things about .Net.

That said, almost every how-to example will use C#. Just dive in with a tutorial. The upfront pain more than makes up for ongoing frustration later.

There are some applications in the store to help you to learn C#. I've downloaded a couple but haven't got round to using them yet. So I've got no idea how easy or difficult C# is to learn

Depends if u used my. Alot in vb its a changer that's for sure :/ its near c++ but stil vb like(friendly) :)
Windows Central Newsletter
Get the best of Windows Central in in your inbox, every day!
Thank you for signing up to Windows Central. You will receive a verification email shortly.
There was a problem. Please refresh the page and try again.