Nokia Drive for Windows Phone 7 updated: better route options now available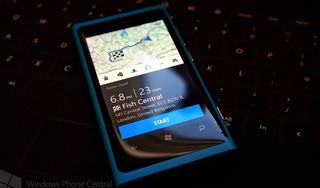 We reported the other day on a new update for Nokia Drive+ Beta but it looks like Nokia haven't forgotten about Windows Phone 7 users.
Arguably the more stable of the two versions, the Windows Phone 7 app performs like a champ and Nokia have now included the options for tailoring routes more effectively. Read on past the break to find out more.
When Windows Phone 8 was announced Nokia pledged their continued support for their users still on Windows Phone 7. The older version of the OS will continue to play an important role in the eco system and introduce new users to the platform. When it comes to Nokia apps, there really isn't anything out there that can claim to be quite as useful as Nokia Drive.
Now that the app hits version 3.1 it has gained the ability to better plan a route ahead. This means being able to switch off or on various routing types. These include Motorways, Toll Roads, Ferries, Tunnels, Unpaved Roads and Motorail Trains. You'll also now have the ability to choose what type of route optimisation you require. You can pick between Faster Route, Shorter Route or the most economical route.
When Nokia created Drive for Windows Phone 8 they had to build the app from the ground up, this has led to some features from one version being missing in the other. Drive on Windows Phone 7 lacks the locate button on the map screen to centre the view on the current position, while Drive on Windows Phone 8 lacks the My Commute feature. We'd like to see better parity with these versions sooner rather than later.
We're really glad to see Drive get this nice update with routing options, more evidence (if any more were needed) that Nokia are keeping to their promise. Using Drive on Windows Phone 7? We'd like to hear what you think of the update, please let us know in the comments below.
Download the app from the Marketplace here - this will trigger the update if you have an older version installed.
Gotta love Nokia. They put other OEMs to shame with their update cycle. WP7/8 would be dead without em.

i dont know what changed before this update but when i flashed my L710 with WP7.8 and then installed nokia drive, the my commute feature has been enabled in my region, earlier it was US-only i suppose or may be UK too but it was not there in INDIA.
do have any info when did that change?

I'm on WP7.5..after updating nokia drive this feature has been enabled on my lumia710 too..so i think it has nothing to do with the OS

But i got the commute feature before the app was updated Well whatever happened i am happy that nokia is supporting its users

Love this update, very usefull when you live in France :D

Can't wait to try the new update. Nokia Drive rocks!

and it enabled commute for india.. rocks!!

Lumia 800 India...commute isnt activated for me...hw come U got it..? :/

Cool. Liked those new options. Can't wait to try it out when I go to the city next Saturday. Better tell my sis to install this on her L900. :)

Excellent! I just bought my new Lumia 900 a couple of weeks ago, and cataloged what was missing from Drive for WP vs. Drive for my N8 (Symbian) these two items as wel as route preview, were the main items! So glad that Nokia implemented these. The only other things that I really want for the WP version, that Ihave on my N8, is the Route Selection - being able to select Fastest, Optimized, or Shorter Routes.

Nokia is just awesome! Thank you, Nokia!

"The only other things that I really want for the WP version, that Ihave on my N8, is the Route Selection - being able to select Fastest, Optimized, or Shorter Routes."

That option is also included as well, it's just renamed to Shortest, Fastest and Economical. Haven't tried it yet as I'm not living in Kuala Lumpur (Malaysia). I'll be going there next Saturday, though, and will try it out on both mine and my sis' L900. ;)

Supercool! I see that option now - that's for the tip!

I can already see that I need to give feedback to Nokia regarding one of my routes - regardless of which selection I make, it still gives me the same route even though there is a shorter route to take. I'm just glad these options are now present in WP :)

Way to go Nokia... From wp7 owners :)

Nokia drive by itself is what make me stay with NOKIA for all my futur windows phones, it's so usefull ! The only thing I don't understand is the My Commute feature missing for Canada...I mean, it was first enabled in the US and now it is enable in India as I see in the other comments. I wonder what is so different between the United States and Canada to explain that..?

After updating yesterday, My Commute works for me in Canada. Unlocked Lumia 900, not sure if that matters.

WTF I have an unlocked Lumia 900 too and it didn't work (I retried just to be sure)...I'll try to delete the app and reinstall it :/
Thanks for the tip! ;)

Thanks for the info as I've been waiting for MyCommutes feature. Prior to this post, I thought the feature wasn't available in Canada. I removed and reinstalled the updated Nokia Drive and lo & behold, My Commutes is now working. Im using a Lumia 900 locked on Rogers.

It was also enabled in Mexico, thanks Nokia :)

i Don't see the options on my L900 after updating this am


Is Nokia Drive the only free offline navigation title out there in any mobile space? iOS or android, etc?

Anyone know how Nokia Drive handles map updates?

A message should pop saying that your map is no longer valid or that it should be updated I think ;)

The only thing that's missing from Nokia drive is the ability to see your route in a list style, to see ahead of time where I would be turning next. Panning out to see the road is not useful. I find myself looking at Bing maps for the turn by turn, then using drive for the actually navigation part. Nokia I hope your reading this, I need a list of my directions like every other GPS app

That's a good suggestion - you should click on the feedback button in Drive, and let them know. I think I will do so myself :)

I believe they said in their comments over at Nokia Conversations that this is one of the most requested featurers that is currently in development. Not sure what is delaying it, but at least it's good to know they're working on it. This was one feature that kept me from using Nokia Drive over Bing maps during my recent vacation as a navigator.

Wp7.8 update now available in india Read more- http://wp.me/p2qtUO-1Q

Ah good idea I did just that :-)

Still doesn't say street names?

Now can we get this for the 8x! :(

I think I speak for all us when I say FINALLY!

Unlike the Symbian version, you can't change options like highways, tunnels, ferry rds, etc. on-the-fly. You'd have to set it at the start of your trip, which kind of suck because the only time i want to switch highway off is when I see that it's backed up. So that means if highway is backed up, I'd have to end the current session and start a new one, with the same destination, without highways. Is it the same on WP8's version?

"When it comes to Nokia apps, there really isn't anything out there that can claim to be quite as useful as Nokia Drive" is not correct, Nokia maps (including Drive) for Symbian is far more competent.
Also other things from the Symbian version are still missing, and a year has passed after the Lumia release.
What I need most is:
Pedestrian navigation with offline maps and rotate map with compass.
Synching Drive favorites with the web.
Arranging favorites in categories.

STILL no support to touch/hold on map to "Drive To" (Really annoying if there's no physical address where you want to go), and still no Voice Guidance "With Street Names", both of which we had on the Symbian version :(

Last time I used the Noia Drive app it dirrected me down a one way street, so it's good that they keep improving it.

Go to www.navteq.com & click on the "Map Reporter" tab (it's actually a subsidiary company of Nokia which acts independently). They're pretty good at getting errors sorted, it just takes 3-6 months before it filters back to Nokia Drive. This feature was built into the Nokia Drive Symbian version, but as usual has sadly been omitted from the WP7 version.

Idk bout u all but after the update my experience has gone all wrong, the GPS seems to not respond very well like it used to, and its very slow, mind u I was in Seattle when this happened and I was trying to get a route out and so I had to revert to using Bing list format without the voice. Very difficult.

I don't know how things are different on mine but after the update I seem to not have the Route features that I have been waiting for. Any ideas?
Windows Central Newsletter
Get the best of Windows Central in in your inbox, every day!
Thank you for signing up to Windows Central. You will receive a verification email shortly.
There was a problem. Please refresh the page and try again.