Nokia Drive for Windows Phone 7 updated: better route options now available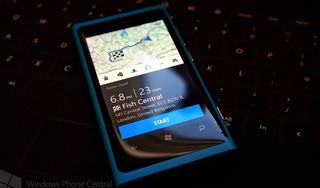 We reported the other day on a new update for Nokia Drive+ Beta but it looks like Nokia haven't forgotten about Windows Phone 7 users.
Arguably the more stable of the two versions, the Windows Phone 7 app performs like a champ and Nokia have now included the options for tailoring routes more effectively. Read on past the break to find out more.
When Windows Phone 8 was announced Nokia pledged their continued support for their users still on Windows Phone 7. The older version of the OS will continue to play an important role in the eco system and introduce new users to the platform. When it comes to Nokia apps, there really isn't anything out there that can claim to be quite as useful as Nokia Drive.
Now that the app hits version 3.1 it has gained the ability to better plan a route ahead. This means being able to switch off or on various routing types. These include Motorways, Toll Roads, Ferries, Tunnels, Unpaved Roads and Motorail Trains. You'll also now have the ability to choose what type of route optimisation you require. You can pick between Faster Route, Shorter Route or the most economical route.
When Nokia created Drive for Windows Phone 8 they had to build the app from the ground up, this has led to some features from one version being missing in the other. Drive on Windows Phone 7 lacks the locate button on the map screen to centre the view on the current position, while Drive on Windows Phone 8 lacks the My Commute feature. We'd like to see better parity with these versions sooner rather than later.
We're really glad to see Drive get this nice update with routing options, more evidence (if any more were needed) that Nokia are keeping to their promise. Using Drive on Windows Phone 7? We'd like to hear what you think of the update, please let us know in the comments below.
Download the app from the Marketplace here - this will trigger the update if you have an older version installed.
Get the Windows Central Newsletter
All the latest news, reviews, and guides for Windows and Xbox diehards.