Nokia ESPN Radio app coming to a Lumia Windows Phone near you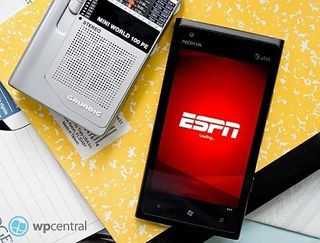 Nokia has announced that ESPN Radio is coming to the Windows Phone Nokia Collection. The Nokia ESPN Radio app will bring over thirty five ESPN Radio podcasts and all ESPN Radio stations to your Lumia Windows Phone.
In addition to the podcasts you will be able to listen to every game of the World Series, College Bowl Games, the BCS Championship game, US Open Golf and every college football game that ESPN Radio broadcasts (War Eagle!). Each station you tune into you can view the programming and the Twitter feed. You can also tag stations as favorites for easy access.
The Nokia ESPN Radio app is an exclusive for the Lumia line of Windows Phone and should be live shortly (Nokia is reporting 1-2 days). You will be able to find the ESPN Radio app in the Nokia Collection in your Windows Phone Marketplace app. Once we get our hands on the app, we'll share our first hands impressions and update things with the Marketplace links.
Source: Conversations by Nokia; Thanks, Ken, for the tip!
George is the Reviews Editor at Windows Central, concentrating on Windows 10 PC and Mobile apps. He's been a supporter of the platform since the days of Windows CE and uses his current Windows 10 Mobile phone daily to keep up with life and enjoy a game during down time.
Well this totally sucks for everyone else that doesn't own a Lumia. I wish this could had been developed for all WP's.

Exclusive app is better than none at all. Eventually it'll be out for other phones.

why can't you just build this into the existing app? Why do you need a spearate ESPN app for everything?

ESPN radio!! Wait, I won't enjoy it with my poor little HTC, phone. I am a sad panda...

That is why my Titian is sitting on the table with dead battery while I type this on my Nokia 900. Actually the fact that I can type this without the keyboard disappearing is another reason.

I'm getting very tired of the Lumia exclusive apps. Not all of us like the phone...some of us prefer WPs made by Samsung.

Yeah.. I can't complain about that gorgeous plastic feel of Samsung devices..

I actually moved away from Samsung plastic phones. Their GPS totally suck on Android.

No doubt. LOVE my Focus S, feel it is the best overall device on the market for WP. Haven't had a problem #1 with it, and the forums are active but gripe-free. Tango came along at a decent time frame, and Samsung even included an update of it's own to improve some audio issues.
Then, Nokia starts hitting everyone up with exclusives, and you just shake your head. ESPN Radio app almost pushed me to Android. I would have been on the Droid 4 had we gone to Verizon, and on AT&T I was loving the WP selection, but wanted this app. In the end, performance won out and I do not regret it. But I am sure a little envy-driven right now.
I downloaded the "Tune In" app, and ESPN Radio itself is one of the options, which is nice. But there are exclusives on the app I really would love....

It wont be exclusive for that long. Nokia is doing a great job driving the wp7.5 experience and keeping wp7.5 in the spotlight. Samsung has been releasing their own exclusive apps. I still have my original focus as my backup.

And i'm getting tired of you complaining.

Blame Samsung, without Nokia you would not see these apps. I'm sorry if you bought second rate Samsung device with poor build quality.

Yes I love my Samsung Focus S.. I don't want to get a Nokia in-order to get certain apps!

With the TuneIn Radio app, the ESPN radio feed has already been available to all Windows Phone users. I listened to the US Open radio coverage on my Focus using TuneIn radio.
Although, I wouldn't mind have the official ESPN radio app. It looks like I'll be converting to Nokia on W8P.

true, I pinned the ESPN radio tile to my phone from TUNEIN, but I think this app allows you to get specific shows on demand. Has a bit more flexibility that I would prefer.

Agreed.

There is a reason why Nokia is doing what they're doing.... it's a thing called incentive. Why would they waste resources and offer an app for FREE but allow any hardware maker to get said app? Nokia is in business to make money... which is supported by purchasing their handsets. Nokia doesn't make a dime if anyone with an "after-thought" device could get it.

I like where Nokia is going with the WP platform and its one of the biggest reasons why I switched from iOS. The amount of dedication and support of the platform and their customers is like no other. Thats something to say in contrast to what HTC and Samsung have brought to date. I'd rather put my chips on a company who'll stop at nothing to bring the best to the table, than to be fed the scraps of others.

No one is "mad" at Nokia. Everyone understands and respects what Nokia means to WP and also what WP means to Nokia. Love the fact they are leading the way and fighting to be the best.
But.... dang it...... I want my ESPN app.....
Okay, a little mad....

I want the Grundig radio...

Why do we have to go through the same thing on every article like this? And its always the same people.

WPCentral, Do you know if this is another app that is only exclusive to Lumia handsets for a certain period of time, afterwhich it will be available for everyone?

Haha your right these are the same comments from the past lumia exclusive articles

I have been missing this app from my ios and Android days. I wish all the people that piss and moan about apps being exclusive to Nokia realize two things Nokia put their time and money into these apps, Samsung and HTC have done nothing to separate themselves or move the platform forward. Understand they are not exclusive forever and would you rather wait 90 days for an exclusive item to come around polished or have a rush job 3 years down the road? I have a nice plasticy Focus S that my wife uses, a Focus flash my daughter uses a HD7 my son uses and a Titan my dad uses all were mine at one point and I am not moving from my lumia even with Windows Phone 8 right around the corner.

Nokia is rocking their support of windows phone. What other oem is doing this for WP? None that I know, its not even close. Nokia even bothered to do a Univision app for Spanish speakers. Perhaps Nokia can sell their apps for non-Nokia owners, this way its available but at a price. This way the windows ecosystem wins as well. The same would be true if Samsung or HTC developed their own apps

As an HTC user, fuck Nokia .
Well too harsh but that sucks. Tune in radio will have to do

that is harsh maybe thats why Nokia is selling and shipping more lumias and HTC is lagging behind. Their HTC One X android is apparently not selling as well as expected as well.

App is available on all phones.

I love HTC phones, but they abandoned MS for Android and every great form factor they created for Windows Mobile/Phone was given an Android derivative. They were offered the opportunity to go all in on Windows Phone from day 1 and have made some top notch phones such as the Titan and Titan II. Still they never innovated or gave them a marketing push. I would simply like to have a Titan II, make the registry show it as a Lumia 900 and go for broke. Still, I believe in supporting the company that supports the platform I prefer and that's Nokia. Exclusive apps and all.

I hope this becomes available to Canadian users...the other Nokia app isn't, neither is Network Setup.

Thank you Nokia. Amazing app.

I found the app to be live however not showing exclusive for Nokia just search ESPN radio. http://windowsphone.com/s?appid=f23dd239-3187-4ad1-9bb0-69c38f09ead7
Windows Central Newsletter
Get the best of Windows Central in in your inbox, every day!
Thank you for signing up to Windows Central. You will receive a verification email shortly.
There was a problem. Please refresh the page and try again.