Nokia explains the design and materials utilised in the Lumia 1020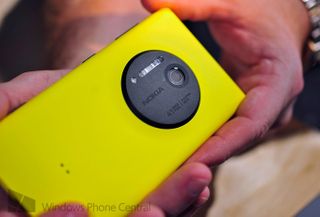 Nokia has been pumping out information about its latest flagship Windows Phone that will be launching in multiple markets this year. The Lumia 1020 brings to the table the smartphone optics consumers have been calling for since the 808 PureView was released. But it's not just the camera that impressed us, we're also huge fans of the matt usage for the overall design instead of glossy.
Available in black, yellow and white, Nokia explains why the company went for a limited number of coloured variants, as well as the matt finishes and more. The yellow Lumia 1020 is the unique cookie in the jar, which will appeal to those who wish to have a more energetic representation of themselves, as opposed to the usual black and white design. This has been an important design choice for Nokia since the original Lumia 800 back in 2011.
Not leaving polycarbonate
It's interesting to see how many fans the Lumia 925 has accumulated for its unique metallic design, but this Windows Phone wasn't to hint at Nokia leaving behind a polycarbonate legacy. The Lumia 1020 further builds on the familiar shell we've come to know and love in the Lumia family of Windows Phones.
Touted as a "real Nokia signature," the single piece polycarbonate has numerous elements that make it nothing short of special when used for smartphones. The most notable highlight of the production process is that the colouring runs through the material and isn't simply an applied layer. This helps protect the design from scruff marks and dents.
Metal for camera and keys
While it's noted above that there's no metal utilised for the shell of the Lumia 1020, the camera detail is made out of aluminium, sporting a black matt finish (regardless of colour choice). The metal was chosen for durability and quality. As well as the camera detail, the keys for power, volume and camera control are also made from aluminium, providing a premium feel when the smartphone is in use.
If you're interested, head on over to the Nokia blog to read the full article.
Source: Nokia Conversations
Get the Windows Central Newsletter
All the latest news, reviews, and guides for Windows and Xbox diehards.
Rich Edmonds was formerly a Senior Editor of PC hardware at Windows Central, covering everything related to PC components and NAS. He's been involved in technology for more than a decade and knows a thing or two about the magic inside a PC chassis. You can follow him on Twitter at @RichEdmonds.
I bet going forward they only create phones that utilize a snap on back case for the wireless charging.

I truly hope you're wrong... Love this feature of my 920.

Agreed. Wireless charging built in is a major plus for me.

It may be due to the qi system not being the 'standard' and when one system becomes predominate Nokia can build it into covers Instead of an internal system that can't be changed... Imo anyway

This seems more of a reason to leave it out, as well as trying to keep the phone thin.

Nokia appears to be going for all consumers, offering unique experiences - just look at the Lumia 920 and Lumia 925. It would make sense for the company to continue doing this until it can fit every feature under the sun inside a thin and lightweight shell for those poor souls who don't lift.

Eventually the technology will allow for all these hardware features under one roof, but everytime I see those 3 little dots on the back of my 925, and now the 1020, I begin to wonder.

@Rich Edmonds That's actually very perceptive...now that I think about it, Android phones don't think about different consumer's needs in the same way as far as I can see...maybe I'm wrong, lol!

Lol, the rock has one as he can lift... Do you know if the round camera plate is aluminum Rich? I predicted it was but Rubino shot me down... Still wondering who is right EDIT: yep I was right Daniel, I knew it was from the finish and etching whereas Daniel said it was a plastic with textured finish.

Until people stop being sissies over the weight of the Lumia 920 then we wont see wireless charging for a while. So i fear your right.

It's not only the 920. Even the 900's weight drew complaints from some people, including my cousin who owns a HTC One X. I really suspect that they are spoilt by their experience with slim and light phones, particularly from Apple, Samsung, HTC and Sony.

What I find even more hypocritical, as what one member mentioned on this site somewhere, is how some of these users slap on original or 3rd-party hard cases on their slim, light and fragile phones until it becomes thicker and heavier than either the 920 or the 900.

And what is even worse, is that people are losing sight that they have a personal computer in their pocket that is the size of their hand.

Simple. Different people putting cases on vs complaining about size. That said, I want integrated charging regardless of added thickness.

Weight is a real complaint, my wife didn't like the L820 weight and went back to the Samsung focus S!! She's not a tech junky like me tho;)

Women and their weight. You can never win. ;)

I love the weight of my 920.

this. Been using mine for 7 months already and I have no complaints about its weight.

705 EUR in Austria, quite expensive, mama mia.

1020... My my how can I resist you

Well, perhaps that quote from mobiletoday will help you resist it:When asked if Microsoft would allow users to upgrade to a potential Windows Phone 9 from recently launched devices, Leila Martine, UK director for Windows Phone, said: 'There's no way I could look into the future and guarantee anything. It would be speculation.'

Who with the what now? Was just an Abba ref to mama Mia fraddy and I will always buy nokias flagship phones regardless of others opinions and operating systems (android Nokia I would draw the line at)

I'm curous if the internal engineering more closey resembles the 900 or 920. The 2 phones are vastly different in the way they are put together and taken apart. And the 1020 body is more akin to the 900 than the 920

Why would they base it internally off the 900 in any way? That wouldn't make any sense.

its closer to 900. all flagship models resemble N9

I did not know the camera plate etc was aluminium.

Haha I'm glad I'm not the only one thinking this as I read the article. :P

No it doesn't. That means something else.

Depends on who you ask. If it's Merriam-Webster, matt is not a word -- just a name. Matte with an e is the correct spelling when describing luster.
But if you ask dictionary.com, matt is also a word, defined as "matte." Though I don't really know if that counts as a word if it is basically just refering to the other spelling.


Maybe it's a British/American thing, then. To me, "matt" is a non-glossy surface; "matte" is the film/artwork process of doing stuff with backgrounds or something.

Matte is both. Matt is colloquial (hence why Dictionary.com has it and Merriam-Webster doesn't) and even then it's only due to people not knowing how to spell it.

In fact, one came from the other. Matte paintings were originally done on glass and propped up at the back of the set, with matte paint being used to avoid lighting reflections that would otherwise reveal the trickery.

Wow my 900 looks really old compared to the 1020,I was gonna get the 1020 on the 26th but with the announcement tom.. I may have to wait.. I just hope its a 5-7 inch tablet.. I have been waiting for this.. Although the 1020 is revolutionary,a nokia phablet would be fantastic..
On the other hand MICROSOFT have to speed up the updates on WINDOWSPHONE,they have to shut the hell up the haters that talk bash about the OS

Remember the leaks of aluminum body with same hole for 41mp camera? Was the same time the 1020 leaks surfaced, I hope its that but more likely a newer Asha variant not Lumia :|

This better beat the 808 PureView in image quality.

Addition of OIS, extra lens, more powerful processor and newer software..... Think about what you just said..... Pretty obvious I believe

And still the initial samples show its miles behind the 808 PureView.

Ok then Symbian 808 is better than the 1020 ... Happy?

You realize u replied that to me which emails me also? And I was being sarcastic to the Symbian owner

I already have this phone. It is amazing and unreal. Just the battery alone will last forever. The camera takes unbelievable pics and I couldn't be happier.

How the screen compare to the 920? You know?

I got to play with one at the Nokia Evening Event. I wouldn't say anything especially different besides its an AMOLED display. Personally I prefer AMOLED over IPS any day. It's a gorgeous screen, especially couple with ClearBlack is astounding compared to my L900 or L920.

Go away show off.... Prove it or never happened.... Joking lol

dude i totally hate u!! lol...it will *be MONTHS before they launch it in my country....

they must make another version with 64Gb of storage space

They do make a 64Gb version already, but it's exclusive to Telefonica.(Spain and South-America)

Telefonica is also O2 (UK and Ireland)

+1020 to this idea. Fortunately/unfortunately I'm getting one on Day One and would be bummed with a Christmas release of the same phone with just more storage. I know about the Telefonica version and am irked with AT&T for not getting it. The difference in parts costs between 32GB and 64GB is miniscule...Guess I'll be synching weekly with my Win8 PC...Anyone know of a good sync tool since the Zune client won't work with WP8 phones? (or do you just plug it in and treat it as an external drive and drag/drop/copy?)

Techiedude

Just drag and drop. I find it easier to do that anyway. I never liked Zune or iTunes.

You can do the drag drop thing, or use the windows phone app which acts like Zune in windows 8.

I thought it was made with unicorn horn, eagle eyes and unobtainium.....

it got adamantium as its internal frame

Knew I forgot something ;)

Now that would make for a boss phone Fndlumia

I'm crying that my parents won't let me get this. It looks magnificent.

My parents said no electronics. I have tons of camera's. And the 1020 is something I must have but I can't. So I'm crying.

I hope you're joking or being figurative

Figuratively dude, I'm just irritated cuz I have money to pay for the initial $300

Nokia better release a pentaband GSM version with 64gb unlocked. I would be glad to pay $750 for it

Looking forward to the matte finish over the more slippery gloss finish.

Being from the USA, I recognized the different spelling(and pronunciation...i prefer the British version personally) of aluminium, as well as the alternate spelling of colour, but at the risk of seeming ignorant, is "matte" also spelled differently across the pond? It's written as "matt" in this article. Or is that just a typo? It appears French in origin. Anyways, great post, I love learning more about these designs. I kinda wished for an all metal design, so I'll just wait to see what the future holds.

'Matt' is incorrect, and has become colloquial because people nowadays often learn to spell online from other people who don't know how to spell.

I wonder why they gave up zirconium (ceramic) for aluminum/aluminium buttons.

Kryptonite, platinum and gold with diamonds I thought. Or was it plastic.

I got to play with one in person! The AT&T store I live near had a demo unit. All I can say is wow! We even shot some video testing out the OIS and the Pro Camera app. I was leaning towards the 925 especially for the cost savings with T-Mobile, but now I have to make a decision on which way to go? I wish I knew a 1025 was coming soon :)

Big fan of the glossy...bummed out they went matte, suppose I'm in the minority though. Either way can't wait to get my hands on it in the store.

I just played with this phone an hour ago im buying it on launch day !!!